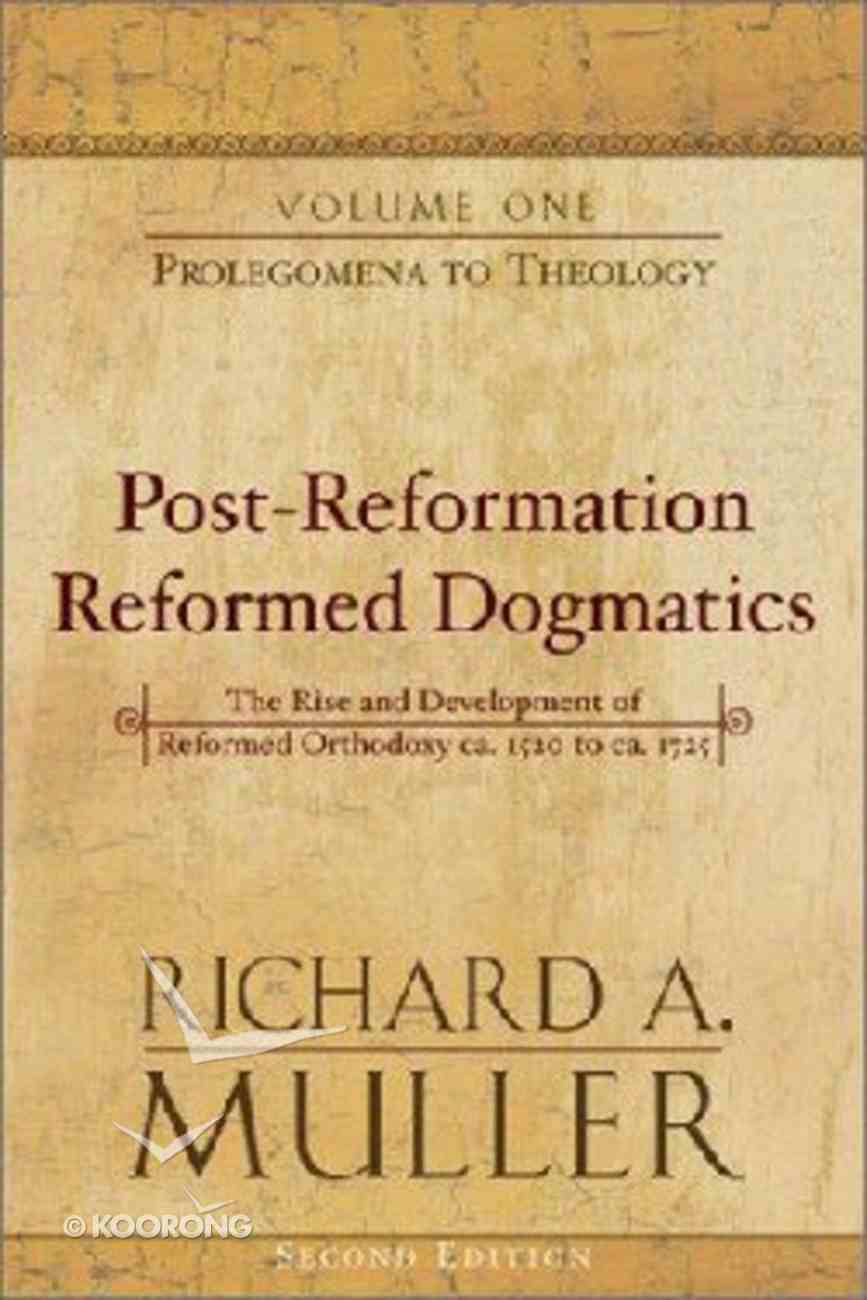 Post-Reformation Reformed Dogmatics (2nd Edition) (Vol 1)
---
Free Shipping
for orders over $99.
464 Pages
-Publisher
"Richard Muller has gained an international reputation as a brilliant and incisive commentator on John Calvin and the Reformed tradition. But these volumes are something else. With immense erudition and energy, Muller here displays the theology of the Reformed scholastics in relation to the full sweep of the history of Christian doctrine, expounding it on a truly monumental scale. The scholarly community is permanently in his debt. Muller demonstrates that when used with discernment, the long-neglected wealth of Reformed dogmatics can result in the deepening of theological reflection and preaching in the Christian church."-Paul Helm, Regent College, Vancouver"Richard Muller's long-awaited volumes represent a work of vast historical scope, profound engagement with the primary and secondary sources, and careful application of sound historical method. By setting seventeenth-century Reformed theology against the background of classical, patristic, medieval, Renaissance, and Reformation intellectual culture, Muller paints a picture of seventeenth-century Reformed theology that belies the old cliches through its nuance, learning, and sophistication. Nobody engaged in this area can afford to ignore his arguments or his conclusions; those who wish to dissent from his central theses have been set a daunting task, and those who find themselves in agreement have been set a standard for their own research."-Carl R. Trueman, Westminster Theological Seminary"Few periods in the history of Christianity have been as badly neglected or as frequently misrepresented in contemporary theological discussions as the period of Protestant Orthodoxy. Richard Muller has overturned conventional wisdom on the significance of this period and redefined the field through his careful and comprehensive analysis of the primary sources. All future work on the history of Protestant theology from 1550 to 1800 will have to take Muller's studies into account."-David C. Steinmetz, Duke University"The first two volumes of Richard Muller's Post-Reformation Reformed Dogmatics have already established themselves as the starting point for serious study of the development of the theology of Reformed orthodoxy. It is therefore a great pleasure to have at last the final volumes on the doctrine of God along with the second editions of the first two volumes, which have been revised to take account of more recent scholarship and restructured to give greater clarity to the central theses. Post-Reformation Reformed Dogmatics is set to transform scholarship in both Europe and North America."-Willem J. van Asselt, University of Utrecht"Muller's work, here as always, is marked by an unrivaled mastery of the sources displayed with attentiveness to detail and precise expression. As a historian, he is adept at discerning the continuities and contexts of theological traditions as they grow and develop. His approach to the often-maligned Protestant Scholastics is sympathetic and free of the usual caricatures, and if his work is at all iconoclastic, it is only for the sake of defending writers and communities of the past against their later misrepresentations."-John Thompson, Fuller Theological Seminary
-Publisher
Post-Reformation Reformed Dogmatics examines how specific doctrines of the sixteenth and seventeenth centuries developed and their influence in shaping what we recognize today as the Protestant church.

In this volume, Richard Muller supplements his work with the more recent secondary literature in both seventeenth century scholasticism and secondary figures in the history of seventeenth century philosophy, and deals with all the issues of prolegomena found in Reformed scholastic systems.
-Publisher
Richard A Muller is Professor of Historical Theology Calvin Theological Seminary, Grand Rapids. He is the author of A Dictionary of Latin and Greek Theological Terms (Baker) and Post-Reformation Reformed Dogmatics: The Rise and Development of Reformed Orthodoxy (Baker).