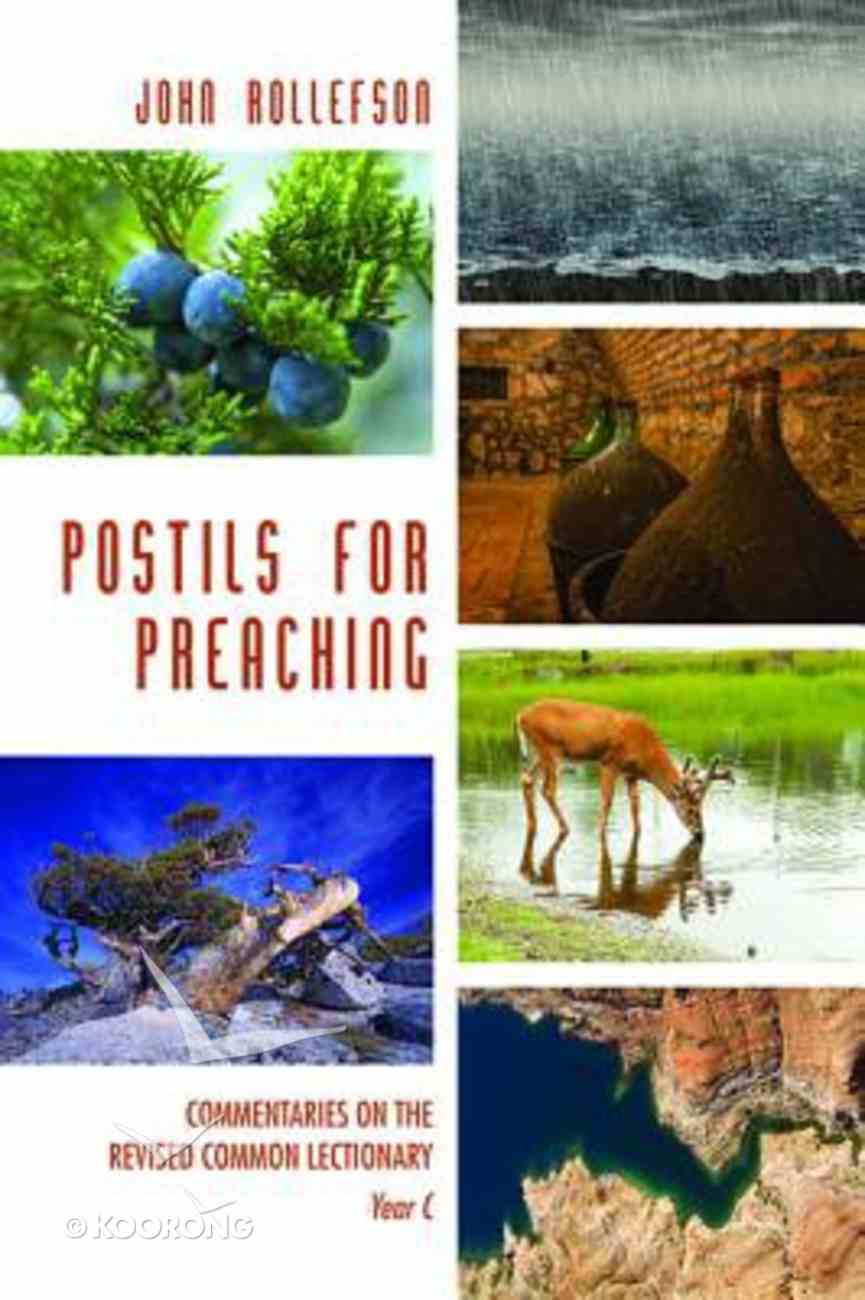 Postils For Preaching: Commentaries on the Revised Lectionary, Year C
Postils for Preaching repristinates an old term for commentaries on the appointed texts by assisting preachers in their time-honored calling of preaching the Word. ""Post illa,"" some think, probably refers to the reflecting ""after this"" (meaning upon the texts) that...
Out of Stock
Available to Order
---
Expected to ship in 5 to 6 weeks from Australia.
---
Free Shipping
for orders over $99.
Postils for Preaching repristinates an old term for commentaries on the appointed texts by assisting preachers in their time-honored calling of preaching the Word. ""Post illa,"" some think, probably refers to the reflecting ""after this"" (meaning upon the texts) that preachers must do in the context of the lives of their congregations and larger communities. These essays do not aim to be sermons but sermon-starters, goads and incitements to consider the assigned texts with serious imagination and good humor, all in the context of the church year and its inter-textual connections. The intention of this publication is to dip into a lifetime of that exegetical and homiletical ""bag of tricks"" as Jesus himself obliquely recommended when he noted how ""every scribe who has been trained for the kingdom of heaven is like the master of a household who brings out of his treasure what is new and what is old"" (Matt 13:52). Please consider these postils a ""thesaurus"" (""treasury"") from which to borrow insights, references, and allusions as needed and found of value. ""Rollefson's 'postils' for lectionary texts occupy the little-trod ground between the academic world of biblical commentaries and real world of sermons. As such connective tissue, they provide an invaluable resource for preachers and a welcome devotional guide for any student of scripture."" --Michael Lindvall, Brick Presbyterian Church, New York City ""Meeting up with an engaging conversation partner along the way from text to sermon is a delight and a benefit for the preacher. John Rollefson is a welcome and fit companion. In this book he shares insights into the texts for the church year. Then too, drawing upon pastoral experience, a breadth of reading, and observations about today's world, he spells out ideas and illustrations for preaching and worship. Anyone planning worship and sermons can profit from this book."" --Arland J. Hultgren, Asher O. and Carrie Nasby Professor Emeritus of New Testament, Luther Seminary, St. Paul, Minnesota ""What a rich resource for preaching the lectionary! Rollefson's postils give fresh currency to a historic homiletical form. Every essay offers insight and inspiration for the three-fold task of preaching: to proclaim the appointed scripture readings in their witness to the good news of Jesus Christ, to set that Word in relation to the song and prayer of the worshiping assembly, and to interpret the 'now' of these hearers and this world."" --Thomas H. Schattauer, Professor of Liturgics and Dean of the Chapel, Wartburg Theological Seminary John Rollefson is a retired Lutheran pastor (ELCA) having served urban and campus congregations in San Francisco, Milwaukee, Ann Arbor, and Los Angeles. His schooling has taken him from Decorah to New Haven to Edinburgh, and from London to Berkeley, with stops along the way at Collegevillle and Cambridge Massachusetts. He lives in San Luis Obispo, California, with his wife Ruth, a retired vocal music teacher and church musician.
-Publisher
Bestsellers in Church Resources