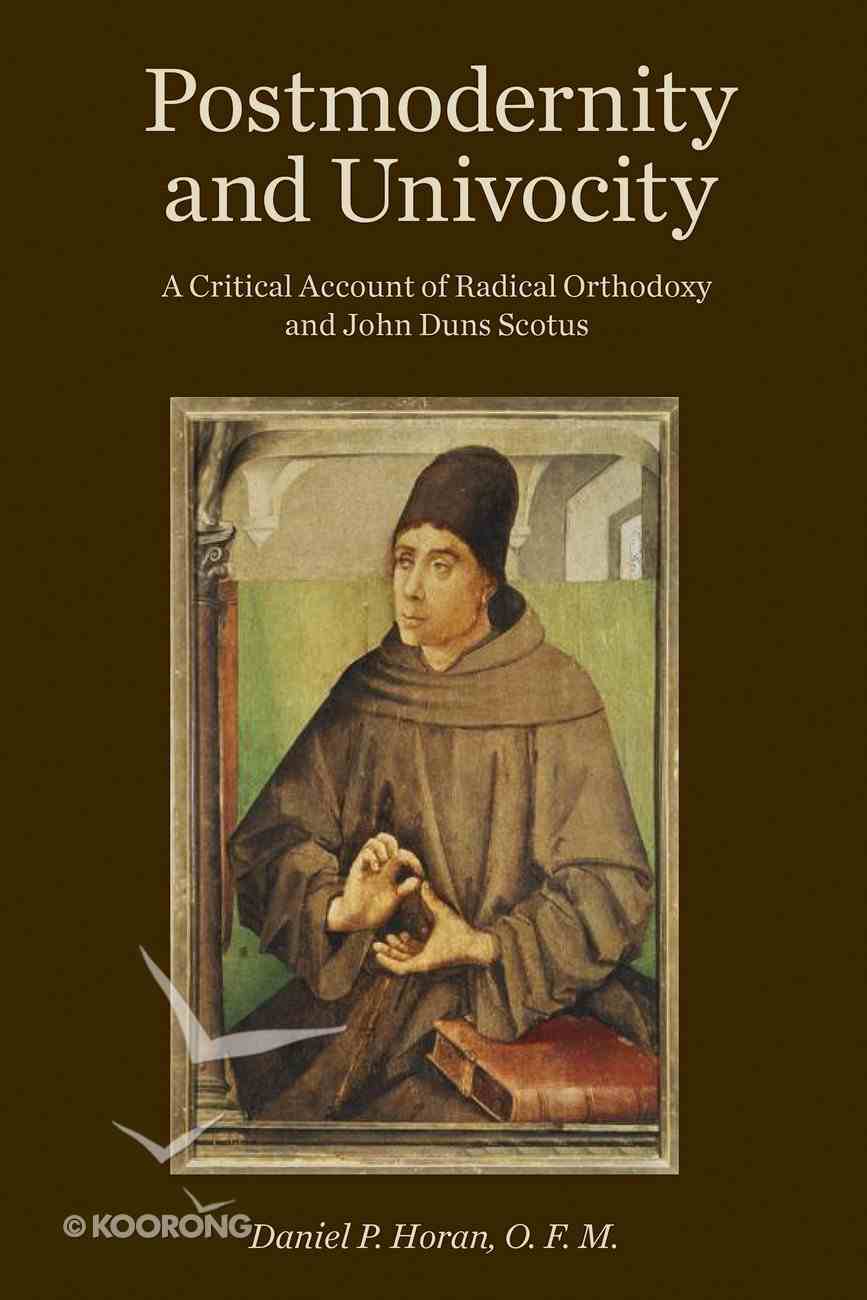 Postmodernity and Univocity
Nearly twenty-five years ago, John Milbank inaugurated Radical Orthodoxy, one of the most significant and influential theological movements of the last two decades. In Milbank's Theology and Social Theory, he constructed a sweeping theological genealogy of the origins of modernity...
Available for immediate download.
---
Read using our free app on your tablet or mobile!
---
Free Shipping
for orders over $99.
Nearly twenty-five years ago, John Milbank inaugurated Radical Orthodoxy, one of the most significant and influential theological movements of the last two decades. In Milbank's Theology and Social Theory, he constructed a sweeping theological genealogy of the origins of modernity and the emergence of the secular, counterposed by a robust retrieval of traditional orthodoxy as the critical philosophical and theological mode of being in the postmodern world. That genealogy turns upon a critical point-the work of John Duns Scotus as the starting point of modernity and progenitor of a raft of philosophical and theological ills that have prevailed since. Milbank's account has been disseminated proliferously through Radical Orthodoxy and even beyond and is largely uncontested in contemporary theology. The present volume conducts a comprehensive examination and critical analysis of Radical Orthodoxy's use and interpretation of John Duns Scotus. Daniel P. Horan, O.F.M. offers a substantial challenge to the narrative of Radical Orthodoxy's idiosyncratic take on Scotus and his role in ushering in the philosophical age of the modern. This volume not only corrects the received account of Scotus but opens a constructive way forward toward a positive assessment and appropriation of Scotus's work for contemporary theology.
-Publisher
<span><span>nearly Twenty-five Years Ago, John Milbank Inaugurated Radical Orthodoxy, One Of The Most Significant And Influential Theological Movements Of The Last Two Decades. In Milbank's Theology And Social Theory, He Constructed A Sweeping Theological Genealogy Of The Origins Of Modernity And The Emergence Of The Secular, Counterposed By A Robust Retrieval Of Traditional Orthodoxy As The Critical Philosophical And Theological Mode Of Being In The Postmodern World. That Genealogy Turns Upon A Critical Point-the Work Of John Duns Scotus As The Starting Point Of Modernity And Progenitor Of A Raft Of Philosophical And Theological Ills That Have Prevailed Since. Milbank's Account Has Been Disseminated Proliferously Through Radical Orthodoxy And Even Beyond And Is Largely Uncontested In Contemporary Theology. The Present Volume Conducts A Comprehensive Examination And Critical Analysis Of Radical Orthodoxy's Use And Interpretation Of John Duns Scotus. Daniel P. Horan, O.f.m. Offers A Substantial Challenge To The Narrative Of Radical Orthodoxy's Idiosyncratic Take On Scotus And His Role In Ushering In The Philosophical Age Of The Modern. This Volume Not Only Corrects The Received Account Of Scotus But Opens A Constructive Way Forward Toward A Positive Assessment And Appropriation Of Scotus's Work For Contemporary Theology.</span></span>