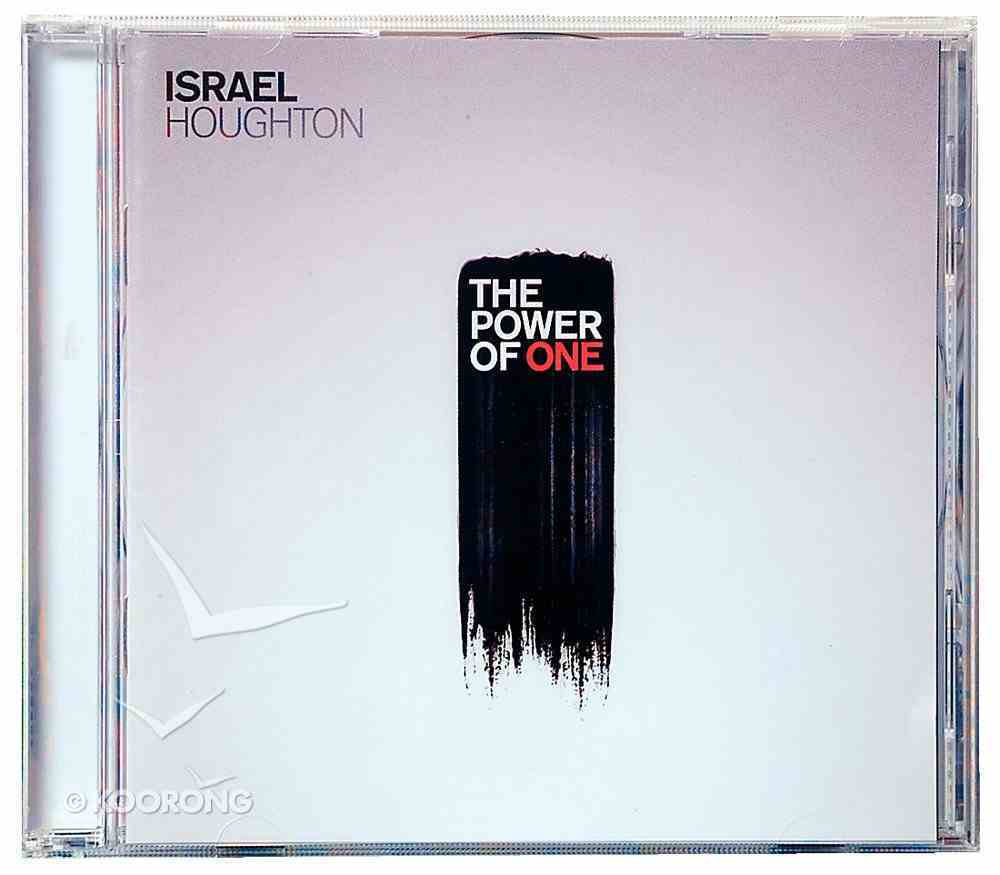 Multiple GRAMMY, Stellar, Dove Award Winner Returns to Solo Artist Roots; Album Features Special Guest Vocalists tobyMac, Martin Smith, Mary Mary, Chevelle Franklyn. Nashville, Tenn., - Multiple GRAMMY, Stellar and Dove Award winner, Soul Train Award winner and...
Out of Stock
Available to Order
---
Expected to ship in 6 to 7 weeks from Australia.
---
Free Shipping
for orders over $99.


Multiple GRAMMY, Stellar, Dove Award Winner Returns to Solo Artist Roots; Album Features Special Guest Vocalists tobyMac, Martin Smith, Mary Mary, Chevelle Franklyn.

Nashville, Tenn., - Multiple GRAMMY, Stellar and Dove Award winner, Soul Train Award winner and double RIAA certified Gold-selling artist Israel Houghton returns to his roots as a solo artist with The Power Of One. The album features the youthful and musically masterful energy that has made Israel among the most highly influential tastemakers across a variety of musical genres. The album also features guest vocals from such genre-leading artists as tobyMac, Martin Smith of Delirious?, Mary Mary and Chevelle Franklyn.

As a worship leader, singer, composer, multi-instrumentalist and producer, Israel has written or co-written 11 CCLI Top 500 favorites, creating a canon of songs that have become standards in houses of faith around the globe. The Power of One, Israel's first studio offering after a string of highly successful New Breed live concert projects, comes with a challenge to people of faith to be as impassioned and Christ-like in their earthly walk as humanly possible.

"If you look at our albums thematically, the early ones were about the church and what God is doing," recalls Israel. "On the most recent records, our message has shifted into more social and global concerns, focusing on identity and the purpose of God in everyone's life. I strongly believe that those of us who consider ourselves worshippers need to have a heart for social justice. 'Power of One' is the song we wrote specifically around that thought for this album."

Interestingly, the anthemic, introspective title track was not originally intended to be recorded by Israel. "Two and a half years ago, I was asked to write a song for a mainstream artist who was looking for something based around a socially conscious idea," explains Israel. "At that time I was just beginning to understand the connection between worship and justice, so this song came very quickly to me. I was about to send it to the artist's manager when my wife Meleasa asked me to play it again. When I did she said, 'Don't you dare send that away! The time will soon come for you to sing that song.' Now is that time."

From its genre-blending roots reggae and heavy rock to sanctified funk and power pop, The Power of One features songs of hope, redemption and revelation. The songs benefited early on from Israel's writing retreat with longtime collaborator Aaron Lindsey, whose credits include Shirley Caesar, Martha Munizzi, CeCe Winans and many more, and with Tommy Sims, whose writing, recording and performing credits range from Bruce Springstein and Garth Brooks to Bonnie Raitt and Kelly Clarkson.

"This is the first time I've entered into a project with no premeditation," Israel says. "In the past I'd go into a project saying we need this kind of song here and that kind there - worrying if it would sell or if the Church would accept it. This time it was fun to go into creating a record with no rules and just do what was in our hearts... a very cathartic experience."

Throwing out the rulebook, Israel was free to also invite some of his friends representing very different musical genres to join him on the record. Noted rapper tobyMac is featured on the rock song "You Found Me, while the powerful gospel ballad "Every Prayer" features Mary Mary. Well-known reggae vocalist Chevelle Franklyn joins Israel on the Bob Marley influenced "Surely Goodness." Chevelle also joins Israel and Delirious? frontman Martin Smith on the worshipful British-rocker, "Sing (Redemption's Song)."

The difference between The Power of One as an Israel solo project verses a New Breed album is subtle.

"Most New Breed albums are done live," says Israel. "This is a studio record so it has a different energy. I get to call on any and everybody for specific sessions. The biggest question is always who's going to play drums. The first week I used Calvin Rogers (Smokie Norful, Fred Hammond, Yolanda Adams). The second week we brought in Dan Needham (Amy Grant, Vanessa Williams, Michael McDonald). And we used Lamar Carter (Ayiesha Woods, India.Arie, Out of Eden) on 'Saved by Grace.'" Another special guest on the album is multi-instrumentalist Akil Thompson (son of drum master Chester Thompson from Weather Report and Genesis) who co-wrote "U R Loved" with Israel.

Writing or co-writing all the songs on the album, Israel creates music that breaks down barriers and defies categorization. Israel uses his own multi-cultural upbringing as a reference point with a desire to draw people of all races, ages and cultures together through worship. Israel laughingly describes himself as "black kid who grew up in a white family in a Hispanic neighborhood."

Active as worship leader in his local church, Joel Osteen's Lakewood Church, Houston, Israel has served as worship leader at Hillsong conferences, Franklin Graham crusades and is a featured CompassionArt songwriter and artist. Israel also ministers through concerts in the U.S. and around the world, including accompanying Alicia Keys at the 2007 MTV Video Music Awards for a performance of George Michael's "Freedom '90," and as a performer at the 50th Annual GRAMMY Awards, taking part in a segment saluting Gospel music, alongside the likes of Aretha Franklin and BeBe Winans. Next month (January 22) he launches on a national major market, 37-city tour with Chris Tomlin. For the latest tour information,click here.

In 1995, Israel and Meleasa Houghton founded New Breed Ministries, an organization they continue to run and that is comprised of noted musicians and singers who serve within their respective churches and together serve the Church at large. Since then, Israel has been featured on FOX, CBS, ABC, BET, TBN and CBN, and has amassed a legion of followers that crosses generational lines with popularity across African American, Latin and Caucasian listener lines. While blasting down barriers, he has been fittingly graced with 2 Gold-selling albums, 6 Dove Awards, 2 Stellar Awards, a Soul Train Award and 2 GRAMMY Awards, one for "Best Pop/Contemporary Gospel Album" for A Deeper Level and one for "Best Traditional Gospel Album" for Alive In South Africa. He also penned his first book with New Breed, A Deeper Level (Whitaker House), and wrote a chapter in the upcoming The Art of Compassion charity book.

- Publisher.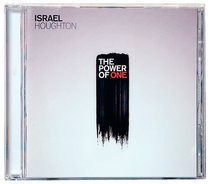 1. My Name Iz

0:59

2. Everywhere That I Go

0:59

3. Just Wanna Say

0:59

4. Surely Goodness (featuring Chevelle Franklyn)

0:59

5. The Power Of One (change The World)

0:59

6. U R Loved

0:59

7. Moving Forward

0:59

8. I Receive

0:59

9. Saved By Grace

0:59

10. Every Prayer (featuring Mary Mary)

0:59

11. Sing Redemption`s Song (featuring Martin Smith)

0:59

12. Better To Believe (featuring Tommy Sims)

0:59

13. You Found Me (featuring Tobymac)

0:59

14. My Tribute Medley

0:59
Israel Houghton is considered a forerunner and architect of cross-cultural worship. He has written hundreds of songs for the church worldwide and is an award-winning producer and arranger. He serves as worship leader at Lakewood Church in Houston with Pastor Joel Osteen. Engaged in full-time ministry since 1989, Israel has touched the hearts of millions across the globe through his anointed, God-inspired music.

With a desire to draw people of all races, ages and cultures together through worship, Israel and New Breed meld sounds and songs to create music that breaks down barriers and defies categorisation. Together with the vocalists and musicians of New Breed, Israel uses his own multi-cultural upbringing as a reference point. "It's not a white sound or black sound, it's a Kingdom sound," explains the songwriter and producer. All the while, this dedicated group of ministers continues to tour extensively and to serve at their local churches.

Israel and New Breed has achieved a synthesis of music and message that is electrifying and activating audiences inside and outside of traditional church walls. Most of their albums have to be recorded before live audiences to capture their singular infectious energy. Leader, singer, songwriter and multi-instrumentalist Israel Houghton has seen his compositions become integral components for progressive now-generation churches.

Israel's story is remarkable in itself. Born biracial in 1971 to a white mother who was disowned by her family and abandoned by the child's father, Israel was given his biblical name from a word she saw repeatedly in the Bible given to her by the woman who ministered to her on the streets of San Diego. Not long after Israel was born she married Henry Houghton and they raised Israel and his three younger siblings in Arizona and New Mexico. An interest in music settled within him early on. "I was the kid in church who jumped on the drums at the end of service and annoyed everybody! But my mom is a phenomenal piano player who taught me the basics. And I learned the guitar on a bet from a guy who didn't think I had the discipline to do it. It was 1986 and I was 15 years old. Our bet was 30 days, and in that time I learned how to play practising every single day. I've always been like that about anything I set my mind to. I've always had this feeling that I'm not here to take up free oxygen. Whatever I'm here to do, I'm going to impact my immediate world and, hopefully, the world at large. It's just inherent."

Israel is modest when it comes to acknowledging his musical gifts but his talent is clear from the sophistication of the chord and rhythm changes to the passion of his vocals. "My parents were pastors in a church in Santa Fe," he shares, "On Saturday nights we would do outreach programs with music and theatre. We'd take pop songs and change the lyrics to be more evangelistic - pop/rock/funky stuff from Journey to Stevie Wonder, though songs like "Don't Stop Believing" and "Love's in Need of Love Today" didn't need much tweaking. The musical training came from elbow grease after school."

"I'm not a phenomenal musician," he insists. "I just make what I know work for me. But what I am good at is relationships - connecting with guys that speak a musical language. I've never been afraid of sharing the spotlight with musicians that are ten times better than me because it's not about me. It's about having a great encounter with God and a great experience."
Bestsellers in Praise And Worship