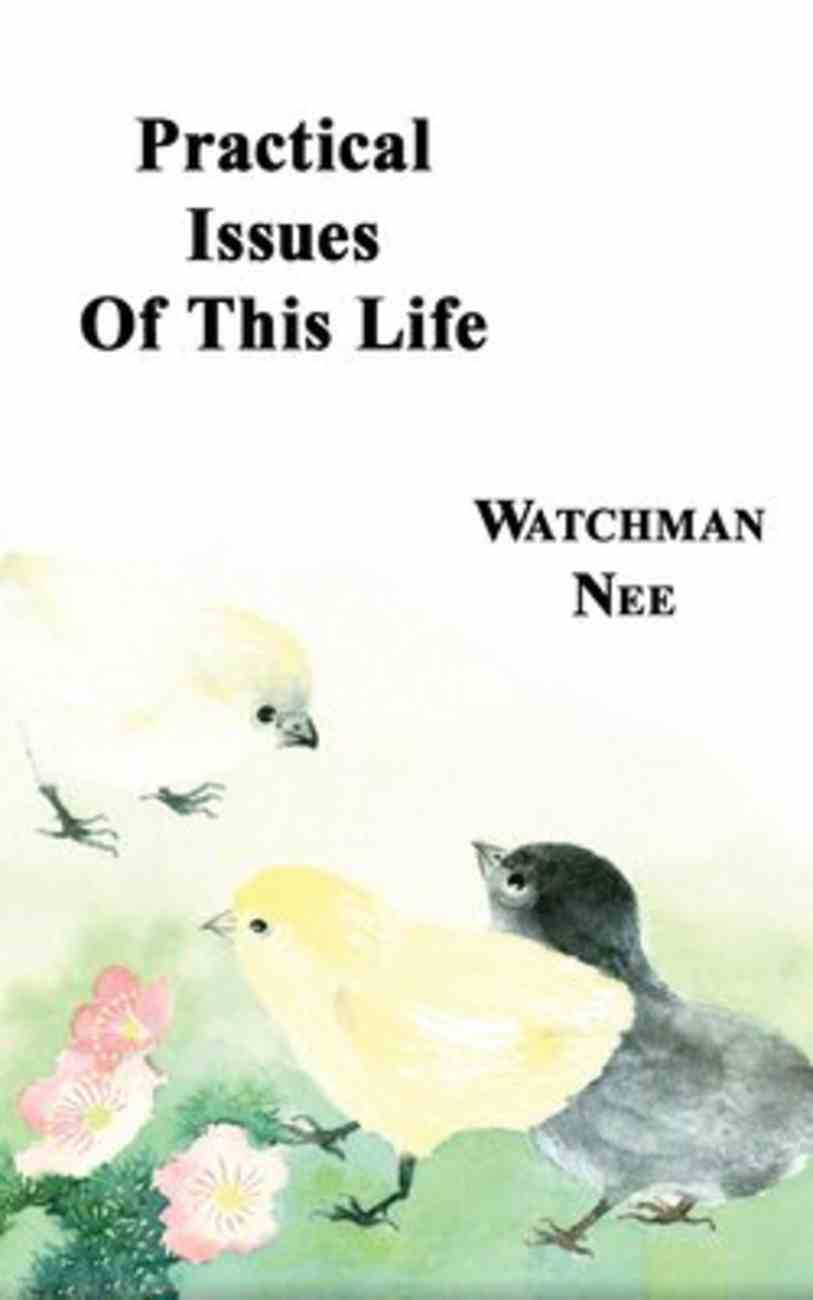 Practical Issues of This Life
Deals with fears, temper, tongue, environment, numbering our days, dissappointment, joy, rest, and sympathy.
Out of Stock
Available to Order
---
Expected to ship in 4 to 5 weeks from Australia.
---
Free Shipping
for orders over $99.
Deals with fears, temper, tongue, environment, numbering our days, dissappointment, joy, rest, and sympathy.
-Publisher
Life on earth has its many cares and problems. Yet not because we are Christians are we therefore exempt from having them. Nevertheless, God has given us His precious and exceedingly great promises that we may live a life of heaven on earth. In the pages that are to follow, Watchman Nee takes up these various problems of this life, such problems as tears, the temper, our tongue, and so forth, and then shows us how they can be transformed by the grace of God and the power of the Holy Spirit into values of eternal worth. Instead of being smothered, we may breathe the air of heaven. The selection of messages included in this volume, dealing as they all do with the practical issues of this life, were given by the author on various occasions during the earlier days of his ministry in China. The truths contained are nonetheless relevant and applicable to us today, since in spite of the great changes that have occurred in the world, this life itself retains all the cares and problems which it has always had. In this connection, we need again to be reminded of our Lord's admonition to His disciples, "Take heed to yourselves, lest haply your hearts be overcharged with the cares of this life, and that day come on you suddenly as a snare" (Luke 21.34).
-Publisher
Watchman Nee was a Chinese Christian teacher whose numerous works have been widely translated into many languages. Born in 1903, Nee became a Christian at the age of seventeen and began writing the same year. He was imprisoned by Communist Chinese authorities in 1952 and died in prison twenty years later. Nee's books include Come, Lord Jesus; A Living Sacrifice; The Normal Christian Life; The Communion of the Holy Spirit; The Finest of the Wheat; and Love Not the World; among many others. Since the early 1970s, Stephen Kaung has translated more than forty of Watchman Nee's simple, yet profound books for western audiences.-Editorial Review.
Contents
1. Tears-precious Are The Tears
2. Temper-mastering Temper
3. Tongue-idle Words Leak Life
4. Environment-god Speaks Through Environment
5. Numbering-numbering Our Days
6. Disappointment-the Lord Is Never Discouraged
7. Joy-a Deeper Joy
8. Rest-rest Is Power
9. Mind> --christ's Mind Our Mind
10. Sympathy-the Sympathy Of The High Priest
Bestsellers in Christian Living