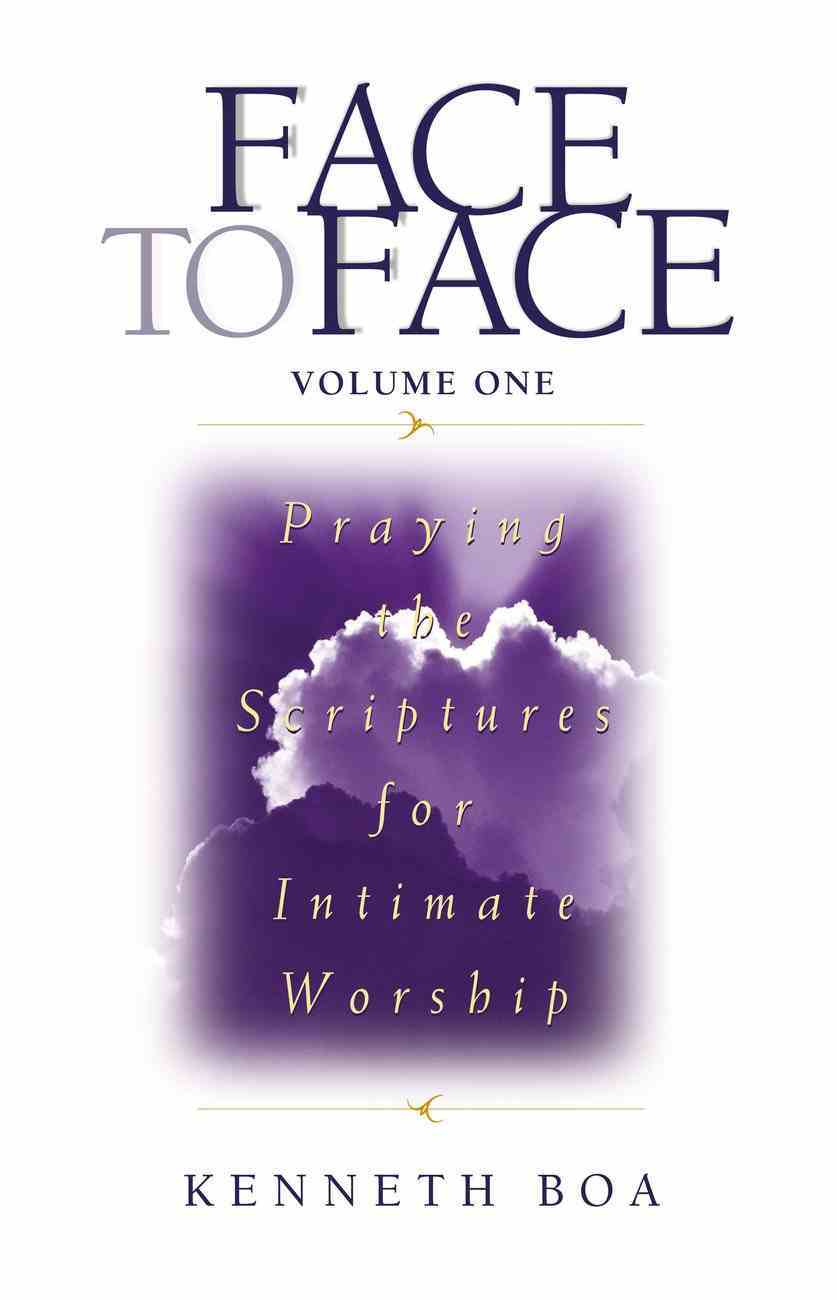 Praying Scriptures For Intimate Worship (Volume 1) (Face To Face Series)
1. Morning Affirmations 2. Daily Prayer Guide 3. Personal Prayer Pages 254 Pages
Out of Stock
Available to Order
---
Expected to ship in 5 to 6 weeks from Australia.
---
Free Shipping
for orders over $99.
1. Morning Affirmations 2. Daily Prayer Guide 3. Personal Prayer Pages 254 Pages
-Publisher
Face to Face books guide you into richer, more effective devotional times. Dr. Kenneth Boa's personalized adaptations of Scripture turn Bible passages into prayers that bring you face to face and heart to heart with God. In Face to Face: Praying the Scriptures for Intimate Worship, select Scripture verses become personal prayers of intimacy and adoration that allow you to express your heart more fully to God.
-Publisher
PRODUCT DETAIL
Catalogue Code 

115655

Product Code 

0310925509

EAN 

9780310925507

UPC 

025986925505

Pages 

352

Department General Books
Category Prayer
Sub-Category General
Publisher Harper Collins Gift Books
Publication Date 

Sep 1997

Sales Rank 

29830

Dimensions 

181 x 120 x 22

mm

Weight 

0.290

kg
Kenneth D. Boa (Ph.D., New York University; D.Phil., University of Oxford in England) is engaged in a ministry of relational evangelism and discipleship, teaching, writing, and speaking.
Dr. Boa is the President of Reflections Ministries, an organization that seeks to encourage, teach, and equip people to know Christ, follow Him, become progressively conformed to His image, and reproduce His life in others. He is also President of Trinity House Publishers, a publishing company that is dedicated to the creation of tools that will help people manifest eternal values in a temporal arena by drawing them to intimacy with God and a better understanding of the culture in which they live.


Recent publications by Dr. Boa include Conformed to His Image; 20 Compelling Evidences that God Exists; Face to Face; Augustine to Freud; Faith Has its Reasons; and God, I Dont Understand. He is a contributing editor to The Open Bible and the consulting editor of the Zondervan NASB Study Bible.


Contents
Introduction
Part One: Morning Affirmations
Part Two: Daily Prayer Guide
The First Month
The Second Month
The Third Month
Part Three: Personal Prayer Pages
PART ONE Morning Affirmations Submitting to God I submit myself and my life to you, O God: In view of Your mercy, O God, may I present my body as a living sacrifice, holy and pleasing to You, which is my reasonable service. May I not be conformed to the pattern of this world but be transformed by the renewing of my mind, that I may prove that Your will is good and acceptable and perfect. (Romans 12:1--2) Adoration and Thanksgiving For who You are and what you have done, accept my praise, O Lord: I will exalt You, my God and King; I will bless Your name for ever and ever. Every day I will bless You, And I will praise Your name for ever and ever. Great are You, Lord, and most worthy of praise; Your greatness is unsearchable. One generation shall praise Your works to another And shall declare Your mighty acts. I will meditate on the glorious splendor of Your majesty And on Your wonderful works. Many shall speak of the might of Your awesome works, And I will proclaim Your great deeds. I will express the memory of Your abundant goodness And joyfully sing of Your righteousness. You, O Lord, are gracious and compassionate, Slow to anger, and great in lovingkindness. You are good to all, And Your tender mercies are over all Your works. (Psalm 145:1--9) For who You are and for what You have done, accept my thanks, O Lord: Blessed are You, O Lord, For You have heard the voice of my prayers. You are my strength and my shield; My heart trusts in You, and I am helped. My heart greatly rejoices, And I will give thanks to You in song. (Psalm 28:6--7) Examination Holy Spirit, search my heart and reveal to me any unconfessed sin you find in me: Search me, O God, and know my heart; Test me and know my anxious thoughts. See if there is any offensive way in me, And lead me in the way everlasting. (Psalm 139:23--24) Lord, I thank you for the forgiveness you promised when you said: 'Come now, let us reason together: Though your sins are like scarlet, They shall be as white as snow; Though they are red as crimson, They shall be like wool.' (Isaiah 1:18) My Identity in Christ I rejoice, Lord Jesus, in the identity I have in You: I have been crucified with You and it is no longer I who live, but You who live in me; and the life which I now live in the flesh I live by faith in You, the Son of God, who loved me, and delivered Yourself up for me. (Galatians 2:20) I have forgiveness from the penalty of sin because You died for me: But You, O God, demonstrate Your own love for us in that, while we were still sinners, Christ died for us. (Romans 5:8) I have freedom from the power of sin because I died with You: In You, O Christ, I was circumcised with a circumcision made without hands, in the removal of the body of the flesh by Your circumcision, having been buried with You in baptism and raised with You through faith in the working of God, who raised You from the dead. (Colossians 2:11--12) I have fulfillment for this day because You live in me: I eagerly expect and hope that I will in no way be ashamed, but will have sufficient courage so that now as always You, Jesus Christ, will be exalted in my body, whether by life or by death. For to me, to live in You, Jesus Christ, means everything and to die is gain. (Philippians 1:20--21) By faith, I will allow You, O Christ, to manifest Your life through me: Thanks be to God, who always leads us in triumph in You and through us spreads everywhere the fragrance of the knowledge of You. (2 Corinthians 2:14) Filling of the Spirit Holy Spirit, control me and fill me today: I was once darkness, but now I am light in You, O Lord. May I walk as a child of light (for the fruit of the light consists in all goodness and righteousness and truth), learning what is pleasing to You. (Ephesians 5:18) As I walk in You, O Spirit, I will not fulfill the desires of the flesh. For the flesh desires what is contrary to You, and You, Holy Spirit, desire what is contrary to the flesh; for you oppose each other, so that I may not do the things that I wish. But if I am led by You, I am not under the law. (Galatians 5:16) Since I live in You, Spirit, may I also walk in You. (Galatians 5:25) Fruit of the Spirit Holy Spirit, may your fruit grow in me: But Your fruit, O Holy Spirit, is love, joy, peace, patience, kindness, goodness, faithfulness, gentleness and self-control; against such things there is no law. (Galatians 5:19--23) I want to glorify the Father by bearing much fruit and so prove to be Christ's disciple. (John 15:8) Purpose of My Life O Lord, may your purpose be fulfilled in my life today---to love You completely, to love myself correctly and to love others compassionately: I will seek first Your kingdom and Your righteousness. (Matthew 6:33) I want to love You, O Lord my God, with all my heart, and with all my soul, and with all my mind, and I want to love my neighbor as myself. (Matthew 22:37, 39) Lord, the love we have from You is patient, it is kind, it does not envy; love does not boast, it is not arrogant, it does not behave rudely; it does not seek its own, it is not easily provoked, it keeps no record of wrongs; it does not rejoice in unrighteousness, but rejoices with the truth; it bears all things, believes all things, hopes all things, endures all things. Love never fails. (1 Corinthians 13:4--7)