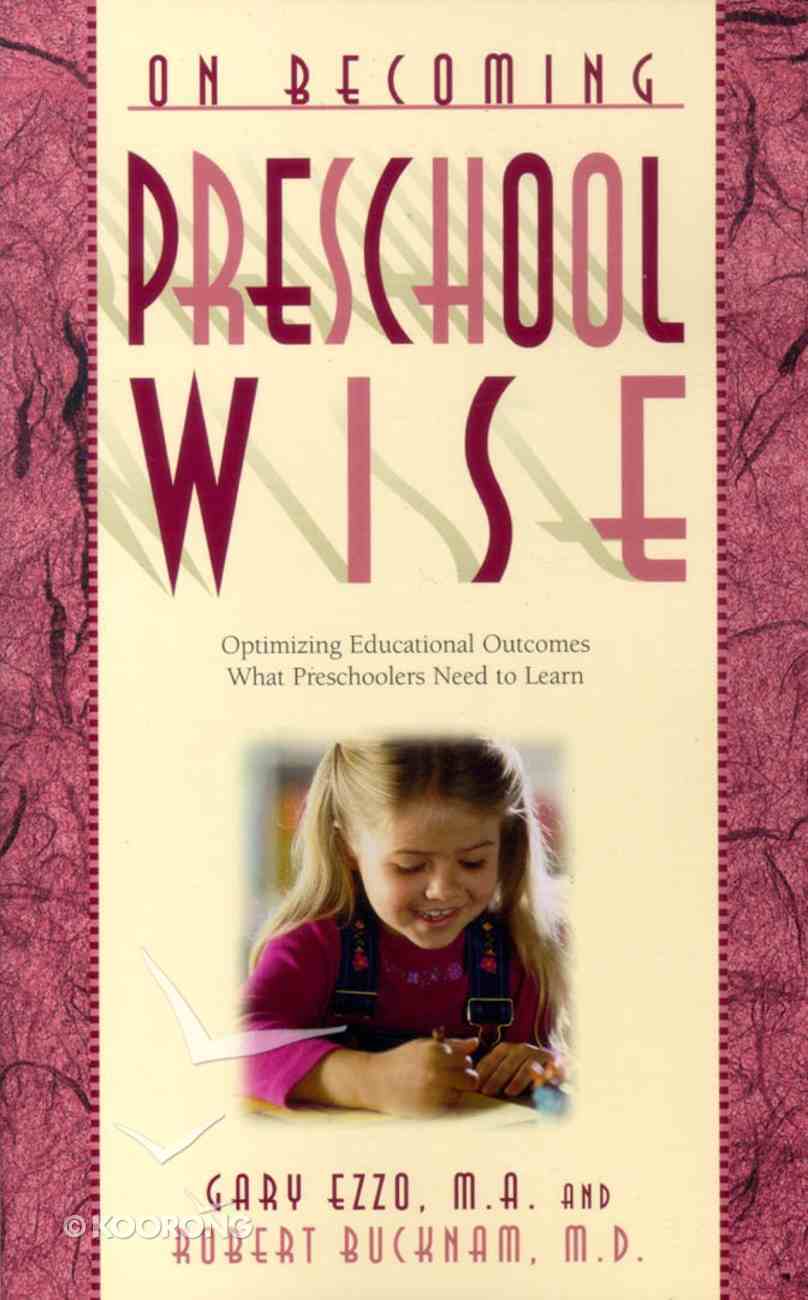 Preschool Wise (On Becoming Series)
Who can understand the mind of a preschooler? You can! Know that above all else, a preschooler is a learner. His amazing powers of reasoning and discrimination are awakened through a world of play and imagination. Through home relationships, he...
---
Expected to ship within 3 hours from Australia.
---
Free Shipping
for orders over $99.
Who can understand the mind of a preschooler? You can! Know that above all else, a preschooler is a learner. His amazing powers of reasoning and discrimination are awakened through a world of play and imagination. Through home relationships, he learns about love, trust, comfort, and security; through friends he learns to measure himself against a world of peers; and through unconditional love, a child establishes his own unique selfhood. The growth period between ages three and five years is all about learning, and On Becoming Preschoolwise is all about helping parents create the right opportunities and best environment to optimize their child's learning potential.Now influencing over two million homes worldwide, trusted parenting authors Gary Ezzo and Dr. Robert Bucknam once again bring their collective wisdom, experience, and insight to bear on this critical phase of preschool training. From teaching about the importance of play to learning how to prepare a preschooler for the first day of school, from organizing your child's week to understanding childhood fears and calming parental anxiety, sound advice and practical application await the reader. You will find this resource as practical as it is informative, curative as much as it is encouraging.
-Publisher
The millions of parents who have already trained their babies with Ezzo's "On Becoming Babywise" will now get rare and helpful insights into the raising of their preschooler. Ezzo offers an exclusive look into the most sensitive and ordinary techniques that he has used which parents have found effective.
-Publisher
Preschoolers are just fun. They know enough about life to enjoy it with enthusiasm and gusto, but not enough to survive very long without supervision. They are independent, but would never want to be left home alone. They live on praise and encouragement, but a single stern look can bring them to tears. They can be shy and timid one moment, yet confidently insist, "I can do it " the next. They possess a ferocious appetite for play and order their lives according to the single principle that nothing is too difficult "for me." Play is their world and their tutor, taking them to the land of discovery that only ceases each night when they close their eyes in peaceful slumber.
Above all else, a preschooler is a learner. His amazing powers of reasoning and discrimination are awakened through a world of play and imagination. Through home relationships, he learns about security, trust, and comfort; through friends he learns to measure himself against a world of peers;


-Publisher
Ezzo is a graduate of Talbot Seminary and School of Theology and is executive director of Growing Families International. ý