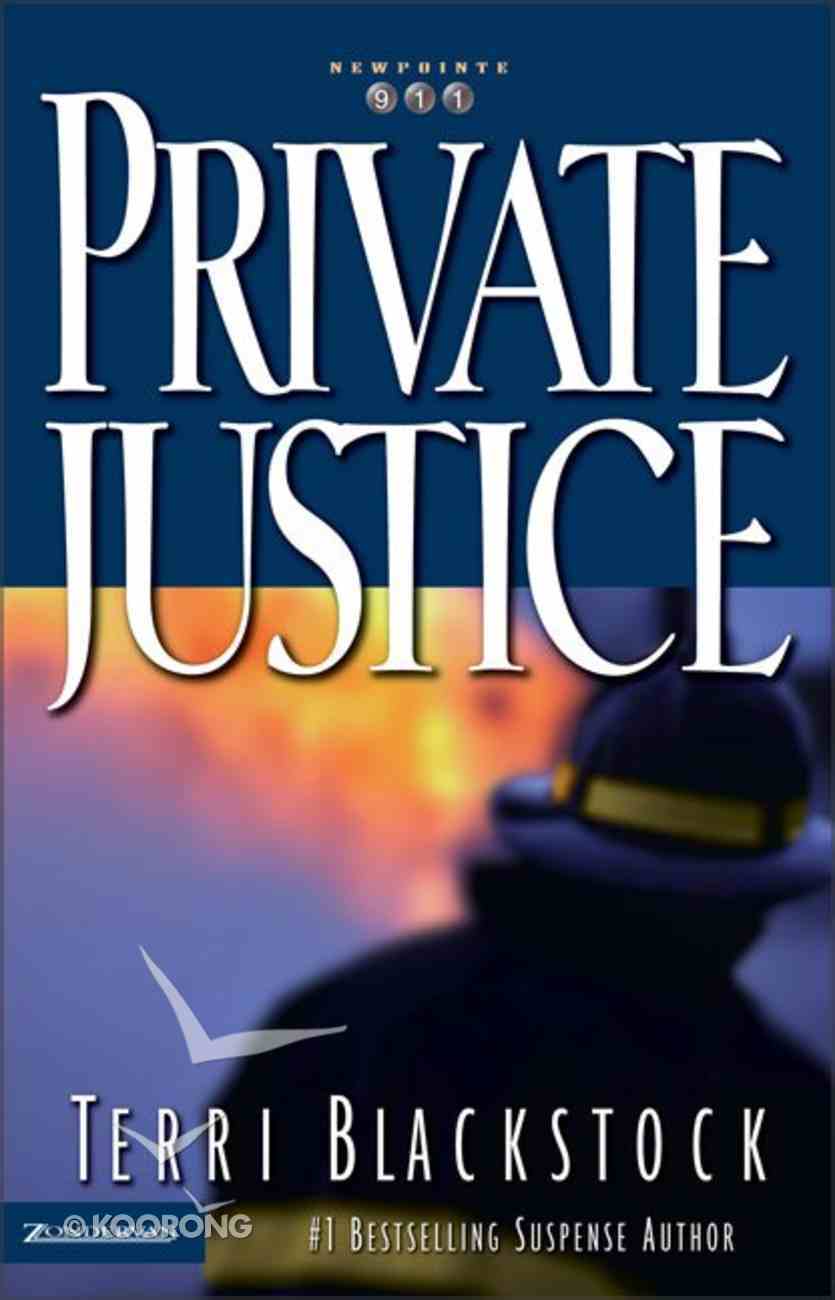 Private Justice (#01 in Newporte 911 Series)
$18.99
20% OFF
―
save $3.80
Book one in bestselling author Terri Blackstock's brand-new series Newpointe 911, in which the firemen of Newpointe, LA, face personal and terrifying trial: Someone is murdering their wives, one by one.
---
Expected to ship tomorrow from Australia.
---
Free Shipping
for orders over $99.
Book one in bestselling author Terri Blackstock's brand-new series Newpointe 911, in which the firemen of Newpointe, LA, face personal and terrifying trial: Someone is murdering their wives, one by one.
-Publisher
Staying together had seemed impossible. Now it's their only hope. A dark shadow of fear has fallen over Newpointe, Louisiana. First one, then another of the town firemen's wives has been murdered, and a third has barely escaped an attempt on her life. Incredible as it seems, a serial killer is stalking this sleepy little southern community. And Mark Branning's wife may be next on the list. Mark is determined to protect her. But keeping Allie alive won't be easy---not with their marriage already dying a bitter death. Unless they renew their commitment to each other and to God, someone else may settle their problems ... permanently. And time to decide is running out. 'This tense and exciting thriller is more than a fabulous read; it has an underlying message about the place of religion within a marriage. Highly recommended.'---Library Journal Private Justice is book one in the Newpointe 911 series by award-winning novelist Terri Blackstock. Newpointe 911 offers taut, superbly crafted novels of faith, fear, and close-knit small-town relationships, seasoned with romance and tempered by insights into the nature of relationships, redemption, and the human heart. Look also for Shadow of Doubt, Line of Duty, Word of Honor, and Trial by Fire.
-Publisher
PRODUCT DETAIL
Catalogue Code 

118698

Product Code 

0310217571

EAN 

9780310217572

UPC 

025986217570

Pages 

384

Department General Books
Category Fiction
Sub-Category Suspense Mystery
Publisher Zondervan
Publication Date 

Apr 1998

Sales Rank 

29715

Dimensions 

215 x 137 x 25

mm

Weight 

0.385

kg
Terri Blackstock (www.terriblackstock.com), known for her Up All Night Fiction, has sold six million books worldwide. She is the bestselling, award-winning author of Last Light, Night Light, True Light and Dawn's Light of the Restoration Series, as well as the Sun Coast Chronicles, Second Chances, Newpointe 911, and Cape Refuge series.. Her most recent books include Intervention and Double-Minds
Koorong -Editorial Review.
Chapter Two The baby's vibrato cries grew hoarse, but the level of urgency in his tone seemed to heighten as Reese Carter banged once again on Martha Broussard's door. Should he go around back? Maybe Martha was hanging laundry or working in the yard with one of those carry-around stereos with those despicable headphones that young people seemed to love these days. That wasn't like her, though. Martha wasn't that young, and she wasn't that irresponsible. The smell of smoke grew stronger, and finally his fear that something was terribly wrong overcame his reluctance. He tested the knob, found it unlocked, and pushed the door open. Feeling as if he were intruding in a place where he had no right to be, he stepped hesitantly inside. 'Martha? Is anyone here?' The baby's hoarse voice choked out louder and more desperately, so he headed down the hall to the baby's room. Martha wasn't there. The baby's face was crimson and wet, and his eyes were swollen from the tears. It had been a long time since Reese had picked up a baby, and again he worried that Martha would think he was intruding, but something was obviously wrong. He leaned over the crib and lifted the baby out. Tommy had been crying too hard to stop, so his pattern changed from screams to hiccup sobs as the old man rocked him. 'Martha?' Reese called again. He carried the baby back down the hall and peered into the living room. There was no sign of her, but a packed diaper bag lay on the floor, some of its contents spilled out. He stepped toward it, peering from the living room into the kitchen. 'Martha?' It was then that he saw the splatters on the blue carpet, the brownish-red spray that was easy to miss at first, then the darker red blotches. He caught his breath. His heart began to pound painfully against his chest. The baby still cried, and Reese held him tighter as he followed the drops across the carpet and into the kitchen, toward the back door that stood open. His mind raced with possibilities. Maybe she had fallen and hit her head, then gotten up, confused, and wandered outside, where she had passed out in the yard. He stepped carefully around the blood and pushed open the screen door. The yard was filling with smoke, and he doubted that it was coming from someone burning tree limbs. He turned back into the kitchen and, with trembling hands, set the baby in the swing and locked the seat belt. As Reese stumbled outside, the baby began to wail again, but he couldn't go back. There was an old storage building at the back of the Broussard yard, and flames were shooting out of the roof. The door to the structure was partially open, and thick smoke poured out. Coughing, he kicked the door open and tried to see inside. Between the lawn mower and a bicycle, he could barely make out the shape of a woman's legs. 'Martha!' Stomping out the flames over the threshold, he stepped in, reached for her feet, and pulled her out. It wasn't until she was out of the reach of the flames, lying on the grass, that he was able to see her face. Martha Broussard had a bullet hole through her forehead. Reese fell back in horror, then turned and ran, tripping on the step as he rushed into the house for the telephone. The baby kept screaming as he grabbed the phone and dialed. '911, may I help you?' He tried to speak, but the words choked in his throat. 'Uh . . . yes . . . please, help. Martha . . . Martha Broussard . . . has been shot . . . and there's fire.' Clutching the telephone in his shaking hands, Reese gradually became aware of the raucous strains of 'When the Saints Come Marching In' mingling with the screams of the baby whose mother lay dead.