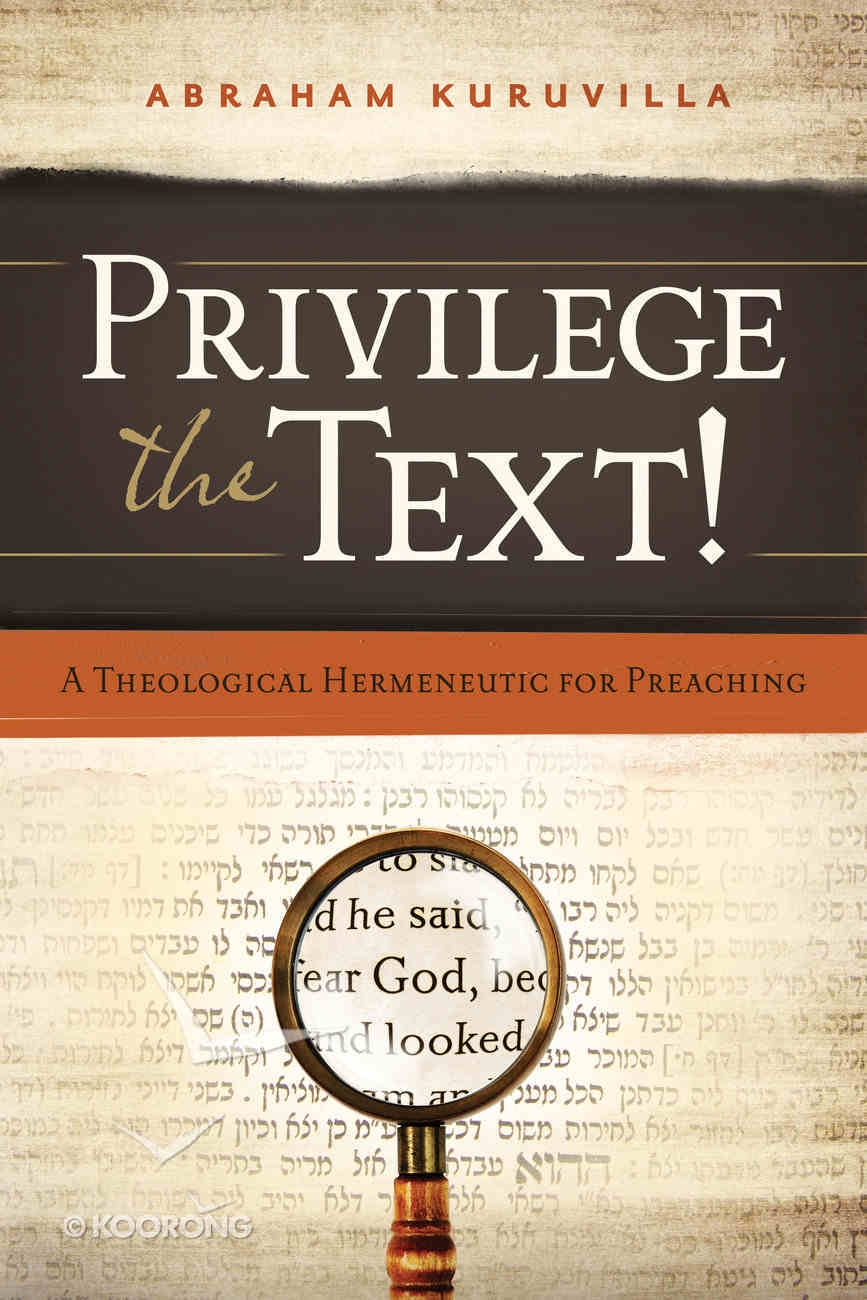 Privilege the Text! spans the conceptual gap between biblical text and life application by providing a rigorous theological hermeneutic for preaching. Kuruvilla describes the theological entity that is the intermediary between ancient text and modern audience, and defines its...
Out of Stock
Available to Order
---
Expected to ship in 4 to 5 weeks from Australia.
---
Free Shipping
for orders over $99.


Privilege the Text! spans the conceptual gap between biblical text and life application by providing a rigorous theological hermeneutic for preaching. Kuruvilla describes the theological entity that is the intermediary between ancient text and modern audience, and defines its crucial function in determining valid application. Based on this hermeneutic, he submits a new mode of reading Scripture for preaching: a Christiconic interpretation of the biblical text, a hermeneutically robust way to understand the depiction of the Second Person of the Trinity in Scripture.


In addition, Kuruvilla's work provides a substantive theology of spiritual formation through preaching: what it means to obey God, the Christian's responsibility to undertake "faith-full" obedience to divine demand, and the incentives for such obedience-all integral to understanding the sermonic movement from text to application.


Privilege the Text! promises to be useful not only for preachers, and students and teachers of homiletics, but for all who are interested in the exposition of Scripture that culminates in application for the glory of God.



-Publisher
PRODUCT DETAIL
Catalogue Code 

380649

Product Code 

9780802407139

ISBN 

0802407137

EAN 

9780802407139

Pages 

336

Department Academic
Category Scripture
Sub-Category Exegesis
Publisher Moody Publishers
Publication Date 

Apr 2013

Sales Rank 

60451

Dimensions 

228 x 152 x 21

mm

Weight 

0.562

kg
Abraham Kuruvilla is Assistant Professor of Pastoral Ministries at Dallas Theological Seminary, TX, USA. A
<div><p><b>table Of Contents</b></p><p>introduction<br>&#160;&#160;&#160;&#160;&#160;&#160;&#160;&#160;&#160;&#160;&#160;&#160;&#160;&#160;&#160; Systematization And Atomization<br>&#160;&#160;&#160;&#160;&#160;&#160;&#160;&#160;&#160;&#160;&#160;&#160;&#160;&#160;&#160; Theological Hermeneutic(s)<br>&#160;&#160;&#160;&#160;&#160;&#160;&#160;&#160;&#160;&#160;&#160;&#160;&#160;&#160;&#160; Pr&eacute;cis Of Chapters&#160;</p><p>chapter 1: General And Special Hermeneutics<br>&#160;&#160;&#160;&#160;&#160;&#160;&#160;&#160;&#160;&#160;&#160;&#160;&#160;&#160;&#160; General Hermeneutics<br>&#160;&#160;&#160;&#160;&#160;&#160;&#160;&#160;&#160;&#160;&#160;&#160;&#160;&#160;&#160; Special Hermeneutics</p><p>chapter 2: Pericopes, Theology, And Application<br>&#160;&#160;&#160;&#160;&#160;&#160;&#160;&#160;&#160;&#160;&#160;&#160;&#160;&#160;&#160; Pericopes<br>&#160;&#160;&#160;&#160;&#160;&#160;&#160;&#160;&#160;&#160;&#160;&#160;&#160;&#160;&#160; Theology Of Pericopes<br>&#160;&#160;&#160;&#160;&#160;&#160;&#160;&#160;&#160;&#160;&#160;&#160;&#160;&#160;&#160; Application</p><p>&#160;chapter 3: Divine Demand And Faithful Obedience<br>&#160;&#160;&#160;&#160;&#160;&#160;&#160;&#160;&#160;&#160;&#160;&#160;&#160;&#160;&#160; Divine Demand<br>&#160;&#160;&#160;&#160;&#160;&#160;&#160;&#160;&#160;&#160;&#160;&#160;&#160;&#160;&#160; Faithful Obedience</p><p>&#160;chapter 4:&#160;the <i>aqedah </i>and Christiconic Interpretation<br>&#160;&#160;&#160;&#160;&#160;&#160;&#160;&#160;&#160;&#160;&#160;&#160;&#160;&#160;&#160;&#160;the <i>aqedah</i> (genesis 22)<br>&#160;&#160;&#160;&#160;&#160;&#160;&#160;&#160;&#160;&#160;&#160;&#160;&#160;&#160;&#160;&#160;christiconic Interpretation</p><p>&#160;conclusion<br>&#160;&#160;&#160;&#160;&#160;&#160;&#160;&#160;&#160;&#160;&#160;&#160;&#160;&#160;&#160; Summary Of Chapters<br>&#160;&#160;&#160;&#160;&#160;&#160;&#160;&#160;&#160;&#160;&#160;&#160;&#160;&#160;&#160; A Historical Afterword</p></div>