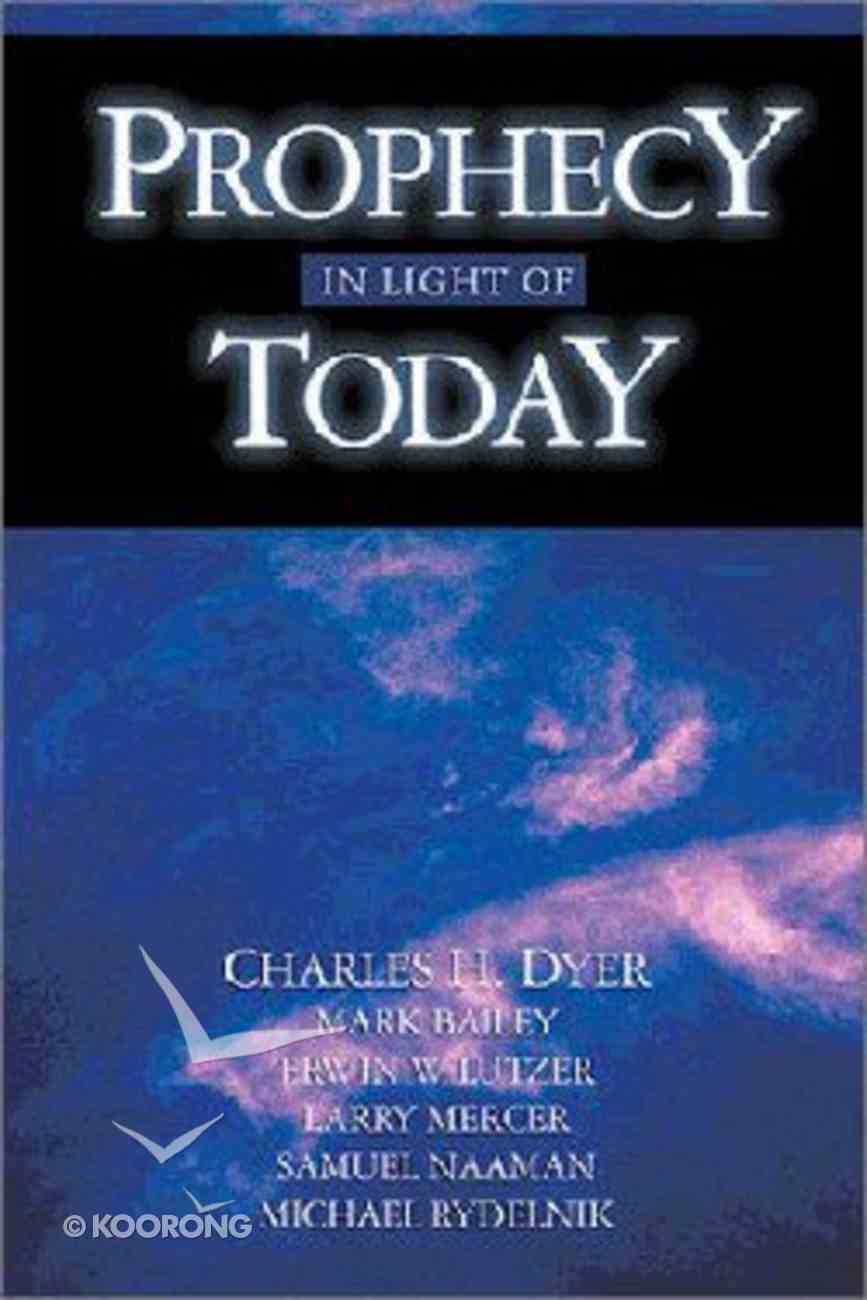 Prophecy in the Light of Today
---
Free Shipping
for orders over $99.
128 Pages
-Publisher

The events of September 11, 2001, shook the United States to its very core. No words could adequately describe the horror felt around the world. This immense catastrophe has caused many to desire a deeper understanding of how biblical prophecy relates to today's culture. In November, 2001, a conference was held on the campus of Moody Bible Institute called Prophecy in Light of Today. This book is born out of that conference, featuring outstanding teachers such as Dr. Mark Bailey, Dr. Michael Rydelnik, and Dr. Erwin Lutzer.

-Publisher
Charles H. Dyer (Th.D., Dallas Theological Seminary) is an Old Testament scholar and Provost and Dean of Education of Moody Bible Institute. He has traveled extensively in the Middle East, including visits to Babylon in Iraq. He is a licensed tour guide for Israel and has taken over 50 trips to the Holy Land. He writes extensively on how modern day events in the Middle East fit into the fulfilment of Biblical prophecy from a dispensational perspective in such books as What's Next?, The Rise of Babylon, and Storm Clouds On The Horizon.
<div>table Of Contents&amp;lt;br&amp;gt;&amp;lt;br&amp;gt;chapter 1: A Peace To End All Peace - Dr. Charles H. Dyer&amp;lt;br&amp;gt;&amp;lt;br&amp;gt;&amp;lt;br&amp;gt;chapter 2: Ground Zero - Dr. Michael Rydelnik&amp;lt;br&amp;gt;&amp;lt;br&amp;gt;&amp;lt;br&amp;gt;chapter 3: The Future Of Islamic Fundamentalism - Dr. Samuel Naaman&amp;lt;br&amp;gt;&amp;lt;br&amp;gt;&amp;lt;br&amp;gt;chapter 4: When All Hell Breaks Loose - Dr. Erwin W Lutzer&amp;lt;br&amp;gt;&amp;lt;br&amp;gt;&amp;lt;br&amp;gt;chapter 5: From Here To Eternity - Dr. Mark L. Bailey&amp;lt;br&amp;gt;&amp;lt;br&amp;gt;&amp;lt;br&amp;gt;chapter 6: How Should We Then Live? - Dr. Larry Mercer&amp;lt;br&amp;gt;&amp;lt;br&amp;gt;</div>
Bestsellers in Spirit-filled Living