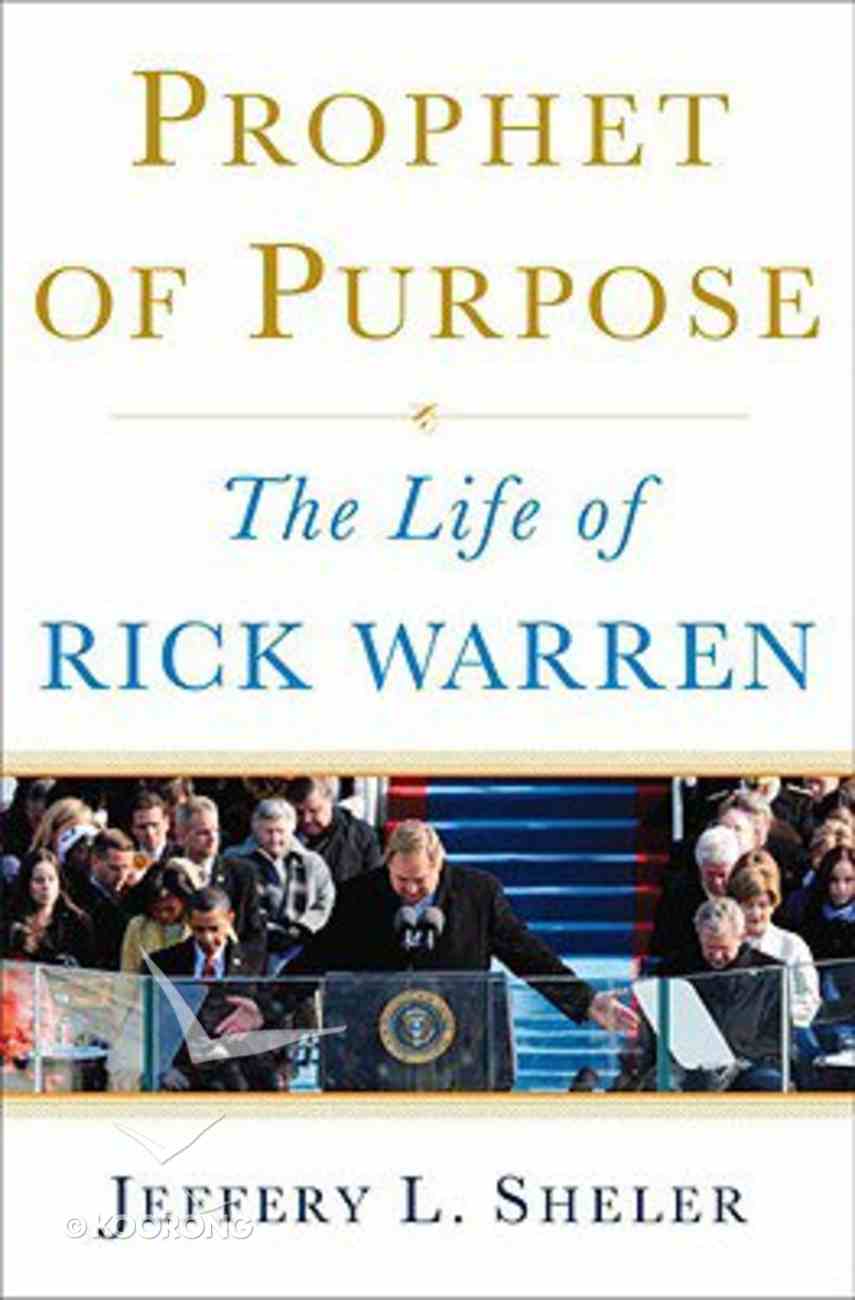 Rick Warren is arguably the most influential man in American religion today. Megachurch pastor, friend of world leaders, and trend-setting spiritual entrepreneur, he is widely recognized as the new public face of evangelical Christianity in America. No other modern churchman...
---
Free Shipping
for orders over $99.
Rick Warren is arguably the most influential man in American religion today. Megachurch pastor, friend of world leaders, and trend-setting spiritual entrepreneur, he is widely recognized as the new public face of evangelical Christianity in America. No other modern churchman has matched his success as a leader and motivator of Christians. His book, The Purpose-Driven Life, is the bestselling nonfiction hardcover of all time, with more than 25 million copies sold. At a time when evangelicalism stands at a political and cultural crossroads, his stature continues to rise.

But who is Rick Warren? What can be learned from the story of the man behind the message? And what does his life say about the state of Christianity today?

Prophet of Purpose: The Life of Rick Warren traces the road Warren has traveled, the influences in his life, his trials and temptations, and the opposition he has encountered along the way. Honest, thorough, and insightful, it explores his spiritual coming of age during the turbulent 1960s, his principled determination to sit out the divisive battles between fundamentalists and moderates in the Southern Baptist Convention in the late 1970s, and his audacious endeavor in the 1980s to build a "church for people who hate church" in the suburbs of Los Angeles. From a handful of worshippers meeting in a tiny apartment, he grew a vibrant congregation of over 22,000 and a global network of pastors who follow his strategies for building churches and transforming lives. In this unofficial biography, Jeffery L. Sheler, who had unfettered access to Warren and those closest to him, presents an intimate portrait of Warren as a man of faith and vision but also of flesh and blood and human foibles–a pastor, communicator, philanthropist, and family man who is driven by a sense of divine purpose to complete the course his God has set before him.

Prophet of Purpose brings Warren and his mission to life and provides a provocative glimpse into the potential future of Christianity in America.
-Publisher
PRODUCT DETAIL
Catalogue Code 

292471

Product Code 

9780385523950

ISBN 

0385523955

EAN 

9780385523950

Pages 

336

Department General Books
Category Biography
Sub-Category General
Publisher Doubleday
Publication Date 

Nov 2009

Dimensions 

241 x 161 x 31

mm

Weight 

0.595

kg
Jeffery L. Sheler is an award-winning journalist who reported for "U.S. News & World Report" for twenty-four years, fifteen as the religion editor, and is now a contributing editor for the magazine. He is the author of "Is the Bible True?," which was named one of the top-ten religion books of 2000 by "Christianity Today,"

Chapter One
  
America's Pastor     

            They began arriving at Angel Stadium in Anaheim early in the morning in a steady stream of shiny SUVs and sport sedans that lined up in neat rows and quickly disgorged their passengers--a decidedly upscale mix of young families, middle-aged couples, andsingles of all ages, most of them appropriately attired for a balmy spring day in colorful shorts and T-shirts or tan-revealing sundresses, flip-flops, baseball caps, and sunglasses. Some hurried inside to stake out the better seats next to the dugouts andbehind home plate. Others lingered in the parking lot and clustered around barbeque grills and coolers or tossed Frisbees or lounged in beach chairs and sipped sodas in the warm Southern California sun.   
            It was a picture perfect day for the ballpark, and the Orange County suburbanites were out in force. But it was not to see their hometown Angels, who happened to be playing in Oakland that afternoon. On this particular Sunday--April 17, 2005--baseball was giving way to worship and to the twenty-fifth anniversary celebration of probably the largest, easily the fastest-growing, and arguably the most influential evangelical congregation in the country, Saddleback Church in nearby Lake Forest.   
            Renting Angel Stadium had been the idea of Saddleback's fifty-one-year-old founder and senior pastor, Rick Warren, a man well-known for thinking big. It was Warren, after all, who in 1980, fresh out of a Southern Baptist seminary, audaciously announced to a handful of worshipers that the church they were starting from scratch in his tiny apartment would one day number 20,000 and would occupy a 50-acre campus. In 2004 they surpassed that goal. What began with two families as "a church for people who hate church" had grown to a congregation of more than 22,000 regular attenders on a 120-acre campus with an annual operating budget of more than $30 million.   
            It was Warren, too, who, thinking that other pastors might benefit from the lessons he had learned about church growth, began conducting training seminars in the late 1980s to promote a biblical model of ministry based on what he saw as "God's purposes." In 1995, he explained that model in a book for pastors entitled The Purpose-Driven Church. It sold over a million copies and helped launch the Purpose-Driven Network, a global alliance of now more than 10,000 congregations in 162 countries. Seven years laterhe wrote a spin-off, a book intended for laypeople called The Purpose-Driven Life. It became the best-selling nonfiction hardcover of all time--more than 25 million copies sold in the first three years alone.   
            The resulting fame and fortune catapulted Warren onto the national and international stage. Suddenly he found himself deluged with media interview requests and with calls from leaders in government, business, academia, the sports world, and the entertainment industry--even from foreign heads of state--seeking personal spiritual guidance or offering speaking invitations. At a time when many evangelical leaders were enlisting in the culture wars and aligning themselves with narrow partisan causes, Warren used his new public platform to call attention to the plight of the poor and the powerless, especially to AIDS victims in Africa.   
            At the same time, Warren and his wife, Kay, were determined that their sudden wealth would not alter their lifestyle. They became "reverse tithers," giving away 90 percent of their income and keeping just 10 percent. Most of the proceeds from The Purpose-Driven Life went to establish nonprofit foundations for AIDS relief and for pastoral training. Warren gave back the salary that his church had paid him over twenty-five years and began working for free. The Warrens stayed in the same unpretentious house in a hillside subdivision and continued driving the same Ford SUV. There would be no yachts, no vacation homes, no expensive wardrobes.   
            All of this, of course, was seriously abnormal behavior, and the world soon took notice. Here was an evangelical leader--a Southern Baptist, no less--who simply did not fit the stereotype of the dour Religious Right activist or of the money-grubbing TV preacher that so often seemed to dominate media portraits of evangelical Christians and their leaders. Instead Warren represented a new and more winsome breed of evangelical: theologically and socially conservative, yes, but far less political and far more positive in engaging the broader culture. Suddenly Warren was on the media's radar screen and he quickly became a familiar face on Larry King Live, Good Morning America, and other national TV news and public-affairs talk shows where he affably offered a fresh evangelical perspective on topics ranging from euthanasia and the Terri Schiavo case to the meaning of Christmas and the role of faith in the aftermath of 9/11. Warren was on his way to becoming, as Fortune magazine would describe him, "secular America's favorite evangelical Christian."   
            Perhaps more important was Warren's growing stature among his fellow evangelicals. The evangelical movement--some 50 million Americans who describe themselves as "born again" and espouse biblical values--had emerged as a potent political and cultural force in the final quarter of the twentieth century. Now it stood at a crossroads with the aging and passing of an older generation of leaders and no shortage of competing younger voices vying to succeed them. Warren stepped ahead of the pack in 2002 when the evangelicalflagship magazine Christianity Today declared him "America's most influential pastor"--a reflection of the broad reach of his Purpose-Driven Network and of the tens of thousands of church leaders who looked to him for guidance. Two years later, a nationwide survey of pastors found that only the legendary evangelist Billy Graham, long the most revered figure in American Protestantism, was regarded as having greater influence on evangelical churches and church leaders. In the minds of preachers and pundits alike there appeared to be little doubt that if anyone was capable of succeeding the aging Graham in the honorific role of "America's Pastor," it was Rick Warren.   
            And yet Warren was not without detractors. Vocal critics within the movement questioned his "seeker-sensitive" approach to ministry, accusing him of promoting "feel-good" religion over the often rigorous demands of traditional Christianity. His therapeutic message and market-driven techniques, they argued, emphasized church growth over true discipleship. And in his eagerness to address international social ills such as AIDS and poverty, said his more conservative critics, Warren had become a fellow traveler with political and theological liberals--sworn enemies of the Religious Right. In many respects, Warren had emerged as a pivotal figure in a struggle for the soul of American evangelicalism.       

     Yet evidence of such controversy was nowhere in sight on this sunny Sunday afternoon. On this day Warren was fully immersed in the only role he had ever really aspired to in his twenty-five years of ministry--that of a local-church pastor. For this special celebration he wanted his entire Saddleback flock, which normally attends services spread over a weekend in multiple venues, to gather together in one place for the very first time, and Angel Stadium was the only facility in Orange County large enough to accommodate them.   
            A few minutes after 1 p.m. the 45,000-seat stadium was nearly full, and it was rocking. From a wide, elevated stage built over second base, an ensemble of guitars, drums, and assorted wind instruments cranked out the opening bars of an upbeat praise song and the crowd came to its feet, clapping, swaying, and singing along. The lead singer and Saddleback's worship director, Rick Muchow, a fiftyish-looking man with a shaved head and wire-rimmed glasses, danced and bobbed about the stage while a video cameraman scurried around the edges, capturing the energetic performance from various angles and flashing it to the stadium's JumboTron screens. Over the stage, a long banner formed a proscenium arch in big block letters--God's Purposes. God's Church. God's Plan.   
            After a few more songs, the crowd settled into their seats and Muchow moved to center stage to make an introduction. "To the rest of the planet he's the best-selling author in the world... and this week Time magazine named him one of the hundred mostinfluential people in the world. But to us and to me he is our pastor. Let's give a warm Saddleback welcome to Pastor Rick!"   
            The crowd jumped to its feet as Warren loped onto the stage big and bear-like, looking his usual laid-back self in an untucked rose-colored sport shirt, black slacks, wraparound sunglasses, spiky hair, and signature goatee. His fleshy and slightly sun-burned face--a face once famously compared in its ordinariness to that of a "friendly butcher"--filled the giant screens in right and left fields. Warren acknowledged the ovation with a broad smile and a spirited "Woo-hoo!"   
            "You know," he said, grabbing the microphone, "there are two things I've always wanted to do in a stadium." Turning toward the band, he broke into the first lines of Jimi Hendrix's "Purple Haze," punctuating it with a riff on the air guitar. "The other thing I've always wanted to do," he said when the laughter and applause subsided, "is the wave. So let's start over here." Pointing down the first-base line at the grandstands he directed the rising and falling of his cheering congregation, around and around the stadium, laughing with glee at the spectacle as Muchow and the band struck up a musical accompaniment. "What I want to say about that," Warren said when it finally ended, "is that the wave is just starting. For twenty-five years it's been building... You are the most amazing church, and I love you!"       

            For all of his accomplishments and stature, there is something disarmingly approachable about Rick Warren that audiences and interviewers pick up on almost immediately. He comes across as an average guy--genial, gregarious, quick with a self-deprecating joke--someone you would more expect to be captain of a bowling team than a megachurch pastor. He laughs easily and often with a loud and hearty Robert De Niro kind of laugh--head tilted back, chin jutted out, the corners of his mouth tipped slightly downward.He prefers hugs to handshakes, wrapping his arms around even the most casual of acquaintances as though they were family. He eats copious amounts of food and has the girth to prove it. His personal sense of fashion, he likes to say, is clothes that don't itch.   
            In one of the first national-media profiles of Warren late in 2002, Christianity Today explored his "regular guy" appeal and found that, to a large extent, it was rooted in his rural upbringing as the son of a Southern Baptist minister who launched and pastored tiny churches in small Northern California towns. "Warren remains a small-town personality," the magazine observed, "a class president and class clown rolled together." Warren's wife, Kay, put it more bluntly: "He's not sophisticated in any way. This is a man who will come out in an Elvis costume. He's a ham. He's a goofball."   
            Yet there is far more to Warren than a small-town, fun-loving everyman. In attempting to explain his success, those closest to him and those who have studied him from afar tend to use very similar terms to describe him: he is a "management genius" and a "spiritual entrepreneur" who understands business principles and organizational dynamics better than many MBAs. Peter Drucker, the late legendary management consultant and a longtime Warren mentor, once described Warren as "the inventor of perpetual revival" and Saddleback's organizational model as "the most significant sociological phenomenon of the second half of [the twentieth] century." Indeed, no modern church pastor has matched Warren's success as a motivator and mobilizer of Christian workers. Each weeksome 9,500 Saddleback members participate in more than 200 local projects, from feeding the homeless and leading neighborhood Bible studies to cleaning and maintaining the church grounds. Thousands more have gone overseas on short-term mission trips. Most ofthe work is organized through the more than 3,200 small groups who meet weekly in private homes for prayer and Bible study and form the backbone of Saddleback's organizational structure.   
            Others have attributed Warren's pastoral success to his celebrated skills as a communicator. Alan Wolfe, a noted Boston College political scientist, once referred to Warren as "not only the best preacher, but simply the best public speaker I have ever heard." A big part of what impressed Wolfe and others is Warren's knack for simplifying and clarifying complex subjects. Both in the pulpit and in his books he prefers conversational storytelling to lofty oratory or scholarly exegesis and is fond of using listsand easy-to-remember alliterations to communicate a point. The purpose of life, for example, as he explained in The Purpose-Driven Life, may be easily summed up in five bullet points: "You were planned for God's pleasure. You were formed for God's family. You were created to become like Christ. You were shaped for serving God. You were made for a mission." In one sermon on missionary outreach, Warren sought to reassure his flock that there was nothing to fear about working as missionaries. "It's not about location; it's about dedication. It's not about where you are; it's about whom you serve. It's not about crossing the sea; it's about seeing the cross." It was classic Warren-speak.   
            To his family and staff, what accounts most for Warren's success is his strong personal faith--an attribute one might reasonably expect in a member of the clergy. But in Warren's case, earnestly believing the mantra that "God's work done God's way will not lack God's support" has produced a bold sense of confidence that his aides often find inspiring but also nerve-wracking at times. "If Rick believes God is in it--a vision, a plan, a program--he will not let go of it even if there is no other reason, humanly speaking, to believe it's going to work," says Glen Kreun, Saddleback's chief administrative pastor and Warren's longest-serving associate. "In the early years, people would say to him all the time, 'You'll never reach twenty thousand. You'll never be ableto afford fifty acres. What are you thinking?' But Rick doesn't quit. And when you're riding with somebody who is that positive, you can't help but be positive." Warren's faith has proved contagious, and out of it has sprung a church and a worldwide movement.       

            As the afternoon wore on at Angel Stadium, the celebratory mood continued to build with energetic performances by Christian pop artist Michael W. Smith and a colorfully costumed dance troupe from Rwanda. Hundreds of church staff members and volunteers marched from the dugouts and onto the infield to receive recognition and were greeted with a fireworks display.   
            There to offer a personal greeting was the president of Rwanda, Paul Kagame, tall and pencil thin in a dark blue suit and red tie. Warren welcomed him to the stage with a hug. A year earlier, Kagame had invited Warren to work with churches in Rwanda tohelp turn the tiny east African country, wracked by poverty and genocide, into the first Purpose-Driven nation. He had come to California to congratulate "my friends, Rick and Kay Warren" on Saddleback's twenty-fifth anniversary and to thank them for the work they were about to undertake in his country. "We in Rwanda understand the great need for good leaders," Kagame said in a quiet, almost inaudible voice as he nodded to Warren, "because we have witnessed the destruction that self-serving leadership can cause."