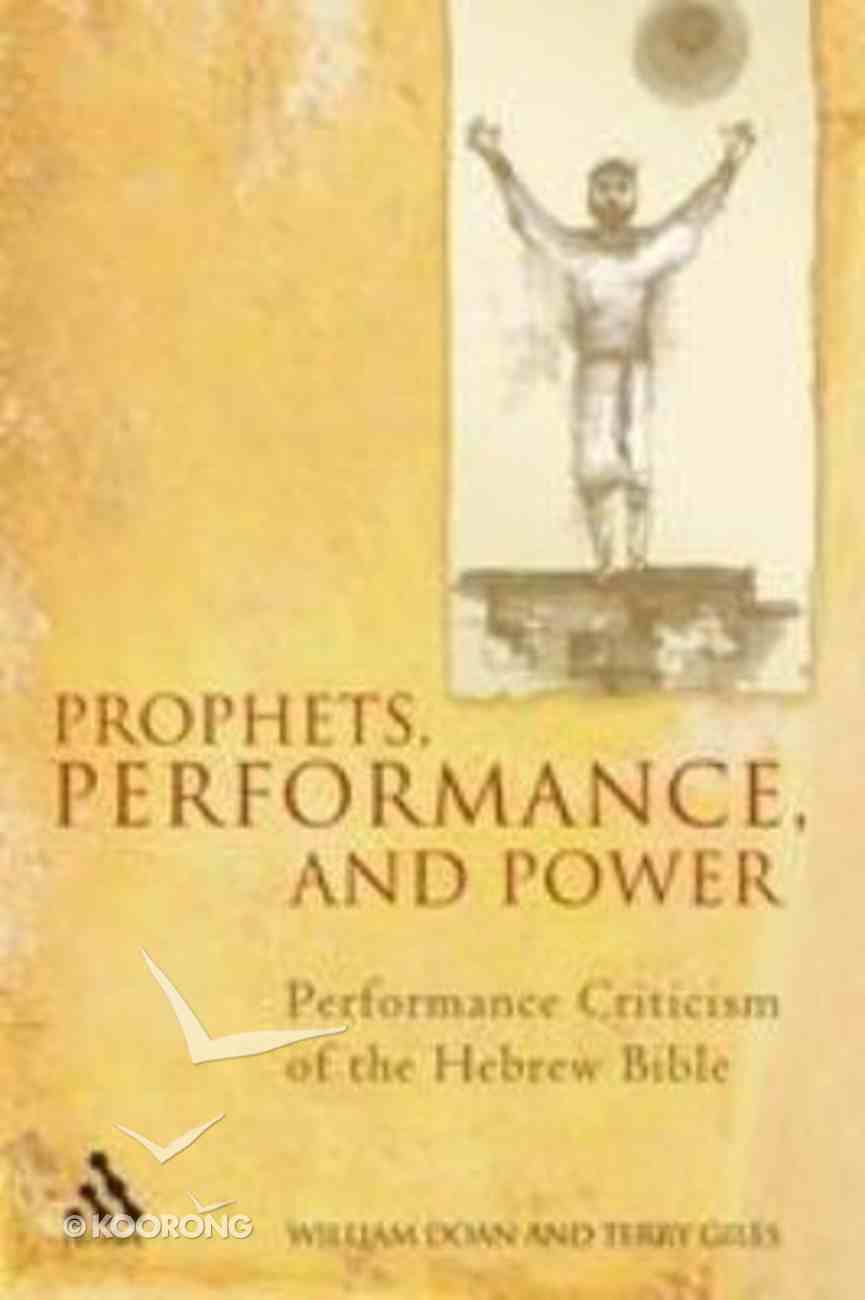 Prophets, Performance, and Power
Identifies and describes performance modes of thought imbedded in the prophetic literature through performance analysis.>
Out of Stock
Available to Order
---
Expected to ship in 7 to 8 weeks from Australia.
---
Free Shipping
for orders over $99.
Identifies and describes performance modes of thought imbedded in the prophetic literature through performance analysis.>
-Publisher

-Provides the first ever use of performance criticism to analyze Old Testament, or biblical, texts. -Shows that prophetic activity, especially Amos, functions as drama and theater in the same way that Oedipus does. -Offers to general readers a new way of reading and thinking about the Old Testament prophets. Embedded in portions of the biblical text are performance modes of thought that preserve a pre-literary way of thinking that can be analyzed through performance analysis. Even as literary forms of thought are embedded in non-literary forms of communication (television and radio announcers, preachers, actors, conversation), pre-literary forms of thought (i.e., performance modes of thought), became embedded in early literature. Performance analysis is designed to identify and describe these performance modes of thought embedded in the prophetic literature. While recognizing the contribution of various forms of literary criticism, performance analysis enriches literary analysis by bridging the written word to its oral world. Doan's and Giles' book has two major components: the development of performance analysis methodology and the application of that methodology to select portions of the prophetic texts found in the Hebrew bible.

-Publisher
William J. Doan (Ph.D., Case Western Reserve) is Associate Dean for Administration, Graduate Research, and Scholarship in the College of Arts and Architecture at The Pennsylvania State University. He is the author of many published works, including Prophets, Performance, and Power with Terry Giles.
Terry Giles (Ph.D., Michigan State University) is a professor in the theology department at Gannon University. He will serve as president of Faculty Senate for the 2004-05 academic year. He has authored a number of books, Prophets, Performance, and Power; A Doubter's Guide to Heaven, Twice Used Songs: Performance Criticism of the Songs of Ancient Israel, Tradition Kept, and The Keepers with Robert T Anderson, as well as several book reviews in the Baptist Review of Theology.
Kooorng - Editorial Review.
Chapter 1 - Prophets, Performance And Power; Introduction; Writing And Orality In The Hebrew Prophets; Performance Mode; Linguistic Context Of Orality In Texts; Medium Transferability And "twice Used" Communication; Performance As An Aspect Of Orality; Performance Defined; Chapter 2 - From The Prophetic Performer To The Scribal Performer; Introduction; The Prophet And The Scribe; Scribe Verses Prophetic Performer; Power In Texts; From Prophetic Actor To Prophetic Character; Presentational Vs. Literary; Scribe As Performer; Performative Mode Of Thought In A Text; Orality In Text: Social Power; Orality In Text: Performative Mode Of Thought; Chapter 3 - Prophets And Performance. Introduction; 1 Samuel Chapter 3; Theatre And Drama Defined; The Social Set Of Constructed Activity; Drama: Something That Occurs; Isolated In Time And Space; Theatrical To Dramatic Activity; Building A Drama; Script; Dramatic Segments; 1 Samuel 3: Performance Mode Of Thought; Precipitating Context; Project; Chapter 4 - Amos: A Prophetic Performance; Introduction: Is All The World A Stage?; Created Time; Performance Space / Time And False Prophecy; Implements Used In Performance Space / Time; Audience; The Model Spectator; Closed And Open Performances; Structuring The Spectator's Attention; Audience And Performance; Random Audience; Communal Audience; Amos: A Performance Prophet; Chapter 5 - The Amos Oracles; Introduction; Performance Arena; Oracles Against The Foreign Nations (1:3-2:6); Precipitating Context; Explicit And Implicit Activity; The Oracle Against Israel (2:6-16); Project; Crux; Let Justice Roll Down (5:21-24); The Amos Doxologies; Chapter 6 - Amos 7-9: The Vision Reports; Introduction; Drama Paradigms; Amos Vision Reports; The Amos - Amaziah Confrontation (7:10-17); Conclusion; Chapter 7 - Conclusion: The Next Act; Glossary; Bibliography.
Bestsellers in Biblical Studies