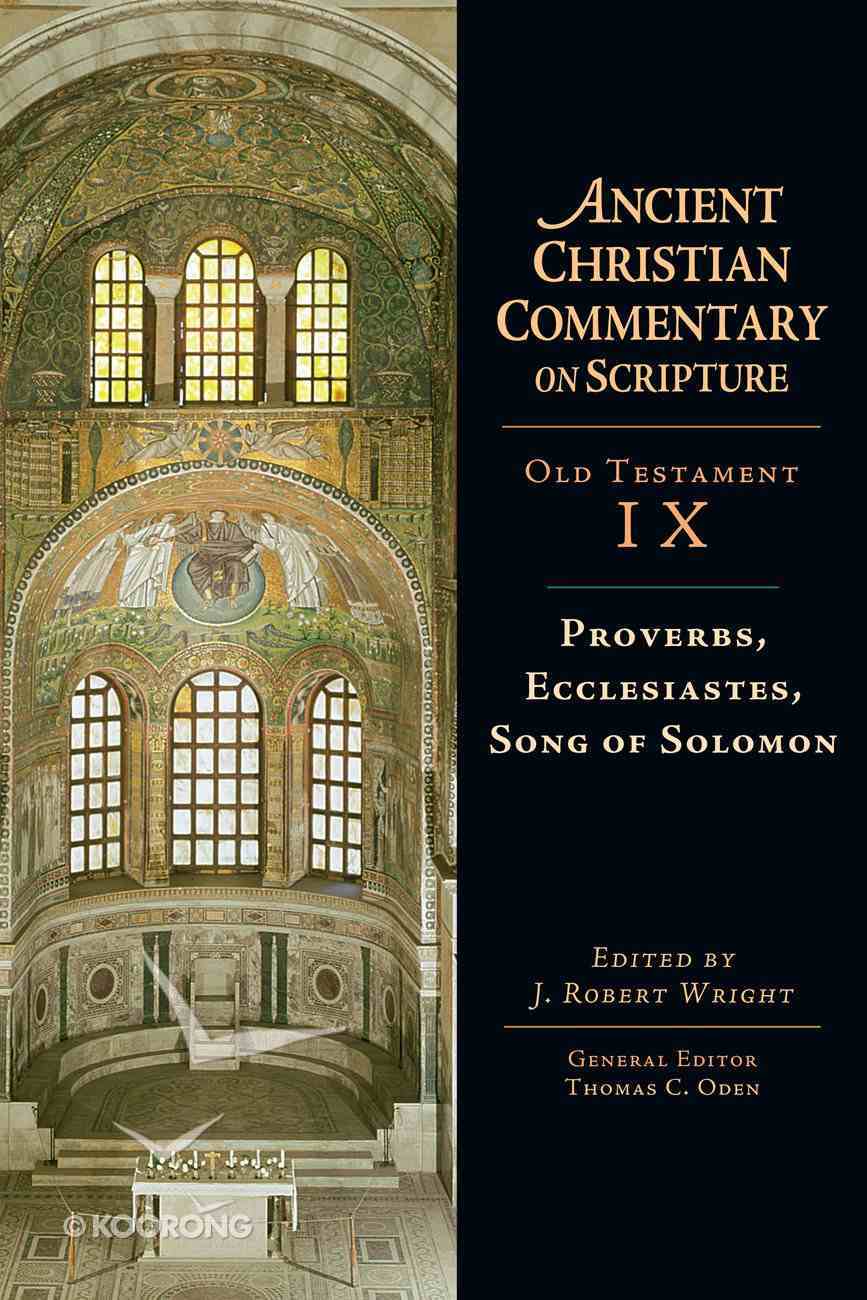 Proverbs, Ecclesiastes, Song of Solomon (Ancient Christian Commentary On Scripture: Old Testament Series)
Among the Wisdom Literature of the Old Testament, Proverbs, Ecclesiastes and the Song of Solomon were all thought by the early church fathers to have derived from the hand of Solomon. To their minds the finest wisdom about the deeper...
Instant download
---
Read using our free app on your tablet or mobile!
---
Free Shipping
for orders over $99.
Among the Wisdom Literature of the Old Testament, Proverbs, Ecclesiastes and the Song of Solomon were all thought by the early church fathers to have derived from the hand of Solomon. To their minds the finest wisdom about the deeper issues of life prior to the time of God's taking human form in Jesus Christ was to be found in these books. As in all the Old Testament they were quick to find types and intimations of Christ and his church which would make the ancient Word relevant to the Christians of their day.Of extant commentaries on Ecclesiastes none is so profound as the eight homilies of Gregory of Nyssa, even though they cover only the first three chapters of the book. Joining Gregory among those most frequently excerpted in this volume are Augustine, Ambrose, Gregory the Great, Origen, John Cassian, John Chrysostom, Athanasius, Bede the Venerable and Jerome. Gregory of Nazianzus, Basil the Great and Cyril of Jerusalem lead a cast of other less frequently cited fathers, and then there remains a large cast of supporting players, some of whose work is translated here into English for the first time.This volume edited by J. Robert Wright thus offers a rich trove of wisdom on Wisdom for the enrichment of the church today.
-Publisher
J. Robert Wright (D. Phil., Oxford University) is St. Mark'sJ. Robert Wright (D. Phil., Oxford University) is St. Mark's Professor of Ecclesiastical History at General Theological Professor of Ecclesiastical History at General Theological Seminary in New York, New York. A life fellow of the Royal HSeminary in New York, New York. A life fellow of the Royal Historical Society (London), he serves as the historiographeristorical Society (London), he serves as the historiographer of the Episcopal Church. He has written or edited several b of the Episcopal Church. He has written or edited several bC
Among The Wisdom Literature Of The Old Testament, Proverbs, Ecclesiastes And The Song Of Solomon Were All Thought By The Early Church Fathers To Have Derived From The Hand Of Solomon. To Their Minds The Finest Wisdom About The Deeper Issues Of Life Prior To The Time Of God's Taking Human Form In Jesus Christ Was To Be Found In These Books. As In All The Old Testament They Were Quick To Find Types And Intimations Of Christ And His Church Which Would Make The Ancient Word Relevant To The Christians Of Their Day.of Extant Commentaries On Ecclesiastes None Is So Profound As The Eight Homilies Of Gregory Of Nyssa, Even Though They Cover Only The First Three Chapters Of The Book. Joining Gregory Among Those Most Frequently Excerpted In This Volume Are Augustine, Ambrose, Gregory The Great, Origen, John Cassian, John Chrysostom, Athanasius, Bede The Venerable And Jerome. Gregory Of Nazianzus, Basil The Great And Cyril Of Jerusalem Lead A Cast Of Other Less Frequently Cited Fathers, And Then There Remains A Large Cast Of Supporting Players, Some Of Whose Work Is Translated Here Into English For The First Time.this Volume Edited By J. Robert Wright Thus Offers A Rich Trove Of Wisdom On Wisdom For The Enrichment Of The Church Today.
A Guide To Using This Commentary
Abbreviations
Introduction To Proverbs, Ecclesiastes And Song Of Solomon
Commentary On Proverbs
Commentary On Ecclesiastes
Commentary On Song Of Solomon
Appendix: Early Christian Writers And The Documents Cited
Timeline Of Writers Of The Patristic Period
Biographical Sketches
Bibliography Of Works In Original Languages
Bibliogrpahy Of Works In English Translation
Author/writings Index
Subject Index
Scripture Index
Bestsellers in Old Testament Commentaries