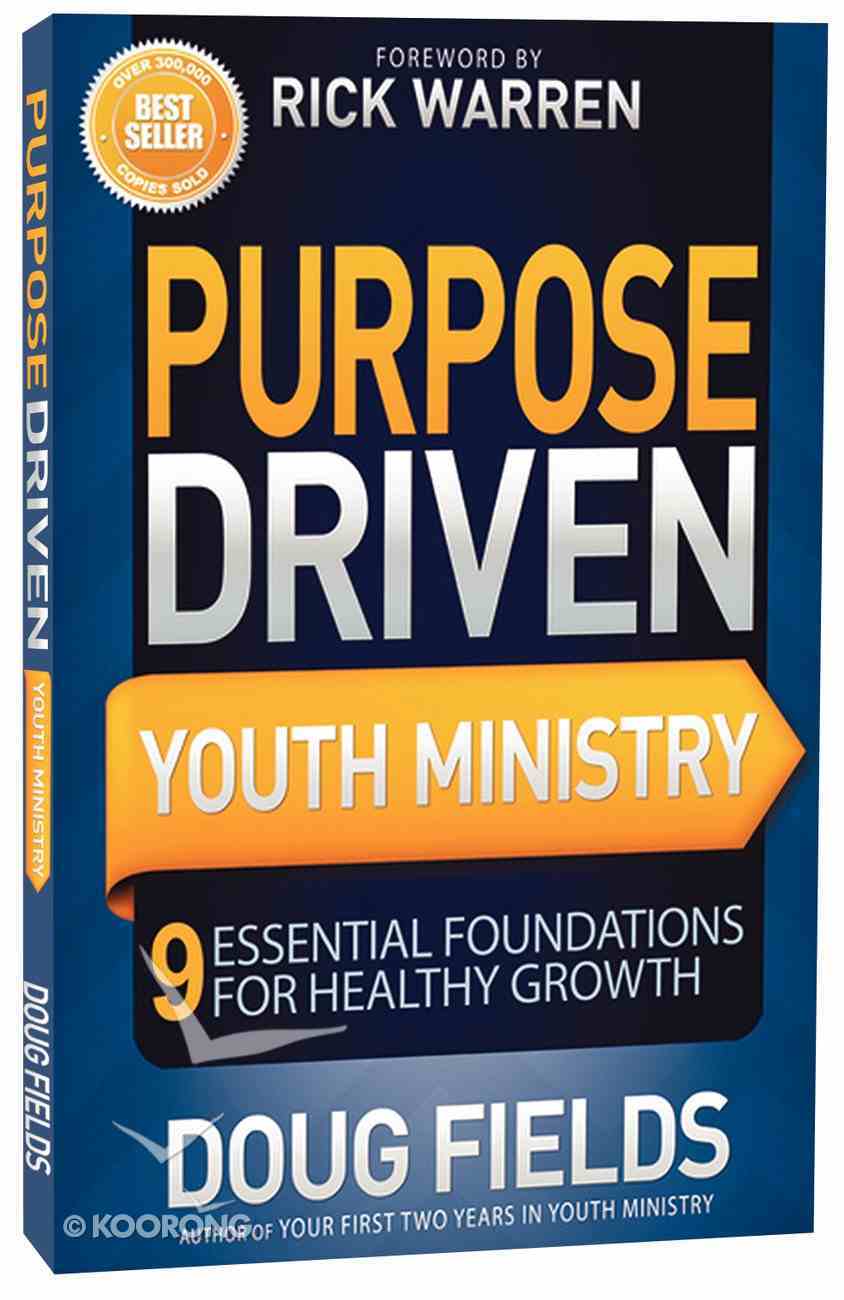 Purpose Driven Youth Ministry (Purpose Driven Youth Ministry Series)
For the past decade, youth pastors around the world have used the bestselling Purpose Driven Youth Ministry to help guide them as they build a healthy youth ministry that is aimed at impacting the lives of teenagers. Written by renowned...
---
Expected to ship within 5 hours from Australia.
---
Free Shipping
for orders over $99.
For the past decade, youth pastors around the world have used the bestselling Purpose Driven Youth Ministry to help guide them as they build a healthy youth ministry that is aimed at impacting the lives of teenagers. Written by renowned youth ministry expert Doug Fields, this book is one that both lay and professional youth workers cannot afford to miss. Purpose Driven Youth Ministry doesn't present a program to be copied into any context. Rather, it presents foundational principles of youth ministry that help you develop the ministry that best meets the needs of the students in your unique setting. This classic will help you build a student ministry with purpose as well as provide examples and testimonies from youth workers around the globe. 'I believe PDYM will be the standard by which all youth ministry programs are judged for years to come. It is solid enough for the college or seminary classroom and practical enough for the novice.' ---Chap Clark, Professor of Youth, Family, and Culture, Fuller Theological Seminary
-Publisher
PRODUCT DETAIL
Catalogue Code 

365456

Product Code 

9780310694854

ISBN 

031069485X

EAN 

9780310694854

Pages 

400

Department Ministry
Category Youth Ministry
Sub-Category Youth Leaders
Publisher Zondervan
Publication Date 

Feb 2013

Sales Rank 

50379

Dimensions 

25 x 25 x 25

mm

Weight 

0.453

kg
Founder of Simply Youth Ministry, Doug Fields has been in youth ministry since 1979 and is currently on staff at Saddleback Church in Southern California. He's the director of Purpose Driven Youth Ministry, and the author and co-author of more than 50 books, including the bestsellers Speaking to Teenagers and Your First Two Years in Youth Ministry. SPANISH BIO: Doug Fields es el pastor de ensenanza de la Iglesia Saddleback, una iglesia de 25,000 miembros. Como pastor de jovenes por mas de veinticinco anos, Doug realiza su actual funcion desde 1992. Ha sido autor y coauthor de mas de cincuenta
Contents
Foreword
Acknowledgments
Introduction
Component One: The Power Of God
1.healthy Youth Ministries Have Spiritually Healthy Leaders
Component Two: Purpose
2.discovering The Five Purposes For Your Youth Ministry
3.why A Purpose Statement Is Important And How To Create One
4.conveying Your Purpose And Leading By Example
Component Three: Potential Audience
5.identifying Students' Commitments
Component Four: Programs
6.reaching Community Students
Fulfilling God's Purpose Of Evangelism
7.keeping Crowd Students
Fulfilling God's Purpose Of Worship
8.nurturing Congregation Students
Fulfilling God's Purpose Of Fellowship
9.preparing Committed Students
Fulfilling God's Purpose Of Discipleship
10.challenging Core Students
Fulfilling God's Purpose Of Ministry
11.five Characteristics Of Healthy Youth Programs
Component Five: Process
12.using A Visual Process To Communicate Your Spiritual Growth Plan
Component Six: Planned Values
13.defining And Communicating Important Values
Component Seven: Parents
14.teaming Up With Parents For A Family-friendly Youth Ministry
Component Eight: Participating Leaders
15.finding The Leaders Your Students Deserve
16.helping Potential Leaders Become Ministers
Component Nine: Perseverance
17.handling Pressure, Projects, And Time Demands
18.disciplining Positively
19.initiating Purpose-driven Change
Appendix A: Your First Two Years
Appendix B: Differences Between Junior High And High School Ministries At Saddleback Church
Appendix C: Getting Students Into The Bible
Appendix D: Guide To Programs
Appendix E: Finding Your S.h.a.p.e. In Student Ministries
Appendix F: Volunteer Application Packet
Appendix G: Youth Ministry Staff Commitments
Appendix H: Calendars
Appendix I: Further Resources
Index
Introduction Imagine a sports dynasty for a minute---pick your favorite. Its success can't be attributed to one component; several factors combine to produce success. A true dynasty is stronger than its one great player. It must also have supportive key players, a motivating head coach, experienced assistant coaches, a position in the free agency market, a risk-taking owner, a productive front office, and a strong farm system (or luck with the draft). Average sports fans don't consider all of these factors when they watch their favorite team play. Instead, they focus on the team's best player and falsely assume that the team's success is due to that great player. Unfortunately, many in the church view youth ministry with that same mentality. They look for the one great player (youth worker) who can save the franchise (the youth ministry) and develop a winning team (volunteers) that will attract the fans (students). Once a great player is identified (either hired clergy or volunteer layperson), the owners (church board, selection committee, senior pastor) settle into other pressing affairs within the organization (church). This type of scenario usually results in a suicide mission for the 'star' player. He or she charges in with enthusiasm and practices (works) endless hours trying to achieve success (lots of students and programs) to please the owners. But to please everyone the player has to run (often knowing not where) so hard and so fast for so long that he or she eventually tires and becomes injured (burns out) and has to be replaced (quits or is fired). At this point the owners get involved and look for another great player to bring the team out of the dumps. The cycle starts all over with no foundation to build on because the last great player felt the burden to win by her- or himself. My goal for this book is to coach you through a plan to build a healthy youth ministry that isn't dependent on one great youth worker and won't be destroyed when that person leaves the church. I hope that you will use my experiences and observations and my conversations with hundreds of youth workers to infuse your youth ministry with knowledge that will help to make it healthy. Where there is health, there is eventual growth. A healthy youth ministry is a purpose-driven youth ministry (PDYM). But having a purpose-driven youth ministry does not simply mean that you have a purpose behind everything you do. It means that you pursue and reflect the purposes that were commanded by Jesus and manifested in the early church: the Great Commandment and the Great Commission. You'll recognize the five purposes as 1. evangelism 2. worship 3. fellowship 4. discipleship 5. ministry A purpose-driven youth ministry will have programs and structures that reflect these purposes. In the chapters that follow, nine essential components are used to develop a blueprint for building a healthy youth ministry. The five eternal purposes form the central component around which the others are constructed. These nine components, which all start with p for easy retention, are 1. power of God 2. purpose 3. potential audience 4. programs 5. process 6. planned values 7. parents 8. participating leaders 9. perseverance If you follow the blueprint, you will discover a holistic strategy that works. PDYM is not a cookie-cutter approach that promotes 'do it my way because it's the only way.' The PDYM model is a model; it is not the model. There are many ways to do youth ministry, and good youth workers look at other effective models to stimulate their thinking and learn from them how to be more competent ministers. If you are embarrassed to learn from another person or ministry, you have a pride problem (Prov. 13:10). God honors the motives of the humble and teachable but is pained by the hearts of the proud. Purpose-driven youth ministry is not derived from a way youth ministry was done or should be done, but from how it is being done. I'm in the trenches every day as a youth worker, trying to strengthen these nine components in my church. For almost twenty years I've been living with the weighty responsibility of developing a youth ministry that equips students rather than a youth ministry that coordinates events. I don't want to direct programs; I want to disciple students. Throughout these years I have experienced a wide array of successes and failures in my attempts to build a healthy youth ministry. This book is part of an ongoing journey to honor God through my commitment to both church and students. This book is for leaders of youth ministries with only a few students as well as those with hundreds. And it is geared for volunteers just starting out as well as for seminary-trained veterans with twenty years of youth ministry experience. How can this be possible? It is possible because the nine components rely on your ability to take the transferable principles and apply them to your youth ministry context. Your leadership style, education, and practical experience will become important as you interpret the principles and determine how to use them to strengthen your ministry. Don't try to do this alone! Read this book with a team who is committed to pursuing a spiritually healthy ministry. Then use the questions, 'Making It Personal', at the end of each chapter to spur each other on to new levels of personal and group growth.
Bestsellers in Youth Ministry