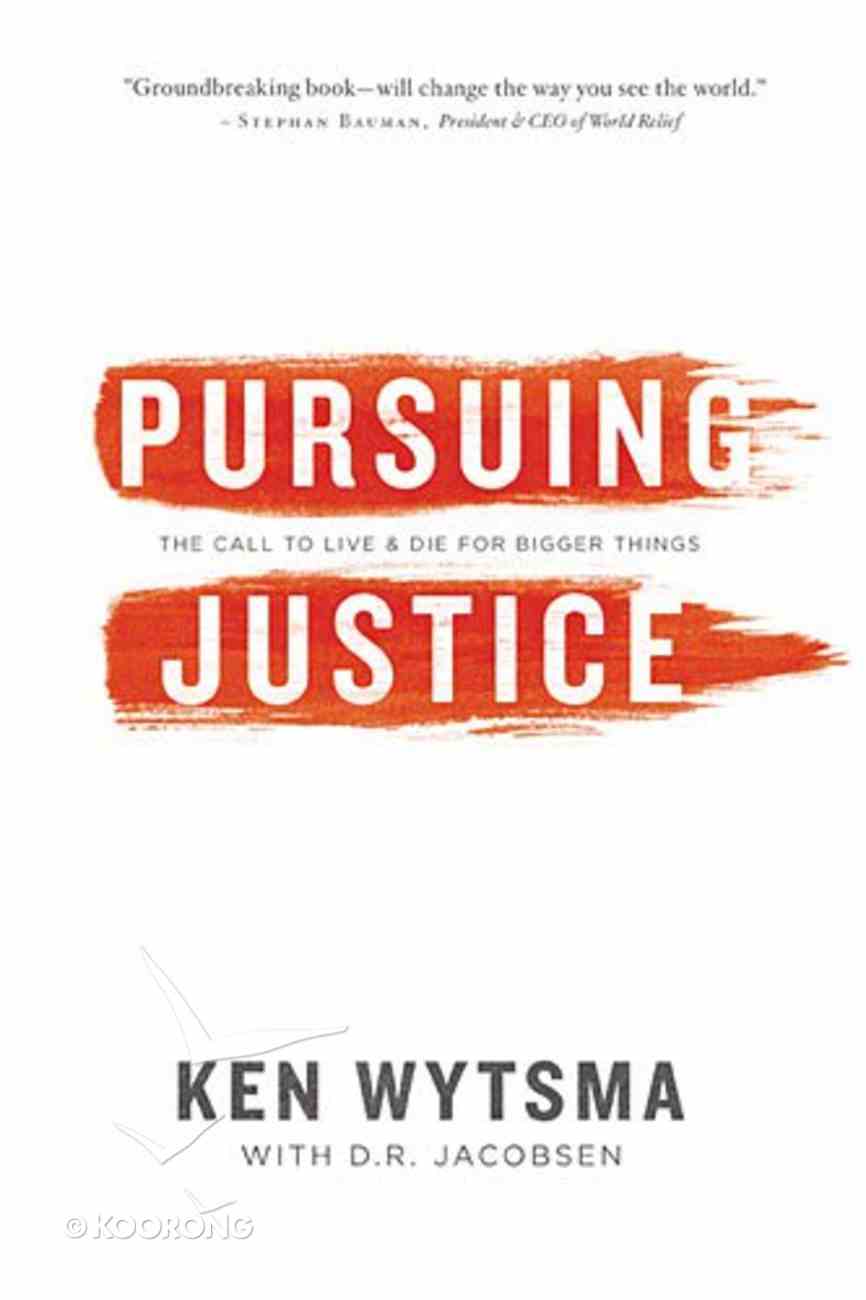 The ONLY way to find abundant life and happiness is to give yourlife away. If God designed us to experiencetrue happiness and abundant life, why do so many Christians feel dissatisfiedand purposeless?  We try to make our lives better...
---
Available in other Formats
---
Expected to ship within 14 hours from Australia.
---
Free Shipping
for orders over $99.

The ONLY way to find abundant life and happiness is to give yourlife away.


If God designed us to experiencetrue happiness and abundant life, why do so many Christians feel dissatisfiedand purposeless?  We try to make our lives better by chasing our own dreams,but that only makes the problem worse.  Instead, the path to a just lifethat's satisfying and permeated with meaning leads us alongside the orphan, thewidow, and the powerless.  Using clear evangelical theology and compellingnarratives drawn from two decades of global ministry and travel, Ken Wytsma,the founder of The Justice Conference, shows God's unchanging love for all Hischildren.  On the way, the author calls us back to a proper understandingof biblical justice, a redeeming glimpse into the true meaning of righteousnessand the remarkable connection between our own joy, the joy of others, and thewondrous Gospel of Jesus Christ.


Pursuing Justice shows that God isn't primarily concernedwith personal piety but about empowering His children to do justly, to love mercy, and to walk humbly with their creator. The message is as hopeful as it is fresh: when you discover anew the meaning ofthe Gospel and give your life away, you will find it...and it will be the bestlife you can imagine.


 


First-time author Wytsma (with an assist from Jacobsen) is oneof the new breed of evangelical Christians returning to scripture to redeemjustice as a central tenet of faith.... Wytsma infuses his writing with freshexperiences from working with the millennial generation.... "Apathy tells us thatit's perfectly acceptable to live with illusions of our own justice," hewrites, neatly linking those concerns. This accessible guide providestrustworthy scriptural analysis, examples of contemporary justice issues...and asolid philosophy for understanding the role of justice in today's society.... "Justicecannot be divorced from God's heart and purposes," he writes. "It permeatesthem." Wytsma's authorial voice is engaging, encouraging, and invitational. Hishumor helps the reader recognize her own humanity and transformative potentialwithin the unfolding moral arc of the universe.


--PublishersWeekly


"Justice has become trendy.Ken Wytsma's Pursuing Justice avoidsall the pitfalls of trendiness. It exhibits a deep and accurate understandingof the nature of justice. It is an eye-opener."


-NICHOL AS WOLTERSTORFF, Noah Porter Professor Emeritus ofPhilosophical Theology, Yale University; Senior Research Fellow, Institute forAdvanced Studies in Culture, University of Virginia


"Ken is a fresh voice ofbalance, humility, and collaboration. His enthusiasm is contagious and hischallenge to the church to not only do justice, but to learn to do it well, iscommendable."


-KEITH WRIGHT, International President of Food forthe Hungry


"Ken Wytsma's Pursuing Justice will rattle you. Not since C. S. Lewisput down his pen have readers been so provoked to think. It will change the wayyou approach others."


-KAREN SPEARS ZACHARIAS, Author ofA Silence of Mockingbirds and Will Jesus Buy Me a Double-Wide? 


"Ken Wytsma not only brings usback to a biblical understanding of justice, but also humbly calls us to pursueit in practice. I was both enlightened and motivated."


-RANDAL ROBERTS, President of Western Seminary,Portland, OR


"In Pursuing Justice, Ken is at thecutting edge of where God's heart is. This book is timely and needs to be readby everyone in the church."


-JOHN M . PERKINS, Civil Rights Leader, Founder of the ChristianCommunity Development Association (CCDA), and Founder of The John PerkinsFoundation for Reconciliation and Development


"Ken's book will serve as animportant guide as the global justice movement matures from sensation-drivenreactions into transformational pursuit."


-BE THANY H . HOANG, Director of the International JusticeMission (IJM) Institute for Biblical Justice


-Publisher
Ken Wytsma is a leader, innovator, and social entrepreneur. He is the president of Kilns College, where he teaches courses on philosophy and justice. He is the founder of The Justice Conference--a yearly international conference that exposes men and women to a wide range of organizations and conversations relating to justice and the biblical call to give our lives away. Ken is also a church planter and the lead pastor at Antioch Church. He and his wife, Tamara, have four daughters. A