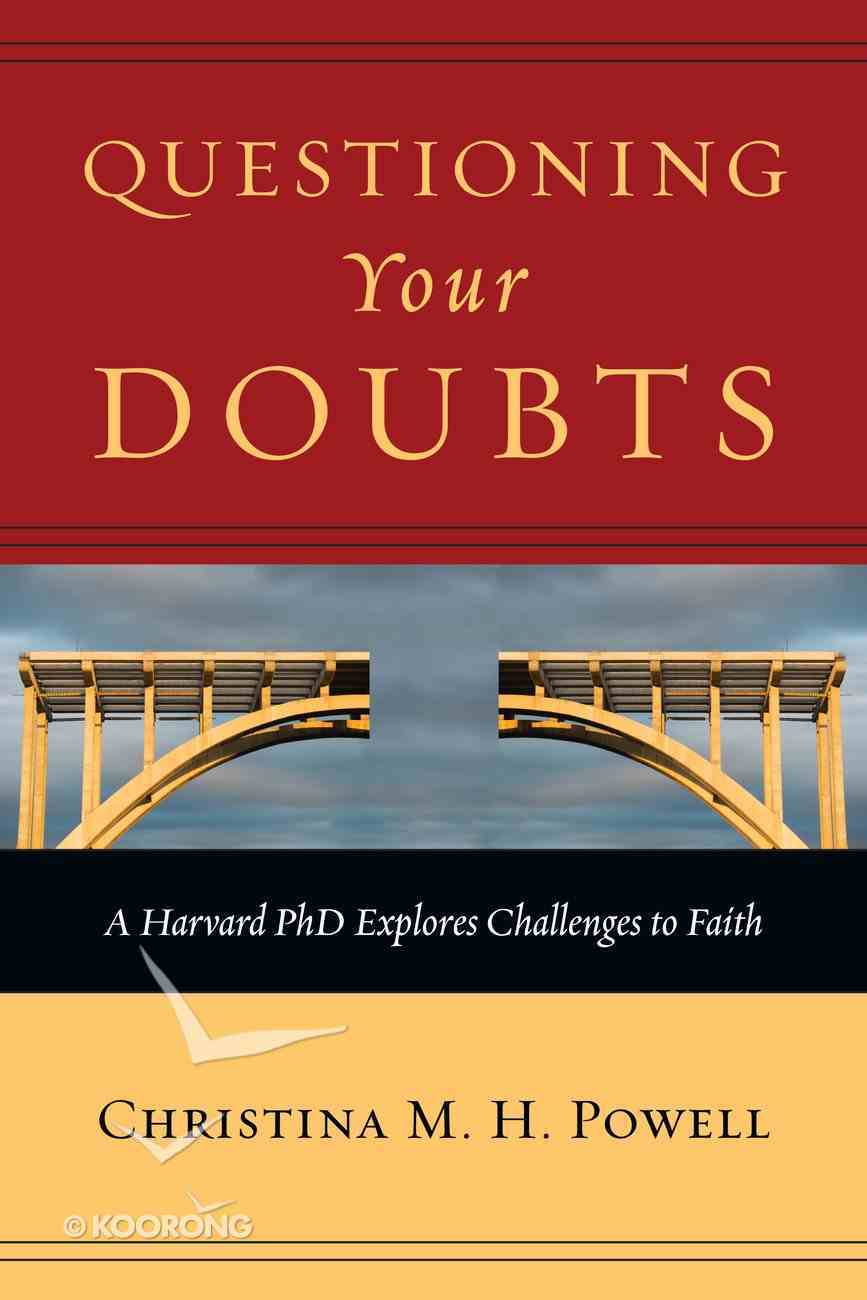 How can we know if God is real?Does God truly care about us? Why does God create people he knows will reject him? Why did God allow my friend to become a rape victim? Should I switch jobs? Is this...
Instant download
---
Expected to ship on Monday from Australia.
---
Read using our free app on your tablet or mobile!
---
Free Shipping
for orders over $99.
How can we know if God is real?Does God truly care about us? Why does God create people he knows will reject him? Why did God allow my friend to become a rape victim? Should I switch jobs? Is this person the one I should marry?If you have pondered these doubts, you are not alone.Sometimes we have intellectual questions about the plausibility of God. Other times we go through difficult life experiences that cause us to question our faith. Sometimes we simply struggle feeling confident with day-to-day decisions.Christina Powell knows what it's like to grapple seriously with challenges to faith. A trained scientist and cancer researcher, she struggled with the mysterious claims of a God who exists beyond what the scientific method could detect. Using personal stories from her own life, she explores how faith can be rooted in rationality, knowledge and facts, while coming to recognize the limits of science in evaluating matters of faith. Asking good questions can help us clarify and refine our faith. We can think critically about our doubts and learn to discern the true and the good. Powell probes the hidden factors that fuel our doubts to help us move beyond skepticism, disillusionment or painful life circumstances. We can live deeper into our questions in the context of Christian community. Ultimately we can work through challenges to faith and find a renewed confidence in our beliefs. It's okay to question your faith. But don't stop there. Question your doubts as well.
-Publisher
<em>how Can We Know If God Is Real?does God Truly Care About Us? Why Does God Create People He Knows Will Reject Him? Why Did God Allow My Friend To Become A Rape Victim? Should I Switch Jobs? Is This Person The One I Should Marry?</em>if You Have Pondered These Doubts, You Are Not Alone.sometimes We Have Intellectual Questions About The Plausibility Of God. Other Times We Go Through Difficult Life Experiences That Cause Us To Question Our Faith. Sometimes We Simply Struggle Feeling Confident With Day-to-day Decisions.christina Powell Knows What It's Like To Grapple Seriously With Challenges To Faith. A Trained Scientist And Cancer Researcher, She Struggled With The Mysterious Claims Of A God Who Exists Beyond What The Scientific Method Could Detect. Using Personal Stories From Her Own Life, She Explores How Faith Can Be Rooted In Rationality, Knowledge And Facts, While Coming To Recognize The Limits Of Science In Evaluating Matters Of Faith. Asking Good Questions Can Help Us Clarify And Refine Our Faith. We Can Think Critically About Our Doubts And Learn To Discern The True And The Good. Powell Probes The Hidden Factors That Fuel Our Doubts To Help Us Move Beyond Skepticism, Disillusionment Or Painful Life Circumstances. We Can Live Deeper Into Our Questions In The Context Of Christian Community. Ultimately We Can Work Through Challenges To Faith And Find A Renewed Confidence In Our Beliefs. It's Okay To Question Your Faith. But Don't Stop There. Question Your Doubts As Well.
<strong>part 1: Thinking Through Doubts</strong>
1 Created To Think2 Interplay Of Influences3 Discernment Requires Doubts4 Solving Problems With Questions
<strong>part 2: Sources Of Doubt</strong>
5 Locating Limits6 Unanswered Questions7 Doubts Born From Pain8 Disillusionment Masquerading As Doubt
<strong>part 3: Resolving Doubts</strong>
9 An Authentic Journey10 Retracing The Path11 Thinking In Community12 An Incomplete Process
Single-session Discussion Guidechapter-by-chapter Discussion Guidenotes
Bestsellers in Apologetic