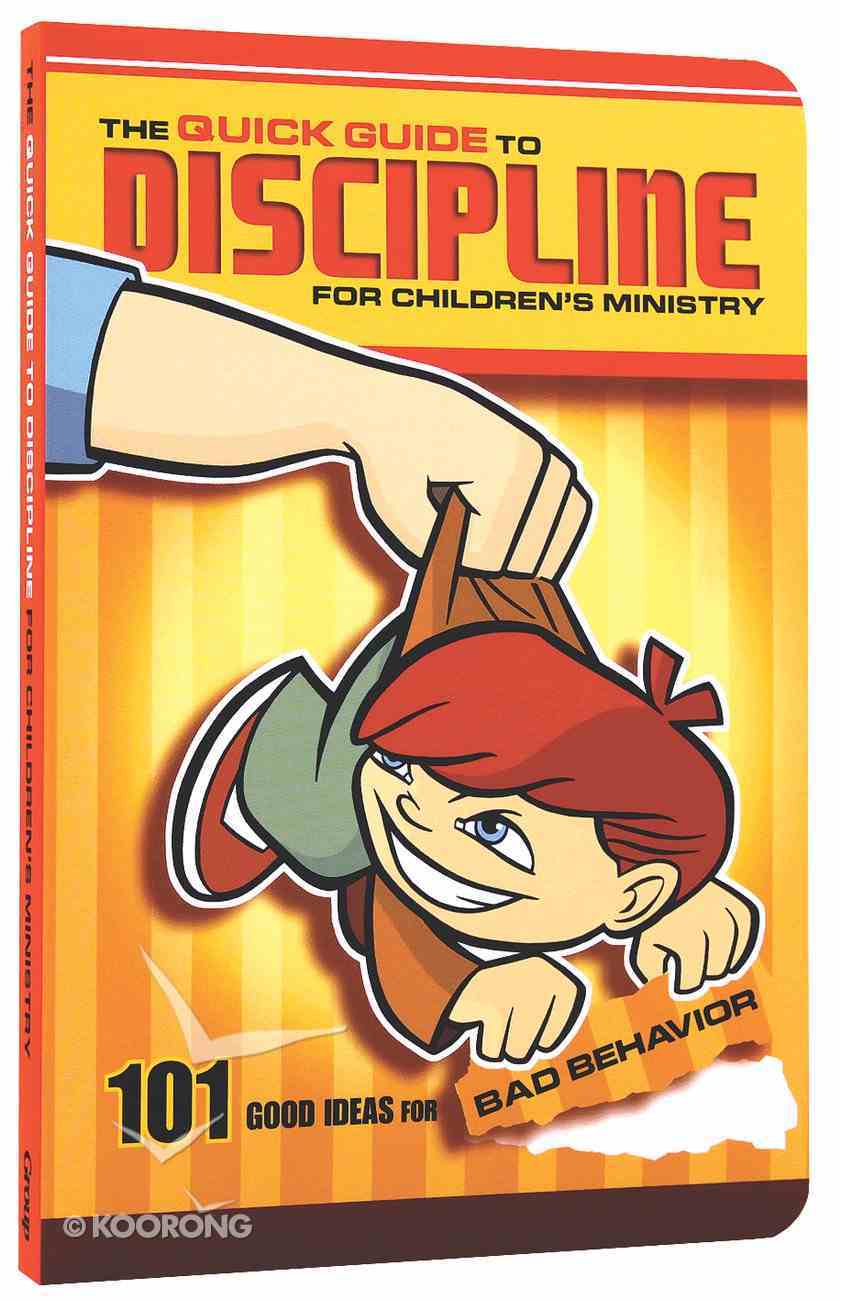 Quick Guide to Discipline For Children's Ministry
The most effective discipline tips for every issue you'll face - so you can focus on teaching kids and enjoying your class! You'll love this at-your-fingertips handbook for discipline issues that frazzle your nerves and leave you wondering what to...
Out of Stock
Available to Order
---
Expected to ship in 4 to 5 weeks from Australia.
---
Free Shipping
for orders over $99.
The most effective discipline tips for every issue you'll face - so you can focus on teaching kids and enjoying your class! You'll love this at-your-fingertips handbook for discipline issues that frazzle your nerves and leave you wondering what to do. Look to this guide for effective techniques that eliminate and redirect behavior challenges. We've also mixed in some humor for comic relief, so take a peek when you're in need of light-hearted encouragement, too!

You'll find help for:
Put-downs
Back talk
Not listening
Biting
Kicking
Hiding
Hitting
Spitting
Profanity

...and every other discipline issue!

There's one discipline issue featured per page with instant solutions in this quick-flip reference guide. Efficient and easy to use!

- Publisher
The most effective discipline tips for every issue you'll face--so you can focus on teaching kids and enjoying your class! You'll love this at-your-fingertips handbook for discipline issues that frazzle your nerves and leave you wondering what to do. Look to this guide for effective techniques that eliminate and redirect behavior challenges. We've also mixed in some humor for comic relief...so take a peek when you're in need of light-hearted encouragement, too!
You'll find help for: Put-downsBack talkNot listeningBitingKickingHidingHittingSpittingProfanity...and every other discipline issue!
There's one discipline issue featured per page with instant solutions in this quick-flip reference guide. Efficient & easy to use!
-Publisher
Gordon and "BECKI WEST " are popular conference speakers Gordon and "BECKI WEST " are popular conference speakers Gordon and "BECKI WEST " are popular conference speakers on many topics, cofounders of KidZ At Heart International. Pon many topics, cofounders of KidZ At Heart International. Pon many topics, cofounders of KidZ At Heart International. Previous books include Devotions for People WhoLove Kids and revious books include Devotions for People WhoLove Kids and revious books include Devotions for People WhoLove Kids and The Discipline Guide for Children's Ministry. Gordon and BecThe DisciA
Bestsellers in Children's Ministry