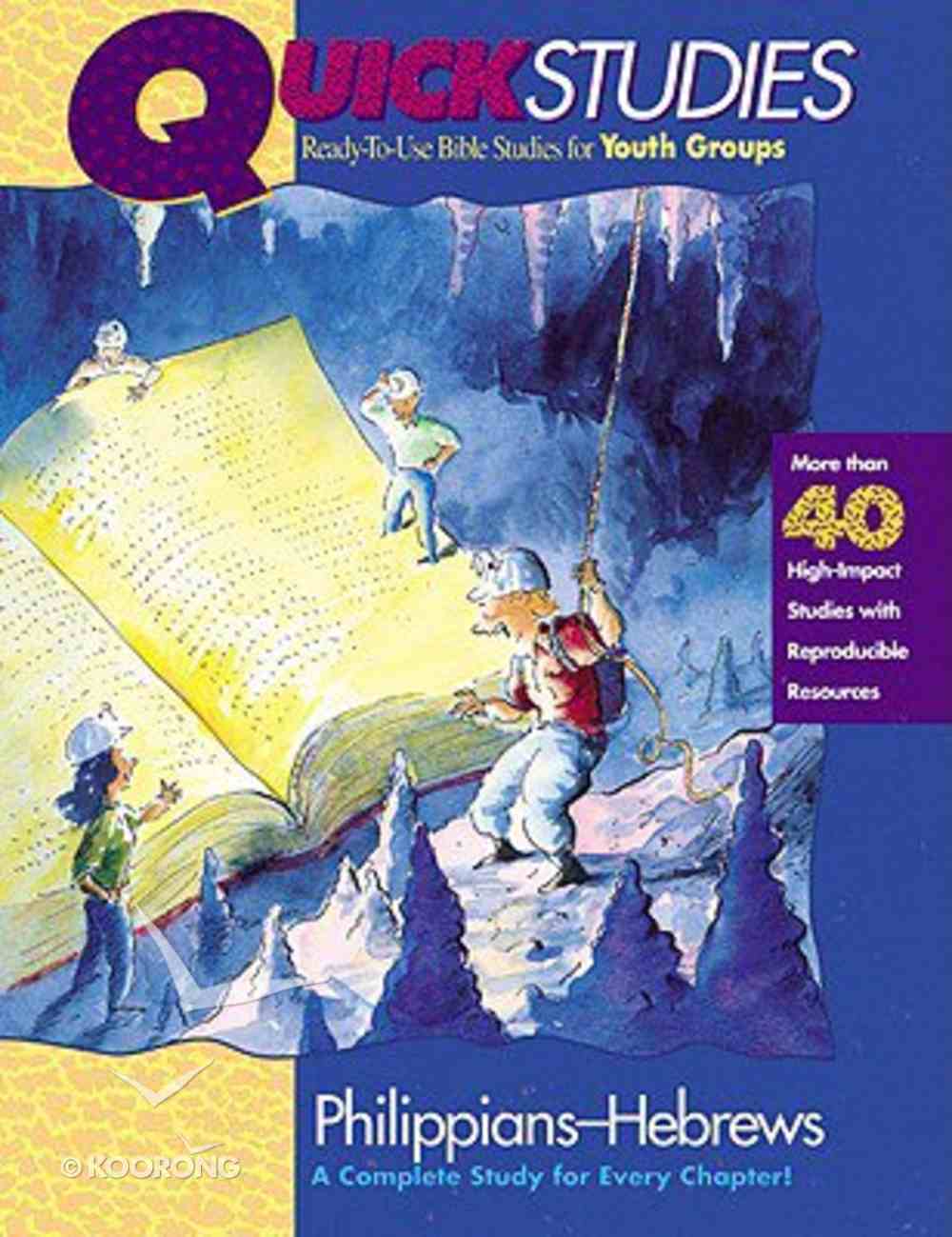 Quick Studies: Philippians-Hebrews
Would you like real Bible study that works with real teenagers? Time-saving, easy-to-follow meeting plans? Creative, practical study that gets kids involved during and after the meeting? A break from topics that are long on discussion but short on Scriptural...
---
Free Shipping
for orders over $99.
Would you like real Bible study that works with real teenagers? Time-saving, easy-to-follow meeting plans? Creative, practical study that gets kids involved during and after the meeting? A break from topics that are long on discussion but short on Scriptural answers? To get kids face-to-face with God's Word, so it can touch their hearts and minds directly? To cover the Bible chapters you choose at the speed that fits your group? Money-saving reproducible sheets--instead of student books? If your answer to any of those questions is yes, you're ready for QuickStudies. It's the 6-volume series of youth resources that gives you a complete Bible study for every chapter of the New Testament. Dig into Luke & John with this volume--more than 40 step-by-step studies. In each session you'll find features like Chapter Check: A quick chapter summary to prepare you, Opening Act: An activity that gets the group going and focused on the chapter, Q& A: Questions and Answers that get kids thinking and talking about key points, and So What: The wrap-up that helps kids apply what they've learned to their everyday lives.
-Publisher
Would you like . . . bull; Real Bible study-that works with real teenagers? bull; Timesaving, easy-to-follow meeting plans? bull; Creative, practical study that gets kids involved during and after the meeting? bull; A break from topics that are long on discussion but short on scriptural answers? bull; To get kids face-to-face with God's Word, so it can touch their hearts and minds directly? bull; To cover the Bible chapters you choose at the speed that fits your group? bull; Money-saving reproducible sheets-instead of student books? If your answer to any of those questions is yes, you're ready for Quick Studies ! It's the six-volume series of youth that gives you a complete Bible study for every chapter of the New Testament! Dig into Philippians - Hebrews with this volume-40 step-by-step studies! In each session you'll find features like . . . Overview-A quick passage summary to prepare you. Opening Act-An activity that gets the group going and focused on the passage. Q&A-Questions and answers that get kids thinking and talking about key points. So What?-The wrap-up that helps kids apply what they've learned to their everyday lives. You even get a reproducible handout for kids with each session-none of those boring, fill-in-the-blank student books to buy! Is your youth group or Sunday school class, high school or junior high, ready for Quick Studies ? Have the whole set on your shelf so you'll be ready, too!
-Publisher
No boring, fill-in-the-blank teen torture here--just honest self-discovery. Games, surveys, and case studies get young people pumped for studying God's Word. Challenging, flexible, and super-relevant.
-Publisher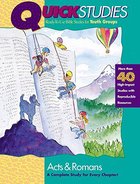 Bestsellers in Youth Ministry