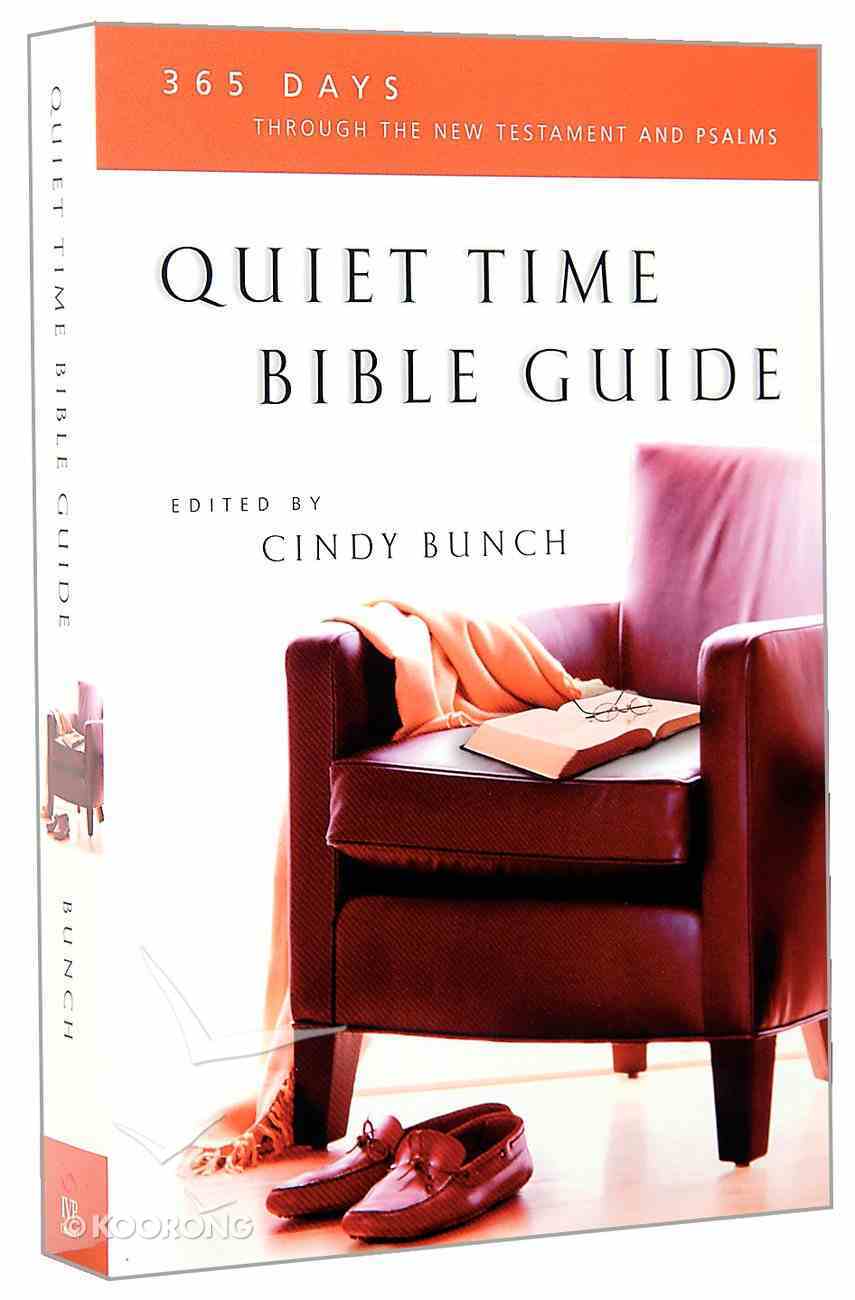 Do you want to discover the riches of Scripture? Do you want to draw closer to God? Based on IVP's bestselling LifeGuide Bible Study series, the Quiet Time Bible Guide helps you dig into Scripture for yourself, developing a deeper...
Out of Stock
Available to Order
---
Expected to ship in 4 to 5 weeks from Australia.
---
Free Shipping
for orders over $99.
Do you want to discover the riches of Scripture? Do you want to draw closer to God? Based on IVP's bestselling LifeGuide Bible Study series, the Quiet Time Bible Guide helps you dig into Scripture for yourself, developing a deeper and stronger relationship with God in the process. Instead of being told what the Bible says, you'll begin with questions to put you in a worshipful frame of mind. You'll move on to interpretive questions that help you explore what the Bible says, and then consider application questions to help you act on what you learn. Suggestions for personal prayer conclude your time of worship and study, and launch you into the rest of your day.

Millions have benefited from the thoughtful experience of Scripture found in IVP's LifeGuide Bible Studies. This material was adapted from those guides and originally published as The NIV Quiet Time Bible. Millions more have since used these devotionals online on IVP's Quiet Time Bible Study website. Now 365 of the studies, leading you through the New Testament and Psalms, have been gathered together in one volume again. Whether you're new to the idea of quiet times or you've enjoyed them for years, the Quiet Time Bible Guide provides you with a fresh opportunity to read all of the New Testament and Psalms in one year, and draw close to God every day.


-Publisher
Getting the Most Out of the Quiet Time Bible GuideBible Reading ChecklistBible Reading PlanTopical Bible ReadingsMatthewMarkLukeJohnActsRomans1 Corinthians2 CorinthiansGalatiansEphesiansPhilippiansColossians1 Thessalonians2 Thessalonians1 Timothy2 TimothyTitusPhilemonHebrewsJames1 Peter2 Peter1 John2 John3 JohnJudeRevelationPsalmsAcknowledgments and PermissionsIndex of Quiet Time Subjects
-Publisher
As a senior editor with InterVarsity Press, Cindy Bunch acquAs a senior editor with InterVarsity Press, Cindy Bunch acquires and develops Bible studies, small group books and a widires and develops Bible studies, small group books and a wide variety of general-interest books. She has been leading sme variety of general-interest books. She has been leading small groups for the past twenty years and has written numerouall groups for the past twenty years and has written numerous Bible study guides, including several in IVP's LifeGuide Bs Bible study guides, including several in IVP's LifeGuide BC
Getting The Most Out Of The <em>quiet Time Bible Guide</em>
Bible Reading Checklist
Bible Reading Plan
Topical Bible Readings
Matthew
Mark
Luke
John
Acts
Romans
1 Corinthians
2 Corinthians
Galatians
Ephesians
Philippians
Colossians
1 Thessalonians
2 Thessalonians
1 Timothy
2 Timothy
Titus
Philemon
Hebrews
James
1 Peter
2 Peter
1 John
2 John
3 John
Jude
Revelation
Psalms
Acknowledgments And Permissions
Index Of Quiet Time Subjects