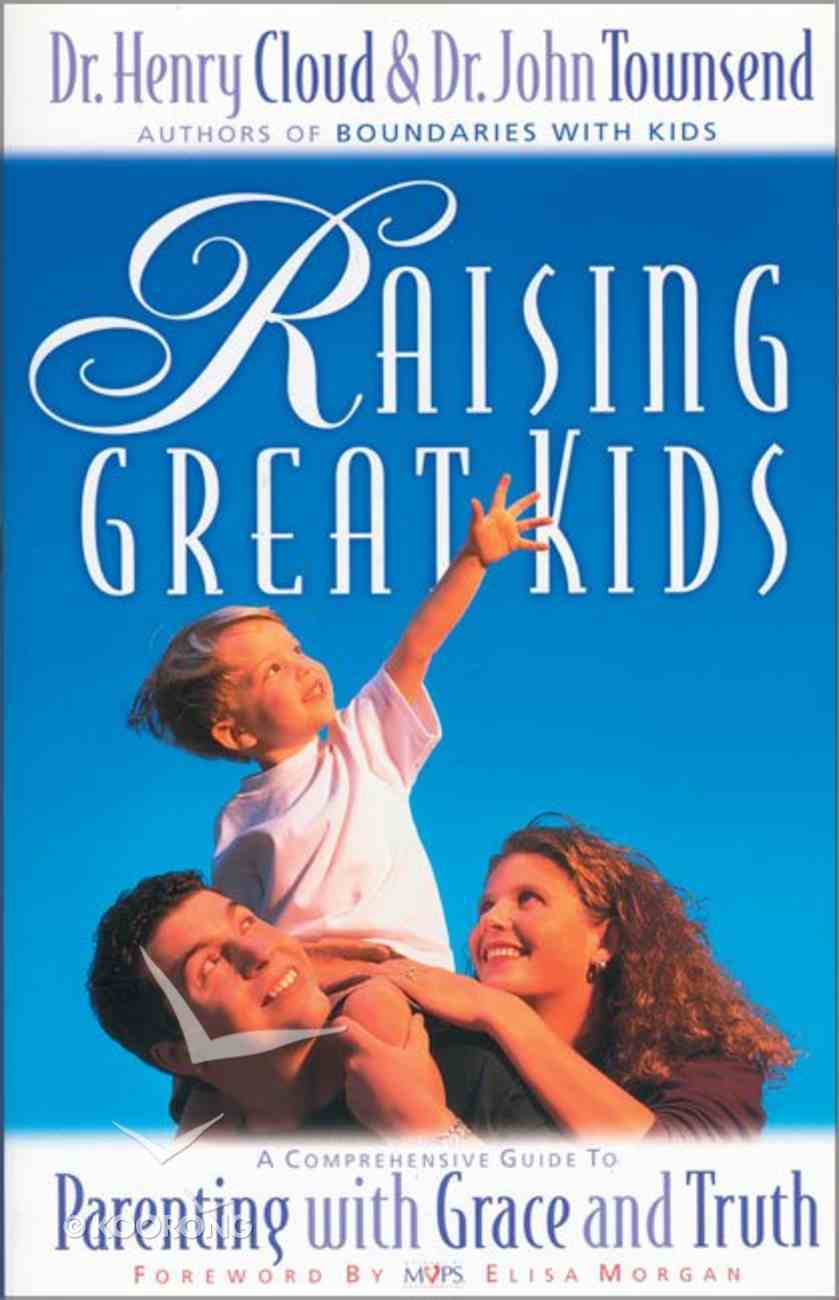 What does it take to raise great kids? If you've read any books on parenting, conflicting opinions have probably left you feeling confused. Get tough! Show acceptance. Lay down the rules. Lighten up, already! There's got to be a balance...
---
Available in other Formats
Out of Stock
Available to Order
---
Expected to ship April 2021.
---
Free Shipping
for orders over $99.
What does it take to raise great kids? If you've read any books on parenting, conflicting opinions have probably left you feeling confused. Get tough! Show acceptance. Lay down the rules. Lighten up, already! There's got to be a balance - and there is. Joining their expertise with the wisdom of MOPS (Mothers of Preschoolers) International, Drs. Henry Cloud and John Townsend help you provide both the care and acceptance that make grace real to your child, and the firmness and discipline that give direction. Avoiding the twin extremes of permissiveness and over control, Drs. Cloud and Townsend show how you can help your child cultivate six necessary character traits: connectedness, responsibility, reality, competence, morality, and worship/spiritual life. At last, here is an effective middle ground for raising up children who will handle life with maturity and wisdom. Raising Great Kids will help you equip your son or daughter to accept life's responsibilities, grow from its challenges, and freely and fully explore all that is has to offer.

-Publisher
13 Chapters
-Publisher
IntroductionA Forbidden TopicAt a retreat at which I (Dr. Cloud) spoke recently, the discussion at the lunch table turned to parenting. At first, people talked about their children. But soon they started talking about particular parenting philosophies and practices. I remembered what my childhood barber once told me: "If you want to stay friends with people, don''t talk about religion or politics." I think he should have added parenting to his list of forbidden topics.As the table discussion progressed, battle lines were drawn. In fact, I was reminded of Buffalo Springfield''s classic song of the ''60s, "For What It''s Worth":Battle lines bein'' drawn;Nobody''s right if everybody''s wrong.People carrying signs:Mostly saying, "Hurrah for my side."Although people were prefacing their remarks with conversational niceties, I could feel the underlying tension.On one end of the spectrum, my luncheon partners advocated structure and control at the expense of everything else. To raise an obedient child is the most important thing. On the other end, they advocated love over structure. Having a child feel loved and secure in love is primary. Structure plays a secondary role.Then there were those who emphasized the sinfulness of children. According to them, if you didn''t seize every opportunity to focus on getting control of the little sinners, you would lose them for sure. Still others emphasized the inherent goodness and innocence of children, feeling that they only sin when they have been first mistreated by the outside world.The tone of their voices and the expressions on their faces revealed that each saw the other side as a villain. Where is this conflict coming from? I thought to myself. Why can''t they just discuss their viewpoint without vilifying those who disagree? As I listened further, some things made sense. I understood why there was so much passion around the table.My luncheon partners were not talking philosophy after all. They were talking about something much closer to home. They were discussing four aspects of their lives in which they had invested their very hearts:1. Their children''s welfare2. Their community3. Their own welfare4. Their GodWhen I understood the role that each of these "heartbeats" played in their discussion of childrearing, I got it. There should be passion surrounding an issue that touches on the things they care about the most. Let''s look at each and see why.First, in terms of their children''s welfare, these people wanted the best for them. What would help their children be healthy now and secure for the future? What discipline would give their children the ability to say no to drugs? What would help them to succeed in school? How do parents make sure that their children grow up to be capable of intimacy and love? What can they do in a child''s early years to prevent divorce later on?For these reasons, parents can hardly stay neutral when talking about parenting practices. After all, what they decide to do might affect several generations, much less the next handful of years. Because parents love their children, parenting philosophy is more than an academic topic.Second, in terms of community, these parents were not alone. Instilled in their thinking were the admonitions of the people with whom they live day-to-day. Their friends, families, and church groups were all telling them what to do. Many were members of some particular parenting group at their local church, meeting regularly to learn how to be the parents their children need. Others received regular input from their own parents, grandparents, or other extended family. Still others received advice from their close circle of friends and other support systems.So this topic couldn''t be neutral. To entertain an idea about what to do with a crying infant that is different from what the group tells you to do might put you at odds with your closest friends or support system.Think of the pressure on a young parent who wants to discipline a certain way, or
-Publisher
PRODUCT DETAIL
Catalogue Code 

143950

Product Code 

0310235499

EAN 

9780310235491

UPC 

025986235499

Pages 

240

Department General Books
Category Parenting
Sub-Category Parenting Children
Publisher Zondervan
Publication Date 

Dec 1999

Sales Rank 

30028

Dimensions 

215 x 139 x 17

mm

Weight 

0.226

kg
Dr. Cloud is a clinical psychologist with a unique ability to connect with his audiences. Drawing upon his broad range of experiences in private practice, leadership consulting, and media, he simplifies life's issues and gives easy-to-understand, practical advice. It is Dr. Cloud's humour, compassion, and 'in the moment' confrontation that make his approach to psychology and spirituality such a success.

He has written or co-written 19 books, including the best-selling Boundaries. His most recent books are Integrity, Necessary Endings and The Law of Happiness. He has earned three Gold Medallion awards and was awarded the distinguished Retailers Choice award for God Will Make A Way.

Dr. Cloud has appeared on numerous radio and television broadcasts and has been featured in many publications. Millions of listeners have benefited from his wit and wisdom for over a decade.

As president of Cloud-Townsend Resources, he has produced and conducted hundreds of public seminars around the country. He speaks on relationships - marriage, parenting, dating, personal growth, and spirituality. His seminars are often broadcast live to over two thousand venues at a time.

In his consulting practice, he works with leaders of organisations and corporations, from family-held firms to Fortune 25 companies and non-profit organisations. With his extensive executive coaching background and experience as an organisational and leadership consultant, he speaks regularly at corporate and leadership events held across the United States and internationally.

Dr. Cloud co-founded a health-care company that operated treatment centres in 35 cities in the Western United States; he served as Clinical Co-Director for ten years. In that context of hands-on clinical experience, he researched and developed many of the treatment methods and principles he communicates to audiences today. Since then, he has devoted his time to spreading principles of hope and life change through speaking, writing, and the media. His books have sold over four million copies.

He is a graduate of Southern Methodist University, having earned a BS in psychology with honours. He completed his PhD in clinical psychology at Biola University and his clinical internship at Los Angeles County Department of Mental Health. His philanthropic interests lie in the area of homelessness and the inner city, as well as Third World missions and development. He serves on the board of the Los Angeles Mission, a rescue mission on Skid Row in downtown Los Angeles.

Dr. Cloud is an avid golfer and enjoys boating, deep sea fishing and scuba diving. He lives in Los Angeles.
Dr. John Townsend (Psy.D., Rosemead Graduate School of Psychology) is a psychologist, popular speaker, radio host and the bestselling author and co-author of numerous books, including the Gold Medallion award-winning Boundaries and God Will Make a Way. He is co-founder of the Cloud-Townsend Clinic in Southern California.
Contents
Foreword By Elisa Morgan
Introduction: A Forbidden Topic
Part 1: Raising Children Of Character
1. The Goal Of Parenting: A Child With Character
2. The Ingredients Of Grace And Truth
3. The Ingredient Of Time
Part 2: Developing The Six Character Traits Every Child Needs
4. Laying The Foundation Of Life: Connectedness
5. Developing Self-control: Responsibility
6. Living In An Imperfect World: Reality
7. Developing Gifts And Talents: Competence
8. Making A Conscience: Morality
9.connecting To God: Worship And Spiritual Life
Part 3: Working Yourself Out Of A Job
10. Preparing Them For Life On Their Own
11. Dealing With Specific Teenage Issues
Part 4: Dealing With Special Circumstances
12. Understanding Temperaments
13. Parenting On Your Own
Conclusion: When In Doubt, Connect
------------ One ------------ The Goal of Parenting A Child with Character My friend Tony had asked me (Dr. Townsend) to dinner to talk about a family problem. After we caught up on what was new in our lives since we had last seen each other, he began talking about his recent struggles with his fourteen-year-old daughter, Halley. She was skipping school, drinking, and hanging around with a bad crowd. Tony and his wife, Denise, were working with the school, their church, and a counselor to deal with Halley's behavior. 'It must be awful. How are you handling it?' I asked Tony. 'It's been tough for all of us,' Tony said. 'But for me the worst part is what we've lost.' 'What do you mean?' 'Remember when Halley was three or four?' I nodded, having been friends with the family for years. 'She was the sweetest, most responsive kid you'd ever see,' he said. 'We were all so close. Halley wasn't perfect, but she was a good girl. Then out of the blue, this angry, lying, rebellious person seems to inhabit my daughter's body. I don't know this Halley.' I sat quietly with my friend, empathizing with his sense of loss. Sometime later, Tony and I met again, and I asked about Halley. With a look of weary wisdom, he said, 'We've all worked hard, and things are a lot better. I've learned some things about how we raised Halley. We wanted her to be good. But we weren't doing a lot about helping her have good character. That's our focus nowadays.' Tony's observation illustrates an important point about parenting. Everybody wants good kids. Good children do what they're supposed to. This is a proper and right desire. We are all to do what is good and right in God's eyes (Deuteronomy 12:28). But many good children don't grow up handling life well. They may become either not-so-good people or good-but-immature adults. As Tony learned, the issue is not about being good, but about having good character. That is the subject of this chapter. The Importance of Being a Parent If you are a parent, congratulations! You are engaged in one of the most meaningful jobs in the world. Although cleaning up spilled milk and arguing about dirty rooms may seem trivial, you are doing eternally significant work: developing a little person into an adult. God understands and supports you in this endeavor. People didn't invent parenting, God did. He is in a parent-child role with us, his people, forever. He loves us and wants to nurture and develop us. He wants us to call him by a parent name: 'Father.' Being a parent is one of the most important tasks God gives anyone. Children are a blessing and a great heritage. Through parenting, humanity continues down through the centuries, our spiritual and cultural values are preserved, and the image of God is revealed in every new generation. Parenting is a huge task. Parents shoulder the burden of being the source of life, love, and growth for their children. One of the elements of childhood is dependency. Dependency defines a child. Children look to and need parents for all those things they can't provide for themselves. Especially in the early years, the parent takes responsibility for both knowing and giving needed elements of life to the child. A dependent person (child) and a source person (parent) are at the core of the parent-child relationship. If you are reading this book, most likely you willingly chose the responsibility of becoming a parent. If this isn't true, you have certainly still accepted this responsibility. Most parents have strong values and emotions that influence them to raise kids. For example, they want to: Create love with a spouse, which can transfer down to another generation Pass on their values to others Create a warm and caring family context Have fun with their kids Contribute something to the world These are all good reasons for parenting. However, once you have become a parent, it can be hard to get your head above water long enough to figure out exactly what you are trying to accomplish and how you will know when you get there. Parents need a way to keep in mind the ultimate goal of parenting. Creating an Adult Most parents want their children to grow up. In other words, we define success not by how our children are doing today, but by what happens after they leave home. Imagine your children as adults in the following areas of life: School. They are investing in training for life and career. Job. They are growing in career life. Dating. They are choosing people who are mature and have good values. Marriage. They have chosen a life's partner, and they are working at their marriage. Friendships. They have a close-knit group of friends who support them. Personal values and conduct. They have thought through what is important to them and live consistently with good values. Spiritual life. They are actively involved in a relationship with God. All these help define what is a functioning adult. Adults take on the challenges of life and find their niche. They know what is important to them, and they focus on those things. They know their limits, and what they can't provide for themselves they are able to get from outside resources. God designed your child to function independently of you. This is what is so difficult about parenting: It's the only relationship designed by God that measures success by how well it ends. You are investing in helping your child leave you. In the biblical teaching that children should leave father and mother (Genesis 2:24), the meaning of leave is 'to forsake.' Every mom and dad who have sacrificed for and loved a child suffer a real parent-wound when their child grows up and leaves. And yet mature parents gladly suffer this wound, because they know the benefits the child will receive from their investment. Sadly, kids don't always grow up well. Sometimes they don't leave, and they depend on their parents far too long. At other times they leave, but they aren't prepared for adult life. They may not depend on their parents any longer, but they aren't functioning well in love or work. They are adults on the outside, but they are broken or undeveloped on the inside. Who Is Responsible for What? Who is responsible for your child's maturity and readiness for the world---you or your child? This important question deeply affects a parent's attitude toward a child. Answers to it fall on opposite ends of the spectrum. Some see the child's successes or failures in life as primarily the parent's responsibility. These parents diligently do whatever they can to help their child grow, and they feel that the child's adult years reflect on how they parented. Others see the child as taking the weight. 'I did my best, and he had a choice,' they say when problems arise. We believe in the following three principles about responsibility.