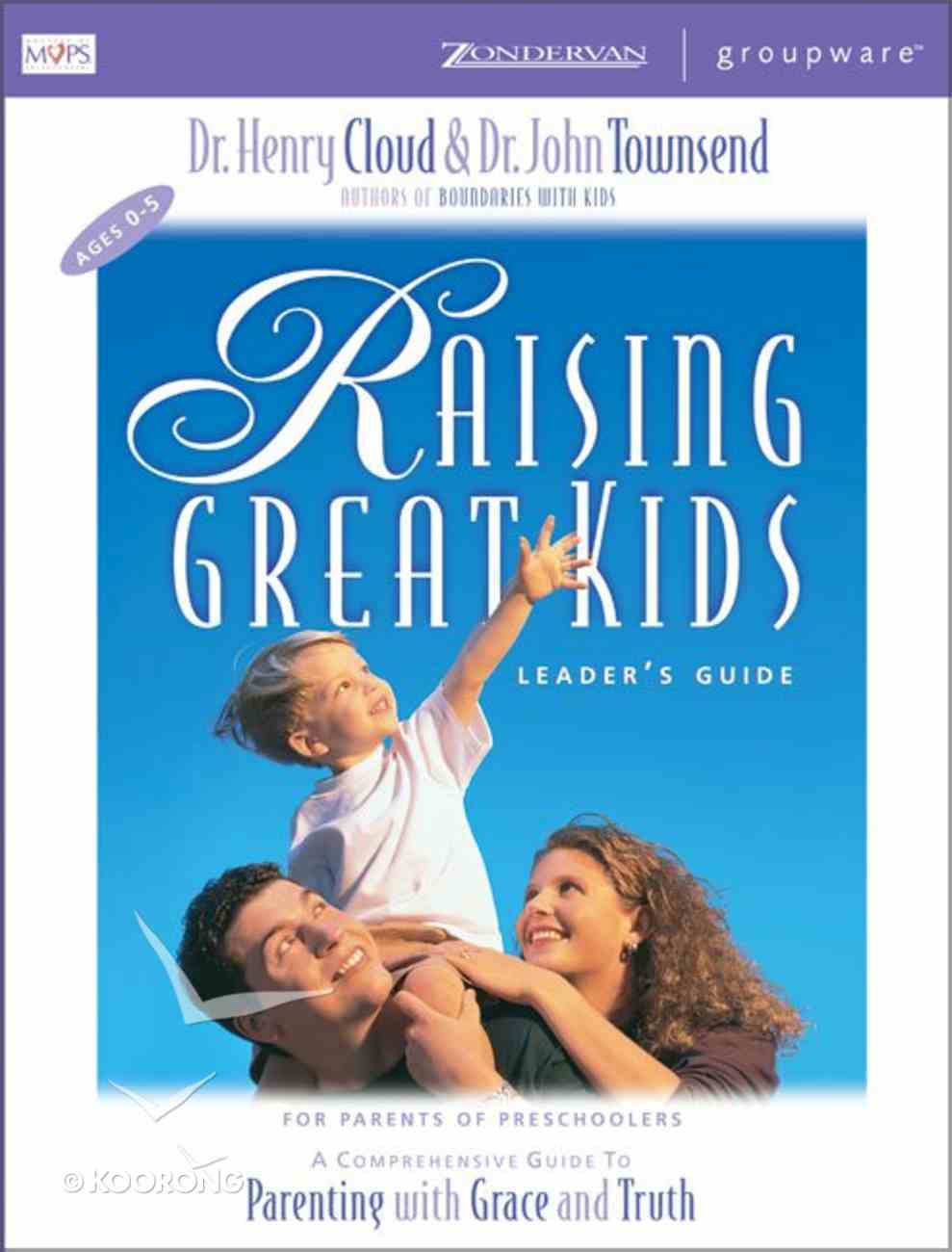 Raising Great Kids (Leader's Guide)
1. Raising Children Of Character 2. Ingredients For Growth: Grace, Truth, And Time 3. Developing Connectedness And Responsibility 4. Developing Reality And Competence 5. Developing Morality And Spirituality 6. When In Doubt, Connect!
---
Available in other Formats
---
Free Shipping
for orders over $99.
1. Raising Children Of Character 2. Ingredients For Growth: Grace, Truth, And Time 3. Developing Connectedness And Responsibility 4. Developing Reality And Competence 5. Developing Morality And Spirituality 6. When In Doubt, Connect!
-Publisher
Raising kids of character is a daunting task, so there's no better time to start than when they're young!The first few years of life is the most critical period of growth and development. Infants start the process of trusting the love of Mom and Dad and God, toddlers begin experiencing freedom and responsibility, and children start understanding how to function in the real world. In short, this is the period in which a child's soul is developed. As a parent, you are right at the center of that process. It's impossible to overestimate how important a role you play in rearing your child. As the Bible teaches, God shows us how to trust in him even at my mother's breast (Psalm 22:9). But most parents feel overwhelmed by the complexity of the job. With so many things to worry about, how do you know the real tasks and goals of parenting? Many moms and dads become discouraged or don't know where to start. We wrote Raising Great Kids and developed this curriculum to help you. In this video curriculum just as in the book we offer you a structure for approaching parenting. We provide a road map for creating character in your children the ability to function as God designed them to function in the world. The biblical principles set forth in the book apply to all ages and stages of kids, so you can use them as a guide for all the years you parent. This video curriculum, however, deals specifically with infants, toddlers, and preschoolers. It addresses, in a practical, hands-on manner, situations and issues you encounter with children five years old and younger. Our goal is to help empower parents of these children moms and dads like you to become intentional and effective in your parenting. We're glad you've decided to invest the time and effort in your children by working through Raising Great Kids for Parents of Preschoolers. We pray that God will use this study to help your parenting be the successful and worthwhile relationship he designed it to be. We appreciate your labors as a parent---and may God bless you!
-Publisher
Dr. Cloud is a clinical psychologist with a unique ability to connect with his audiences. Drawing upon his broad range of experiences in private practice, leadership consulting, and media, he simplifies life's issues and gives easy-to-understand, practical advice. It is Dr. Cloud's humour, compassion, and 'in the moment' confrontation that make his approach to psychology and spirituality such a success.

He has written or co-written 19 books, including the best-selling Boundaries. His most recent books are Integrity, Necessary Endings and The Law of Happiness. He has earned three Gold Medallion awards and was awarded the distinguished Retailers Choice award for God Will Make A Way.

Dr. Cloud has appeared on numerous radio and television broadcasts and has been featured in many publications. Millions of listeners have benefited from his wit and wisdom for over a decade.

As president of Cloud-Townsend Resources, he has produced and conducted hundreds of public seminars around the country. He speaks on relationships - marriage, parenting, dating, personal growth, and spirituality. His seminars are often broadcast live to over two thousand venues at a time.

In his consulting practice, he works with leaders of organisations and corporations, from family-held firms to Fortune 25 companies and non-profit organisations. With his extensive executive coaching background and experience as an organisational and leadership consultant, he speaks regularly at corporate and leadership events held across the United States and internationally.

Dr. Cloud co-founded a health-care company that operated treatment centres in 35 cities in the Western United States; he served as Clinical Co-Director for ten years. In that context of hands-on clinical experience, he researched and developed many of the treatment methods and principles he communicates to audiences today. Since then, he has devoted his time to spreading principles of hope and life change through speaking, writing, and the media. His books have sold over four million copies.

He is a graduate of Southern Methodist University, having earned a BS in psychology with honours. He completed his PhD in clinical psychology at Biola University and his clinical internship at Los Angeles County Department of Mental Health. His philanthropic interests lie in the area of homelessness and the inner city, as well as Third World missions and development. He serves on the board of the Los Angeles Mission, a rescue mission on Skid Row in downtown Los Angeles.

Dr. Cloud is an avid golfer and enjoys boating, deep sea fishing and scuba diving. He lives in Los Angeles.
Dr. John Townsend (Psy.D., Rosemead Graduate School of Psychology) is a psychologist, popular speaker, radio host and the bestselling author and co-author of numerous books, including the Gold Medallion award-winning Boundaries and God Will Make a Way. He is co-founder of the Cloud-Townsend Clinic in Southern California.
Contents Foreword Preface Laying The Foundation What Each Raising Great Kids For Parents Of Preschoolers Kit Contains How This Leader's Guide Is Organized A Note About Timing Five Tips For Leading Group Discussion Session 1: Raising Children Of Character Session 2: Ingredients For Growth: Grace, Truth, And Time Session 3: Developing Connectedness And Responsibility Session 4: Developing Reality And Competence Session 5: Developing Morality And Spirituality Session 6: When In Doubt, Connect!