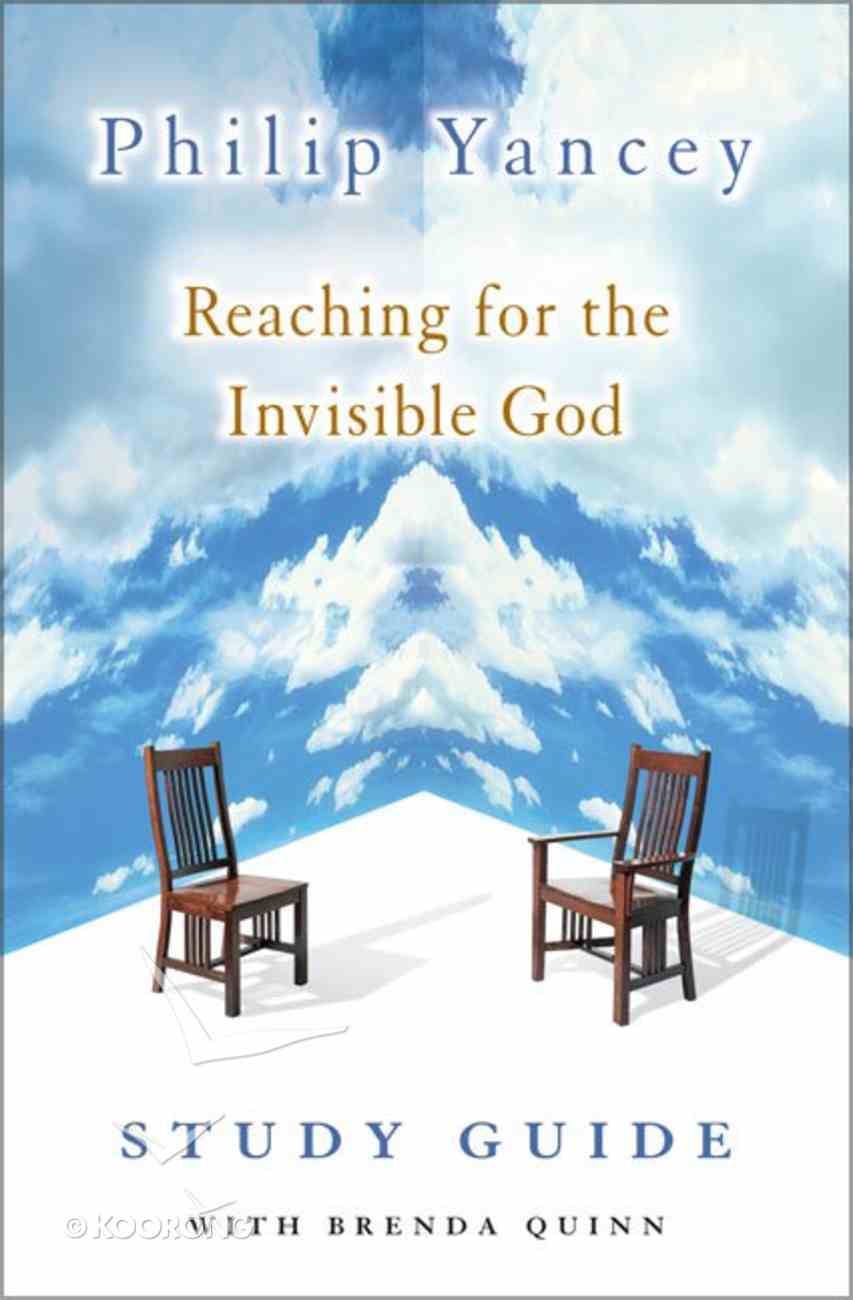 Reaching For the Invisible God (Study Guide)
With this study guide individuals and groups can now join author Philip Yancey in encountering and establishing a relationship with the invisible God. The guide helps readers step beyond traditional questions and follow Yancey on a spiritual journey that reconciles...
Order now to secure your copy when our stock arrives. Other edition is available. 0310247306
0 Available. Expected to ship in 5 to 6 weeks from Australia.
---
Expected to ship in 5 to 6 weeks from Australia.
---
Free Shipping
for orders over $99.
With this study guide individuals and groups can now join author Philip Yancey in encountering and establishing a relationship with the invisible God. The guide helps readers step beyond traditional questions and follow Yancey on a spiritual journey that reconciles faith with honesty and finds its way through--not around--the tough questions to a deeper relationship with God.
-Publisher
PRODUCT DETAIL
Catalogue Code 

168198

Product Code 

0310240573

EAN 

9780310240570

UPC 

025986240578

Pages 

176

Department General Books
Category Christian Living
Sub-Category General
Publisher Zondervan
Publication Date 

Nov 2001

Dimensions 

203 x 136 x 12

mm

Weight 

0.158

kg
Using This Study Guide 7
Week 1:
Thirst---a Longing For God 13
Week 2:
Doubt And Difficulties 21
Week 3:
Faith That Works 33
Week 4:
Daily Faith 44
Week 5:
Understanding God The Father 55
Week 6:
Understanding Jesus And The Holy Spirit 69
Week 7:
Inner Transformation 85
Week 8:
Passion And God's Presence 101
Week 9:
Maturing In The Faith 117
Week 10:
Living Out Redemption 133
Week 11:
Bad Turned Good 147
Week 12:
Hope To Hold On To 163
Notes 173
T H I R S T ---A L O N G I N G F O R G O D The excerpt below is from Reaching for the Invisible God. How do you sustain a relationship with God, a being so different from any other, imperceptible by the five senses? I hear from an inordinate number of people struggling with questions like this---their letters prompted, I suppose, by books I've written with titles like Where Is God When It Hurts? and Disappointment with God. I have lived most of my life in the evangelical Protestant tradition, which emphasizes personal relationship, and I finally decided to write this book because I want to identify for myself how a relationship with God truly works, not how it is supposed to work. In carving my path I am following a map laid out by many others, the 'great cloud of witnesses' who have preceded me. My struggles with faith have at least this in their favor: they come from a long, distinguished line. I find kindred expressions of doubt and confusion in the Bible itself. Sigmund Freud accused the church of teaching only questions that it can answer. Some churches may do that, but God surely does not. In books like Job, Ecclesiastes, and Habakkuk, the Bible poses blunt questions that have no answers. As I began this book, I went to friends whom I respect as Christians. I asked this question: 'If a seeking person came to you and asked how your life as a Christian differs from hers as a moral non-Christian, what would you tell her?' Perhaps the most poignant response came from a friend whose name is well known in Christian circles. He thought for some time before responding, and then said this: I have no trouble believing God is good. My question is more, What good is he? I heard awhile back that Billy Graham's daughter was undergoing marriage problems, so the Grahams and the in-laws all flew to Europe to meet with them and pray for the couple. They ended up getting divorced anyway. If Billy Graham's prayers don't get answered, what's the use of my praying? I look at my life---the health problems, my own daughter's struggles, my marriage. I cry out to God for help, and it's hard to know just how he answers. Really, what can we count on God for? That final question struck me like a bullet and has stayed lodged inside me. I know theologians who would snort at such a phrase as one more mark of self-centered faith. Yet I believe it lies at the heart of much disillusionment with God. In all our personal relationships---with parents, children, store clerks, gas station attendants, pastors, neighbors--- we have some idea what to expect. What about God? What can we count on from a personal relationship with him? Christians claim there are times, though perhaps less frequent than we would lead others to believe, when we do make personal contact with the Creator of the universe. 'I have seen things that make all my writings seem like straw,' wrote Thomas Aquinas about one such encounter. I too have felt the tug at times, a tug strong enough to jerk me out of cynicism and rebellion, strong enough to wrench my life in a new direction. Yet for long stretches, achingly long stretches, I have also sat with my headphones on (as did Jodie Foster in the movie Contact), desperate for some message from the other world, yearning for reassuring contact, and heard only static. How can something as fundamental as a God who created us to know and love him become so tenuous? If God, as Paul told a sophisticated crowd of skeptics in Athens, 'did this,' meaning all creation, in order that we might reach out and find him, why not make himself more obvious? Writers of the Bible lived in the 'Holy Land,' where bushes burst into flame, where rocks and volcanoes gushed sacred metaphors and the stars bespoke God's grandeur. No longer. The supernatural world has seemingly gone into hiding, leaving us alone with the visible. The thirst for God, though, for contact with the unseen, the hunger for love from a cosmic Parent who can somehow fashion meaning from this scrambled world, defiantly persists. God is personal. The Bible, both Old Testament and New, portrays a God who affects us and is affected by us. 'For the Lord takes delight in his people,' says the psalmist (149:4); at times God also takes great exception to his people, say the prophets. The personality of God leaps out of almost every page of the Bible. 'God is love,' says the apostle John. 'Whoever lives in love lives in God, and God in him.' It would be difficult to get more personal. Why, then, do we find it so difficult to relate personally to this God? At various times people tended to pray to local saints, who seemed more accessible and less scary. Protestant Reformers and Catholic mystics, though, challenged us to relate to God directly, without intermediaries. And modern evangelicalism summons us to know God, to talk to God in conversational language, to love God as one might love a friend. Listen to the 'praise songs' in modern churches, which sound exactly like love songs played on pop radio, with God or Jesus substituted as the lover. Do we, like billboards for Pepsi, fan a thirst we cannot quench? Just last week my church sang: 'I want to know you more / I want to touch you / I want to see your face.' Nowhere in the Bible do I find a promise that we will touch God, or see his face, not in this life at least. Modern American religion speaks in 'friendly' terms with God even though, as C. S. Lewis points out in The Four Loves, friendship is the form of love that least accurately describes the truth of a creature's encounter with the Creator. How, then, can we have a 'personal relationship' with a God who is invisible, when we're never quite sure he's there? ENCOUNTERING GOD THROUGH THOSE IN THE BIBLE ( 3 --5 MINUTES) Read Psalm 42:1--11. If you are reading in a group, choose two readers to alternate as follows, representing each part of the psalmist's self. Reader 1: verses 1--4 Reader 2: verses 5--6a Reader 1: verses 6b--7 Reader 1: verses 9--10 Reader 2: verse 11 REACHING FOR GOD WITH OTHERS (20 MINUTES) If you are in a large group, break into groups of four to six for this discussion time. Introduce yourselves to each other. Tell the others briefly about yourself. Are you single? Married? Do you have children? Do you work outside the home? 1. When you think of the invisibility of God, how do you feel? * Crazy. My senses are very important to me. I really struggle in relating to a God I can't see, hear, or touch. * Frustrated. I can accept that God is Spirit, but often I can't seem to scale the hurdle of how to get to know this Spirit. * Doubtful. God is so vague to me that sometimes I'm not convinced he's really there. * Grateful. I struggle at times, but the material world hasn't filled me up. I get more from God as a Spirit than I do from anyone or anything else, despite the challenges. * Other:_______ 2. Briefly discuss with the group your response to the writer of Psalm 42. Can you readily identify (now or in your past) with Reader 1, the part of the self that longs for God but has trouble finding him? Can you identify with Reader 2, the side of the self that insists on hoping in God, believing he cares? 3. Turn to page 14 in the book, and as you review the paragraphs about Philip's college reunion, tell the group how long you have identified yourself as a Christian. Can you relate to the experience of disillusionment when the heady concepts of Christianity bump up against the realities of daily living? When in your life has this kind of bump Reader 2: verse 8 occurred? If you are still exploring Christianity and considering where your beliefs lie, have you experienced any similar disillusionment? 4. Consider the following lines from a letter Philip wrote to God a decade ago (pp. 17--18 in the book).
Bestsellers in Christian Living