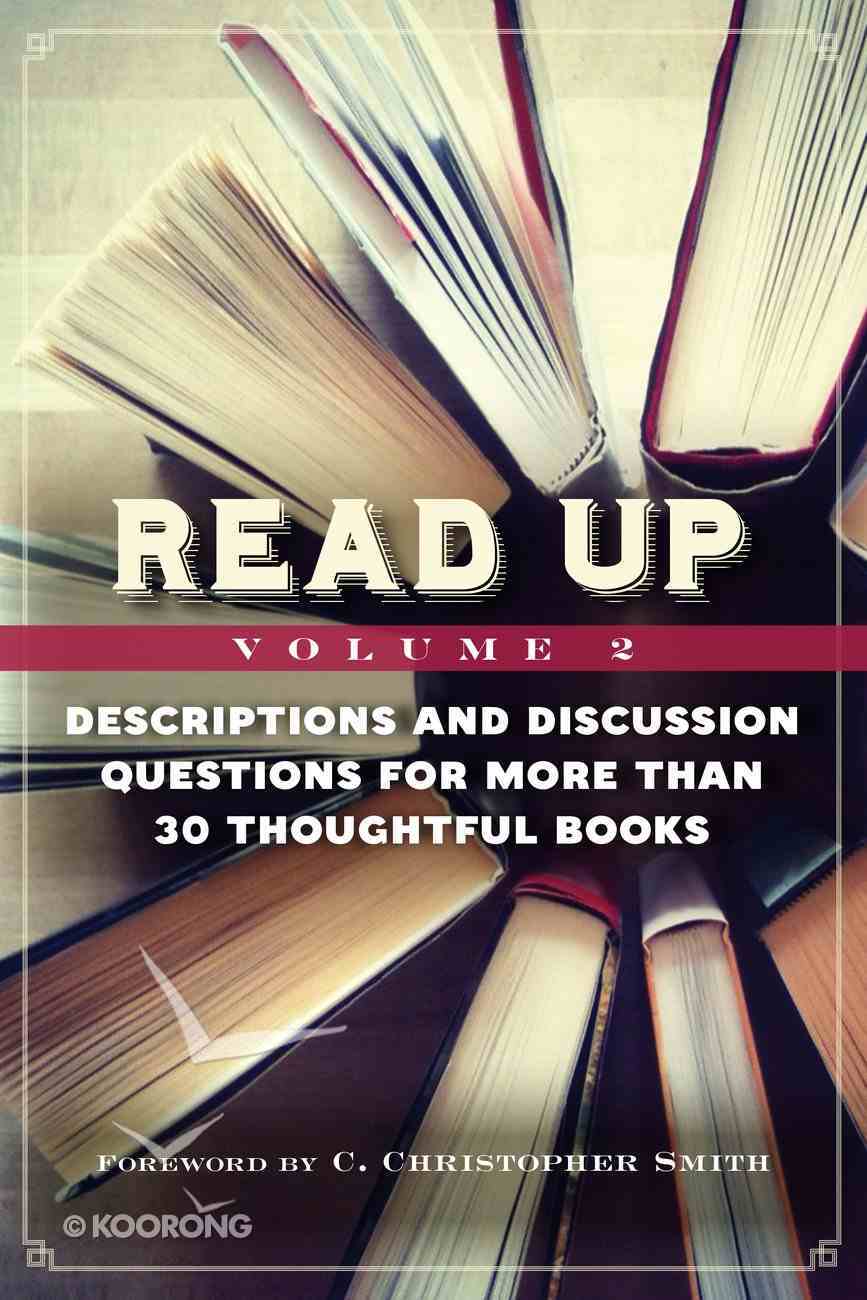 "In our age in which it is rapidly becoming a lost art, the importance of conversation should not be overlooked," writes C. Christopher Smith in the foreword of Read Up, Volume 2. "It is in conversation that our ideas and...
Instant download
---
Expected to ship within 12 hours from Australia.
---
Read using our free app on your tablet or mobile!
---
Free Shipping
for orders over $99.
"In our age in which it is rapidly becoming a lost art, the importance of conversation should not be overlooked," writes C. Christopher Smith in the foreword of Read Up, Volume 2. "It is in conversation that our ideas and language and dreams get forged into common structures that shape the life of our communities?church, neighborhood, workplace, etc... . Reading is a sort of fuel for these conversations, providing energy in the form of words and ideas that bring life to and clarify our conversations."Conversations about good books refresh us as we glean wisdom and receive understanding from one another. In reading groups we don't have to hope someone wants to hear our opinions?it's expected! And even better, the idea or concept that we missed in our reading is often what our fellow readers will discover and share with us. Our "aha" moments are multiplied in conversation. Even in disagreement?maybe especially when we disagree?there is opportunity to learn from one another as we seek to understand different points of view."The book that you hold in your hands?be it in print or in digital format?is a wonderful conversation starter," Smith continues. "Not only does it recommend some really good and timely books, at least some of which will be pertinent to the shared life of your church, it also highlights some questions about these books that will surely get your conversation rolling. I pray that this little volume will stir up many conversations, leading you into more questions, but ultimately into deeper and richer faithfulness in your local church communities."Whether your group is looking to discuss contemporary issues, history, fiction or memoirs, Read Up, Volume 2 has you covered, with descriptions, discussion questions, author conversations or excerpts for more than 30 thoughtful books. The diverse assortment of titles in this second volume of Read Up will provide you and your group with books that lead to both stimulating reading and meaningful conversation.Bring Read Up to your next book club and get the conversation started.
-Publisher
"in Our Age In Which It Is Rapidly Becoming A Lost Art, The Importance Of Conversation Should Not Be Overlooked," Writes C. Christopher Smith In The Foreword Of <em>read Up, Volume 2.</em> "it Is In Conversation That Our Ideas And Language And Dreams Get Forged Into Common Structures That Shape The Life Of Our Communities?church, Neighborhood, Workplace, Etc... . Reading Is A Sort Of Fuel For These Conversations, Providing Energy In The Form Of Words And Ideas That Bring Life To And Clarify Our Conversations."conversations About Good Books Refresh Us As We Glean Wisdom And Receive Understanding From One Another. In Reading Groups We Don't Have To Hope Someone Wants To Hear Our Opinions?it's Expected! And Even Better, The Idea Or Concept That We Missed In Our Reading Is Often What Our Fellow Readers Will Discover And Share With Us. Our "aha" Moments Are Multiplied In Conversation. Even In Disagreement?maybe Especially When We Disagree?there Is Opportunity To Learn From One Another As We Seek To Understand Different Points Of View."the Book That You Hold In Your Hands?be It In Print Or In Digital Format?is A Wonderful Conversation Starter," Smith Continues. "not Only Does It Recommend Some Really Good And Timely Books, At Least Some Of Which Will Be Pertinent To The Shared Life Of Your Church, It Also Highlights Some Questions About These Books That Will Surely Get Your Conversation Rolling. I Pray That This Little Volume Will Stir Up Many Conversations, Leading You Into More Questions, But Ultimately Into Deeper And Richer Faithfulness In Your Local Church Communities."whether Your Group Is Looking To Discuss Contemporary Issues, History, Fiction Or Memoirs, <em>read Up, Volume 2</em> Has You Covered, With <strong>descriptions, Discussion Questions, Author Conversations Or Excerpts For More Than 30 Thoughtful Books.</strong> The Diverse Assortment Of Titles In This Second Volume Of <em>read Up</em> Will Provide You And Your Group With Books That Lead To Both Stimulating Reading And Meaningful Conversation.bring <em>read Up</em> To Your Next Book Club And Get The Conversation Started.
Adventure Of Ascent Anxiousthe Attentive Lifebalanced Christianitybedeviledboth-andbrokecalledthe Challenge Of Jesusdelighting In The Trinitydwellembracing The Bodythe Fightforgotten Girlsthe Gift Of Being Yourselfthe Gospel In The Marketplace Of Ideasjustice Awakeninglessons In Belonging From A Church-going Commitment Phobelisten Inredeeming Sexthe Relational Soulrenaissanceslow Churchstarting Something Newteach Us To Wanttenthings Your Mother Never Told Youvisions Of Vocationwalking The Labyrinththe Way Of Gracea Week In The Life Of A Roman Centurionwhat Your Body Knows About God
Leading A Book Discussionivp Book Clubebooksaudio Booksfollow And Share
Bestsellers in Christian Living