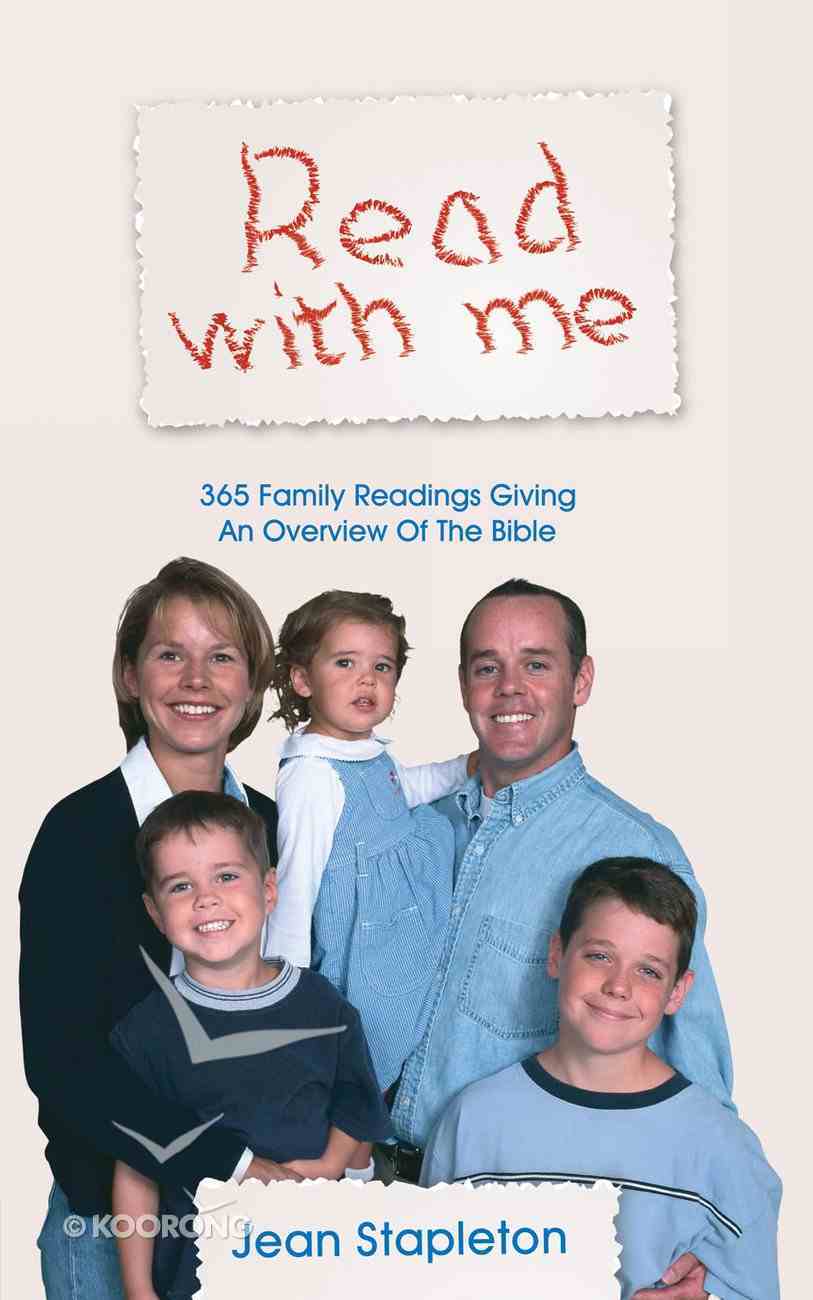 READ WITH ME takes the stories and teachings of the Bible from the beginning of the Old Testament through to the end of the New, explaining them in simple, direct language. These devotions are ideal for reading to children...
Out of Stock
Available to Order
---
Expected to ship in 4 to 5 weeks from Australia.
---
Free Shipping
for orders over $99.
READ WITH ME takes the stories and teachings of the Bible from the beginning of the Old Testament through to the end of the New, explaining them in simple, direct language.

These devotions are ideal for reading to children - each one bringing out truths and questions, answers and lessons - and will bring your family closer to God. Each reading starts with a simple logo and is divided up into four sections: -

* God's Word - gives you short passages of scripture to read together.
*It's a Fact - teaches interesting facts about God, the Bible, and the world.
* By Myself - allows young and developing readers to tackle a sentence or two.
* Ask about it - asks questions that are easily answered from the readings.

For older family members there is also an Extra Info feature where, throughout the book, introductions are given to those Old and New Testament books that are featured. These give additional information useful for older children - or for adults to read alongside the family devotions.

This book is a simple effective way to encourage your family to come together and spend time in a daily walk with God through his word. Read to Me: 5-7.

-Publisher
Have you ever watched a T.V. program or read a newspaper article where a commentator clumsily illustrates his complete ignorance of Christianity and its claims How often have you rolled your eyes and immediately discounted what is being said saying to yourself Well why should I listen to them when they obviously havent got a clue How then can we expect to witness effectively to those of the Muslim faith if all that we know of Islam is picked up from passing references in the media This fascinating book provides Christians with a simple description of the origins of Islam what Muslims believe and how it affects their attitudes worldview everyday life and culture. Practical guidelines are given for relating to Muslims in a culturally appropriate way as well as for witnessing effectively and caring for converts.
-Publisher
Jean Stapleton made nursing her career before she became a wife and a mother. She was involved with beach missions for a number of years and has worked with children of various ages and backgrounds in the local church and in her own home. A