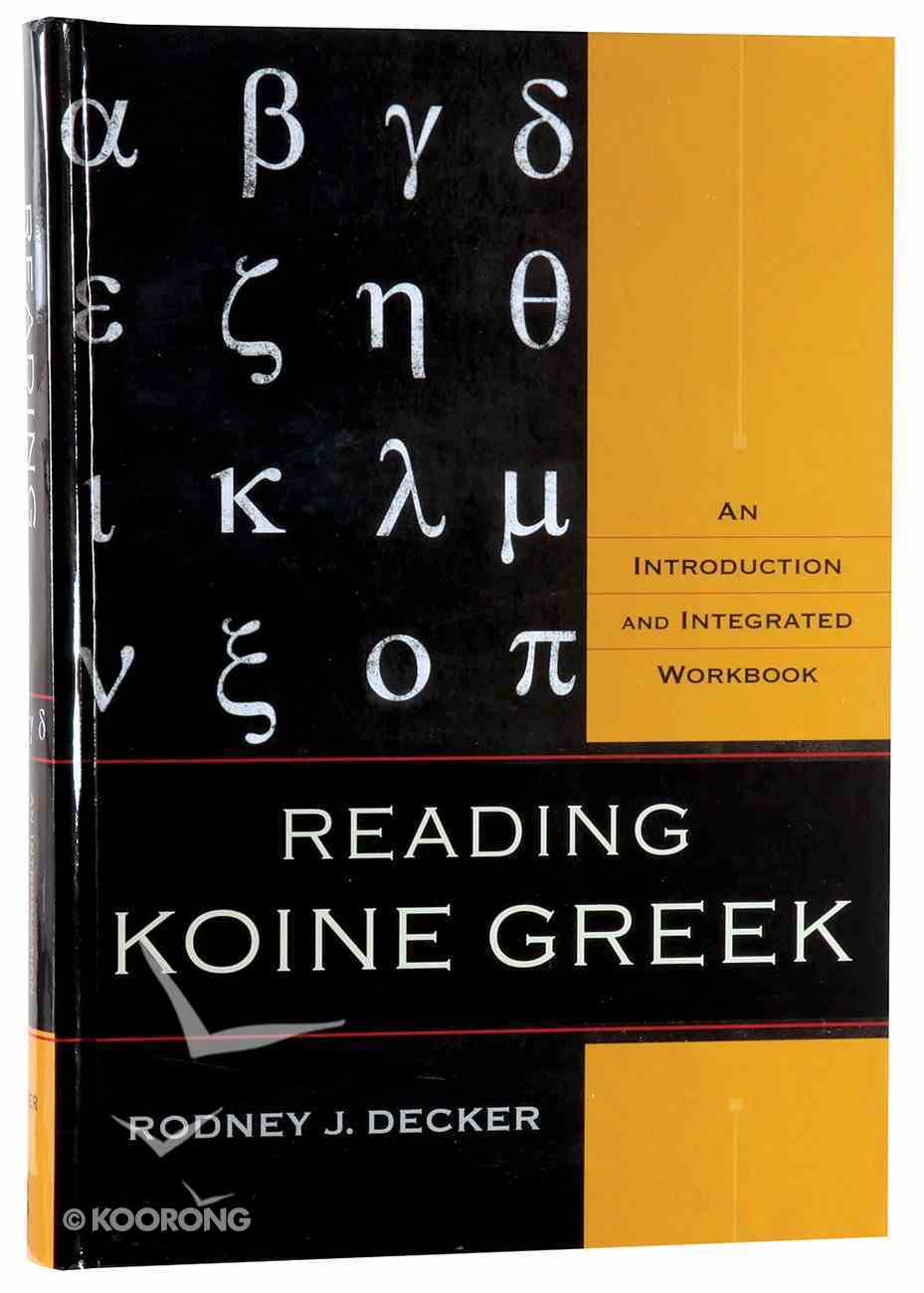 Reading Koine Greek: An Introduction and Integrated Workbook
This in-depth yet student-friendly introduction to Koine Greek provides a full grounding in Greek grammar while starting to build skill in the use of exegetical tools. The approach, informed by twenty-five years of classroom teaching, emphasizes reading Greek for comprehension...
Available Now.
10+ Available
---
Expected to ship tomorrow from Australia.
---
Free Shipping
for orders over $99.
This in-depth yet student-friendly introduction to Koine Greek provides a full grounding in Greek grammar while starting to build skill in the use of exegetical tools. The approach, informed by twenty-five years of classroom teaching, emphasizes reading Greek for comprehension as opposed to merely translating it. The workbook is integrated into the textbook, enabling students to encounter real examples as they learn each new concept. The book covers not only New Testament Greek but also the wider range of Bible-related Greek (LXX and other Koine texts). It introduces students to reference tools for biblical Greek, includes tips on learning, and is supplemented by robust web-based resources through Baker Academic's Textbook eSources, offering course help for professors and study aids for students.
-Publisher
:<b>contents<br></b><br>a Note To Teachers<br>introduction: The Language Of Koine Greek<br><b>lessons<br></b>1. Getting Started<br>2. Nouns: Part 1: Nominative And Accusative Cases<br>3. Nouns: Part 2: Genitive And Dative Cases<br>4. Pronouns: Part 1&amp;#9;personal Pronouns&amp;#9;<br>5. Verbs: Part 1: Verb Basics<br>6. Modifiers: Adjectives And Adverbs<br>7. Verbs: Part 2: Simple Aorist Verbs<br>8. Syntax: Part 1: Conjunctions&amp;#9;<br>9. Syntax: Part 2: Prepositions<br>10. Pronouns: Part 2: Other Types Of Pronouns<br>11. Third Declension: Part 1: Nouns<br>12. Third Declension: Part 2: Adjectives And Pronouns<br>13. Verbs: Part 3: Verbal Semantics<br>14. Present (imperfective) Indicative Verbs<br>15. Passive Voice And Middle-only Verbs<br>16. Imperfect (remote Imperfective) Indicative Verbs&amp;#9;<br>17. Aorist (perfective) Indicative Verbs<br>18. Second Aorist Indicative Verbs<br>19. Future Indicative Verbs<br>20. Perfect And Pluperfect (stative) Indicative Verbs&amp;#9;<br>21. Contract And Liquid Verbs<br>22. Infinitives&amp;#9;<br>23. Participles: Part 1: Imperfective Adverbial Participles&amp;#9;<br>24. Participles: Part 2: Perfective Adverbial Participles<br>25. Participles: Part 3: Adjectival Participles<br>26. Participles: Part 4: Stative And Future Participles&amp;#9;<br>27. Participles: Part 5: Genitive Absolutes And Periphrastics<br>28. Subjunctive Mood Verbs<br>29. Imperative And Optative Mood Verbs<br>30. Syntax: Part 3: Formal Conditions&amp;#9;<br>31. Syntax: Part 4: Informal Conditions And Discourse<br>32. &amp;mu;&amp;iota; Verbs: Part 1: Indicative Mood&amp;nbsp;&amp;nbsp;<br>33. &amp;mu;&amp;iota; Verbs: Part 2: Non-indicative Forms<br>epilogue&amp;#9;<br><b>appendixes<br></b>a. Reference Charts<br>b. Morphology Catalog Of Common Koine Verbs<br>c. Participle Chart<br>d. Vocatives<br>e. Greek Numbers And Archaic Letters<br>f. Glossary<br>index