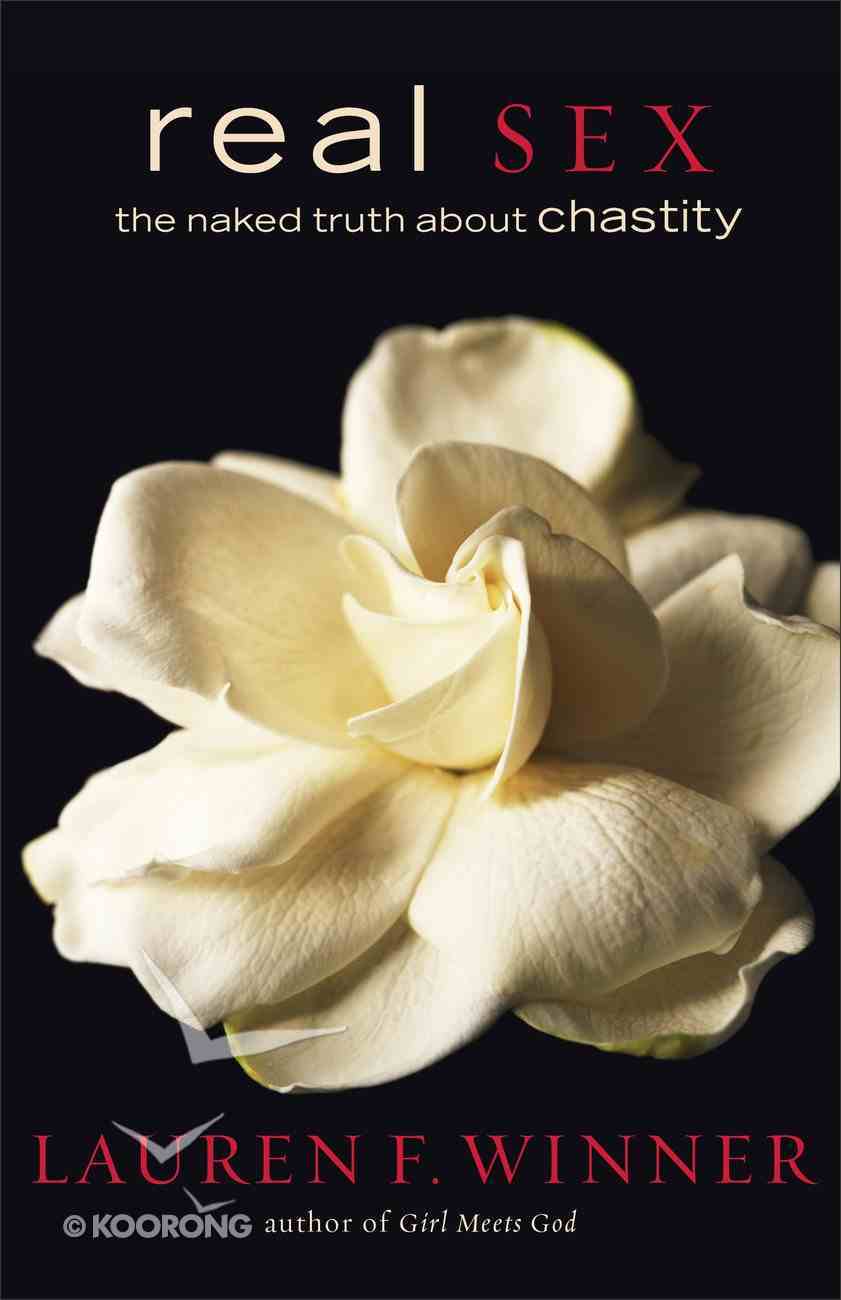 Real Sex: The Naked Truth About Chastity
SEX. Splashed across magazine covers, billboards, and computer screens--sex is casual, aggressive, and absolutely everywhere. And everybody's doing it, right? In Real Sex, heralded young author Lauren F. Winner speaks candidly to Christians about the difficulty--and the importance--of sexual chastity....
Out of Stock
Available to Order
---
Expected to ship in 5 to 6 weeks from Australia.
---
Free Shipping
for orders over $99.
SEX. Splashed across magazine covers, billboards, and computer screens--sex is casual, aggressive, and absolutely everywhere. And everybody's doing it, right? In Real Sex, heralded young author Lauren F. Winner speaks candidly to Christians about the difficulty--and the importance--of sexual chastity. With honesty and wit, she talks about her struggle to live a celibate life. Never dodging tough terms like "confession" and "sin," Winner grounds her discussion of chastity first and foremost in Scripture. She confronts cultural lies about sex and challenges how we talk about sex in church. Her biblically grounded observations and suggestions will be especially valuable to unmarried Christians struggling with the sexual mania of today's culture. Real Sex is essential reading for Christians grappling with chastity and a valuable tool for pastors.
-Publisher
Winner, author of the critically acclaimed memoir Girl Meets God, weaves an intriguing tapestry from sociological, autobiographical, pastoral, and historical threads. She balances a journalistic report of how difficult chastity is for American Christians; a personal account of how she and her friends have approached premarital sex and marital sex; a survey of what the Bible, pastors, and good Christian books say about the topic; and an overview of how chastity has been understood throughout Christian history. The candor with which Winner writes about sex may alarm some Christian readers, but those who follow her arguments to their conclusions will find themselves rewarded with fresh insights about an overdiscussed but still deeply entrenched problem among Christians. Interestingly, some of Winner''s best insights are about married sex. . . . Winner places real sex not in the passionate world of one-night stands and dating relationships but in the ordinary, domestic life of married couples. As such, she helpfully and perhaps even radically reframes both the Christian and cultural discussion of chastity and sexuality.--Publishers Weekly"[A] carefully presented Christian approach to sexuality. . . . The book gives practical ideas for living a chaste life, portraying chastity as a spiritual discipline. One of the book''s strengths is its treatment of singleness and ways in which the chruch could better incorporate singles into the Body of Christ. . . . Readers will appreciate Winner''s intellectual, spiritually sound, and engaging approach."--Joseph Bentz, CBA Marketplace"With a winsome, direct, and engaging style full of beguiling humor and verve, Winner forcefully argues that chastity is themost unnatural of Christian virtues. The church must teach us who God has created us to be, must inculcate in us the practices and disciplines that we require if we are to be chaste in a world where it seems like everyone is hooking up with everyone else. While much of the current infatuation with ''spiritual practices'' is rather thin, in reclaiming chastity as a spiritual discipline Winner gives substance to the notion of practice and thereby gives substance to the notion of church. . . . This book is a great resource for pastors and congregations. Winner defends marriage as a clench-fisted, revolutionary endeavor that is against just about everything we have been taught to believe, and her defense of singleness as the primary vocation of Christians is equally defiant. She also offers practical ideas about what churches can to do support us in our vocations of marriage and singleness. Real Sex is destined to be one of the most useful books for churches to be published this year."--William H. Willimon, Christian Century"A candid, readable, intelligent, and deeply Christian reflection on the meaning of sexuality and the generally unpopular and misunderstood virtue of chastity. Speaking most specifically to people who are young and single, Lauren Winner is the friendly and informed guide many are looking for in living the Christian alternative in a culture of erotic disorder. Although the author is not a Catholic, there are clear intimations of what Catholics call the theology of the body."--First Things"According to Lauren Winner, chastity is no walk in the park--not for single or married people. It involves unceasing prayer, diligent discernment and a fierce battle against the lies thatour culture and church communicate to us related to sexuality. Real Sex is the fruit of this sometimes-faltering quest in Winner''s own life, a continual movement toward wholeness, as well as an ongoing conversation between herself, God and her readers. Real Sex is full of hope--hope that frank discussion will triumph over platitudes, that sexual wholeness can be recovered even after virginity has been lost and that we can all relearn what authentic sexuality is even in the face of cultural mythology."--Jenny Schroedel, Boundless.org "Lauren Winner exposes the half-
-Publisher
Lauren F. Winner is the author of three books, Girl Meets God, Mudhouse Sabbath, and Real Sex: The Naked Truth about Chastity. She has appeared on PBS's Religion & Ethics Newsweekly and has written for The New York Times Book Review, The Washington Post Book World, Publishers Weekly, Books and Culture, and Christianity Today. Winner has degrees from Duke, Columbia, and Cambridge universities, and holds a Ph.D. in history. The former book editor for Beliefnet, Lauren teaches at Duke Divinity School, and lives in Durham, North Carolina. Lauren travels extensively to lecture and teach, and during
Bestsellers in Relationships