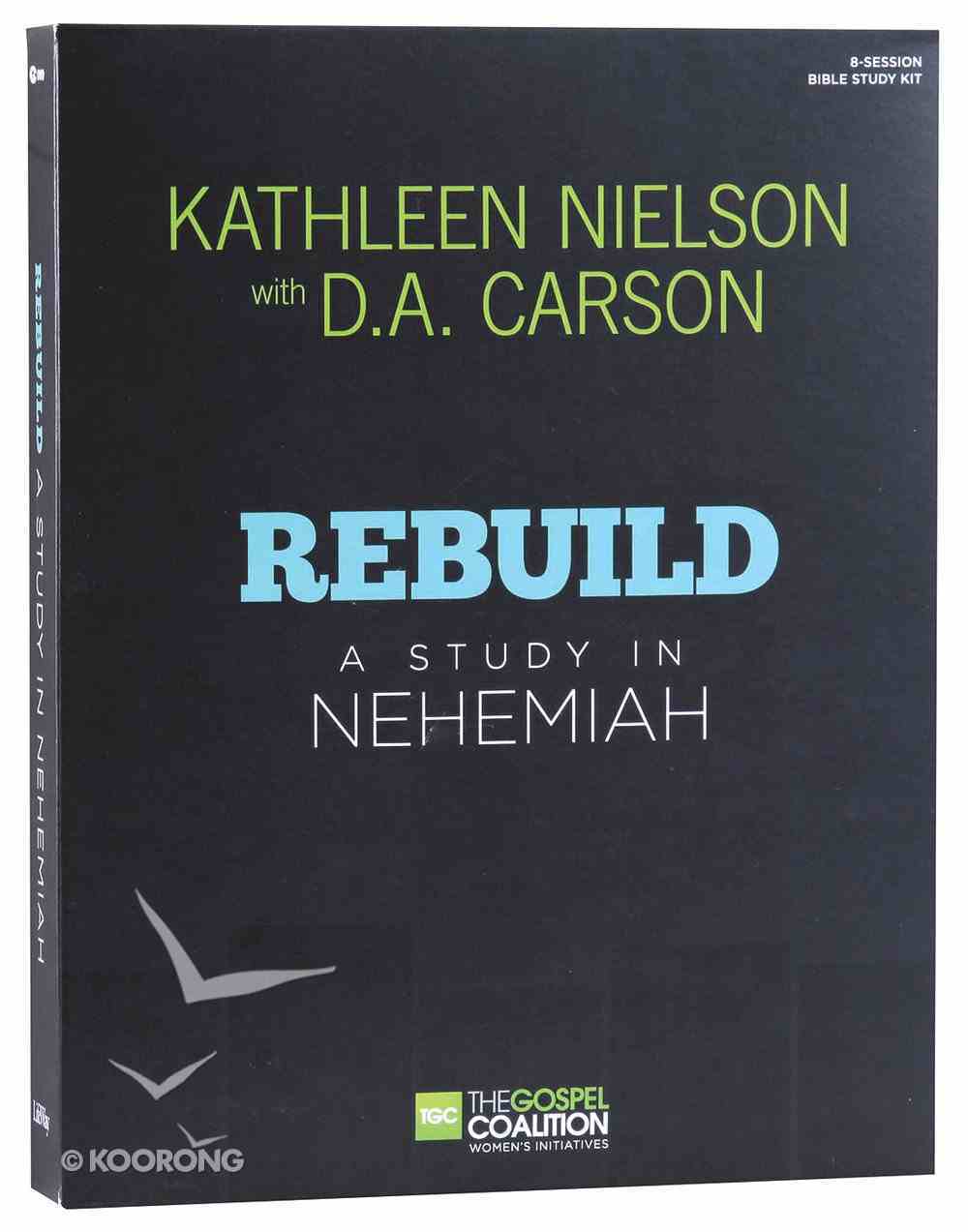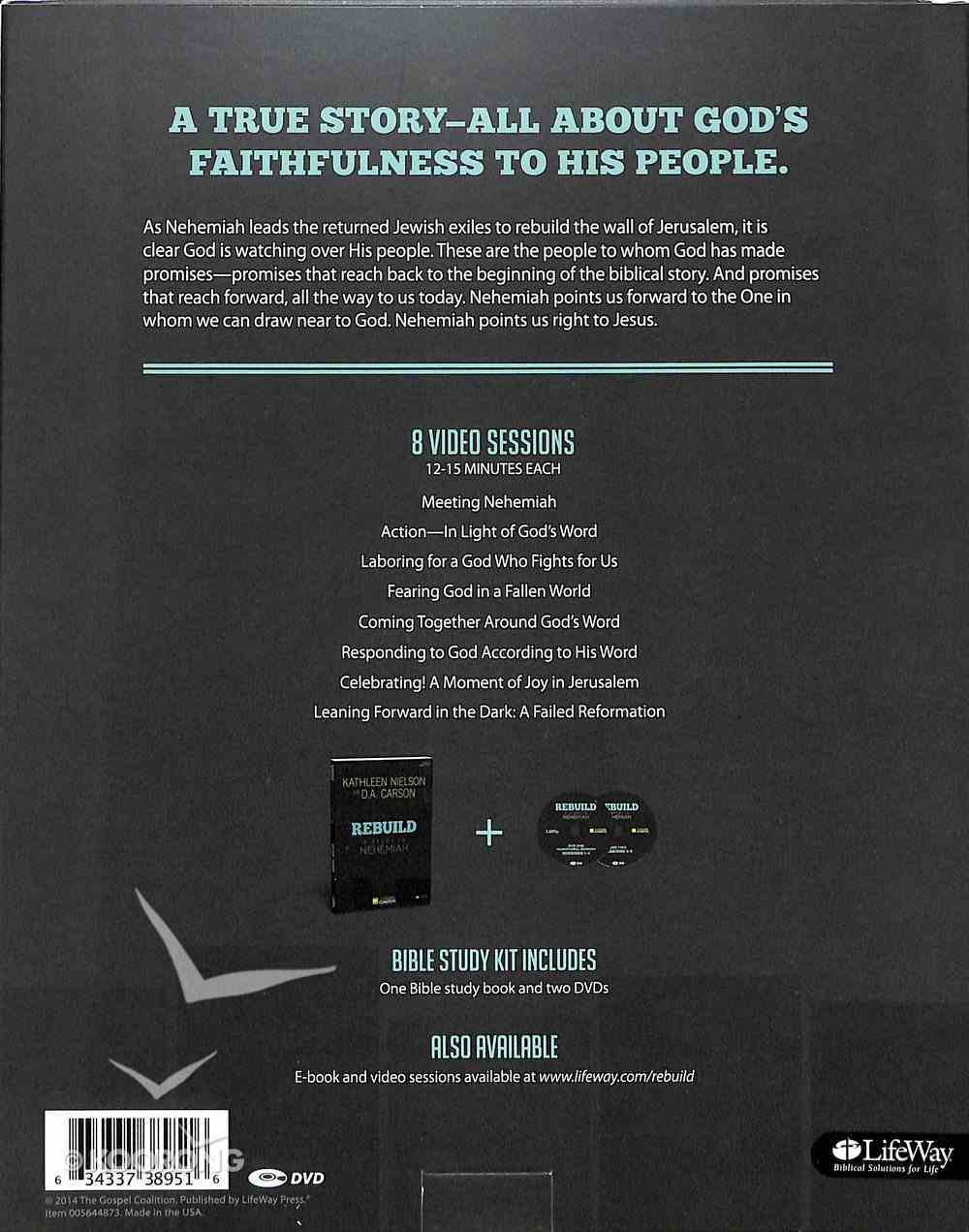 Rebuild: A Study in Nehemiah (Leader Kit)
The Rebuild Leader Kit from Kathleen Nielson contains one small group Member Book and 2 DVDs for 8 sessions of group study. Nielson's study takes us into a compelling story The Book of Nehemiah tells of God's people returned...
Unavailable. Out of Print. Only available while stock lasts.
Out of Print
---
Free Shipping
for orders over $99.

The Rebuild Leader Kit from Kathleen Nielson contains one small group Member Book and 2 DVDs for 8 sessions of group study.


Nielson's study takes us into a compelling story The Book of Nehemiah tells of God's people returned from exile and rebuilding the broken-down city of Jerusalem. More than that, it tells of God's people being rebuilt according to His Word. As we watch the leader Nehemiah direct the rebuilding, we're watching the Lord God direct history according to His promises all of which were fulfilled in the promised Christ who came from this people's seed. This study of Nehemiah helps us understand our history as believers in Jesus Christ. It helps us learn to walk in faith according to God's Word, even in times of weakness and rebuilding. Eight lessons draw us into the text, giving background and asking questions that lead us to make fruitful and personal observations. Accompanying videos come from Nielson, Nancy Guthrie, and D.A. Carson (editor). Through this study we peer into the dramatic story of God's people sustained by God's Word, at a crucial point in salvation history.


Table of Contents Session 1Meeting Nehemiah Session 2Action In Light of God's Word (Nehemiah 1-2) Session 3Laboring for a God Who Fights For Us (Nehemiah 3-4) Session 4Fearing God in a Fallen World (Nehemiah 5-6) Session 5Coming Together around God's Word (Nehemiah 7-8) Session 6Responding to God according to his Word (Nehemiah 9-10) Session 7Celebrating A Moment of Joy in Jerusalem (Nehemiah 11-12) Session 8Leaning Forward in the Dark: A Failed Reformation (Nehemiah 13)


Kit Includes: 1 small group Member Book 2 DVDs with a promotional video and eight 15-minute teaching sessions featuring author Kathleen Nielson, Nancy Guthrie, and D.A. Carson


Features: Teaching from Nancy Guthrie, D.A. Carson, and Kathleen Nielson Biblically rooted and gospel-centered teaching Leader material (environment, guides to questions, general leadership, and so on) Fresh commentary for personal study segments 8-session workbook with group and personal component Lessons in leadership from prominent voices of The Gospel Coalition


Benefits: Leaders can be assured of a trusted teacher in every group as participants view the video Biblical truth that's reliable Contributes to leader's confidence and preparation, but also contributes to leader training Personal spiritual growth through individual time with content Provocative questions; scriptural support; and text, application, and preparation Understanding Nehemiah as a crucial point in salvation history


Author: Kathleen Nielson serves as director of women's initiatives for The Gospel Coalition. She holds MA and PhD degrees in literature from Vanderbilt University and a BA from Wheaton College. Author of the Living Word Bible studies, she speaks often at women's conferences and loves working with women in studying the Bible. She shares a heart for students with her husband, Niel, president of Covenant College from 2002 to 2012 and now leading an enterprise developing resources for Christian schools around the world."


-Publisher
Bestsellers in Ministry Resources