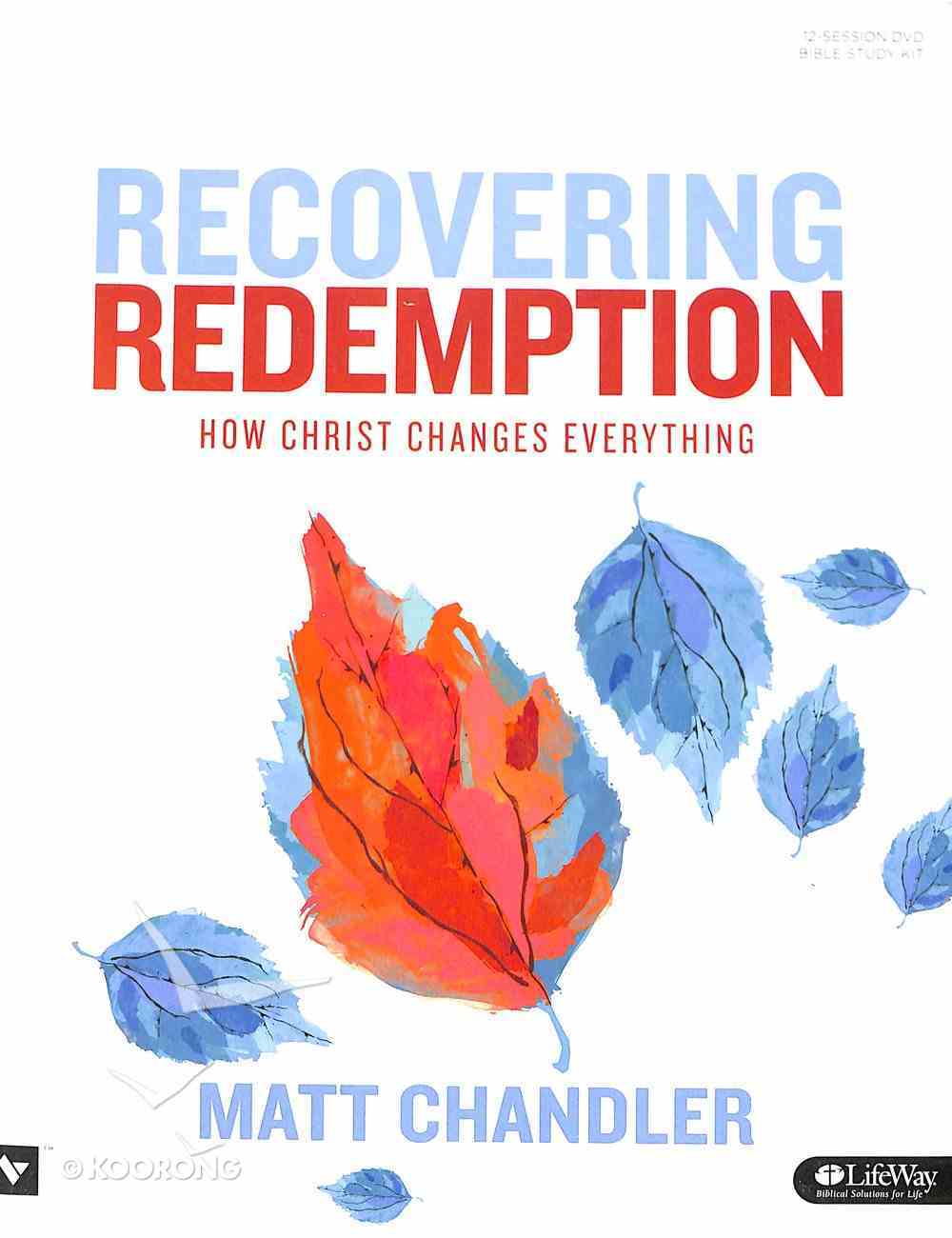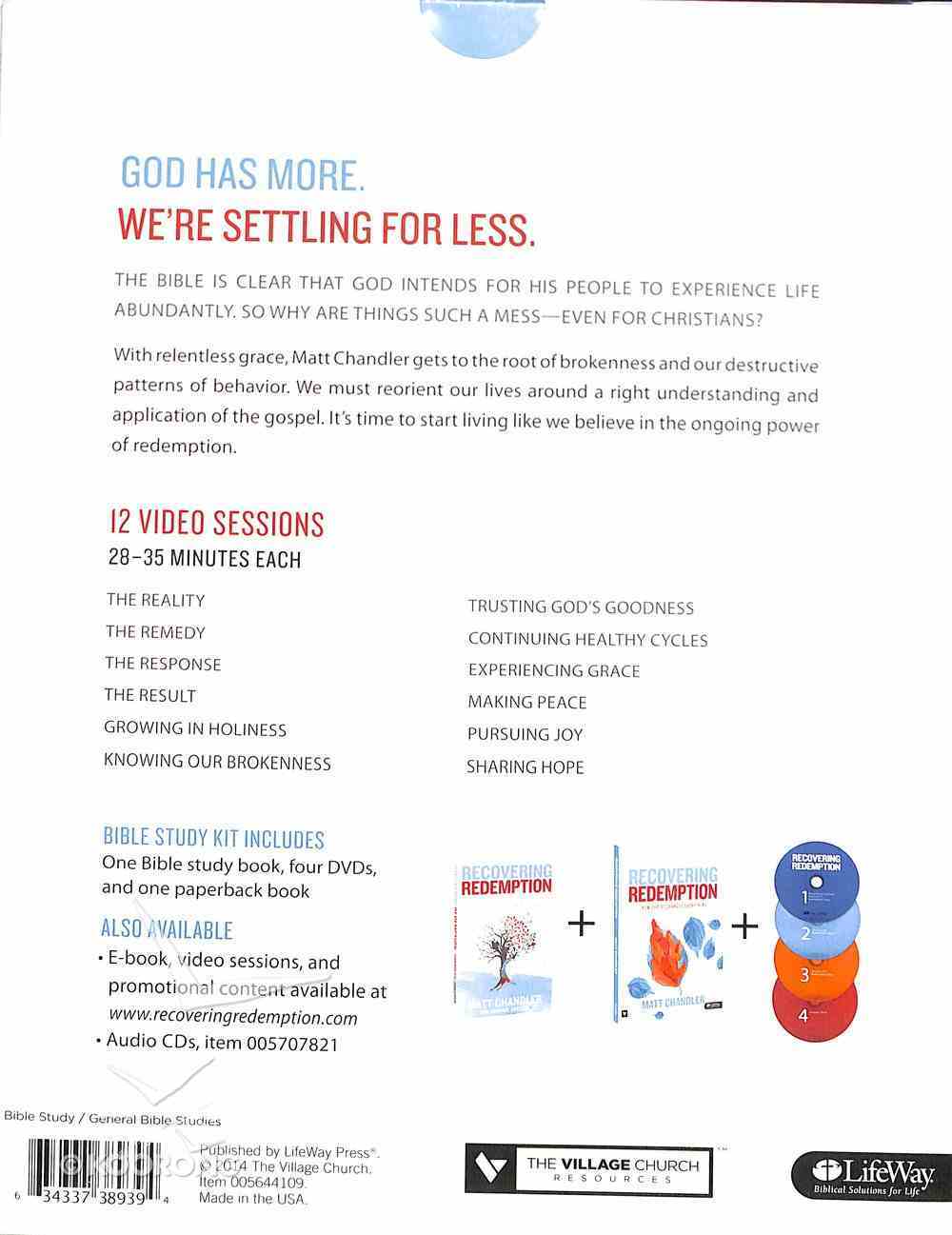 Recovering Redemption: How Christ Changes Everything (Dvd Leader Kit)
Recovering Redemption Leader Kit contains four DVDs featuring the teaching of Matt Chandler through twelve 30- to 35-minute video sessions, plus the Bible Study and the book on which this study is based. All of us have a sense...
Special Order
Payment is by credit card only. Orders for this item cannot be cancelled or returned.
---
Free Shipping
for orders over $99.

Recovering Redemption Leader Kit contains four DVDs featuring the teaching of Matt Chandler through twelve 30- to 35-minute video sessions, plus the Bible Study and the book on which this study is based.


All of us have a sense of dissatisfaction. And we typically look for solutions in four areas: self, others, the world, and religion. But none of these will satisfy. Recovering Redemption is about recovering what is lost and broken our relationship with Jesus because the gospel is the remedy to fix all things: every struggle, every circumstance, every relationship, everything.


In this 12-session study, Matt Chandler explains the implications of the gospel with surprising clarity and striking candor. Those who have been Christ followers for years will find that it helps connect the dots of their faith, serving as a bridge between salvation and maturity. It s also an essential study for new believers.


Kit Includes: Small group Bible Study4 DVDs with video teaching of Matt ChandlerRedeeming Recovery book from B&H


Features: Video-driven Bible study12 group sessionsPersonal Bible study


Topics include:


Session 1 The Reality: Everything is Broken Man, as a creature in relation to his Creator, has fallen from a place of dignity, humility, and dependence to a state of depravity, pride, and rebellion. Apart from Christ, we are powerless to overcome sin, and efforts to fix our problem only increase the mess.


Session 2 The Remedy: Our Hope in the Gospel God lovingly intervened into our chaos by providing a remedy for the insanity of sin and the way back into right relationship with Him. By grace through faith in Jesus Christ, we can be made clean redeemed.


Session 3 The Response: Faith & Repentance There is a difference between being sorry for the mess our sin has made and responding with godly grief that leads to repentance. When facing the good news of the gospel, saving faith brings transformation.


Session 4 The Result: Justification & Adoption Now the Holy Spirit testifies to the fact that we have been declared innocent and welcomed as children of the King. Our heavenly Father delights all of His sons and daughters.


Session 5 Growing in Holiness: Sanctification Even though we have been declared holy before God, our lives don t always reflect this truth. By setting our focus on life-giving truth and putting the empty promises of sin to death, we begin to mature with grace-based effort.


Session 6 Knowing our Brokenness: Free from Shame Guilt and shame create a never-ending cycle of destructive behaviors. Being honest with ourselves and fully known to others opens us up to walk in freedom.


Session 7 Trusting God s Goodness: Free from Fear The peace and prosperity of the world God created have been replaced with fear and anxiety. We can escape the unhealthy cycle of worry by clinging to the loving faithfulness of God.


Session 8 Continuing Healthy Cycles: The New Self When escaping destructive patterns, healthy cycles must continually be established in their place. As a new creation, we must continually renounce our old ways and reroot in new ways.


Session 9 Experiencing Grace: Love & Confession Christ said His disciples would be known by their love. As recipients of His merciful love, we are empowered by the Spirit to walk in the freedom of His forgiveness, confessing where we have sinned against God and others.


Session 10 Making Peace: Confronting Sin In a broken world, people may be blind to how they are hurting others or even hurting themselves. The love of Christ compels us to graciously reconcile fractured relationships and to help brothers and sisters experience healing.


Session 11 Pursuing Joy: The Abundant Life Christ came that we may experience life to its fullest. The motivation of true joy, rather than settling for temporary happiness or relief, strengthens followers of Jesus to persevere in the highs and lows of our daily grind.


Session 12 Sharing Hope: Light of the World Good news i


-Publisher
Matt Chandler is the lead pastor of The Village Church, a multi-campus church in the Dallas metroplex of over 10,000 people. His sermons are among the topselling (free) podcasts on itunes and he speaks at conferences worldwide. Prior to accepting the pastorate at The Village, Matt had a vibrant itinerant ministry for over ten years where he spoke to hundreds of thousands of people in America and abroad about the glory of God and beauty of Jesus. He lives in Texas with his wife, Lauren, and their three children: Audrey, Reid and Norah.
Bestsellers in Ministry Resources