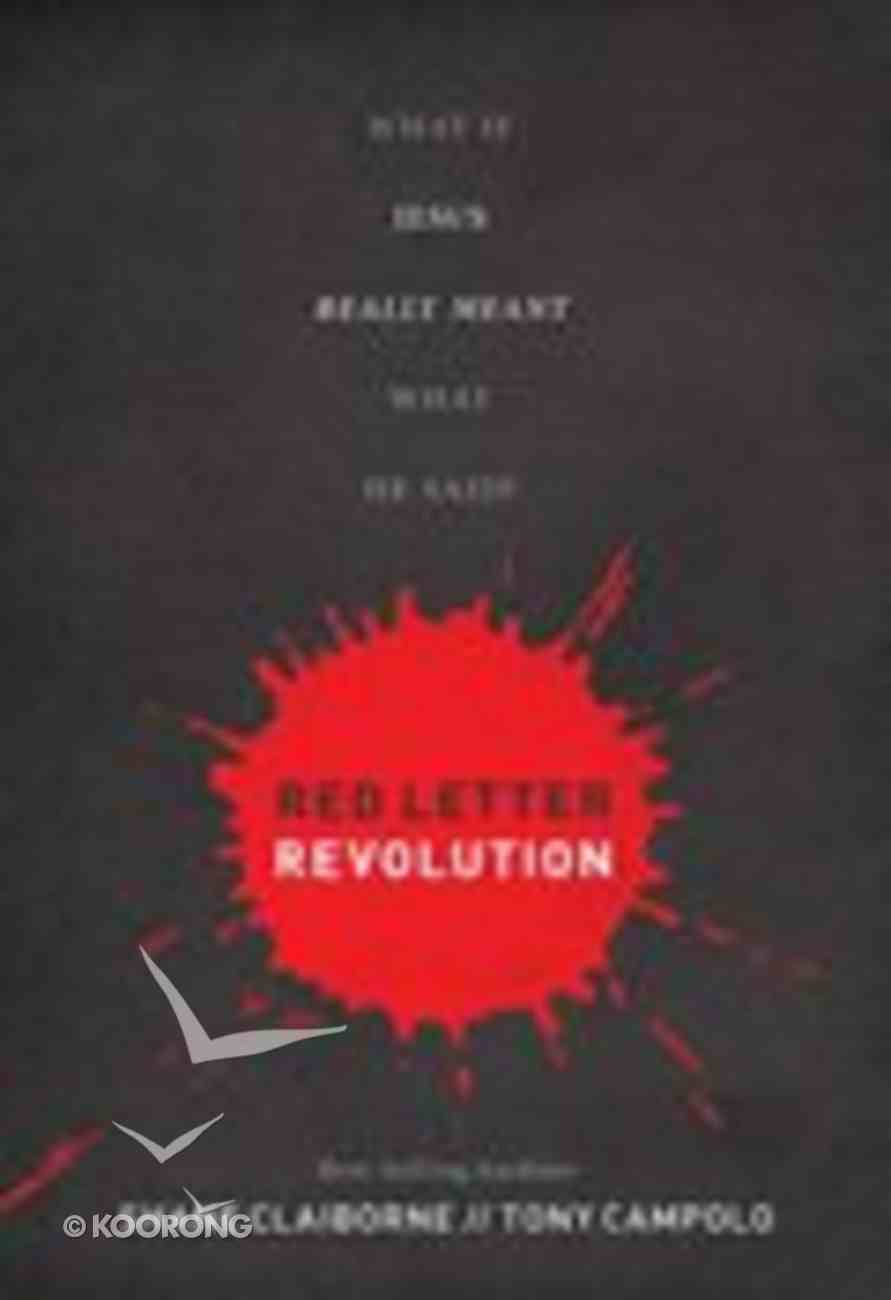 Best-selling authors Shane Claiborne and Tony Campolo talk candidly about the life and teaching of Jesus and the wisdom he offers our fractured world. It is time to re-imagine the world and the way we live-the old patterns of...
Out of Stock
Available to Order
---
Expected to ship in 4 to 5 weeks from Australia.
---
Free Shipping
for orders over $99.

Best-selling authors Shane Claiborne and Tony Campolo talk candidly about the life and teaching of Jesus and the wisdom he offers our fractured world.


It is time to re-imagine the world and the way we live-the old patterns of politics, economics, and religion that aren't working. It's time for a new kind of Christianity. In "Red Letter Revolution," best-selling authors Shane Claiborne and Tony Campolo take on the hardest issues facing our world. They show that Jesus' example is relevant and revolutionary and call us back to a Christianity that looks like him again. In this ambitious project, they mine the words of Jesus-the "red letters" of Scripture-asking the simple question, "What if we lived out the stuff he said?"


From the power in Washington to the poverty in rural towns to the broken systems everywhere else, the world is looking for salvation. But this salvation is not just for people's souls-it's for schools, governments, churches, and families.


"Red Letter Revolution" is about politics, but it's fresh. It's about theology, but it's real. It's about economics, but it's interesting. It's about Jesus, who longs to transform the world despite the embarrassing things his followers have done in his name. For conservatives and progressives, skeptics and believers, "Red Letter Revolution" undertakes the world-shaping mission to understand how Jesus' words could change everything-if we'd only give them a chance.


-Publisher

For all the Christians facing conflict between Jesus? words and their own lives, for all the non-Christians who feel they rarely see Jesus? commands reflected in the choices of his followers, Red Letter Revolution is a blueprint for a new kind of Christianity, one consciously centered on the words of Jesus, the Bible's 'red letters.?


Framed as a captivating dialogue between Shane Claiborne, a progressive young evangelical, and Tony Campolo, a seasoned pastor and professor of sociology, Red Letter Revolution is a life-altering manifesto for skeptics and Christians alike. It is a call to a lifestyle that considers first and foremost Jesus? explicit, liberating message of sacrificial love.


Shane and Tony candidly bring the words of Jesus to bear on contemporary issues of violence, community, Islam, hell, sexuality, civil disobedience, and twenty other critical topics for people of faith and conscience today. The resulting conversations reveal the striking truth that Christians guided unequivocally by the words of Jesus will frequently reach conclusions utterly contrary to those of mainstream evangelical Christianity.


If the Jesus who speaks to you through the Gospels is at odds with the Christian culture you know, if you have ever wanted to stand up and say, ?I love Jesus, but that's not me,? Red Letter Revolution will prove that you are not alone?you may have been a Red Letter Christian all along.


Endorsements:


?This book, by a young and an elderly Christian, will help you decide how we Christians could change the world if we took the 'red letter? words of Jesus literally and seriously.? ?President Jimmy Carter


?In Red Letter Revolution the uncompromised truth of Jesus' teachings are given voice by two modern-day Christian leaders who do more than preach this Good News. They walk the talk and lead the way.? ?Archbishop Desmond Tutu


?I started reading this book and couldn't stop. . . . Thank you, Tony and Shane. Thank you for this book. May the movement spread around the world.? ?Abuna Elias Chacour,?Melkite Catholic Archbishop of Galilee


?Red Letter Revolution is an adrenaline-producing conversation with prophetic bite.? ?Eugene H. Peterson, author of The Message Bible


?I cannot over-emphasize or exaggerate the richness of this book.? ?Phyllis Tickle, author of Emergence Christianity


?In this courageous and well crafted book, we have a return to the core message of the Gospel from two Christians who first tried to live it themselves?and only then spoke." ?Fr. Richard Rohr, O.F.M., Center for Action and Contemplation


?Shane Claiborne and Tony Campolo are two of the most significant prophetic voices in the Christian world.? ?Rabbi Michael Lerner, editor of Tikkun Magazine (tikkun.org)


?This is a must-read book for anyone who is seeking to take Jesus? call on their lives seriously.? ?Jim Wallis, founder and editor of Sojourners magazine


?If you ever wished you could eavesdrop on a conversation with two of the world's most interesting and inspiring Christians, just turn to page one.? ?Brian D. McLaren, author/speaker (brianmclaren.net)


-Publisher
Shane Claiborne, author of The Irresistible Revolution, Jesus for President and most recently Becoming the Answer to Our Prayers, and with John Perkins Follow Me to Freedom: Leading as an Ordinary Radical is a prominent activist and sought after speaker. He is one of the founding members of The Simple Way, a community in inner city Philadelphia that has helped birth and connect radical faith communities around the world. Shane serves on the board of directors for the Christian Community Development Association, and in his down-time is quite a dynamic circus performer.
Tony Campolo is professor emeritus of Socilogy at Eastern University,St.Davids, Pennsylvania. He is the founder of the Evangelical Association for the Promotion of Education, an organisation that develops schools and social programs in various third world countries and in cities across North America. Dr Campolo is an ordained minister and is presently the associate pastor of the Mount Carmel Baptist Church in West Philadelphia. He is the author of 33 books including Letters to a Young Evangelical and Everybody Wants to Change the World. He is media commentator on religious, social and political matters and is regularly appears on television and hosts a weekly radio program in England. Publisher.
Bestsellers in Christian Living