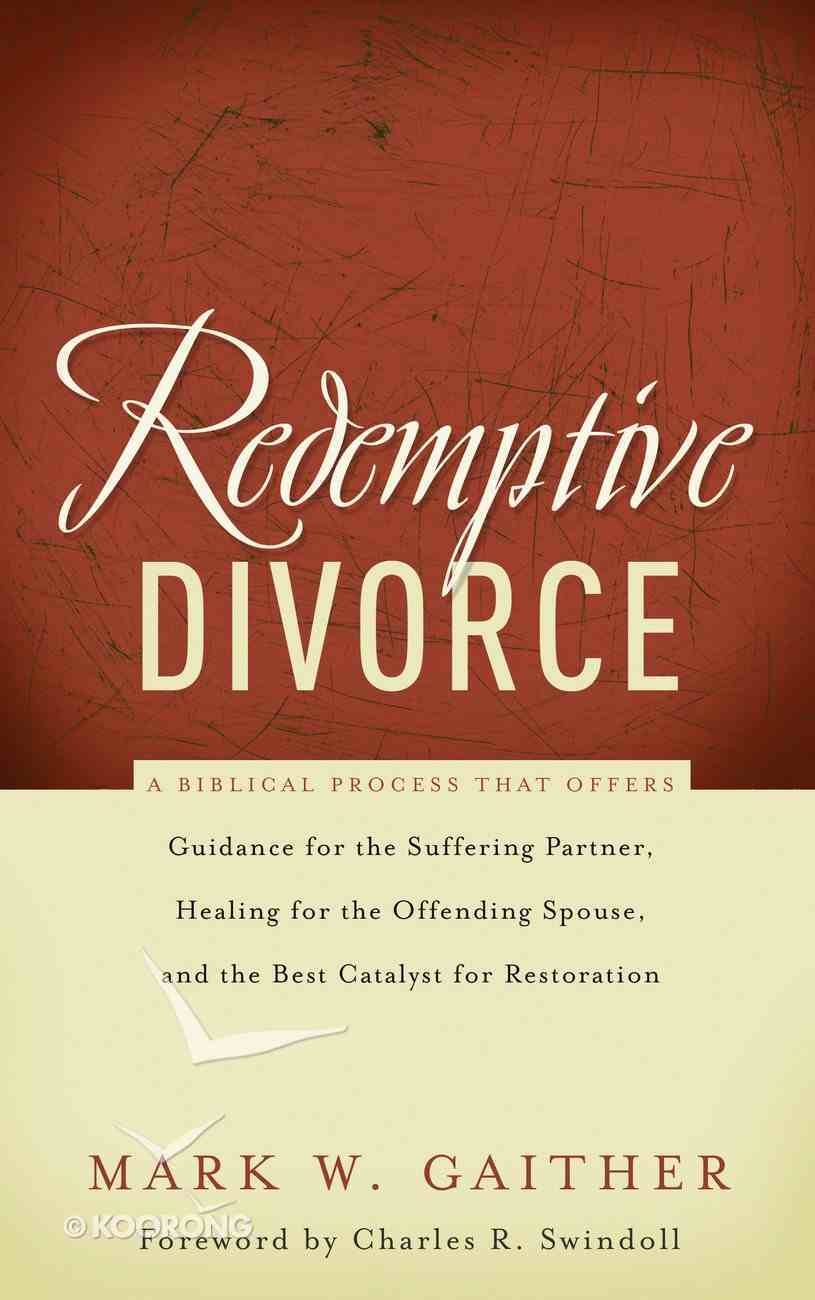 A graceful, biblical way to reclaim sanity for the home and dignity for the suffering spouse in a dysfunctional or dangerous marriage. Thousands of conscientious believers wanting to honor the sacred vows they took before God suffer in dysfunctional,...
Available for immediate download.
---
Read using our free app on your tablet or mobile!
---
Free Shipping
for orders over $99.

A graceful, biblical way to reclaim sanity for the home and dignity for the suffering spouse in a dysfunctional or dangerous marriage.


Thousands of conscientious believers wanting to honor the sacred vows they took before God suffer in dysfunctional, even dangerous marriages. Each and every day they must choose between the lesser of two evils: divorce without sound biblical support or a life of perpetual, unrelenting misery. Somewhere between the secular disregard for the commands of Christ and the sacred unwillingness to deal with real problems of people, there is a way.


The redemptive divorce process is designed to honor the sacredness of the union while offering practical relief for the suffering partner and tough love for the offending spouse. In some cases, it might even be the catalyst for the restoration and rebuilding of the marriage. Practical, provocative, and utterly unique, Redemptive Divorce includes a helpful guide with worksheets for implementation.

^^
Thousands of conscientious believers wanting to honor the sacred vows they took before God suffer in dysfunctional, even dangerous marriages. Each and every day they must choose between the lesser of two evils: divorce without sound biblical support or a life of perpetual, unrelenting misery. Somewhere between the secular disregard for the commands of Christ and the sacred unwillingness to deal with real problems of people, there is a way.

^^
The redemptive divorce process is designed to honor the sacredness of the union while offering practical relief for the suffering partner and tough love for the offending spouse. In some cases, it might even be the catalyst for the restoration and rebuilding of the marriage. Practical, provocative, and utterly unique, Redemptive Divorce includes a helpful guide with worksheets for implementation.


A graceful, biblical way to reclaim sanity for the home and dignity for the suffering spouse in a dysfunctional or dangerous marriage.

^^
Thousands of conscientious believers wanting to honor the sacred vows they took before God suffer in dysfunctional, even dangerous marriages. Each and every day they must choose between the lesser of two evils: divorce without sound biblical support or a life of perpetual, unrelenting misery. Somewhere between the secular disregard for the commands of Christ and the sacred unwillingness to deal with real problems of people, there is a way.

^^
The redemptive divorce process is designed to honor the sacredness of the union while offering practical relief for the suffering partner and tough love for the offending spouse. In some cases, it might even be the catalyst for the restoration and rebuilding of the marriage. Practical, provocative, and utterly unique, Redemptive Divorce includes a helpful guide with worksheets for implementation.


-Publisher
Charles R. Swindoll has devoted his life to the clear, practical teaching and application of God's Word and His grace. A pastor at heart, Chuck has served as senior pastor to congregations in Texas, Massachusetts, and California. He currently pastors Stonebriar Community Church in Frisco, Texas, but Chuck's listening audience extends far beyond a local church body. As a leading program in Christian broadcasting, 'Insight for Living' airs in major Christian radio markets around the world, reaching people groups in languages they can understand. Chuck's extensive writing ministry has also served
Bestsellers in Relationships