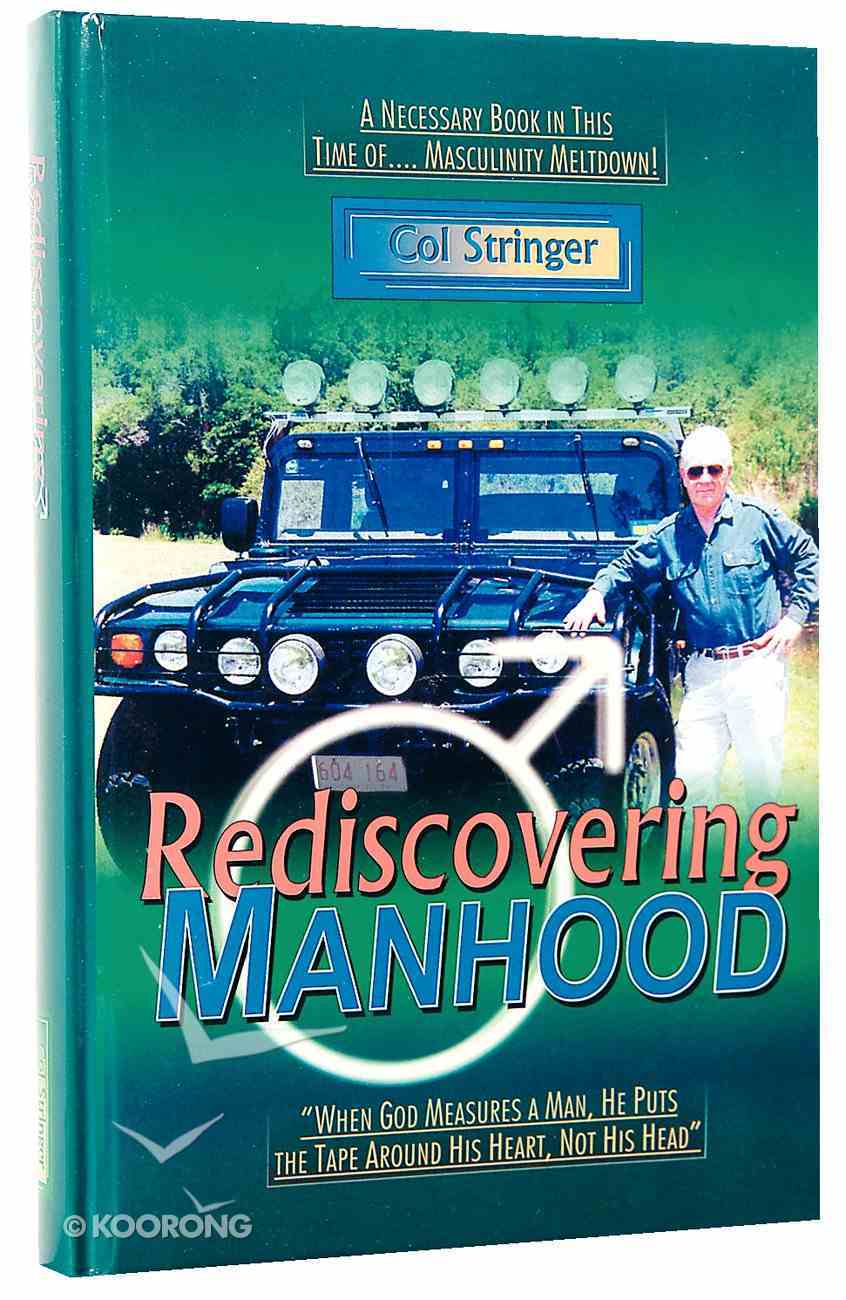 From the Author: I love the passage in 1 Samuel where it describes some of the men that came to join David as; "men with faces like lions." Now what does that mean, were they ugly hippies with...
Available Now.
1 Available
---
Expected to ship on Monday from Australia.
---
Free Shipping
for orders over $99.

From the Author:
I love the passage in 1 Samuel where it describes some of the men that came to join David as; "men with faces like lions." Now what does that mean, were they ugly hippies with long blonde hair? No! What are the characteristics that describe the lion? Strength and courage! I believe this passage is describing these as men with strength and courage! Sadly modern man has lost something. I hear a constant cry today, "where are all the men?" Modern society has emasculated men.

We have been turned into geldings by the world (and sometimes even the Church) until we don't know how to be real men any more. I believe that some leaders don't know how to handle a real man, settling for the fact that women are much easier to work with and less trouble. I believe the world, the Church and the Lord Himself, like the Marine Corps, are looking for a 'few good men"!

Are You A Stallion, Or Just Another Gelding?

"If you want to touch a man's heart, put him on the back of a horse!" (The Man from Snowy River).

Simply stated, I believe that many young men today are just not ready for life. To coin a word, 'ill-prepared for life' describes them adequately. Numbers of young men are not ready to take their place (successfully) as a husband, as an employee, as a reliable member of society - even as a man! Unfortunately, as I have already stated, we just don't appear to be dealing effectively with the problem of the current 'masculine meltdown', or certainly not in any adequate way.

Now if you know anything at all about horses you know that stallions are a lot harder to handle than mares or geldings. Few people will be bothered with stallions; they're bigger, stronger, much more stubborn, aggressive and usually not willing to submit. They have a mind of their own and are not easily broken or tamed. But there is an answer to the problem - just castrate them! Turn the horse into a gelding and almost instantly they are subdued and docile. The only problem is that geldings don't produce life! Only stallions can produce life!

True, stallions are more dangerous, true stallions are more aggressive, true stallions are hard to tame and stallions don't like to be bridled and controlled. But, if you want some life in the nation, the Church, the home and family then you need a man - not a gelding! And so at the risk of offending some people, may I state - there's no shortage of geldings in the church!

The famous Christian writer C. S. Lewis summed up the manhood crisis beautifully when he wrote how modernists and feminists; "castrate and yet bid the geldings be fruitful". But may I reiterate - only stallions can produce life!"
Col Stringer is the son of a professional hunter, born in the rugged desert country of Australia. During his life in the Northern Territory Col was awarded the Mariner Fishing Writer of the Year award (Australia) (1979), won a Swedish Gold Medal for a world record shark capture, and was featured in an outdoor documentary film for Australian and American television. Col also successfully hosted his own outdoor and fishing TV program and has written 10 books on fishing, hunting and wildlife. His book The Saga of Sweetheart, about a true story of a giant rogue crocodile has become a best seller.
The Stringers minister with a powerful anointing and are in great demand to speak at churches and conventions in many parts of the globe. Col's unique background of wildlife and humour have won for him the title of "Pastor Crocodile Dundee". He is also a very successful author of 20 Christian books, with total sales of 300,000. Two of his books 800 Horsemen and Fighting McKenzie were voted number 12 and 29 in the Australian Broadcasting Commissions 100 All-time favourite books, beating such books War and Peace, Wuthering Heights and even one of the Harry Potter books, the only Christian books (except the Bible) in the top 100.