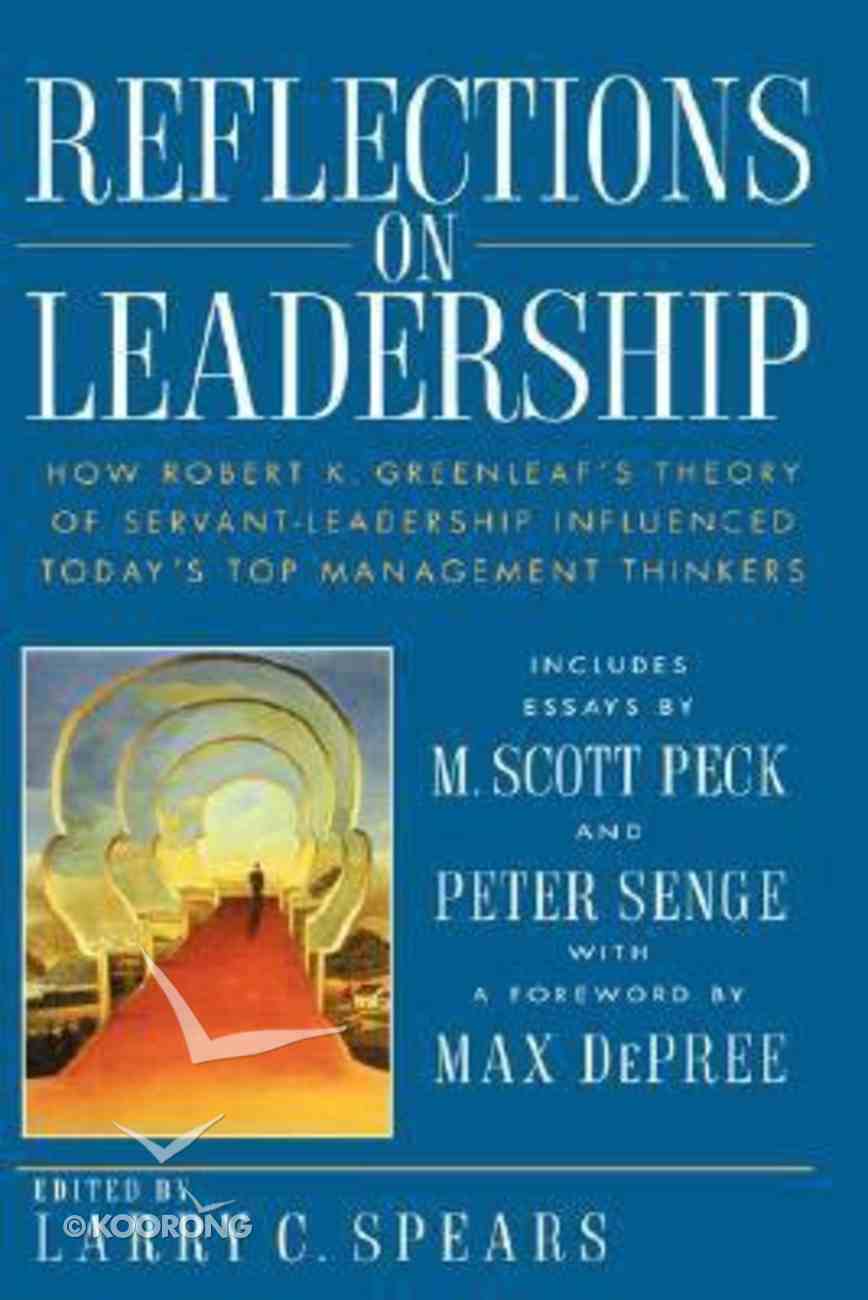 Reflections on Leadership
"I believe that [Bob Greenleaf's] essay, 'The Servant as Leader' is the most singular and useful statement on leadership that I have read in the last 20 years. Despite a virtual tidal wave of books on leadership during the last...
Special Order
0 Available.
---
Free Shipping
for orders over $99.
"I believe that [Bob Greenleaf's] essay, 'The Servant as Leader' is the most singular and useful statement on leadership that I have read in the last 20 years. Despite a virtual tidal wave of books on leadership during the last few years, there is something different about Bob Greenleaf's essay, something both simpler and more profound . . . For many years, I simply told people not to waste their time reading all the other managerial leadership books. 'If you are really serious about the deeper territory of true leadership,' I would say, 'read Greenleaf.' " -from Chapter 20 by Peter M. Senge, Director of the Center for Organizational Learning at MIT's Sloan School of Management and author of The Fifth Discipline: The Art and Practice of the Learning Organization
"There is a building momentum for enlightened leadership in the for-profit world, the social sector, and many areas of government today . . . Good books that deal with the beliefs and convictions that nurture this movement are not easy to find. This is one. Reflections on Leadership is a worthy and worthwhile gift to all those who attach high value both to their responsibilities and to the people with whom they work." -from the Foreword, by Max DePree, Chairman and CEO of Herman Miller Inc. and author of Leadership Is an Art and Leadership Jazz "I could give you three examples of major businesses who have used this business of servant-leadership training . . . at times of terrible crisis and have worked themselves out of the crisis. Practicing servant-leadership . . . had absolutely enormous incredible benefits for them . . . and then they threw it away. Because, as soon as the crisis passed, they said 'why exert ourselves?' The great problem is not how to . . . teach servant-leadership in the first place, but to get organizations to continue to use it and embed it in part of their culture." -from Chapter 7 by M. Scott Peck, author of The Road Less Traveled


"Reflections on Leadership is fitting tribute to a man whose own sense of service has given all of us hope that at long last leaders will recognize that power of purpose is far stronger than power of position. After nearly 30 years, Robert K. Greenleaf's work has struck a resonant chord in the minds and hearts of scholars and practitioners alike. His message lives through others, the true legacy of a servant-leader." -Jim Kouzes, Chairman and CEO of TPG/Learning Systems and coauthor of The Leadership Challenge and Credibility


"We are each indebted to Greenleaf for bringing spirit and values into the workplace. His ideas will have enduring value for every generation of leaders." -Peter Block, Founding Partner, Designed Learning Inc. and author of The Empowered Manager, Flawless Consulting, and Stewardship: Choosing Service Over Self-Interest


In the twenty-five years since Robert K. Greenleaf first articulated his vision of "servant-leadership," the world has seen a steady expansion in the influence of the man and his ideas. Hailed as the "grandfather" of the modern empowerment movement in business leadership, Greenleaf described true leaders as those who lead by serving others -empowering them to reach their full potential. He saw the ideal leader as one who transforms and integrates an organization; a steward with a commitment to the growth of people and the building of a community.


Reflections on Leadership demonstrates the scope of Greenleaf's impact on contemporary management theory and offers key essays by Greenleaf and his leading business and intellectual disciples. They include such influential thinkers as M. Scott Peck, author of The Road Less Traveled, and Peter Senge, author of The Fifth Discipline.


"Despite all the buzz about modern leadership techniques, no one knows better than Greenleaf what really matters." -Working Woman magazine


Reflections on Leadership opens with two remarkable essays by Greenleaf himself. One of them, "Reflections from Experience," published here for the first time, presents Greenleaf's prophetic observations on the use of executive power in an organization. In "Life's Choices and Markers," Greenleaf recounts five significant influences that led him to develop his revolutionary ideas on the nature of leadership.


"Servant-leadership deals with the reality of power in everyday life-its legitimacy, the ethical restraints upon it and the beneficial results that can be attained through the appropriate use of power." -The New York Times


In Reflections on Leadership, a host of notable management thinkers explore the implications of the servant-leadership concept in such areas as:

Business ethics Team-building and servant-leadership Corporate risk-taking Spirit in the workplace Becoming a servant-leader The future of leadership
For those who have already benefited from Greenleaf's ideas and wish to deepen their understanding, this is an essential book. It is also the ideal introduction for those eager to draw on a source of wisdom that has inspired so many others.


-Publisher
PRODUCT DETAIL
Catalogue Code 

302412

Product Code 

9780471036869

ISBN 

0471036862

EAN 

9780471036869

Pages 

368

Department Academic
Category Leadership
Sub-Category General
Publisher John Wiley & Sons
Publication Date 

May 1995

Dimensions 

236 x 162 x 31

mm

Weight 

0.618

kg
Max De Pree is chairman emeritus of Herman Miller, Inc., a member of Fortune magazine's National Business Hall of Fame, and a recipient of the Business Enterprise Trust's Lifetime Achievement Award. He has served on the boards of Fuller Theological Seminary, Hope College, and Words of Hope. De Pree is also a member of the advisory board of the Leader to Leader Institute, formerly the Peter F. Drucker Foundation.
LARRY C. SPEARS is the Chief Executive Officer of The Robert K. Greenleaf Center, which was founded in 1969 and originally called the Center for Applied Ethics. The Center's mission is to carry the message of servant-leadership originated by Greenleaf, who was the Director of Management Research at AT&T, where he worked for thirty-eight years. Mr. Spears is also the editor of Insights on Leadership and Reflections on Leadership (both from Wiley). ý MICHELE LAWRENCE has been with the Greenleaf Center since 1993, working in many programmatic capacities, including directing their annual intern

:partial Table Of Contents:<br /> <br /> Robert K. Greenleaf: Grandfather Of New Paradigm Thinking.<br /> <br /> Life's Choices And Markers (r. Greenleaf).<br /> <br /> Claiming Servant-leadership As Your Heritage (c. Rieser).<br /> <br /> The Strategic Toughness Of Servant-leadership (d. Tarr).<br /> <br /> The Emerging Model Of Servant-leadership.<br /> <br /> Servant-leadership Training And Discipline In Authentic Community (m. Peck).<br /> <br /> The Search For Spirit In The Workplace (c. Lee &amp; R. Zemke).<br /> <br /> The Leader As Servant (w. Kiechel).<br /> <br /> First Among Equals: A Corporate Executive's Vision And The Reemerging Philosophy Of Trustees As Servant-leaders (d. Brody).<br /> <br /> Growing As Servant-leaders/managers.<br /> <br /> Managing Toward The Millennium (j. Hennessy, Et Al.).<br /> <br /> Power And Passion: Finding Personal Purpose (j. Bordas).<br /> <br /> The New Leadership (m. Kelley).<br /> <br /> Greenleaf's Legacy.<br /> <br /> Robert Greenleaf's Legacy: A New Foundation For Twenty-first Century Institutions (p. Senge).<br /> <br /> Chaos, Complexity And Servant-leadership (j. Mccollum).<br /> <br /> Servant-leadership And The Future (r. Vanourek).<br /> <br /> Notes.<br /> <br /> Permissions And Copyrights.<br /> <br /> Recommended Reading.<br /> <br /> Contributors.<br /> <br /> Index.<br /> <br /> Index.
Bestsellers in Leadership