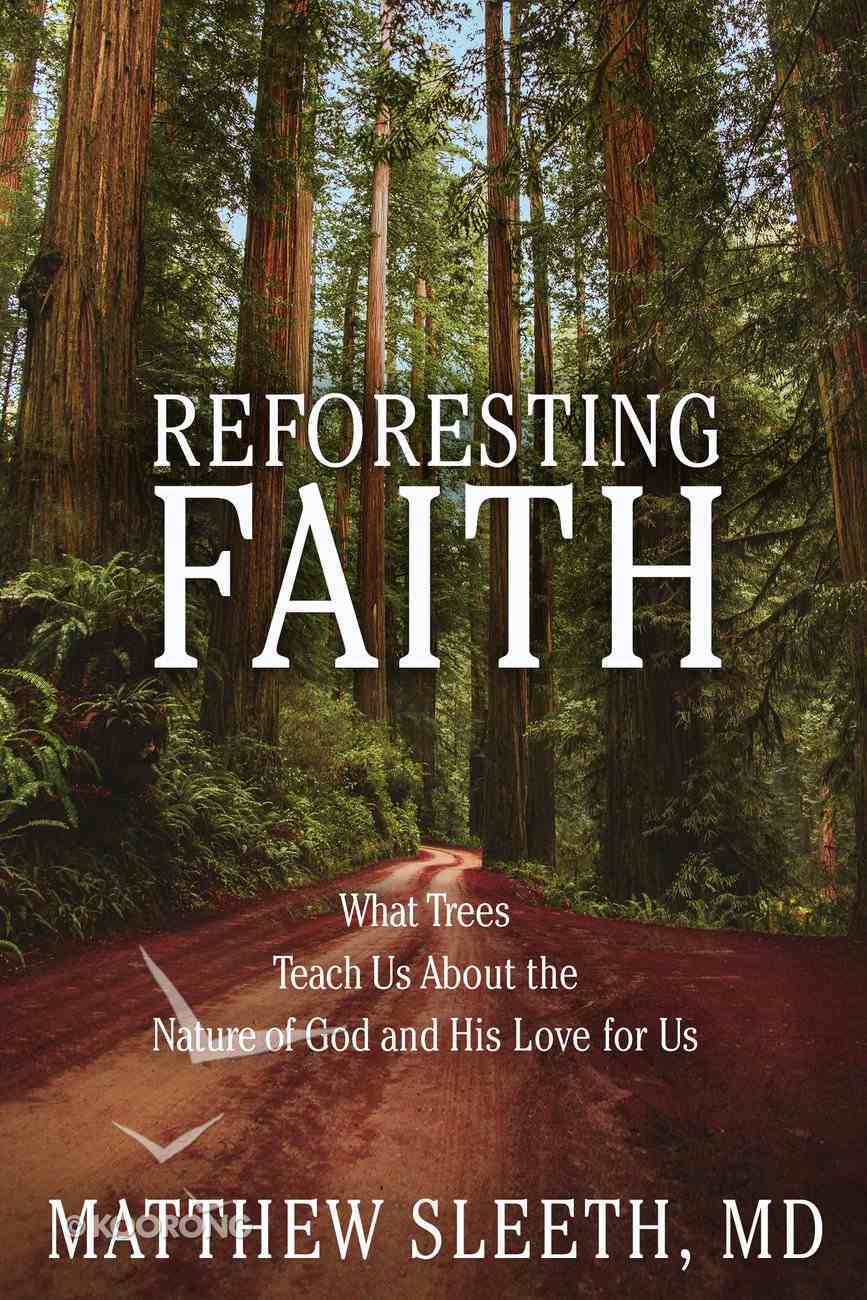 Reforesting Faith: What Trees Teach Us About the Nature of God and His Love For Us
:In this groundbreaking walk through Scripture, a former atheist and founder of Blessed Earth creation care ministry makes the convincing case that trees are essential to every Christian's understanding of God. Once you discover the hidden language of trees, your...
---
Expected to ship tomorrow from Australia.
---
Free Shipping
for orders over $99.
:In this groundbreaking walk through Scripture, a former atheist and founder of Blessed Earth creation care ministry makes the convincing case that trees are essential to every Christian's understanding of God. Once you discover the hidden language of trees, your walk through the woods-and through the Bible-will never be the same.

Perhaps we've missed the forest...and the trees.

Beginning in Genesis, every major biblical character is associated with a tree, bush, or branch. There's a tree on the first page of Scripture and on the last. In fact, other than people, trees are mentioned more than any other living thing in the Bible. Exploring how God chose to tell the story of the Gospel through trees will open up a whole new means of understanding creation, redemption, and grace.

Join Dr. Sleeth as he explores the wonders of life, death, and rebirth through the lens of trees and explains how science is just beginning to catch up to the truths described in the Bible thousands of years ago. This book will unleash fresh ways of meditating upon God's Word and growing as a disciple of Jesus.
-Publisher
PRODUCT DETAIL
Catalogue Code 

516050

Product Code 

9780735291751

ISBN 

0735291756

EAN 

9780735291751

Pages 

224

Department General Books
Category Christian Living
Sub-Category General
Publisher Waterbrook Press
Publication Date 

Apr 2019

Sales Rank 

20844

Dimensions 

216 x 146 x 18

mm

Weight 

0.328

kg
Matthew Sleeth, MD, is the author of Serve God, Save the Planet and a former emergency room director and chief of medical staff. He practices what he preaches; after simplifying his life and cutting his energy use by more than two-thirds, he now writes, preaches and teaches full time about faith and the environment. Together with his wife, Nancy, and their two children, he helps lead the growing creation care movement. Sleeth is a graduate of The George Washington School of Medicine. The Sleeths live in Kentucky. To learn more, visit www.blessedearth.org.
:
1


What Trees Teach Us


They are like trees


planted by streams of water,


which yield their fruit in its season,


and their leaves do not wither.


In all that they do, they prosper.


—Psalm 1:3, NRSV


I love trees. I always have. No one told me to love them; I just do. I love looking at them. I love sitting in their shade. I love hearing the sound of wind rustling through their leaves. But what can trees teach us? Specifically, what can trees teach us about the nature of God and his love for us?


Nearly two decades ago, during a difficult season of my life, I began to search for answers to these questions. At the time I did not believe in God. I was trained in the sciences as a physician, and my search eventually led me on a nature walk through the Bible. This book, Reforesting Faith, shares what I learned.


Before you embark on this trail with me, be warned: my job, my home, my family, the books I read, even the state I live in and the places I travel have all been completely changed by this journey through the woods.




God's Trees


Trees grow older, taller, and bigger than anything else on the earth. They have been with us since the beginning of time. We humans owe our very lives to the sap, bark, wood, flowers, and fruit of trees. We are their masters, yet they are our stake in the future.


And trees are beautiful. On the tops of mountains, bending over the sides of rivers, ringing the boreal latitudes, dripping wet with equatorial showers, trees blanket our world.


At night when the air is clear, trees can be seen grouped together at the edge of the forest. Illuminated in silvery moonlight, they appear to have been stopped midsentence. All night long they draw a deep breath, hold it for one count, and then from dawn to dusk exhale life-giving oxygen.


The smell of a pine forest on a hot day, the sound of palms clattering in a tropical breeze, the sight of yellow maple leaves raining down through an autumn sky—these are all evidence of trees giving praise to their Creator.


For those with ears to hear and eyes to see, the enormity of the gift of trees impresses itself upon us anew each day. Only God can make a tree.




Embarking on the Trail


Reforesting Faith is about trees in the Bible. Reading it won't make your credit card debt disappear. It won't make your teeth whiter or your hair shinier. This is not a self-help book. It's about gaining insight into why God placed our great-great-grandparents in a garden of trees and told them to dress and keep them. It will help you understand why George MacDonald, C. S. Lewis, J. R. R. Tolkien, and other great Christian writers cast the heroes of their stories as the protectors of trees and the bad guys as their enemies.


For the majority of my life, I did not believe in God. That's not the case anymore. In fact, the trees in the Bible are a crucial part of what brought me to faith.


Christianity is the only religion that weaves trees from one end of its sacred text to the other. Every important character and every major event have a tree marking the spot. There is a tree in the first and last chapter of the Bible, in the first psalm, and in the first gospel. Throughout this book we'll look at how the Bible uses trees to reveal spiritual truths about humanity and God. We'll even see how the Bible contains assertions about trees not discovered by science until the modern era.


Every important character and every major event have a tree marking the spot.


Christians bring trees indoors once a year to celebrate the birth of their Savior. But many believe that Christians are anti-trees. Why? This is one of the questions Reforesting Faith will answer. We'll go on a journey from Genesis to Revelation looking at how God uses trees in the Bible. And just like in the Bible, it's okay to skip forward to read about Jesus (in part 3) and then come back to chapter 1.


Who was the first person in the Bible to plant trees? Who was the first person in Scripture to deface a tree? Why did Jesus say the kingdom of heaven is like a tree? Why are we told that trees will shout for joy when the Lord returns to judge the earth? Can trees really talk to each other the way they do in the Bible? Why do some people smile when they see a tree blowing in the breeze, while others take no notice? Which has more trees: heaven or hell? These are just a few of the questions you'll be able to answer after reading this book.




Key Trail Markers


God's ways are made tangible in creation. Trees help us understand and see the nature and character of God. Our nature trek through the Bible will focus on several themes:


~ God loves trees.


~ Like God, trees are in the life business.


~ Responsible stewardship is one way we can express our love and respect for God.


~ Planting trees demonstrates love for our neighbors and hope for future generations.


~ Trees help us regain our sense of wonder.


We are going to cover a lot of ground together. We will journey to ancient trees that stood witness to major interactions between God and our favorite Bible characters. We will also explore the varied ways God used trees to foretell the coming of the Messiah. Finally, we will see how Jesus and the apostles used the language of trees to share the good news.


Please note that in this book the term tree will refer not only to living trees but also to the items that come from trees, such as rods, walking sticks, staffs, wooden ladders, and the cross. We will also include parts of trees, such as fruit, seeds, roots, branches, and leaves. Further, bushes, vines, and other plants will do their part in helping us find God's deeper meaning in the context of the Bible.




Join Me on the Walk


Every time our bejeweled planet completes another circle around the sun, God gives every tree on the earth a new ring. Tick goes the clock, and another year goes by. This year will we see the trees? Will we heed the call to protect them? Will we plant the small tree today that the next generation will climb and the following one will find shade under? Will we plant in faith? Will we be called "oaks of righteousness" (Isaiah 61:3)?


Two opposing forces are at war on this planet. One says, "Look to yourself. It's all about you." The other says, "Love God, and love your neighbor." The man who said the latter claimed to be the true vine and the tree of life.


Reforesting Faith is about what God loves. God loves trees. Join me on a walk through the Bible and be prepared to meet the One who loves trees.








Bestsellers in Christian Living