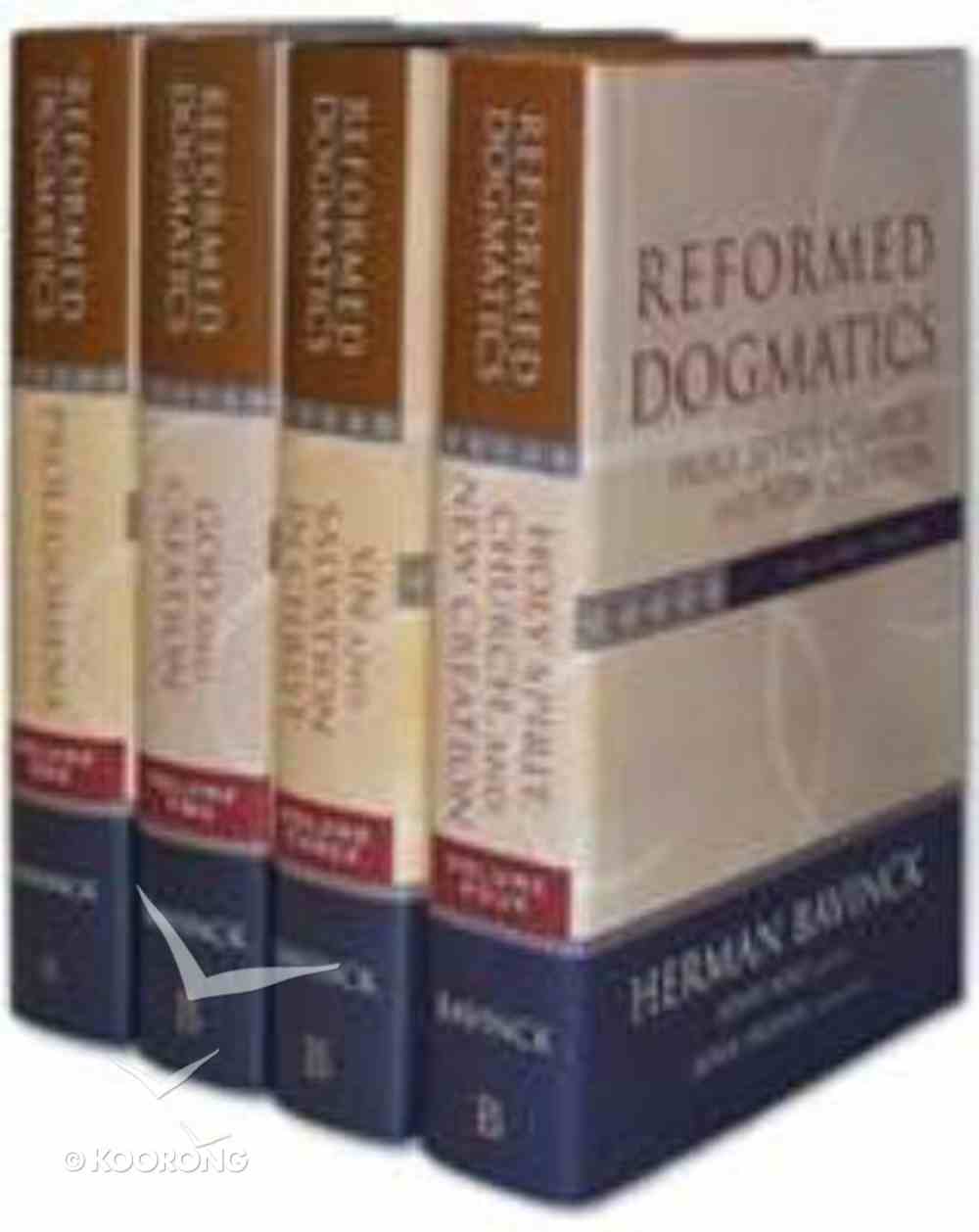 Reformed Dogmatics (Volumes 1-4)
In partnership with the Dutch Reformed Translation Society, Baker Academic is proud to offer in English for the very first time all four volumes of Herman Bavinck??'s complete Reformed Dogmatics. This masterwork will appeal not only to scholars, students, pastors,...
Special Order Item
0 Available.
---
Free Shipping
for orders over $99.
In partnership with the Dutch Reformed Translation Society, Baker Academic is proud to offer in English for the very first time all four volumes of Herman Bavinck??'s complete Reformed Dogmatics. This masterwork will appeal not only to scholars, students, pastors, and laity interested in Reformed theology but also to research and theological libraries.
-Publisher
"Herman Bavinck has often been unjustly overshadowed by Abraham Kuyper, especially in the English-speaking world. The unavailability in English of his crowning work, Gereformeerde Dogmatiek, has been a particularly significant lack. Bavinck''s breadth, thoroughness, rigor, ecumenical interests, and spiritual fervor are clearly on display in this careful and readable translation. It is a splendid gift to theological studies and will contribute to redressing the neglect of this faithful servant of Christ and his church."--Stephen R. Spencer, Wheaton College"A welcome addition to the works of Bavinck in English."--Donald G. Bloesch, emeritus professor of theology, University of Dubuque Theological Seminary"What a wonderful gift to the English-speaking theological world! The topics explored by Bavinck are still of the utmost importance, and he addresses them here in a theological voice that is amazingly fresh. I pray that the appearance of this volume signals the beginnings of a Bavinck revival!"-Richard J. Mouw, president, Fuller Theological Seminary"Finally Bavinck becomes available to the English-speaking world. The Dutch version has been a constant stimulus for students, pastors, and other interested Christians. It has shaped generations of theologians and helped them to preach, think, and act on a fresh, Reformed basis. The strength of Bavinck''s dogmatics is that it''s neither conservative nor progressive, but its biblical character makes it constantly up-to-date. Baker and the Dutch Reformed Translation Society deserve praise for this project, from which without doubt church and theology will profit for years to come."--Herman Selderhuis, Theologische Universiteit Appeldoorn"Bavinck is one of the premier Reformed theologians, but till now much of his magnum opus has not been accessible to English-language readers. We owe a great debt of gratitude to those who have made the treasures of Bavinck''s thought available to a new world of appreciative hearers."--Donald K. McKim, editor, Encyclopedia of the Reformed Faith"Bavinck''s Reformed Dogmatics has been the fountainhead of Reformed theology for the last hundred years. It is by far the most profound and comprehensive Reformed systematic theology of the twentieth century. The reader will be amazed by Bavinck''s erudition, creativity, and balance. Bavinck is confessionally orthodox, but he recognizes the need to rethink the traditional formulations from Scripture in the context of contemporary discussion. I hope these volumes will have a large readership and will bring forth much theological and spiritual fruit."--John M. Frame, professor of systematic theology and philosophy, Reformed Theological Seminary"This is one of those seminal works that embodies a significant portion of our Reformed theological heritage. We all should rejoice to see this material finally available in English!"--Samuel T. Logan Jr., Westminster Theological Seminary"Bavinck''s Reformed Dogmatics continues to be the standard of modern orthodox dogmatics in the Reformed tradition. It not only is encompassing in content but also shows everywhere a profound insight into the basic problems that a Reformed theology has to face and a deep sensitivity for modern culture. The combination of both made his work famous, and studying his work is fruitful also for a new generation."--Cornelis van der Kooi, Free University, Amsterdam"Despite all the important contributions that Dutch Calvinists have made to North American Protestantism, Herman Bavinck remains an obscure figure, lagging behind the influential Abraham Kuyper. With the translation and republication of Bavinck''s Reformed Dogmatics, this unfortunate situation should change for the better. These four volumes demonstrate the importance and mastery of Bavinck''s own contribution to Reformed theology, while providing a useful and striking point of comparison with the best-known twentieth-century Reformed dogmatics, that of Karl Barth. At a time when the scholastic natu
-Publisher
PRODUCT DETAIL
Catalogue Code 

272058

Product Code 

9780801035760

ISBN 

0801035767

EAN 

9780801035760

Pages 

3024

Department Academic
Category Theology
Sub-Category Systematic Theology
Publisher Baker Academic
Publication Date 

Jun 2008

Dimensions 

393 x 298 x 111

mm

Weight 

0.005

kg
Hermann Bavinck lived from 1854-1921. He was a contemporary of Abraham Kuyper and B.B. Warfield, both of whom he knew well. He graduated magna cum laude with a double major in Systematic Theology & OT. His doctoral dissertation was on the concept of the State in Zwingli's theology.
Bavinck taught at the Theological Seminary in Kampen, Holland before accepting the position of professor at the Free University of Amsterdam. He is best known for his magnum opus, The Reformed Dogmatics.... Gereformeerde Dogmatiek, in (4 volumes) which have now been available in English. Until recently, a translated version of his popular Dogmatics (Our Reasonable Faith) was available in paperback. Bavinck is one of the most balanced and solidly Reformed theologians Holland has ever produced.