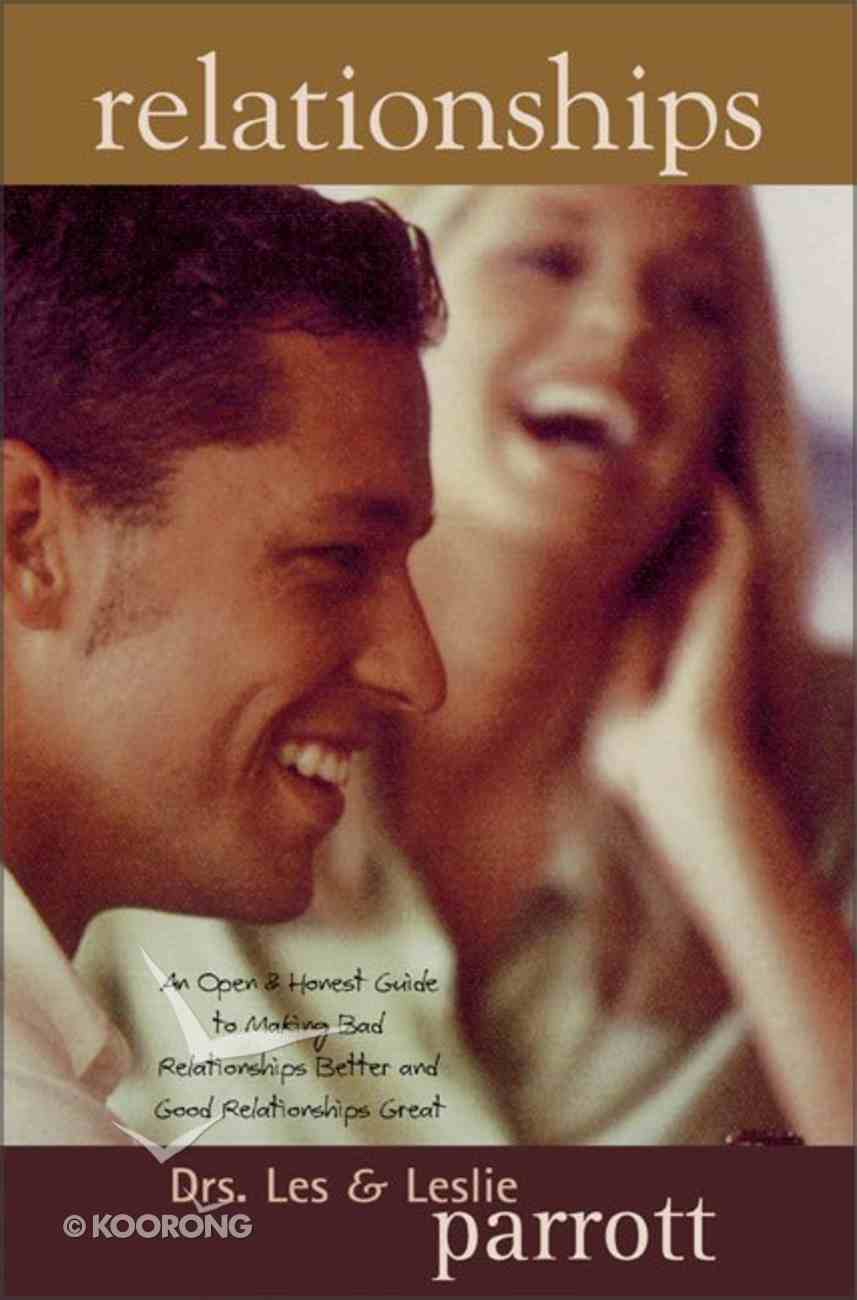 Today more than ever, people long for connection. In an age marked by isolation and loneliness, they measure riches in terms of belonging, acceptance, vulnerability, honesty, closeness, and commitment. And what they most want to know is how to make...
---
Free Shipping
for orders over $99.
Today more than ever, people long for connection. In an age marked by isolation and loneliness, they measure riches in terms of belonging, acceptance, vulnerability, honesty, closeness, and commitment. And what they most want to know is how to make bad relationships better and good relationships great. Drs. Les and Leslie Parrott understand firsthand our deep need for relationships; and as relationship experts, they know what it takes to build strong, lasting bonds. In Relationships, the Parrotts take us below the surface to the depths of human interactions -- to the nitty-gritty realities, the ups-and-downs of building vital, satisfying connections. They provide the tools needed to handle tough times and to really succeed at forging strong, rewarding relationships with friends, with the opposite sex, with family, and with God. This cutting-edge book is full of the latest findings and contemporary relationship-building strategies. In a high-tech world, it offers a high-touch solution
-Publisher
1. The Compulsion For Completion 2. Keeping Family Ties From Pulling Strings 3. Crossing The Gender Line 4. Friends To Die For 5. What To Do When Friends Fail 6. Falling In Love Without Losing Your Mind 7: Sex, Lies, And The Great Escape 8. Breaking Up Without Falling Apart 9. Relating To God Without Feeling Phony 181 Pages
-Publisher
PRODUCT DETAIL
Catalogue Code 

118021

Product Code 

031020755X

EAN 

9780310207559

UPC 

025986207557

Pages 

192

Department General Books
Category Relationships
Sub-Category General
Publisher Zondervan
Publication Date 

Apr 1998

Dimensions 

236 x 157 x 20

mm

Weight 

0.398

kg
Dr. Leslie Parrott is a marriage and family therapist and codirector with her husband, Dr. Les Parrott, of the Center for Relationship Development at Seattle Pacific University. She is the author of God Made You Nose to Toes and The First Drop of Rain, and co-author with her husband of several bestselling books, including The Complete Guide to Marriage Mentoring, Relationships, Love Talk, and the Gold Medallion Award-winner, Saving Your Marriage before It Starts. Leslie is a columnist for Today's Christian Woman and has been featured on Oprah, CBS Morning, CNN, and The View, and in USA Today and the New York Times. www.RealRelationships.com
Koorong -Editorial Review.
Les Parrott is founder of the Centre for Relationship Development on the campus of Seattle Pacific University and the best-selling author of HIGH-MAINTENANCE RELATIONSHIPS, THE CONTROL FREAK, and LOVE TALK. Dr. Parrott is a sought after speaker to Fortune 500 companies and holds relationship seminars across North America. He also hosts the US national radio broadcast 'Love Talk.' Dr Parrott has been featured in 'USA Today', 'the Wall Street Journal', and 'the New York Times'. His television appearances include CNN, Good Morning America, and Oprah.- Publisher.
Contents
Acknowledgments
Introduction: Our Longing For Belonging
Chapter One: The Compulsion For Completion
Chapter Two: Keeping Family Ties From Pulling Strings
Chapter Three: Crossing The Gender Line
Chapter Four: Friends To Die For
Chapter Five: What To Do When Friends Fail
Chapter Six: Falling In Love Without Losing Your Mind
Chapter Seven: Sex, Lies, And The Great Escape
Chapter Eight: Breaking Up Without Falling Apart
Chapter Nine: Relating To God Without Feeling Phony
Notes
Introduction Our Longing for Belonging There is no substitute for the comfort supplied by the utterly taken-for-granted relationship. -- Iris Murdoch Recently a pioneering band of researchers studied the age-old mystery of what makes people happy. Their answer is not what you might expect. What appears consistently at the top of the charts is not success, wealth, achievement, good looks, or any of those enviable assets. The clear winner is relationships. Close ones. Nothing reaches so deeply into the human personality, tugs so tightly, as relationship. Why? For one reason, it is only in the context of connection with others that our deepest needs can be met. Whether we like it or not, each of us has an unshakable dependence on others. It's what philosopher John Donne was getting at when he said so succinctly, 'No man is an island.' We need camaraderie, affection, love. These are not options in life, or sentimental trimmings; they are part of our species' survival kit. We need to belong. Not long ago, we spent a Saturday evening on a radio talk show in Chicago. The show was an open line to much of the nation. The two of us sat with a host in a small glass booth full of electrical equipment, and outside a sole telephone operator managed six working lines. From 8:00 p.m. until 10:00 p.m. we talked to strange voices coming from Anywhere, USA. The lines were never free, always one speaking, five waiting. The subject was relationships, and the calls ranged from questions and opinions about family and friends to sex and romance. This wasn't so much an interview. We were simply facilitators of a large-scale discussion --- adding our two cents' worth when the host wanted a professional sound bite. Once the program got rolling, most of the callers phoned in to commend or clobber a previous caller. 'That last guy who called about his mother being so domineering needs to get a life,' said one typical caller. 'If he doesn't want a meddling mom, he needs to move out of her house.' Blah, blah, blah. Having never done a radio show quite like this, we were getting the feeling that most people were more interested in hearing themselves talk than anything else. At least we felt that way before Tom, a desperate college student, phoned in. 'You're on the air, Tom, go ahead,' the host said. 'Ya. I've never called a radio station or anything, but I'm kinda . . .' Tom cleared his throat and continued speaking slowly. 'I'm kinda . . .' 'Do you have a question or comment, Tom?' said the time-conscious host. 'Go ahead.' 'I don't have a question or anything' --- deep sigh --- 'I'm just listening and I feel . . . I don't know.' The host rolled his eyes at us and gave the phone operator on the other side of the glass partition nonverbal signals to get Tom off the line and go to the next caller. 'You called for a reason, Tom,' I (Les) said. 'What is it you are feeling?' 'Well, it's just that I haven't talked to anyone for so long.' 'You haven't talked to anyone!' the host blurted out. 'I've talked to people, but not really talked in a way that means anything.' The host looked quizzical and nodded in our direction. 'So what is it you are feeling, Tom?' I asked. There was an exceptionally long silence before Tom answered with a single word: 'Lonely.' Something about this word and the way he said it --- his frankness and vulnerability --- as well as the follow-up discussion, drastically changed the tone of the remaining minutes of the program. The crusty callers and opinionated commentaries seemed to vanish. One caller after the next echoed Tom's emotion. On this Saturday night, all over the country, if only for a few minutes, faceless people phoned in to share the experience of being alone. Even the cynical host warmed up a bit and wondered out loud: 'Aren't all of us, even with people all around, susceptible to loneliness?' The answer is yes. In a culture where we can pull money from a machine and never interact with a human bank teller, walk on a crowded sidewalk without meeting another's eyes, and call telephone assistance only to get information from a computerized voice, it's truly possible to be alone in a crowd. National surveys, in fact, find that a quarter of all Americans say they've felt lonely in the last month. And if they don't confess to feeling lonely, two-thirds of Americans say that having close relationships with other people is always on their minds. Surprisingly, college students --- living with attractive, intelligent, pleasant people --- are among the most relationally-starved members of society. The number-one reason college students seek counseling, in fact, is for their relationships. Some experts explain this by saying students tend to be overly idealistic, expecting too much from potential mates and friends. Others say students may reject possible friends and partners because they're overcome with their own social anxiety and fear of rejection. Whatever the reason, everyone agrees that no matter what our age, we all have a deep longing for belonging. We want to be wanted, accepted, enjoyed, and loved. Psychologists call it our 'affiliative drive.' And make no mistake, no one is too big, strong, talented, or tough to go without belonging. The need to belong is not just about feeling warm and accepted, however. It's literally a matter of life or death.
Bestsellers in Relationships