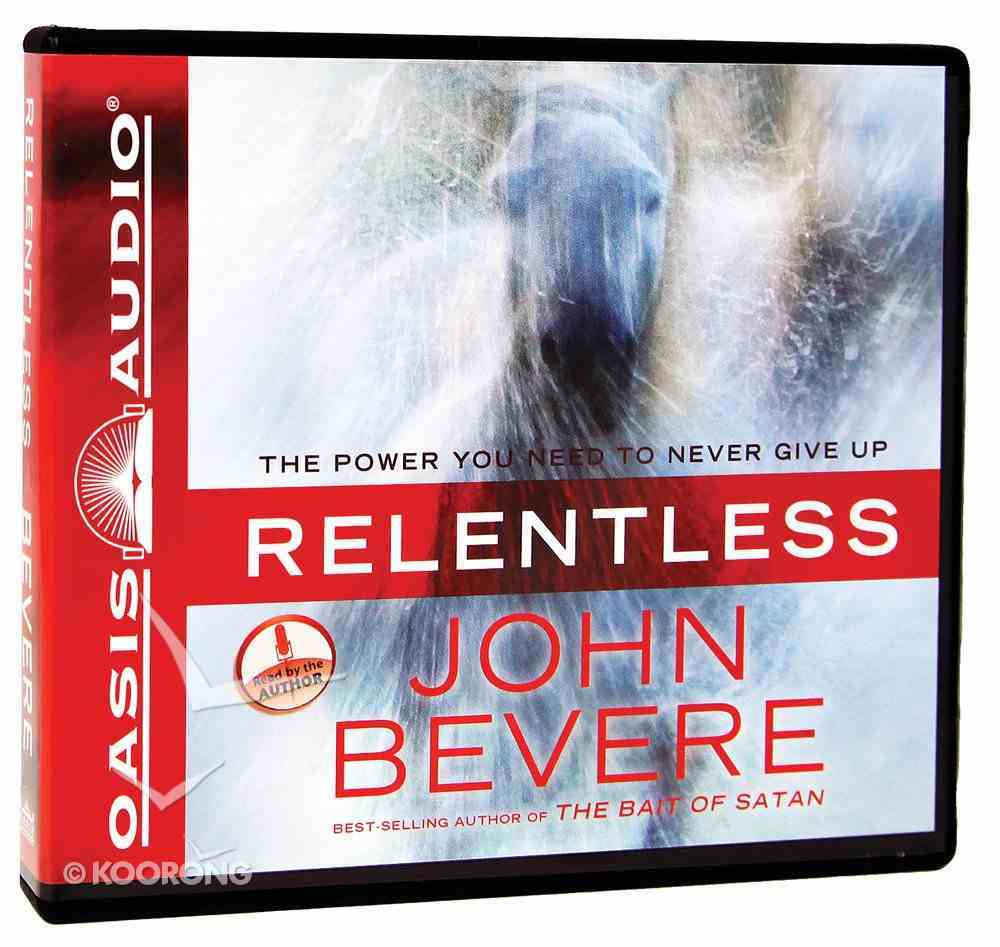 Relentless: The Power You Need to Never Give Up (8 Cds)
"God doesn't author hardship but uses it to strengthen us for greater conquests. He never leads us into a storm that He doesn't give us the power to overcome." - John Bevere, Relentless You already have what it takes...
In Stock (3 left)
Out of Print. Limited Availability
---
Expected to ship within 8 hours from Australia.
---
Free Shipping
for orders over $99.
"God doesn't author hardship but uses it to strengthen us for greater conquests. He never leads us into a storm that He doesn't give us the power to overcome."
- John Bevere, Relentless

You already have what it takes to finish well!

Christians were never meant to "just get by." You were created to rise above adversity and display greatness! In this compelling book, best-selling author John Bevere explores what it takes to finish well. More than a strategy for survival, Relentless offers you a fresh new mind-set, one that enthusiastically declares with the apostle Paul, "I delight in difficulties." Its biblically grounded truths will equip you to flourish in every season of life.

Join the Relentless experience!

If ever there was a need for followers of Jesus to be resolute in purpose, uncompromising for truth, persistent in faith, unyielding in hope, constant in love, and unstoppable in advancing the kingdom...it's now! God is ruthless in His love and pursuit of us; it's time for His Bride to reflect the same passion.

John Bevere explores how people of Bible times and today became relentless: John the Baptist spent years living in a barren desert. Jesus endured hardship in a desolate wilderness of temptation. Both men emerged strong in the "power of the Spirit," relentless in not just getting through challenges but in ruling over their circumstances. Ultimately, they succeeded in their God-given life mission.

In Relentless, you'll learn how even seemingly impossible situations were never meant to stop you but to propel you forward in your journey. Discover in these biblically grounded truths how you can thrive no matter what your season of life. How you begin is not nearly as important as how you finish. Embrace your trials and become relentless!

Praise for Relentless

"Relentless will stir your passion for the things of God and strengthen your resolve to stand firm in faith and pursue the destiny that God has laid out for you."
- Joyce Meyer, best-selling author and Bible teacher

"John Bevere has a mandate on his life to serve the body of Christ. His desire to see everyone find and flourish in their God-given destiny is evident in his teachings. His love for Christ and deep revelation of the Word of God will have you pursuing the cause of Christ, relentlessly."
- Brian and Bobbie Houston, senior pastors, Hillsong Church

"John Bevere captures the premiere criteria for navigating through the vicissitudes of this life. He challenges every believer to go beyond the goal of stability into the much needed attribute of becoming Relentless. People who achieve great goals in life did it in part because they were relentless. I encourage you to take the time to read carefully this necessary word."
- Bishop T. D. Jakes, The Potter's House

"Each book John Bevere writes is a worthy contribution to building a solid, healthy, and fruitful life in Christ and for Him! Thanks John, for another brick!"
- Jack W. Hayford

"Relentless is what the enemy is toward us. It is time we were likewise, relentless in both our faith and actions. God is raising up a tenacious people who will not rest until His will is done. This book is an invaluable tool in this pursuit."
- Christine Caine, director, Equip and Empower Ministries, and founder, The A21 Campaign

"A few years ago I was given a bracelet with the words RELENTLESS on it...and I have worn the bracelet ever since, to remind my heart about my pursuit of Christ and His purpose for my life. This book, by the awesome John Bevere, continues to tell the great unfolding story of our passion and pursuit of Jesus and His incredibly great love for us. I know that this teaching will open the space of your heart that yearns for more."
- Darlene Zschech, worship leader and singer/songwriter

"John Bevere's new book Relentless is a must-read for those who have experienced a stumbling block of adversity. Relentless will walk you through God's grace as He uses the valleys and storms in life to equip us for His destined purpose. John reminds us that God never gives up on us and we should never give up on Him."
- Jentezen Franklin, senior pastor, Free Chapel, and New York Times best-selling author

"Let John Bevere become your spiritual personal trainer as you read through these inspiring pages. Relentless is packed full of wisdom and insight to help you run your race of faith with both passion and perseverance. If you want to finish well, then get started with this book now!"
- Matt Redman, worship leader and songwriter


-Publisher


John Bevere is known internationally for his boldness and passion, he delivers life-transforming Christian truth through his award-winning curriculums and bestselling books. He has been a ministry leader for more than 25 years, is a popular international speaker and the co-host of the television program "The Messenger," broadcast worldwide. He is also a frequent guest on Christian shows such as Joyce Meyer's "Enjoying Everyday Life," CBN's "700 Club," "LIFE Today with James and Betty Robison," Daystar's "Celebration" and "Joni" programs.

He is the author of 15 books, five of which are bestsellers, and his books are available in more than 60 languages. He is best-known as the author of The Bait of Satan, which has sold more than one million copies, Drawing Near, which was the recipient of Christian Retailing Magazine's 2005 Retailers Choice Award, and Driven by Eternity. His Drawing Near curriculum won a Telly Award in 2005. In 2007, Bevere was the recipient of a Communicator Award of Excellence for the curriculum for Driven by Eternity, awarded by the International Academy of Visual Arts.

Converted to Christianity as a student at Purdue University, he received a Bachelor of Science degree in Mechanical Engineering, but went on to pursue his passion and call to spread the Gospel. He attended Bible school in Texas and then served as an associate to the senior pastor at two local churches there and in Florida where he was trained and equipped for ministry.

In 1990, John and his wife Lisa, also a best-selling author and speaker, founded Messenger International in Orlando, Florida, relocating to Colorado Springs in 2001. The ministry has grown into a multi-faceted international outreach with offices in the United Kingdom and Australia.

John and Lisa live in Colorado Springs and have four sons, a daughter-in-law and a grandson.
- Extraordinaryonline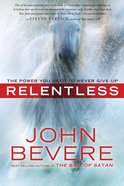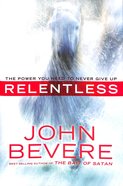 Bestsellers in Audio Book