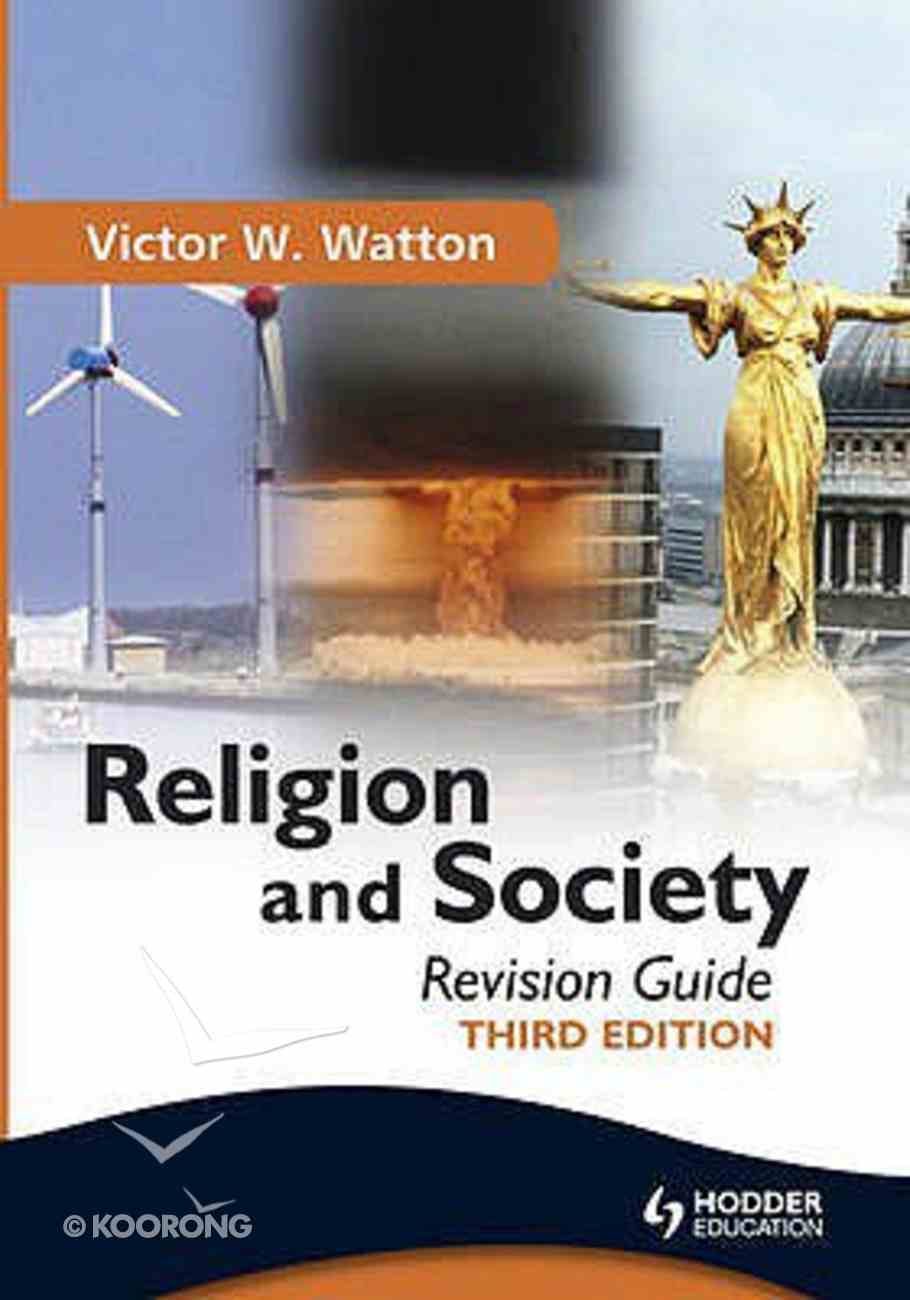 Religion and Society: Revision Guide (Third Edition)
This third edition of the bestselling Religion and Society Revision Guide has been fully revised to meet the requirements of the new Edexcel GCSE RS specification for 2009 and to complement the new edition of the Religion and Society Student...
Unavailable. This item can only be purchased directly from the author or publisher.
0 Available.
---
Free Shipping
for orders over $99.
This third edition of the bestselling Religion and Society Revision Guide has been fully revised to meet the requirements of the new Edexcel GCSE RS specification for 2009 and to complement the new edition of the Religion and Society Student Book in order to ensure that students understand exactly what is required of them in the examinations for Edexcel GCSE in Religious Studies Specification A, Unit 8. It includes: * a breakdown of the key elements of the course content * sample examination questions and accompanying exemplar answers * advice on how to answer exam questions and prepare for the exam * tips on what the examiner is looking for. This third edition is accompanied by new editions of the Student's Book, Foundation Edition and Teacher's Resource Pack.
-Publisher
PRODUCT DETAIL
Catalogue Code 

297317

Product Code 

9780340975657

ISBN 

0340975652

EAN 

9780340975657

Pages 

88

Department Ministry
Category Education
Sub-Category General
Publisher Nelson Thomas Learning
Publication Date 

Mar 2010

Dimensions 

297 x 210 x 7

mm

Weight 

0.281

kg
Section 1 Rights And Responsibilities Key Words For Section 1 1.1 The Bible As A Basis For Making Moral Decisions 1.2 The Authority Of The Church As A Basis For Making Moral Decisions 1.3 The Role Of Conscience As A Guide In Making Moral Decisions 1.4 Situation Ethics As A Guide For Making Moral Decisions 1.5 Why Some Christians Use A Variety Of Authorities In Making Moral Decisions 1.6 Human Rights In The United Kingdom 1.7 Why Human Rights Are Important For Christians 1.8 Why It Is Important To Take Part In Democratic And Electoral Processes 1.9 Christian Teachings On Moral Duties And Responsibilities 1.10 The Nature Of Genetic Engineering, Including Cloning 1.11 Different Attitudes To Genetic Engineering And Cloning In Christianity How To Answer Questions On Section 1 Section 1 Test Section 2 Environmental And Medical Issues Key Words For Section 2 2.1 Global Warming 2.2 Forms Of Pollution And Their Possible Solutions 2.3 The Scarcity Of Natural Resources 2.4 Christian Teachings On Stewardship 2.5.1 The Teachings Of Islam On Stewardship 2.5.2 The Teachings Of Judaism On Stewardship 2.5.3 The Teachings Of Hinduism On Stewardship 2.5.4 The Teachings Of Sikhism On Stewardship 2.6 The Nature And Importance Of Medical Treatments For Infertility 2.7 Different Attitudes To Infertility Treatments Among Christians 2.8.1 Islam And Infertility Treatments 2.8.2 Judaism And Infertility Treatments 2.8.3 Hinduism And Infertility Treatments 2.8.4 Sikhism And Infertility Treatments 2.9 The Nature And Importance Of Transplant Surgery 2.10 Different Attitudes To Transplant Surgery In Christianity 2.11.1 Islam And Transplant Surgery 2.11.2 Judaism And Transplant Surgery 2.11.3 Hinduism And Transplant Surgery 2.11.4 Sikhism And Transplant Surgery How To Answer Questions On Section 2 Section 2 Test Section 3 Peace And Conflict Key Words For Section 3 3.1 The United Nations And World Peace 3.2 How Religious Organisations Try To Promote World Peace 3.3 Why Wars Occur 3.4 The Nature And Importance Of The Theory Of Just War 3.5 Differences Among Christians In Their Attitudes To War 3.6.1 Islam And Attitudes To War 3.6.2 Judaism And Attitudes To War 3.6.3 Hinduism And Attitudes To War 3.6.4 Sikhism And Attitudes To War 3.7 Christian Attitudes To Bullying 3.8.1 Islam And Attitudes To Bullying 3.8.2 Judaism And Attitudes To Bullying 3.8.3 Hinduism And Attitudes To Bullying 3.8.4 Sikhism And Attitudes To Bullying 3.9 Religious Conflicts Within Families 3.10 Christian Teachings On Forgiveness And Reconciliation 3.11.1 Islam: Teachings On Forgiveness And Reconciliation 3.11.2 Judaism: Teachings On Forgiveness And Reconciliation 3.11.3 Hinduism: Teachings On Forgiveness And Reconciliation 3.11.4 Sikhism: Teachings On Forgiveness And Reconciliation How To Answer Questions On Section 3 Section 3 Test Section 4 Crime And Punishment Key Words For Section 4 4.1 The Need For Law And Justice 4.2 Theories Of Punishment 4.3 Why Justice Is Important For Christians 4.4.1 Why Justice Is Important For Muslims 4.4.2 Why Justice Is Important For Jews 4.4.3 Why Justice Is Important For Hindus 4.4.4 Why Justice Is Important For Sikhs 4.5 The Nature Of Capital Punishment 4.6 Different Attitudes To Capital Punishment Among Christians 4.7.1 Different Attitudes To Capital Punishment In Islam 4.7.2 Different Attitudes To Capital Punishment In Judaism 4.7.3 Different Attitudes To Capital Punishment In Hinduism 4.7.4 Different Attitudes To Capital Punishment In Sikhism 4.8 Laws On Drugs And Alcohol 4.9 Social And Health Problems Caused By Drugs And Alcohol 4.10 Different Attitudes To Drugs And Alcohol In Christianity 4.11.1 Attitudes To Drugs And Alcohol In Islam 4.11.2 Attitudes To Drugs And Alcohol In Judaism 4.11.3 Attitudes To Drugs And Alcohol In Hinduism 4.11.4 Attitudes To Drugs And Alcohol In Sikhism How To Answer Questions On Section 4 Section 4 Test Appendix Mark Scheme For Section Tests How To Improve Your Performance