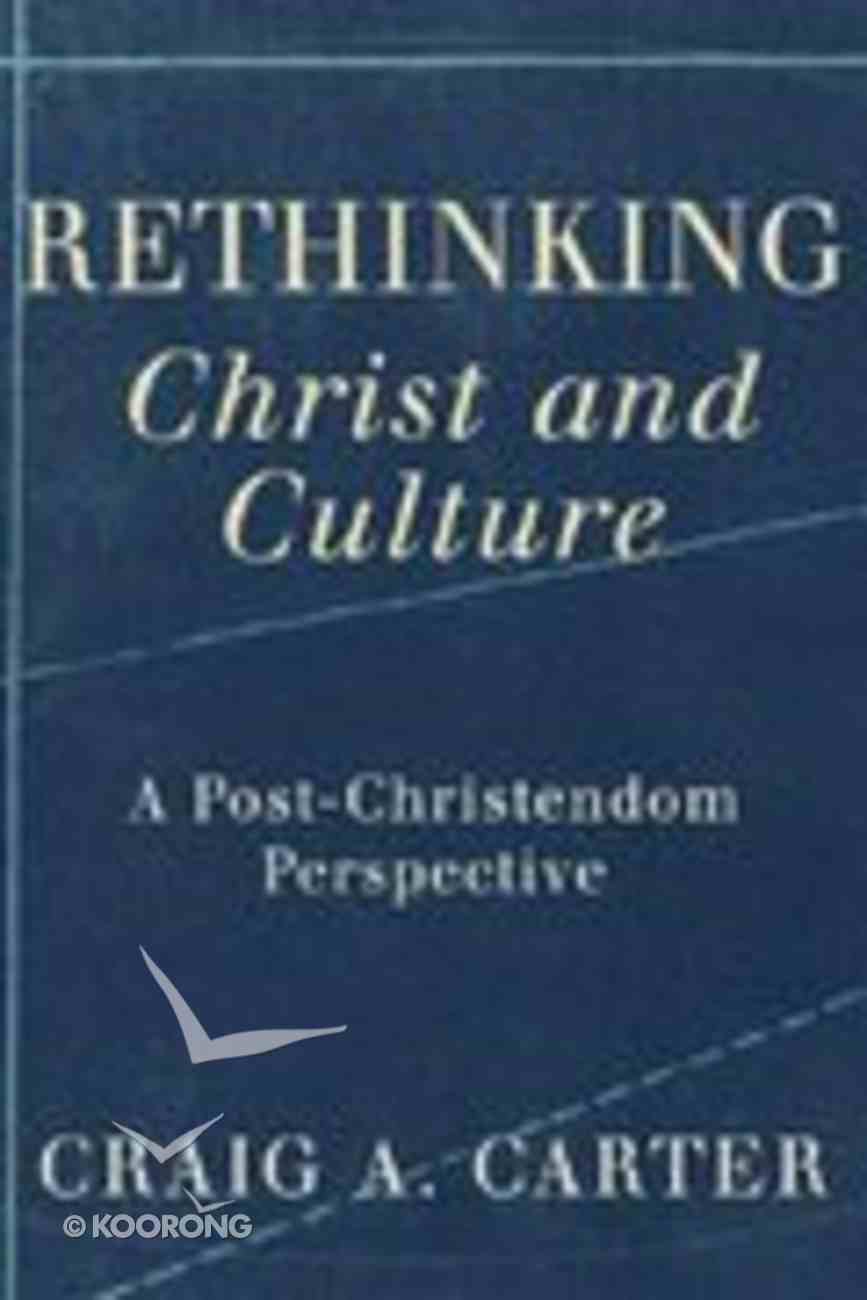 Rethinking "Christ and Culture"
In 1951, theologian H. Richard Niebuhr published Christ and Culture, a hugely influential book that set the agenda for the church and cultural engagement for the next several decades. But Niebuhr's model was devised in and for a predominantly Christian...
Out of Stock
Available to Order
---
Expected to ship in 5 to 6 weeks from Australia.
---
Free Shipping
for orders over $99.
In 1951, theologian H. Richard Niebuhr published Christ and Culture, a hugely influential book that set the agenda for the church and cultural engagement for the next several decades. But Niebuhr's model was devised in and for a predominantly Christian cultural setting. How do we best understand the church and its writers in a world that is less and less Christian? Craig Carter critiques Niebuhr's still pervasive models and proposes a typology better suited to mission after Christendom.
-Publisher
Contents Preface Introduction Part 1. Rethinking Christ And Culture After Christendom Part 2. A Post Christendom Typology Of Christ And Culture Conclusion Subject Index Author Indes
-Publisher
"H. Richard Niebuhr's days are numbered. Or so one can only imagine. This carefully argued and well-written book should bring the curtains down on the more than fifty-year reign of Niebuhr's typology in Christ and Culture. Carter not only shows how this paradigm is inadequate for our world but offers an alternative paradigm that is at once fuller and richer for understanding the church's social existence in the midst of a broken world that is loved by God."--Mark Thiessen Nation, author of John Howard Yoder: Mennonite Patience, Evangelical Witness, Catholic Convictions"Craig Carter has written an important book for everyone under the influence of H. Richard Niebuhr's Christ and Culture, for everyone committed to the church's witness in the world, and for everyone concerned about the impact of Christianity upon our common life. In our tumultuous times, we should welcome his critique of Niebuhr, heed his call to faithful Christian witness, and emulate his care for our common life."--Jonathan R. Wilson, author of God So Loved the World"This book is long overdue and much needed. Even though few works of contemporary theology are as influential as Niebuhr's Christ and Culture, there has been surprisingly little serious criticism of its main claims and organizing categories. Carter's stimulating book provides not only a provocative critique of Niebuhr's entire approach, it also breaks new ground by proposing an alternative understanding of the main options for the church's mission to the world. Anyone who reads Niebuhr's classic should also read this book. This book deserves the careful attention of pastors, theologians, and every student of Christian thought and ethics."--Jeffrey P. Greenman, Wheaton College"Craig Carter invites us to rethink critically the assumptions, arguments, and conclusions of Niebuhr's Christ and Culture. With a well-developed sense of our postmodern, post-Christendom circumstances, and with fidelity to both scripture and the broad Christian tradition, he challenges the quasi-canonical status accorded to Niebuhr's typology by many since the book's publication in 1951, especially in the United States. This is most definitely an insightful and timely volume!"--Barry Harvey, Baylor University"This exceedingly important and well-written book offers much more than a rethinking of Niebuhr's Christ and Culture. In his effort to determine what is wrong with Niebuhr's oft-cited typology, Carter digs deeply into two fundamental problems affecting not just Niebuhr but the majority of Western Christians--the church's embrace of Christendom and its unblinking support for state violence. Carter argues that once these presuppositions are stripped out of Christ and Culture, the weaknesses of Niebuhr's typology are revealed and a different approach both to the typologizing and living of Christ/culture relations becomes possible. The new typology that Carter develops is quite fascinating. But even more important is the bracing, accessible, and exceptionally lucid challenge he offers the church--to renounce both Christendom and the easy endorsement of violence, and thus return to the kingdom ethics of Jesus, Lord of the cosmos. This book is theologically careful, historically rich, and ethically thoughtful. It is intensely relevant to the cultural moment in which we live."--David P. Gushee, author of Only Human: Christian Reflections on the Journey Toward Wholeness
-Publisher
Dr. Craig A. Carter (PhD, University of St. Michael's College, Toronto) is Professor of Religious Studies at Tyndale University and Seminary, Toronto. Dr Carter has two main interests reflected in his writing: Systematic theology and Christianity and culture. His thesis on John Howard Yoder was published as The Politics of the Cross: The Theology and Social Ethics of John Howard Yoder (Brazos Press) and Rethinking Christ and Culture: A Post-Christendom Perspective (Brazos Press). After serving for eight years as an administrator and faculty member at Atlantic Baptist University, He came to Tyndale in 2000 as Vice President and Academic Dean. Dr Carter is now at work on several writing projects including a popular book for lay people on the Nicene Faith as the central, consensual basis of Christian doctrine, and Theism or Trinitarianism? The Evangelical Doctrine of God and Ancient Christian Orthodoxy contracted with InterVarsity Press for 2010.
Bestsellers in Christian Worldview