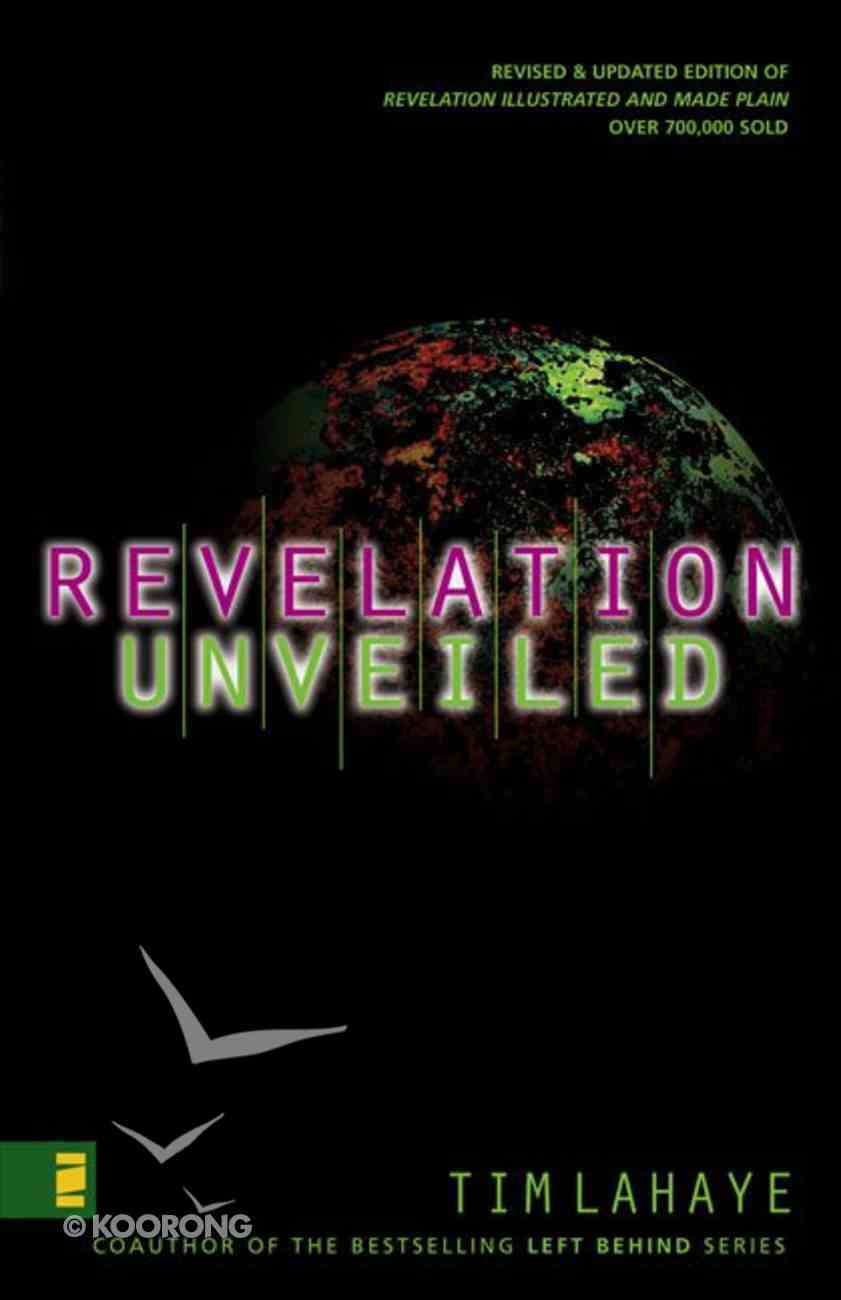 Out of Stock
Available to Order
---
Expected to ship in 5 to 6 weeks from Australia.
---
Free Shipping
for orders over $99.
40 Chapters
-Publisher
The Biblical Foundation for the Best-selling Left Behind Series . . . In the twinkling of an eye, millions of people across the world vanish, resulting in highway catastrophes, plane crashes, utility breakdowns, and more. Chaos reigns. With the stage set, a dictator emerges who persecutes Christians horribly. But tribulation is about to give way to incredible joy -- for the return of the King of Kings is at hand. In Revelation Unveiled, Dr. Tim LaHaye, co-author with Jerry Jenkins of the best-selling novels Left Behind and Tribulation Force, reveals the scriptural foundation of this series. Revelation Unveiled explains such critical topics as: - The rapture of the church - The Return of Christ - The Great Tribulation - The Final Battle against Satan and His Hosts - The Seven Seals - The Millenial Reign - The Seven Trumpets - The Seven Bowls of Wrath - The Great White Throne - The Destruction of Babylon - The New Heaven and New Earth -- Previously titled Revelation Illustrated and Made Plain, this revised and updated commentary includes numerous charts. With simple and accessible language, Revelation Unveiled will help you better understand this mysterious, final book of the Bible and its implications.
-Publisher
Dr. Tim LaHaye is the creator and co-author of the Left Behind series and is also a noted scholar of Biblical prophecy, an internationally known author, a minister, and an educator. He is the founder and president of Tim LaHaye Ministries. Dr. LaHaye and his wife, Beverly, live in southern California.
Contents
Preface
Preliminary Considerations
Part 1 --- Christ And The Church Age
Introduction (rev. 1:1 -- 8)
1. The Christ Of The Churches (rev. 1:9 -- 20)
2. The Church Of Ephesus (rev. 2:1 -- 7)
3. The Church Of Smyrna (rev. 2:8 -- 11)
4. The Church Of Pergamum (rev. 2:12 -- 17)
5. The Church Of Thyatira (rev. 2:18 -- 29)
6.the Church Of Sardis (rev. 3:1 -- 6)
7. The Church Of Philadelphia (rev. 3:7 -- 13)
8. The Church Of Laodicea (rev. 3:14 -- 22)
9. Christ's Description Of Himself (rev. 1 -- 3)
Part 2 --- Christ And The Tribulation
10. Rapture Before Tribulation (rev. 4:1 -- 2)
11. The Throne Of God (rev. 4--5)
12. The Seven-sealed Scroll (rev. 5)
13. The Tribulation Period (dan. 9:24 -- 27)
14.the Seal Judgments (rev. 6)
15. The 144,000 Servants Of God (rev. 7)
16. The Seven Trumpet Judgments (rev. 8--9)
17. The Mighty Angel And The Little Scroll (rev. 10)
18. Two Super Witnesses (rev. 11:1 -- 14)
19. The Seventh Trumpet Judgment (rev. 11:15 -- 19)
20. Satan Versus Israel (rev. 12)
21. The Antichrist (rev. 13)
22. The Beast Out Of The Sea (rev. 13:1 -- 10)
23. The False Prophet (rev. 13:11 -- 18)
24. Another 144,000 Servants (rev. 14)
25. Another Glimpse Of Heaven (rev. 15)
26.the Seven Bowl Judgments (rev. 16)
27. Religious Babylon Destroyed (rev. 17)
28. Commercial Babylon Destroyed (rev. 18)
Part 3 --- Christ And The Future
29. The Heavenly Hallelujah Chorus (rev. 19:1 -- 6)
30. The Marriage Supper Of The Lamb (rev. 19:7 -- 10)
31. The Glorious Appearing Of Jesus Christ (rev. 19:11 -- 16)
32. The Battle Of The Great Day Of God Almighty (rev. 19:17 -- 21)
33. Satan Bound In The Abyss (rev. 20:1 -- 3; 19:20)
34. The First Resurrection (rev. 20:4 -- 6)
35. The Millennium And Church History (rev. 20:1 -- 6)
36. The Coming Kingdom Of Christ (rev. 20:1 -- 10)
37. The Great White Throne (rev. 20:11 -- 15)
38. The New Heaven And New Earth (rev. 21)
39. The New Jerusalem (rev. 21:9 -- 27)
40. Heaven On Earth (rev. 22)
Notes
Bibliography
Preface The book of Revelation is easily the most fascinating book in the Bible, for it gives a detailed description of the future. Everyone is interested in what is going to happen to them and their loved ones after death, what will happen to the people of the earth, and what the future holds for this planet. Revelation not only answers all these questions but also gives them in great detail. This book not only answers questions unknowable from any other source but as the first line informs us, it is 'the revelation of Jesus Christ.' The fascination for this book that details more future events than any other is as old as the book itself. And that fascination is not limited to 'extremists' or the under-educated or those easily persuaded; it was held by the man considered by many scientists as 'the most brilliant man who ever lived,' Sir Isaac Newton. Not only was he the discoverer of the law of gravity and scores of other scientifically important findings, but he also loved the book of Revelation. I have in my possession a copy of his seventeenth-century commentary on the entire book. Obviously he loved the Christ it reveals and treasured the insights it provides on future life after death. It should not be surprising that even in the twenty-first century the book has not lost its charm. In fact, if the incredible interest in our fiction series Left Behind (written with Jerry Jenkins), which has remained at the top of the best-seller list every month since it appeared four years ago, is any indication, the fascination for this subject is increasing. For that entire series is based on the future events found in the book of Revelation. Modern men and women want answers to the future and Revelation provides them. Thousands of readers of the Left Behind series have written or e-mailed us to say our prophetic novels have inspired them to read the book of Revelation for the first time (some several times) and found it thrilling. That should not be surprising, particularly in light of the fact that it is the only source we have for definitive answers for those events of the future that intrigue us all. Besides, we may be living on the threshold of the fulfillment of those future events. In addition, the book of Revelation is the only book in the New Testament that presents Jesus Christ as He really is today. The gospels introduce Him as the 'man of sorrows, and familiar with suffering' during his incarnation. Revelation presents Him in His true glory and majesty after His resurrection and ascension into heaven, never again to be reviled, rebuked, and spat upon. No wonder John entitled it 'The Revelation of Jesus Christ.' The study of this book will warm your heart as you perceive the true Christ and His ministry to the churches for the past two thousand years. You will thrill to see myriads of angels bowing before Him and singing His praises. You will also view His dynamic triumph over Satan and all the forces of evil. The book of Revelation makes it clear that Christ and Christians are the ultimate winners in the game of life. In fact, a study of this book is essential for a comprehensive view of the rest of Scripture. It finalizes God's wonderful purposes for His favorite creatures --- the human race. A proper understanding of this book will help the Bible student know what God has in store for this world before it comes to pass, so he may prepare himself and not be taken unaware. It will also afford him a confident faith with which to confront the political, social, and religious chaos that is imminent. Only a biblical illiterate is unable to see that these are the last days. No book in the Bible has been more discredited than Revelation except for its counterpart in the Old Testament, the book of Daniel. Because Revelation deals predominantly with prophecy and the future, and because it exposes Satan as a deceptive fraud, the archenemy of humankind has tried his hardest to discredit the book. The last thing he wants is for people to become aware of Christ's majesty, Satan's treachery, and the Christian's final triumph when this old world system ultimately fails. I have found that the proper understanding of Revelation motivates Christians to consistent dedication and service. It lifts their spirits and gives them a hope in the future that no other book in the world provides. Most of all, the study of this book will give you a vital love for Jesus Christ and the souls of lost people about you, for it not only reveals the Lord and His wonderful plan to redeem His Church but also discloses the awful plight of this world and of those who reject Him. Writing the original version of Revelation: Illustrated and Made Plain was the fulfillment of a twenty-five-year dream. I had studied the book diligently for years, taught it at least ten times, and saw the electrifying effect it had on two congregations I pastored. Somehow I knew that if someone wrote a down-to-earth easy-to-understand commentary on the book, together with the charts and diagrams my congregations found so helpful in the presentations, it would help many others to understand this great book. Very honestly, I hoped it would sell at least 50,000 copies, which for a commentary on any single book in the Bible is very good. I am pleased to say that almost six times that number are already in print. Hundreds of pastors and Bible teachers have written and indicated they have used it in preparation for their teaching. Now twenty-five years later there is an even greater need for this book, particularly among the millions who are reading the Left Behind novels and becoming acquainted with the field of Bible prophecy for the first time. This new updated edition is even clearer than the first. It includes several new charts and graphics and a number of new insertions that will make the exciting truths of this book even clearer. In addition, the publishers are allowing the purchaser of this book to copy its charts to use with an overhead projector, thus enabling teachers of Revelation to better present the truth and time events of the book. It is my prayer that this new edition will stir the heart of every reader and inspire him or her to greater service and preparation for the rapidly approaching day when we will see Him who said, 'Behold, I am coming soon!' ---Tim LaHaye 1999
Bestsellers in New Testament Commentaries