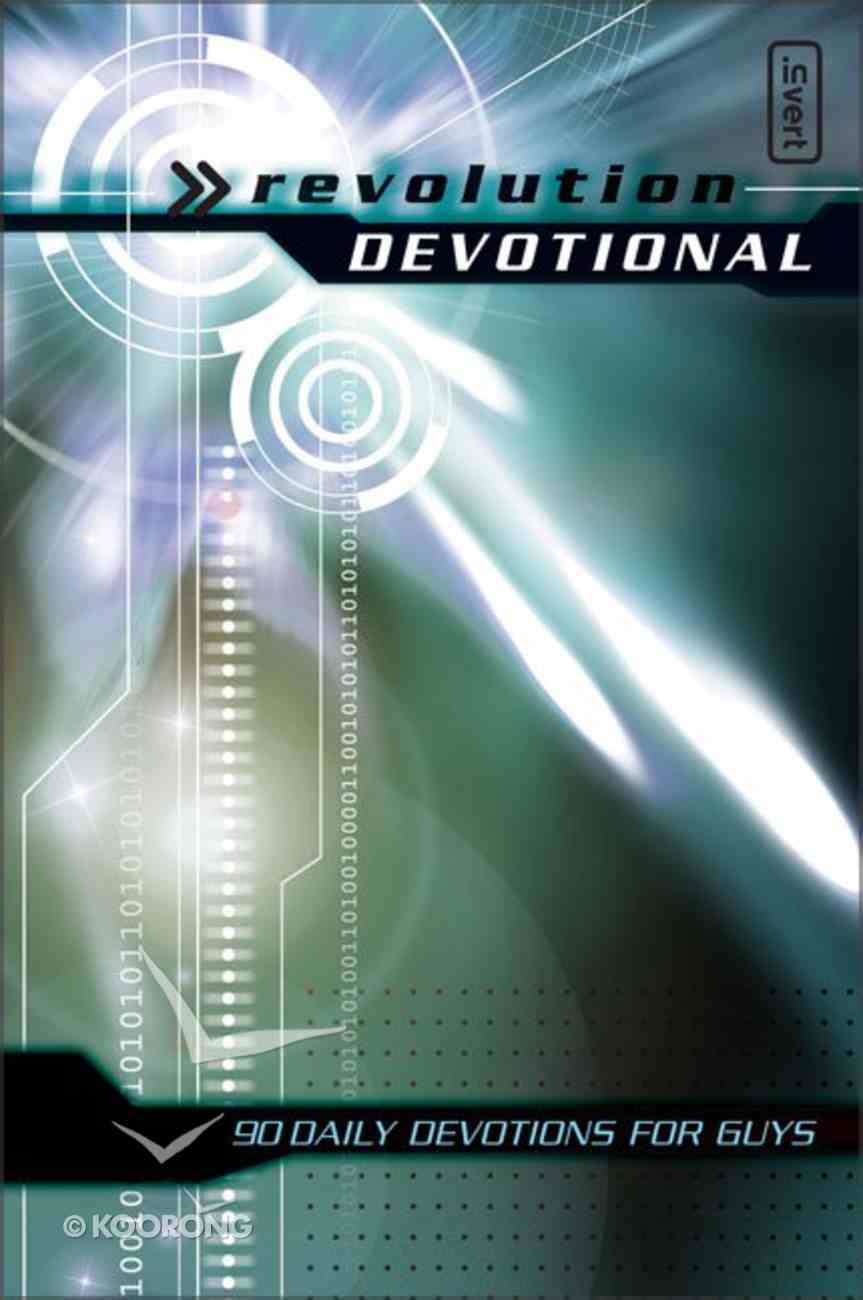 Young guys need to learn what it means to become men of God - to become revolutionaries for God. This daily devotional will give them an easy way to learn those lessons. Each day's entry in the Revolution Devotional contains...
Out of Stock
Available to Order
---
Expected to ship in 5 to 6 weeks from Australia.
---
Free Shipping
for orders over $99.
Young guys need to learn what it means to become men of God - to become revolutionaries for God. This daily devotional will give them an easy way to learn those lessons. Each day's entry in the Revolution Devotional contains a Bible verse, a devotional thought, further Scripture reading, and a fun list (to get guys thinking and laughing). It makes spending time in the Word a little easier for guys to do.

-Publisher
Revolution DevotionalCopyright 2005 by The Livingstone CorporationYouth Specialties products, 300 South Pierce Street, El Cajon, CA 92020, are publishedby Zondervan, 5300 Patterson Avenue SE, Grand Rapids, MI 49530Library of Congress Cataloging-in-Publication DataRevolution devotional : 90 daily devotions for guys / Livingstone.p. cm.ISBN-10: 0-310-26706-4 (pbk.)ISBN-13: 978-0-310-26706-5 (pbk.)1. Teenage boys--Religious life--Juvenile literature. 2. Devotional calendars--Juvenileliterature. I. Livingstone Corporation.BV4541.3.R48 2005242''.632--dc222005024202Unless otherwise indicated, all Scripture quotations are taken from the Holy Bible: NewInternational Version (North American Edition). Copyright 1973, 1978, 1984 byInternational Bible Society. Used by permission of Zondervan.Some of the anecdotal illustrations in this book are true to life and are included withthe permission of the persons involved. All other illustrations are composites of realsituations, and any resemblance to people living or dead is coincidental.All rights reserved. No part of this publication may be reproduced, stored in a retrievalsystem, or transmitted in any form or by any means-electronic, mechanical, photocopy,recording, or any other-except for brief quotations in printed reviews, without theprior permission of the publisher.Web site addresses listed in this book were current at the time of publication. Pleasecontact Youth Specialties via e-mail (YS@YouthSpecialties.com) to report URLs that areno longer operational and replacement URLs if available.Produced with the assistance of (www.LivingstoneCorp.com).Project staff includes Don Jones, Chris Hudson, and Randy Southern.Creative team: Dave Urbanski, Heather Haggerty, Anna Hammond,and SharpSeven DesignCover design by Holly SharpPrinted in the United States of America05 06 07 08 09 10 - 10 9 8 7 6 5 4 3 2 1SECTION 1A Genuine Relationship with GodGoing Deep with GodSo in the course of time Hannah conceived and gave birth to a son.She named him Samuel, saying, "Because I asked the LORD for him."1 Samuel 1:20More than anything in the world, Hannah wanted a son. Unfortunatelyshe wasn''t able to get pregnant. So she did what any God-loving womanwould do in her situation. She prayed about it. She took her troubles toGod and begged him to help her.Year after year after year.Every chance she got, Hannah went to the house of the Lord topray. As you might imagine, each year her prayers became a little moreintense. She begged, pleaded, and cried for God to answer her. Shevowed to dedicate her son to God if God would allow her to get pregnant.And in response, God fi nally gave her a son.Hannah understood the value of constant prayer and worship. Shenever lost faith in God. She never stopped praising him. Maybe that''swhy God came through for her in such a big way.Do you understand the value of prayer and worship in your life?Not just as a way to get the desires of your heart, but as a way to deepenyour relationship with God?Don''t make the mistake of treating prayer like a drive-up windowat a fast-food restaurant. Don''t just place your order and then wait forGod to fi ll it, expecting to get what you want and get it now. Insteadwork on developing a complete prayer and worship time with God.And include more than just your requests in your private conversationswith God. Praise him for who he is. Confess the things that havedamaged your relationship with him. Th ank him for the things he''sdone in your life. And when you''re fi nished with those things, talk tohim about your needs and desires.It worked for Hannah. And it will work for you, too.For the full story of how God rewarded Hannah''s prayer of faith, check out1 Samuel 1:1-28.Weird Things People Have Prayed ForTh e following list is real. People actually admitted to praying for thesethings. What odd prayers could you add to it?- "During football season, I pray every Sunday that the Bearswill win and the Packers will lose."- "When I was little, I used to pra
-Publisher
If you want to be part of a revolution, this book is a great place to start. You can make a difference---in the world, in your town, in your school, in your life. The Revolution Devotionalhelps you understand and develop character traits that will turn you into a revolutionary for God. No boring reading here---instead it's fast-paced and fun. Each day you'll read a verse of the Bible, then a short devotional about the character in that verse. There's additional Scripture for you to read if you want, plus a hilarious list relating to the day's topic. For example, on the topic of being different from the crowd, you might get this list: Seven Ways to Be Really Different There's different...and there's really different. Here are seven ways to achieve the latter status: * Color your eyebrows with purple Magic Marker. * Insist that people call you 'Butterscotch.' * Wear bumper stickers on the back of your coat. * Declare yourself a 'meat-arian' and argue for vegetable rights. * Talk only in Dr. Seuss rhymes. * At the lunch table, do play-by-play commentary for a game going on in your imagination. * Randomly blurt out the phrase, 'Now that's what I'm talking about'---even when no one is talking.
-Publisher
Contents
Introduction: First Things First
Section 1: A Genuine Relationship With God
Going Deep With God
No Foolin'
Stirred, Not Shaken
No Matter What
Been There, Done That
It's About Time
Time To Grow Up
Dig In
Give Up?
Hold Tight
World-class Prayers
What's On Your Mind?
Thanksgiving Every Day
Section 2: God's Identity
Let's Get Serious
Skeleton Crew
The Conquering King
It's All Lies!
A Mighty Friend
Section 3: Being A Man Of Faith
More Than Just Talk
Unleashing Your Inner Warrior
Hardcore
Guaranteed Freshness
Loyalty To The King
Up And At 'em
What Did You Expect?
The Write Stuff
Be On Your Toes
Section 4: When Things Get Tough...
Prepare For War
Going The Distance
Raising Your Game
Unstoppable
Staring Down Your Fears
It's Time For A Comeback!
Fierce Warfare
Can You Handle The Truth?
True Or False
Section 5: Peer Pressure
No Pain, No Gain
Break Away
Say Something!
Step Up
And Then There Was One
Are You Ready?
Who You Trying To Please?
Big Diff Erence
Section 6: Where's Your Passion?
With Everything You've Got
All Fired Up
Top Priority
The Deepest Satisfaction Of All
Section 7: Relationships
Let It Go!
Keepin' It Under Control
A Second Glance
Have Mercy!
Shocking Kindness
What's Mine Is Yours
Show Some Respect!
Your Honor
You Think You Know It All?
Section 8: The Buddy System
Get Your Hands Dirty
Surrounded
Say What?
Section 9: Lust And Sex
Get Out Of There!
Don't Fight Alone
Worth The Wait
Constant Combat
Section 10: Reaching Out
Time To Take Action
No Yoke
Common Ground
Be Ready!
Any Volunteers?
Helping The Underdogs
Section 11: Self-image
Why Not You?
Ego Check
(in)security Guard
Life Beyond The Spotlight
Get A Grip
Who's Behind The Wheel?
Who Can God Use?
Credit Where Credit Is Due
Section 12: Character
Thought Control
Pulling Your Weight
What's Your Problem?
Talent Show
Whaddaya Got?
Wise Guy
Mr. Clean
Take The Lead
Beyond Sorry
Above And Beyond
Reapin' The Rewards Of Motivation
Get Out Of The Mud
SECTION 1 A Genuine Relationship with God Going Deep with God So in the course of time Hannah conceived and gave birth to a son. She named him Samuel, saying, 'Because I asked the LORD for him.' 1 Samuel 1:20 More than anything in the world, Hannah wanted a son. Unfortunately she wasn't able to get pregnant. So she did what any God-loving woman would do in her situation. She prayed about it. She took her troubles to God and begged him to help her. Year after year after year. Every chance she got, Hannah went to the house of the Lord to pray. As you might imagine, each year her prayers became a little more intense. She begged, pleaded, and cried for God to answer her. She vowed to dedicate her son to God if God would allow her to get pregnant. And in response, God fi nally gave her a son. Hannah understood the value of constant prayer and worship. She never lost faith in God. She never stopped praising him. Maybe that's why God came through for her in such a big way. Do you understand the value of prayer and worship in your life? Not just as a way to get the desires of your heart, but as a way to deepen your relationship with God? Don't make the mistake of treating prayer like a drive-up window at a fast-food restaurant. Don't just place your order and then wait for God to fi ll it, expecting to get what you want and get it now. Instead work on developing a complete prayer and worship time with God. And include more than just your requests in your private conversations with God. Praise him for who he is. Confess the things that have damaged your relationship with him. Thank him for the things he's done in your life. And when you're fi nished with those things, talk to him about your needs and desires. It worked for Hannah. And it will work for you, too. For the full story of how God rewarded Hannah's prayer of faith, check out 1 Samuel 1:1-28. Weird Things People Have Prayed For The following list is real. People actually admitted to praying for these things. What odd prayers could you add to it? * 'During football season, I pray every Sunday that the Bears will win and the Packers will lose.' * 'When I was little, I used to pray for cartoon characters like the Teenage Mutant Ninja Turtles and the X-Men.' * 'I used to pray for lots of presents from Santa on Christmas.' * 'This girl I liked was dating another guy, and I prayed she'd break up with him.' * 'When I was late for curfew one night, I prayed that God would turn back time so I wouldn't get in trouble.' * 'I used to pray that God would give me Kevin Garnet's basketball skills and give Garnet my skills.' * 'After I bombed an English test, I prayed that God would burn the school down and destroy the evidence. I don't know why I didn't just pray for my test to get lost.' REVOLUTION DEVOTIONAL No Foolin' Israel's arrogance testifies against him, but despite all this he does not return to the LORD his God or search for him. Hosea 7:10 How real is your love for God? Do you believe in him when things are going bad just like you do when things are going great? Are you aware of him in your daily life, or is he just someone you think about for an hour or two on Sundays? Are you confi dent that you know him well, or is he really just an acquaintance to you? One more question: If someone treated you the way you treat God, would you believe that person really loved you? Faking a relationship with God isn't hard to do. You just need to know a little about the Bible...sprinkle a few Christian phrases in your conversations...maintain an upbeat attitude...and pretend to care about other people's problems. With a little eff ort, you could fool your parents, your youth leader, your girlfriend, and even your closest friends into believing that you're a faithful follower of Christ---when, in reality, you're nothing more than a spiritual poseur. The two people you can't fool are you and God. If you don't have the fire of God's Holy Spirit in your heart, there's no way you can convince yourself that you do. And since God knows everything, he's not capable of being fooled. That's why putting on a Christian act is ridiculous. Other people's opinions of your spiritual condition mean absolutely nothing in the long run. So you're left with a choice: either start a genuine relationship with God or abandon the whole Christian scene altogether. Do yourself a favor: choose the fi rst option. Stop trying to act like you think a Christian should act and start living according to God's Word. Stop trying to get credit for your spiritual resume and start trying to please God with your life. In other words...stop talking the talk and start walking the walk. For more about how you can please God, check out Hosea 6:1-6. Blanking the Blank 'Walking the walk' and 'talking the talk' are pretty common phrases--- especially among Christians. But here are a few verb-noun combos that aren't nearly as well known. Can you believe that people actually say these? 1. Chalking the chalk 2. Stalking the stalk 3. Boring the bore 4. Ducking the duck 5. Winding the wind 6. Jamming the jam 7. Hiding the hide 8. Creeping the creep 9. Freaking the freak 10. Teaching the teach