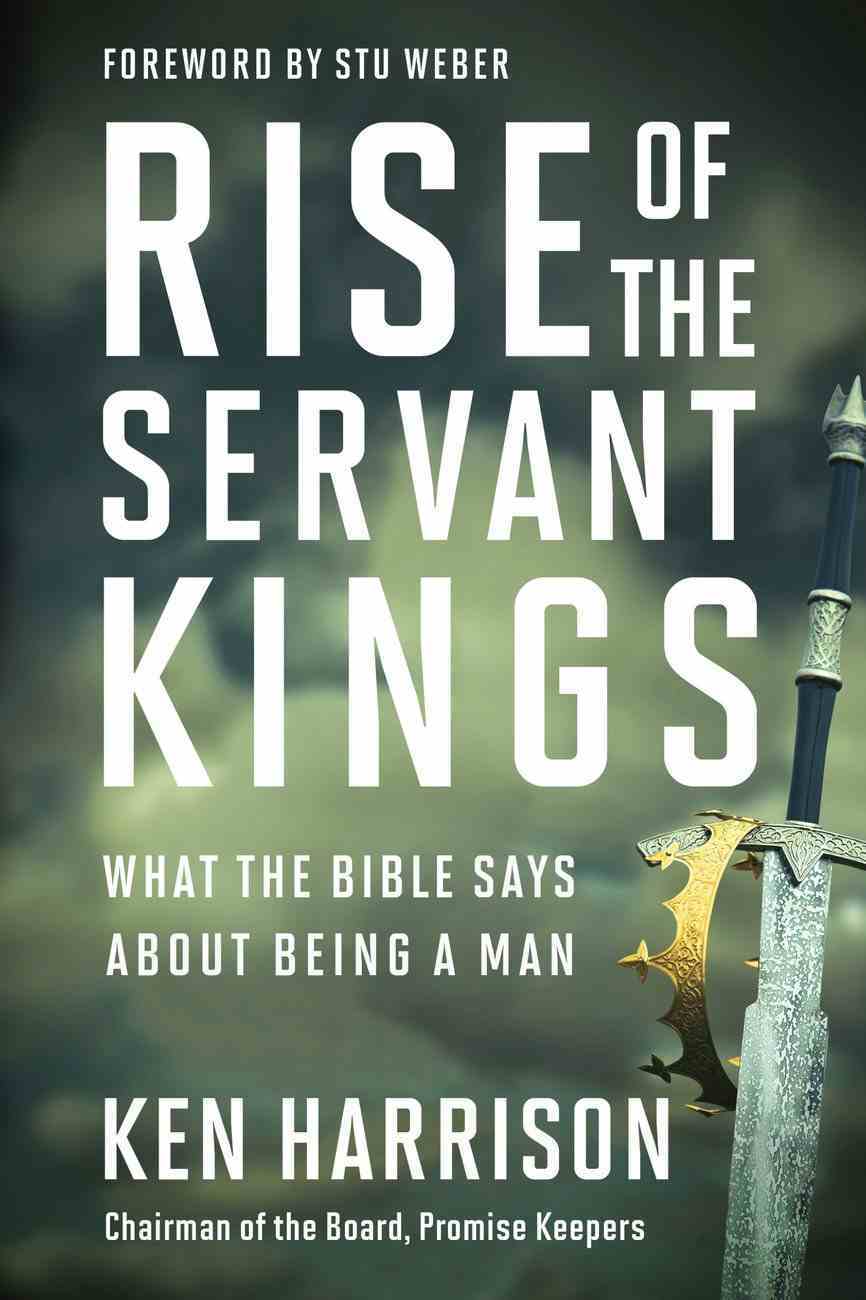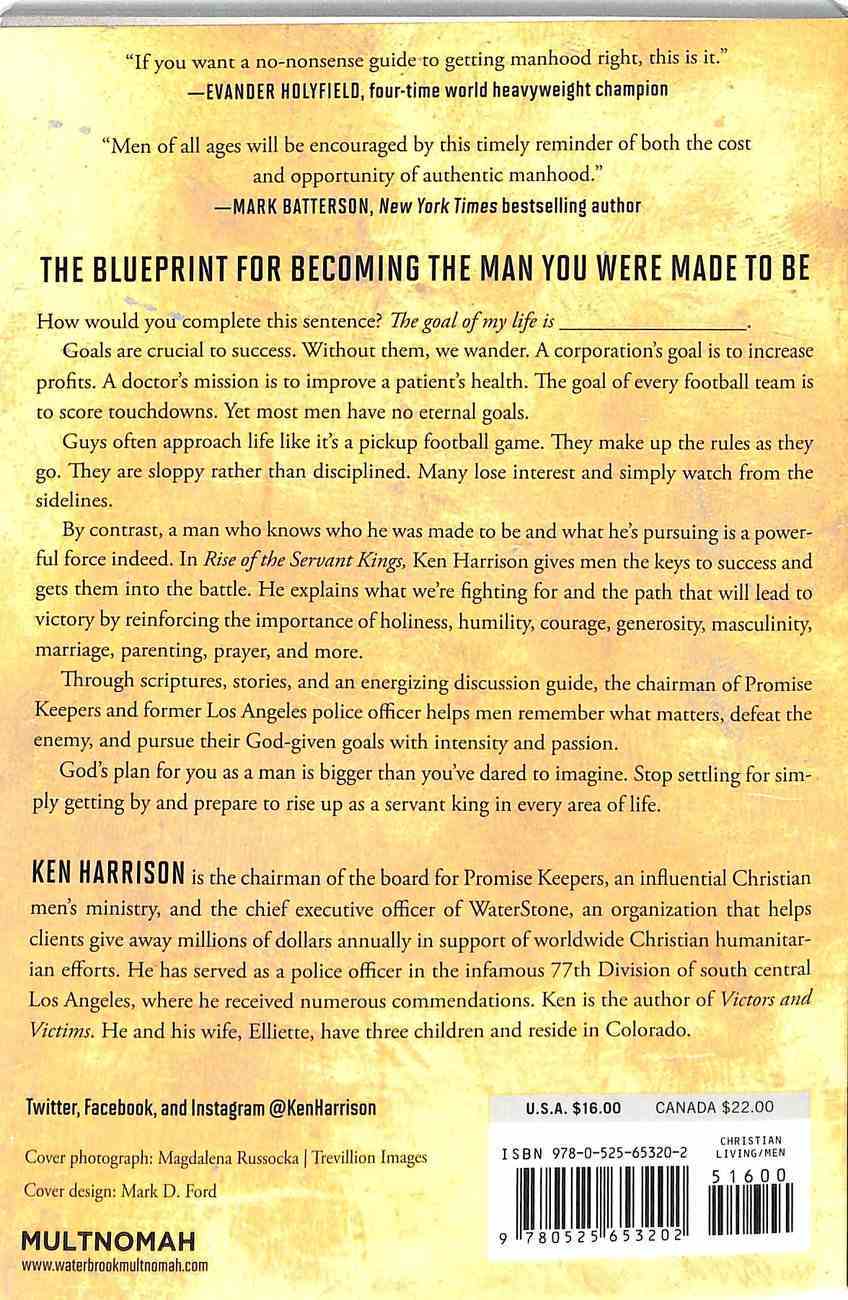 Rise of the Servant Kings: What the Bible Says About Being a Man
:The "how-to-get-it-right" book for today's Christian man--in marriage, family, work, friendships, with God in all of life. On any given day, most men feel they fall short as fathers, husbands, friends, and followers of God. Weary of the...
---
Expected to ship within 8 hours from Australia.
---
Free Shipping
for orders over $99.
:The "how-to-get-it-right" book for today's Christian man--in marriage, family, work, friendships, with God in all of life.

On any given day, most men feel they fall short as fathers, husbands, friends, and followers of God. Weary of the world's ever-changing advice on manhood, they long for time-tested wisdom to see them through their trials, temptations and decisions. Rise of the Servant Kings cuts through the confusion with a refreshingly real version of true masculinity. As a former police officer from one of the deadliest areas of the country and now a successful business executive and ministry leader, Ken Harrison has seen it all. And he knows that only the Bible provides the path to real manhood.
-Publisher
PRODUCT DETAIL
Catalogue Code 

564692

Product Code 

9780525653202

ISBN 

0525653201

EAN 

9780525653202

Pages 

224

Department General Books
Category Men
Sub-Category General
Publisher Multnomah Publishers
Publication Date 

Jul 2020

Sales Rank 

50790

Dimensions 

207 x 139 x 14

mm

Weight 

0.198

kg
Ken Harrison serves as the Chief Executive Officer of WaterStone, an organization that releases resources to support Christian humanitarian efforts worldwide. Currently WaterStone gives away over $1 million each week and manages a fund of $400+ million. He started his career as a Los Angeles police officer in the infamous 77th Division of South-Central Los Angeles, better known as Watts or Compton. There he received numerous commendations and awards, including nomination for the Police Star for Bravery. After leaving the LAPD in the 1990s, Ken went into business and built a small local company into one of the largest of its kind in the United States. He has served on multiple boards, and recently stepped into the role of chairman of the board of Promise Keepers, a well-known organization ministering to Christian men. Harrison is also the author of Victims & Victors. He has been married to his wife, Elliette, for 27 years and they have three children.
:
1


Servant Kings


I looked for pleasure, beauty, and truth not in Him but in myself and His other creatures, and the search led me instead to pain, confusion, and error.


—Augustine, Confessions


Don't you know that the runners in a stadium all race, but only one receives the prize? Run in such a way to win the prize. Now everyone who competes exercises self-control in everything. However, they do it to receive a crown that will fade away, but we a crown that will never fade away. Therefore I do not run like one who runs aimlessly or box like one beating the air. Instead, I discipline my body and bring it under strict control, so that after preaching to others, I myself will not be disqualified.


—1 Corinthians 9:24–27



The athlete stood and stretched, the sound of the warning trumpet still filling his ears. The sun wasn't yet up, and the cold of the January morning filled his bones. He watched his breath trail into the air and shivered as his trainer rubbed him with oil, getting his blood flowing. A slave fed him cheese, figs, and dried meats, the only food he'd have for months. He stomped his feet impatiently, knowing that if he missed the next trumpet, he'd be disqualified from the greatest moment of his life. Despite the cold, there was no need to dress. He'd train today naked, the same way he'd compete.


The athlete had been selected to represent his city in the Isthmian Games, and he'd met every qualification. He was a freeborn Greek, he'd won the qualifying matches, and he'd met the standards set by the city elders. Now came the real challenge. He would train every day for ten months, his every move monitored by the marshals. If any of them thought he was giving less than maximum effort, for even an instant, he would be cast out. If he ever left the training grounds, he would be disqualified. If wine or any food beyond the approved diet touched his lips, he would be sent home with deep shame, with "weeping and gnashing of teeth."


The training was grueling and there were no breaks. And no mercy. He represented the people of his city and served at their discretion. The effort was worth it. If he won, he'd be a ceremonial king, given the crown of Poseidon and the glory that went with it. The city would shower him with rewards. The people would honor him with a parade and write songs about him. A ceremonial hole would be cut in the city wall to symbolize that with such a great athlete, the people didn't need walls to protect them from their enemies—they had him. His family would be fed and would be forgiven from taxes for his lifetime, and his children would go to the best academy. Even better, he would be given a lifetime appointment to the city council. If only he could stay focused during his time at the training grounds and not be disqualified from the race. He thought, I must "discipline my body and bring it under strict control, so that…I myself will not be disqualified."


This is the athlete Paul had in mind as he wrote the verses at the beginning of this chapter. This is the only type of athlete the Corinthians would recognize—a man who had mastered self-control and was focused so completely on victory that if he ran the race well, the city officials would lavish awards on him.


Here Paul gave us the template for our Christian walk. We are to run the race of life to win the crown and the rewards and recognition that come with it. Paul put the message of Christ—that all who have believed in Him have been selected to represent Him in the game of life—into terms the Greeks could relate to, ideas like these:


~  We are the freeborn (we were born in bondage to sin; when we became born again, we were freed from our bondage to sin). We were selected from the very beginning of time (Ephesians 1:4).


~  Some of us will receive the crown of victory at the judgment of the Christians (1 Peter 5:4; 2 Timothy 4:8), and some of us will hang our heads in shame (1 Corinthians 3:13–15; 1 John 2:28) because we have not run the race to win.


~  If we don't stay focused on victory, there will be consequences for our actions on earth and consequences in heaven. All our experiences in life have taught us that we reap what we sow (Galatians 6:7).



An Obedient Life


When I was nineteen, I got a job at an underage nightclub working as a doorman. I had walked with the Lord my whole life, so this job was getting me an education in a world with which I was completely unfamiliar. The club was in a rough area of town, and homeless people often milled around the front door. There was one homeless man who was like a black mirror image of me. He was the same age, height, and build and always seemed to be around. Even on warm summer days, he was never without his denim jacket with brown corduroy sleeves.


I'd often go to a sandwich place that was open late to get something to eat. Sometimes I ate only half the sandwich and gave the other half to him. I didn't think much about it; he was hungry and I had half a sandwich. On a few cold nights I bought him coffee. Each time I handed him something, he'd just nod. I never heard him say a word.


I really didn't fit in with the scene at that club, and my Christian lifestyle and values were apparent to the owners. They never saw me take part in the club's activities, so, regarding me as a trustworthy employee, they promoted me to manager within a few months.


One night three guys in their late teens forced their way through the front door without paying admission, and I was called on to confront them. Somehow I got them outside the door, but as we exited, one of the teens threw a punch that caught me square on my jaw. He hit me again and then again. He hit me about ten times over the next thirty seconds. He was a trained fighter and moved and punched far more quickly than I could defend myself. I was finally able to get ahold of him and got him to the ground, which ended the fight. I looked around, wondering what had happened to the other two teens and saw them stretched out on the ground, unconscious. Standing over them was the homeless man, fists clenched. He was barely breathing hard.


"Thanks, man," was all I could say between gasps for breath. He just nodded.


Twenty years later, after becoming the CEO of a large company, I was walking down the sidewalk in the same city when I saw that homeless man. I could hardly believe it—he was wearing the same denim jacket with the corduroy sleeves. It was tattered and dirty but the same jacket. I emptied my wallet and walked up to him, handing him the cash. "You helped me out once," I said. He just nodded and walked away.


This was similar to an event that happened to an officer I knew while I was a police officer with the Los Angeles Police Department (LAPD). We were working in the notoriously high-crime area called 77th Division. The gang war was in full swing, and we were struggling with a vicious gang called the Eight Trey Crips. Though they were part of the Crips street gang, they killed other Crips, as well as those from their rival gang, the Bloods.


Around two o'clock in the morning on a hot summer night, I was writing an arrest report in the break room of 77th station. An officer walked in with a dazed look in his eyes and a bandage on his head. He shuffled over to the coffee dispenser and put a quarter in, waiting for the weak, lukewarm coffee to drip into a tiny cup. Then he threw down a sheet of paper and stared at it, trying to figure out how to start a report. "Man, what happened to you?" I asked.


He blinked and focused slowly on my face. Looking back on it, I realize now that he probably had a concussion, but in those days we were told to "just shake it off."


"I was in a foot pursuit of a couple of Eight Treys, man," the officer said. "I got separated from my partner during the pursuit and jumped over a fence. The kid I was chasing ducked under a clothesline, and when I went to tackle him, the line got me under the chin. I never saw it. It flipped me backward, and I bounced my head off the concrete. Knocked me out cold, man."


He blinked a few times. "I woke up indoors on some guy's couch. He'd seen the whole thing, come outside, and carried me into his house and hid me from the Crips." The officer held his head in his hands, trying to quell the pain.


"They'll kill him for that," I said.


"Yeah…no," he said, furrowing his brow. "We called the fire department, and they snuck me out of his house on a stretcher. The gangsters didn't see he had a cop in his house." He shook his head slowly. "When I came to, the guy said, 'I seen you around before. You were always fair to everyone. You're one of the good cops. I wasn't gonna let them kill you.' You know, Harrison, if those Eight Treys would've seen me laying there unconscious, they'd have put a bullet in my head."


"Yeah," I said, "you got lucky."


"No," he said, "I treat everyone with respect. I never figured people were watching though. I never thought it would save my life."


His actions had consequences, and they saved his life. My actions as a teenager had consequences, and they saved me a trip to the emergency room. In his case and mine, black men risked their safety and even their lives to save white men because of some small acts of kindness that neither of us realized would come to matter so much.


Giving a cup of coffee to a cold man, treating poor people with respect, these are small actions that should typify every Christian (Matthew 10:42). But they don't typify every Christian, do they? These are not actions that can simply be summoned up when you want them. They are consequences of living a life of obedience to God.


A man who is in love with God is a man who is in love with other people. Neither that fellow officer nor I thought about what we were doing. Our actions were the outward expression of our nature. We were men in love with Jesus. We acted like servant kings.




Let's Talk


Let's have a truly honest discussion about what the Bible says about God's plan for men.


God wants us to be His servant kings.


What does that look like? A real man is proactive, courageous, and humble, but our sinful nature pulls us toward passivity, cowardice, and arrogance. Our sinful nature says to us, "As soon as you get your act together, then you can try to be and do something meaningful."


That's a lie. God seeks men of action and faith who will "go before they know."


In this book we don't want to gain more facts about God. We want to come to know God Himself. We've been invited into relationship with Him, so let's get to know Him and what He wants from us. Let's also take an honest look at why it's so hard to draw close to Him despite His invitation. We want to learn how to have true life as we step out in bold obedience and trust in His Word.




Well Done!


How would you complete the following sentence? The goal of my life is _________.


The goal of football is to score touchdowns. The goal of running a company is to increase profits or stock value. What's the goal of your life? Let's take a look at a crucial Bible passage and see if we can come up with an answer:


It is just like a man going on a journey. He called his own slaves and turned over his possessions to them. To one he gave five talents; to another, two; and to another, one—to each according to his own ability. Then he went on a journey. Immediately the man who had received five talents went, put them to work, and earned five more. In the same way the man with two earned two more. But the man who had received one talent went off, dug a hole in the ground, and hid his master's money.


After a long time the master of those slaves came and settled accounts with them. The man who had received five talents approached, presented five more talents, and said, "Master, you gave me five talents. Look, I've earned five more talents."


His master said to him, "Well done, good and faithful slave! You were faithful over a few things; I will put you in charge of many things. Share your master's joy!"


Then the man with two talents also approached. He said, "Master, you gave me two talents. Look, I've earned two more talents."


His master said to him, "Well done, good and faithful slave! You were faithful over a few things; I will put you in charge of many things. Share your master's joy!"


Then the man who had received one talent also approached and said, "Master, I know you. You're a difficult man, reaping where you haven't sown and gathering where you haven't scattered seed. So I was afraid and went off and hid your talent in the ground. Look, you have what is yours."


But his master replied to him, "You evil, lazy slave! If you knew that I reap where I haven't sown and gather where I haven't scattered, then you should have deposited my money with the bankers. And when I returned I would have received my money back with interest.


"So take the talent from him and give it to the one who has 10 talents. For to everyone who has, more will be given, and he will have more than enough. But from the one who does not have, even what he has will be taken away from him. And throw this good-for-nothing slave into the outer darkness. In that place there will be weeping and gnashing of teeth." (Matthew 25:14–30)


A man with a goal in life is active because he knows what he's pursuing.