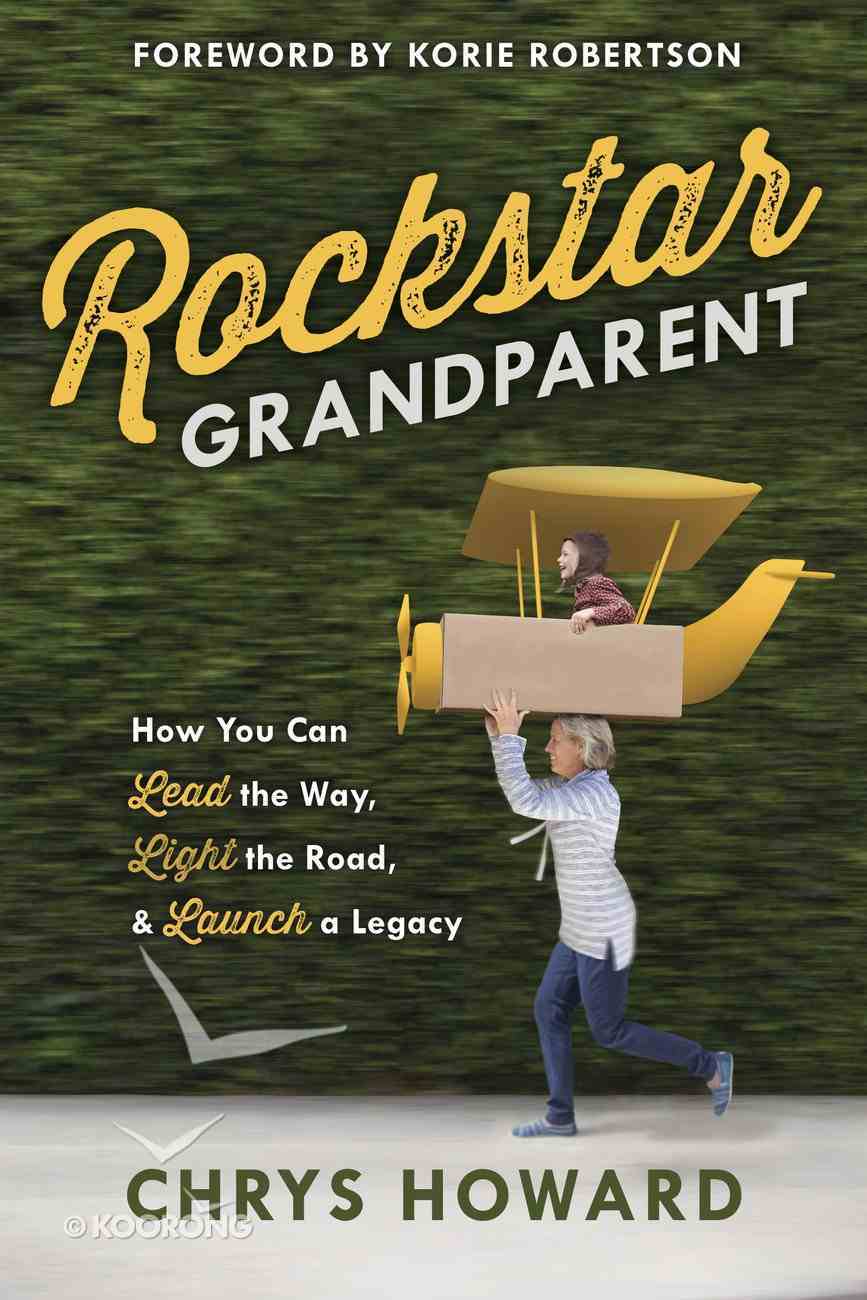 Rockstar Grandparent: How You Can Lead the Way, Light the Road, and Launch a Legacy
:A guide to grandparenting with purpose and fun-in the age of smart phones and social media. Grandparenting may be different today, but it still can be meaningful and fun for both the kids and the adults. Today's grandparent needs...
Out of Stock
Available to Order
---
Expected to ship in 4 to 5 weeks from Australia.
---
Free Shipping
for orders over $99.
:A guide to grandparenting with purpose and fun-in the age of smart phones and social media.

Grandparenting may be different today, but it still can be meaningful and fun for both the kids and the adults. Today's grandparent needs to understand technology-how it mesmerizes grandchildren but also enhances the opportunities to connect and share life experiences. And while many of the roles grandparents play in the lives of grandchildren have changed, their most important role of influencing with wisdom, faith, and fun remains the same. The author addresses topics relevant to all grandparents and also looks at the challenges of grandchildren living in single parent or blended families. Also included are stories from the author's journey with her own grandchildren-including Duck Dynasty's Sadie Robertson.
-Publisher
Chrys Howard lives in West Monroe, Louisiana, with her husband, John. They have three grown children and ten grandchildren. Holding a degree in elementary education, Chrys volunteered her time for over ten years teaching children with learning differences as well as directing a youth camp for nearly 20 years. She is a senior editor and the creative director for Howard Books, a division of Simon & Schuster, where she is responsible for the design of book covers and production of gift books. She is also an avid photographer whose photographs have appeared in over 20 books. She had edited and co-
:
Introduction


If you have picked up this book, congratulations! Either you're a new grandparent, you're about to become one, or you've been one for a while and you're having so much fun you want to learn more. Trust me—you are in one of the most exciting times of your life. Well, once you get past the fact that you're now old enough to be a grandma or grandpa, then the excitement can set in. Chances are you are a part of the baby boomer generation, like I am. If you came along a little later, know this about the folks a few years older than you: we have reluctantly gotten older, and at fifty, sixty, or seventy years of age, we look in the mirror each day and wonder how we turned into our parents, or we look at our peers and wonder how they got so old. Surely we're not that old!


Because I am smack-dab in the middle of the boomers, I will often refer to my generation in this book, but don't let it stop you from reading if you're not one of us. You are close enough if you have grandchildren—plus, there's a lot to learn from our far-out and groovy generation. We, the baby boomers, were born between the years of 1946 and 1964. My youngest sister was born on the same day the Beatles made their American debut on The Ed Sullivan Show. That date was February 9, 1964, which makes her one of the youngest in this boomer generation. It's hard to believe, but that one show set a record with seventy-three million viewers. Seventy-three million! What could a television network possibly do to get seventy-three million viewers? Well, back in those days, they didn't have to do much. We had only three channels. Remember that? With only three choices, odds were in a network's favor that they were going to get plenty of viewers. Still, no one expected the Beatles to draw a crowd of that magnitude.


Sadly, I was not one of those seventy-three million viewers. Nope, I am forever aware that I missed one of the single most iconic events in American history because my family was busy welcoming baby boomer number six. It was on February 10 that I realized how deprived I had been. I got on the school bus, eager to share news of our precious new bundle of joy, only to be met with excited screams and squeals about the "Beagles." That's exactly what my little ten-year-old ears heard. Apparently a new rock band named the "Beagles" had exploded onto the American music scene, stealing my thunder of having a new sibling. Oh well, it didn't take long for me to get the name straight and join the rest of the world singing "I Want to Hold Your Hand" and screaming for the Beatles.


While my little sister is among the last of the baby boomer generation, Phil Robertson, my co-grandparent and star of the reality show Duck Dynasty, was born in 1946, making him one of the first in the generation. It's been interesting to watch this eighteen-year span through the lives of my little sister and Phil Robertson. The eighteen-year difference makes baby boomers very diverse. In fact, if you were to read the facts surrounding Phil's birth and that of my little sister, you would think these two people couldn't possibly be from the same generation, but they are. Here are a few more facts.


The label baby boomer was given because so many babies were born during the economic boom following World War II. Historian Landon Jones described the trend by saying that almost exactly nine months after World War II ended, "the cry of the baby was heard across the land." In fact, more babies were born in 1946 than ever before. And so began the baby boom. The boom finally tapered off after 1964 but not before leaving around seventy-six million of us to make our mark on American history.


Along with the baby boomer label, we've been dubbed the TV generation, the rock-and-roll generation, and the buy-it-now-and-use-credit generation. Yes, yes, and yes! We are guilty of being the first generation to sit too close to a new invention called television. Our moms were happy to put us in front of shows like The Mickey Mouse Club and Captain Kangaroo, so we happily obliged them, thus becoming the first generation to be influenced by the media. And yes, we're guilty of listening to rock and roll on our transistor radios and giant stereo systems in our living rooms or blasting out our neighbors from our car radios. This led to other firsts, such as great dances like the Jerk, the Mashed Potato, and the Frug. (The Frug? Seriously?) Okay, I'm not so sure the dances were that great. Maybe we should have stuck to the classics, which would have made our parents happy, but that was not the goal of this generation. We were determined to be different. The beehive hairdo was out, and long and straight hair was in. The mellow music of Frank Sinatra was a thing of the past. We wanted it loud, or if it was soft, we wanted it full of deep meaning. And about those credit cards—we certainly are guilty of using and abusing that luxury. But hey, it sounded like a good idea at the time, right?


But we're not a lost cause by any means. Here's one description I read about us that I love. Apparently we're the first generation to use the word retirement to mean "get going" instead of "slow down." In other words, our generation is up and moving in ways past generations were not at our age. We're more likely to go skydiving or join a tennis league or travel the country than sit in a rocking chair. In fact, a study from Bankers Life found that "41% of baby boomers still in the workplace expect to work beyond age 69—or never retire." This same study revealed that of the baby boomers who are still working, six out of ten work because they want to. Some of the reasons cited were to stay mentally sharp, to be physically active, and to have a sense of purpose. Yep, that's us.


What is wrong with us boomers? you might be asking yourself. Why can't we just sit back and relax and leave things to the next generation? I can't answer that question for you, but I can for myself. I just don't feel as if I'm done yet. There's more to see and more to accomplish, and with each day, my time to see and do is drawing to an end. The fact that our generation wants more for ourselves, physically and mentally, means we are increasing our chances of living longer, and that gives us more time to do the things we love. Still, we're very aware of the brevity of our lives on this earth. We might wear skinny jeans, text, work out, or ride a motorcycle, but we know we're not young anymore. Our bodies ache, and it takes us longer to text than a four-year-old, but we're not done yet. We still feel the need to be significant members of modern society.


So, grandparents, you might still be playing in a band like Paul McCartney or competing in tennis tournaments like Chris Evert, or you might be a strong player in the workforce like Donald Trump, but now you also hold one of the most important titles you will ever hold, and that's Grandma or Grandpa.


According to the website Grandparents.com, 1.7 million new grandparents are added every year with an overall number of 70 million grandparents in the States today. Wow! And from the posts you put on Facebook, it's clear you think you're the only grandparents in America! I'm just kidding. Keep posting those grandkid pics. I'm going to. It's part of who we are. That same website says that 75 percent of us are online users. There's no grass growing under our feet. We're going to figure out how to stay connected, aren't we? Even if we have to get our grandkids to connect us and tell us for the tenth time how to use Twitter! (Yes, true confessions from this social media grandma.)


So here we are. We may not look or act like grandparents of the past, but we are the grandparents for this newest generation. As I said earlier, you might be a grandparent to a newborn, or like me, you may have a grandchild in his or her twenties (how did this happen?). In any case, this is the generation we are charged with affecting. A generation who hasn't been officially dubbed anything. A generation who faces challenges we didn't even know could exist. So the question is, How can we accomplish this? As connected as we try to be, relating to this "wired" generation will be challenging.


This younger generation will never know the fun of snuggling with siblings while wearing pajamas at a drive-in movie. Many won't know what it's like to play outside until dark and hear Mom yell, "Dinner's ready!" They won't experience watching a good western like Bonanza with the whole family in one room. Many of our grandkids will never know the joy and trials of sharing a room with a sibling. No, this new generation has choices and options—too many, that's for sure. Too many TV shows, too many pairs of jeans, too many sports or other activities. They are a generation of excess.


Is there a place for us grandparents in their excessive world? You bet there is! Grandparents are the glue that will hold this world together. My mom is eighty-seven years old and is the reigning matriarch of our family. Until age eighty-four, she worked full time. She is on Facebook, dresses like a movie star, and attends as many grandkid and great-grandkid activities as her busy schedule allows. One day she told me her goal in her later years is to remain relevant. I told her she has achieved that goal. Born in 1931, Mom is part of what has been dubbed the silent generation. The silent generation includes babies born from 1925 to 1945. Some of the descriptors I discovered for the silent generation include enjoy reading, love big-band music, loyal, self-sacrificing, and cautious. My mom has all these traits. But she didn't follow the rocking-chair grandma mold that defines many of her peers. She spent what others consider retirement years active in work, church, and community life. She set the stage for her children as we entered our own grandparenting years. She showed us that a world of possibilities still awaits us even after our children are grown and gone. I have five siblings, and we constantly tell Mom to slow down so we can! So, baby boomers, we can't take all the credit for debunking the rocking-chair grandma mentality. My mom single-handedly took on the challenge.


One thing our generation loves to boast about is our music. We proudly declare it the best! Join me as we take a look at some of the songs that influenced our generation. Each chapter will be introduced with a song from our era. I know it's an eighteen-year span, but you'll get it. I'm sure you didn't realize that many of our generation's favorite songs addressed our grandparenting years. As you were rocking out to the top twenty hits, you weren't thinking about your life as a grandparent. And there's no doubt these artists didn't realize they were speaking about being a grandparent either, but they were. Okay, there was that one song we all sang and loved, and it really was about being old, but we couldn't imagine being that old. Sing it with me: "Will you still need me…"


Good job! Seriously, that song was great, but losing our hair or knitting a sweater or anything that went along with old age was not a serious threat when we first heard that song—yet! Those things were so far in the future that we laughed about them. We're still laughing. Only now we're laughing because they all came true. I want to say thank you to all the great musical geniuses who helped our generation put our feelings into words. Those words are still influencing our lives.


Yes, this generation of long-haired, self-centered, bell-bottomed, barefoot, spaced-out, rocking teenagers has finally grown up. Hopefully we've also grown out of the negative monikers we were given and are proud to be called Grandma and Grandpa. Or is it Nana and Papa? Or Honey and Pa? Or Mimi and Pops? Or Gigi and Big Daddy? Here we go again, being our rebellious selves! Did anyone seriously think we would be happy with the titles Grandma and Grandpa? Nope. Not us. We're way too young for those names!


I realize that I've said a lot about baby boomers and that the premise of the book rests on baby boomer songs, but I'm aware that many grandparents are a few years short of being a boomer or may have been born a little before this generation. Don't let that stop you from reading this book. It's full of hints, tips, and advice that are good for grandparents of all ages and in all stages.


So, Nana and Papa or Honey and Pa or Mimi and Pops or Gigi and Big Daddy, hang loose and enjoy the world of grandparenting. Trust me—it's a far-out, neato, and groovy place to be! You're well on your way to being a rockstar grandparent to some very special children.


Hugs,


Chrys