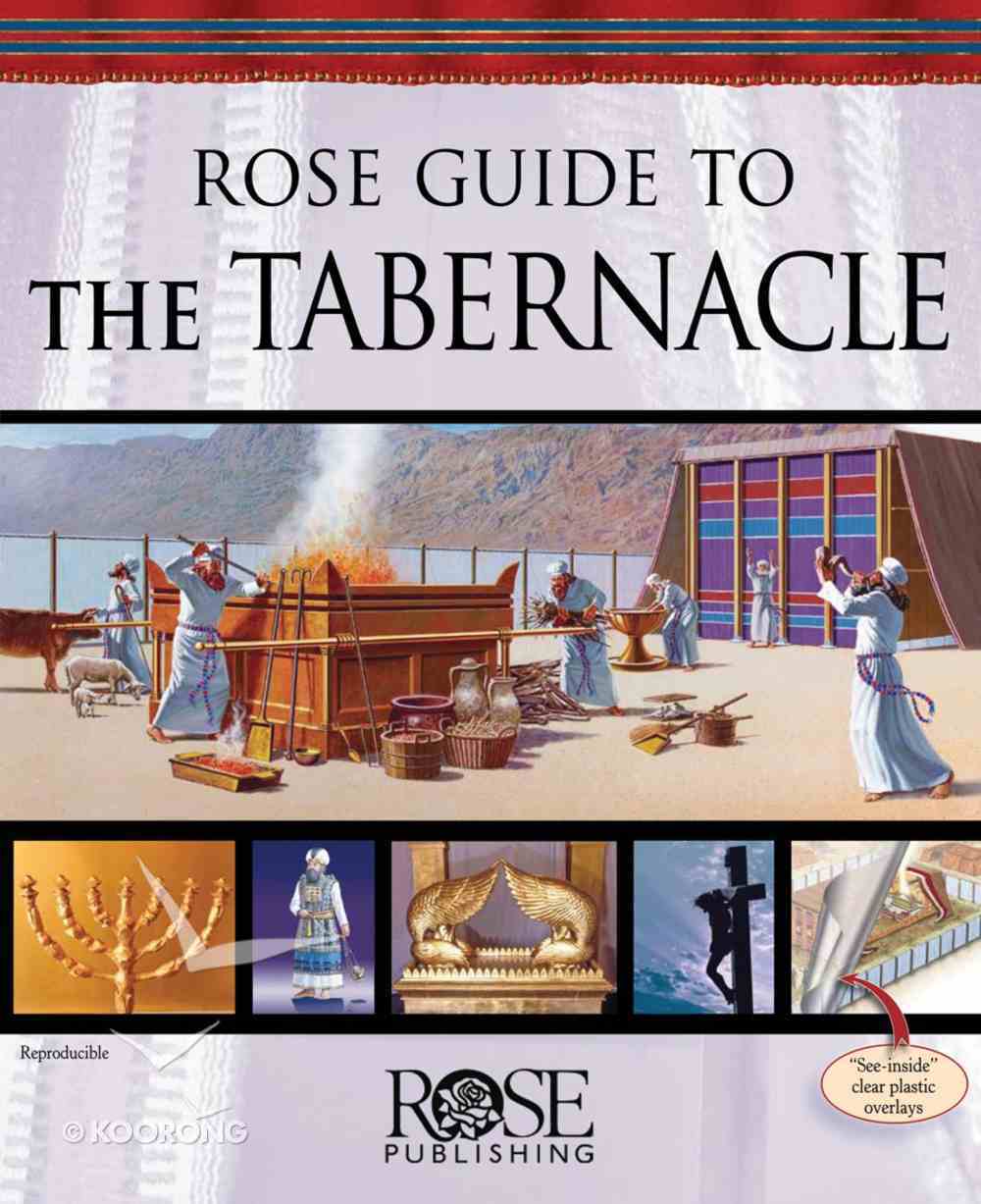 Rose Guide to the Tabernacle (Rose Guide Series)
Rose Guide to the Tabernacle contains 128 pages of facts, illustrations, charts, and diagrams not available in other books. Readers will gain insight to the parallels between the Old Testament sacrifices and priests' duties, and Jesus' service as the perfect...
Instant download
---
Read using our free app on your tablet or mobile!
---
Free Shipping
for orders over $99.
Rose Guide to the Tabernacle contains 128 pages of facts, illustrations, charts, and diagrams not available in other books. Readers will gain insight to the parallels between the Old Testament sacrifices and priests' duties, and Jesus' service as the perfect sacrifice and high priest.

Through Rose Guide to the Tabernacle, readers will better understand the doctrines of sin, creation, salvation, justification, and God's sovereignty. Rose Guide to the Tabernacle is also the winner of the 2009 CBA Retailers' Choice Award for Bible Reference/Bible Study.
Rose Guide to the Tabernacle is a full color book on the the Tabernacle. The Tabernacle was the place where the Israelites worshiped God after the Exodus. Learn how the sacrifices, utensils, and even the structure of the Tabernacle were designed to show us something about God. See the parallels between the Old Testament sacrifices and priests' duties, and Jesus' service as the perfect sacrifice and perfect high priest.

Rose Guide to the Tabernacle shows you how: The Tabernacle was built The temple sacrifices pointed towards Jesus Christ The design of the tent revealed God's holiness and humanity's need for God The Ark of the Covenant was at the center of worship. Rose Guide to the Tabernacle contains illustrations, charts, and diagrams not available elsewhere.

128 pages, full color plus dozens of charts.

Rose Guide to the Tabernacle (Rose Publishing), by Benjamin Galan and Brent Ashby, answers the question, "How can a holy God live among corrupted people?" Galan explains the importance of understanding the Tabernacle.

Rose Guide to the Tabernacle explains the history of the Tabernacle, its sacred objects and activities , while also illuminating deep insight into what Jesus did for his followers during his life, his death and his resurrection. "God's presence in the Tabernacle instructed the people to live in purity. Jesus' blood and sacrifice meant the purification rites and sacrifices are no longer necessary," says Galan. Rose Guide to the Tabernacle offers insight to readers in the following: Understanding the importance of Shavuot (Feast of Weeks), Rosh HaShanah, Yom Kippur, Sukkot (Feast of Tabernacles) and Hanukkah The Purpose and the three parts of the Tabernacle: The Courtyard, The Holy Place and The Most Holy Place The significance of the sacrifices: Sin Offering, Guilt Offering, Grain/Gift Offering, Burn Offering, and Peace Offering The parallels between the Tabernacle, Christ's ministry, and the church The symbolism of the Golden Lampstand, the Table of the Bread of Presence, the Altar of Incense The contents of the Ark of the Covenant Elements of Passover and a "Christian Seder"

Table of Contents: Section 1 God With Us 3-13 God Living with His People 4 Israel in Egypt 8 The Ten Plagues 9 Time Line of the Exodus 10 Old Testament Covenants 11 Mount Sinai 12 Where Is Mount Sinai? 13 Why Is the Tabernacle Important Today? 1 Section 2 The Tabernacle 15-85 The Tabernacle cutaway 16 The Design of the Tabernacle 20 Bible References about the Tabernacle 21 Entering the Courtyard 24 Gates in the Old Testament 26 Ancient Gates and Gates in the New Testament 27 The Courtyard 28 The Bronze Altar 30 Utensils 31 Sacrifices in the Old Testament 32 Sacrifices in the Tabernacle 33 Jesus and Sacrifices 34 The Bronze Laver 35 Holiness and Purity in the Old Testament 36 Purity, Impurity, and the Tabernacle 37 Tabernacle tent 38 The Holy Place 52 Tabernacle Symbolism 53 The Holy Place 54 The Golden Lampstand 56 Jesus and Light 57 Hanukkah 57 Table of the Bread of Presence 58 Communion 59 The Altar of Incense 60 Jesus, Incense, Prayer, and the Holy Spirit 61 Intercessors in the Bible 62 Priests, Levites, and the High Priest 63 The High Priest 64 Jesus and the High Priest 65 Functions of the Priests 66 Functions of the Priests 67 The Garments of the High Priest 68 Miter, Ephod, and Breastplate 69 The Veil 72 Jesus and the Veil 73 The Most Holy Place 74 The Ark of the Covenant 75 Contents of the Ark 76 The Mercy Seat 80 Jesus and the Pillar 81 Manifestations of God s Presence 81 The Journey of the Ark 82 Jesus and the Ark of the Covenant 83 The Ark in Battle 84 Where is the Ark Today? 85 Section 3 The Wilderness The Wilderness 89 The Song of Moses 90 Israel At Sinai 91 The Ten Commandments 92 Arrangement of the Camp 94 Arrangement of the March 95 Organization of the Tribes Camp and March 96 The Feasts 97 A Worshiping Community 98 The Calendar 99 Passover 100 Unleavened Bread 104 Firstfruits 106 Feast of Weeks 108 Feast of Trumpets 110 Day of Atonement 112 Atonement for Sins 113 The Feast of Tabernacles Suggested Discussion Questions What is the Tabernacle and the elements found in the Tabernacle? Where is the Ark of the Covenant now? Why is the Tabernacle of 3500 years ago important today? What does it teach about God's plan of salvation? Could you explain the Bronze Altar and the sacrifice requirements? What did a high priest do? Who was allowed to enter the Courtyard, and what was required before entering? How has the role of the priest changed throughout the years? How does the Tabernacle connect the Old Testament and the New Testament? What were the sacrifices and their significance in the Tabernacle? What was the function of the veil? Why was the Mercy Seat deemed holy? What are the holy days and their meanings? What is the meaning of the Feast of Trumpets? The Day of Atonement? The Feast of Tabernacles?

Note to professors: For exam or desk copy policy click .

About the Author: Benjamin Galan grew up in a Christian home in Mexico City. During his studies, Galan became enamored with natural sciences. In college, Galen studied physics and mathematics, and grew indifferent and hostile toward the Christian faith. Along with the French mathematician Laplace, Galan believed God was no longer a necessary hypothesis.

After additional studies, Galan began to long for deep, satisfying connections and meaning in his young life. Through the moving testimony of a friend in school, Galan began to read the Bible with renewed eyes, and eventually returned to church. As he became more involved in the ministry of his home church, Galan sensed God's calling.

During his theological studies, Galan fell in love with the Old Testament and understood the Old Testament as the key for understanding the New Testament.

[Rose Guide to the Tabernacle] is very detailed and easy to use. I facilitate adult education classes and use this book to assist in teaching. I especially found the charts/diagrams extremely helpful. At times I have made copies for the students to use, and they were received with great response! The charts/diagrams are large and colorful and easy on the eyes, and jam-packed with wonderful information. The definition sidebars are also very useful. The overlays are irreplaceable for demonstration purposes. This book has numerous references contained all in one!! (i.e. encyclopedia, dictionary....). I have encouraged students to purchase this resource, as it will provide for many years of enjoyment! Bravo on a work well done!
?Susan Clark
-Publisher
PRODUCT DETAIL
Catalogue Code 

382844

Product Code 

9781596365735

ISBN 

1596365730

EAN 

9781596365735

Department Academic
Category Reference
Sub-Category General
Publisher Rose Publishing
Publication Date 

Oct 2012

Sales Rank 

81451

Size 

11.56 MB (EPUB)