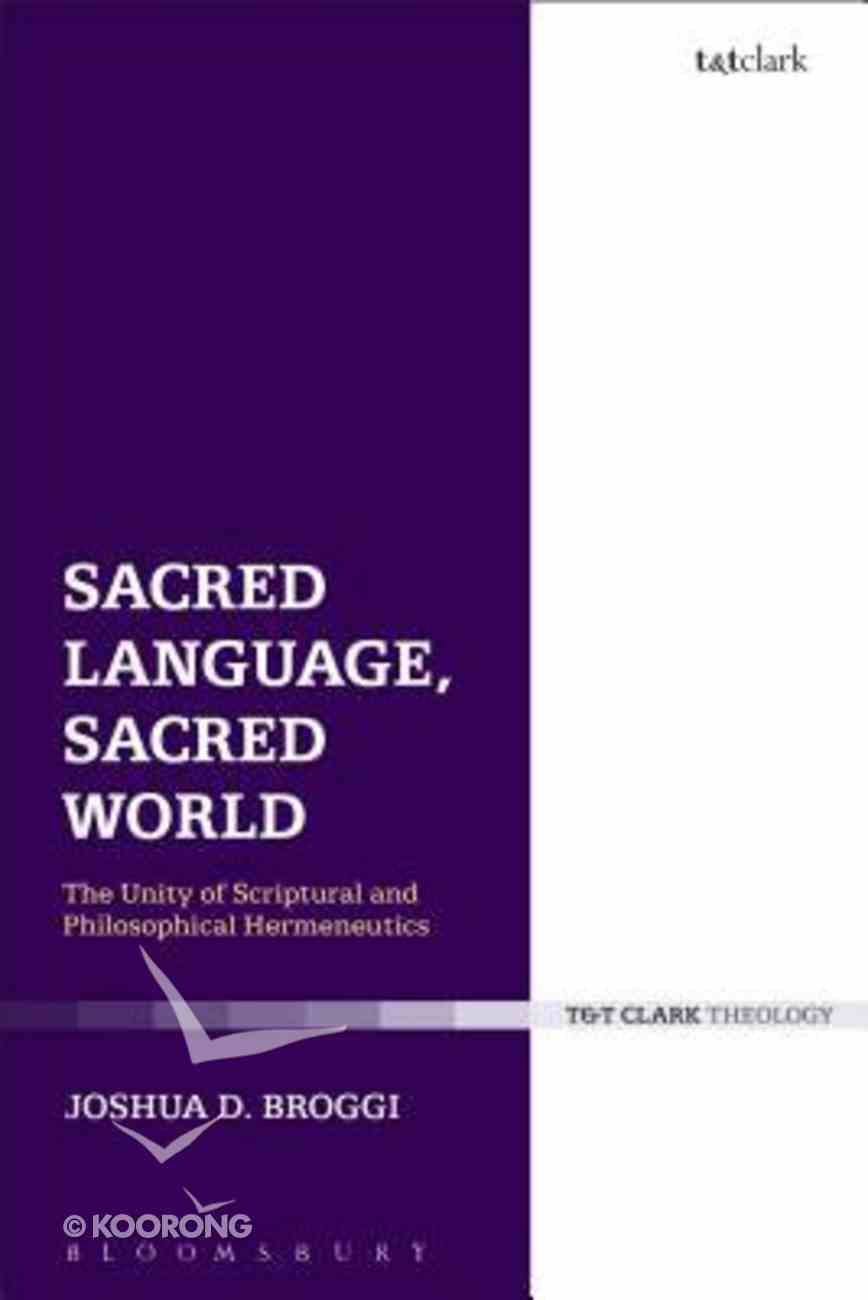 Sacred Language, Sacred World (T&t Clark Theology Series)
:Heidegger and Gadamer are typically read by different theologians. Heidegger tends to be read by philosophical theologians examining his contribution to matters of doubt, existential finitude, and atheism. Gadamer tends to be read by those with an interest in interpreting...
Special Order Item
0 Available.
---
Free Shipping
for orders over $99.
:Heidegger and Gadamer are typically read by different theologians. Heidegger tends to be read by philosophical theologians examining his contribution to matters of doubt, existential finitude, and atheism. Gadamer tends to be read by those with an interest in interpreting the Bible, especially by those with more confessional or epistemically optimistic sensibilities. In both cases, Heidegger and Gadamer have well-established associations with specific theological positions. Joshua Broggi challenges this arrangement by re-reading the primary texts as theological resources; he defends an alternative theological appropriation of their philosophical work through a close engagement with portions of their argument.What emerges from Broggi's examination is an account of the unity of tradition, reason, and scriptural language. This account goes beyond claims of their relatedness, which are uncontroversial, and advances the stronger argument that they name the very same thing. Although initially counterintuitive, the central task set by both Heidegger and Gadamer is the investigation of that one phenomenon. This argument challenges the pervasive image in which Christians rely on 'tradition' to 'reason' about the meaning of 'scripture'. It puts into question the injunction that theologians should balance the resources of scripture, tradition, and reason. Broggi offers an account of Christian life as more fundamental than certain entities which are distilled out of it, namely: scripture, tradition and reason.
-Publisher
:abbreviationsintroduction 1. How To Read This Book 2. Narrative And World 3. A Tale Of Interpretations<b>part I: Heidegger</b>1. <i>being And Time</i> The Very Possibility Of Reading Scripture Wrongly What Sort Of Book Is <i>being And Time</i> The Argument In <i>being And Time</i>2. Tools In The World A Phenomenology Of Tools, 15 Broken Tools: A Gloss Of 16 The Inhabited Taxonomy, 18 Language As An Everyday Tool3. Scripture In The World The One Thing Named By 'scripture', 'tradition', And 'reason' The Unity Of Background Commitments Language And Taxonomy Finite Reason<b>part Ii: Gadamer</b>4.<i> Truth And Method</i> Approaching Gadamer The Scope And Argument Of <i>truth And Method</i> The Opening Discussion5. Reading Rightly The 'hermeneutical Circle' And The Ethics Of Thought The First Ethical Principle: Start Rightly The Second Ethical Principle: Wait Long6. Reading In The World 'the Principle Of<i> Wirkungsgeschichte</i>' Gadamer's Use Of Hegel Alterity In The Metaphor Of Horizons Gadamer's Logic Of Unity7. Conclusions The Pitt Rivers Museum Theology And The Gordian Knot Of Self-consciousness What Can Theologians Say? The Unity Of Scripture, Tradition, And Reason Scripture In The Worldbibliographyindex