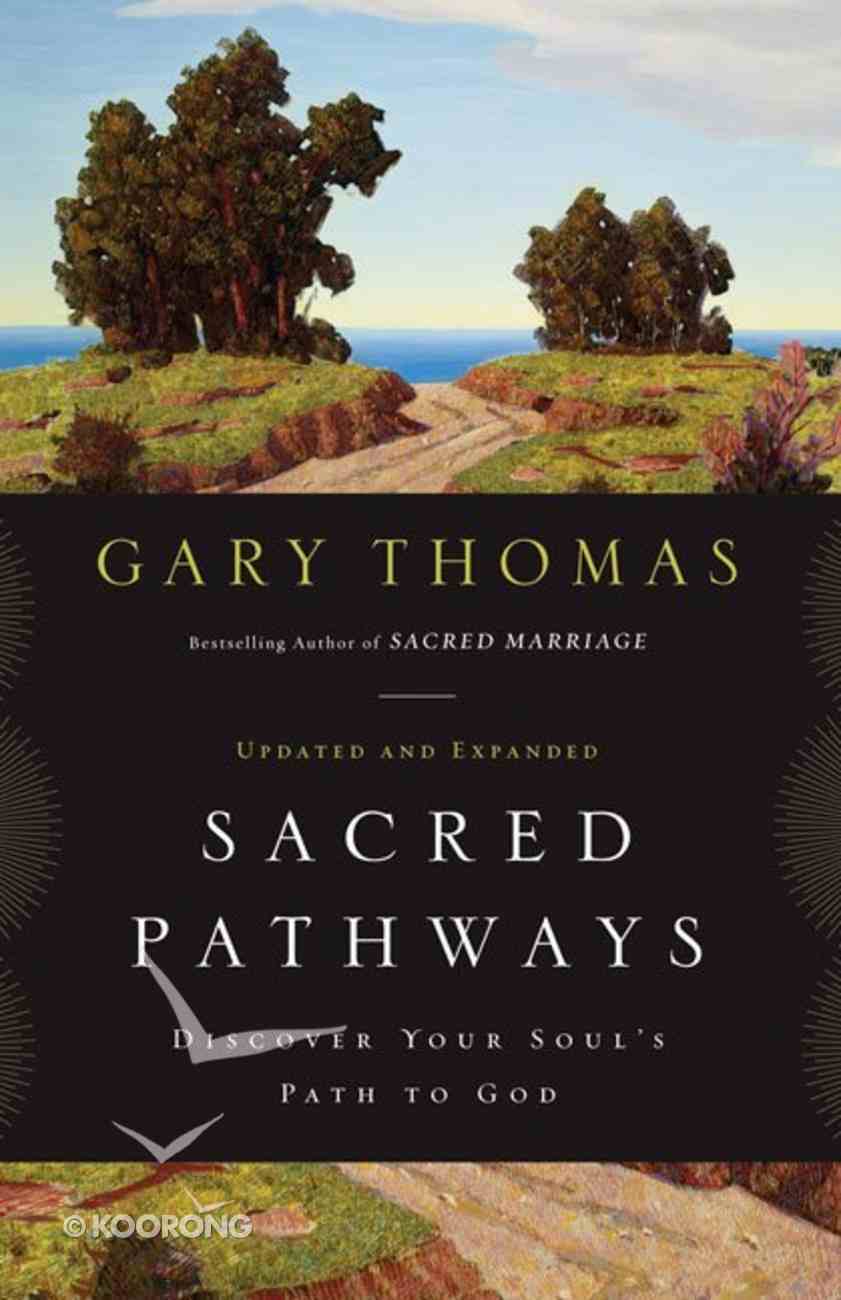 Sacred Pathways: Discover Your Soul's Path to God
This revised and updated edition of Sacred Pathways will encourage you to see strengths, weaknesses, and tendencies in your devotional approach to God. Gary Thomas, bestselling author of Sacred Marriage, shows you how to improve your quiet time and personal...
---
Free Shipping
for orders over $99.
This revised and updated edition of Sacred Pathways will encourage you to see strengths, weaknesses, and tendencies in your devotional approach to God. Gary Thomas, bestselling author of Sacred Marriage, shows you how to improve your quiet time and personal worship life so you can strengthen your walk with the Lord.
-Publisher
Some Christians effortlessly spend hours in contemplative prayer. Just being around them makes you wish you were that way. Or maybe you are that way, but others are far better at showing God's love in practical ways or courageously standing up for God's kingdom. Why can't you be like them? Maybe you weren't designed to be. In this revised and updated edition of Sacred Pathways, Gary Thomas strips away the frustration of a one-size-fits-all spirituality and guides you toward a path of worship that frees you to be you. Experienced spiritual directors recognize that all of us pray differently; if your devotional times have hit a snag, perhaps it is because you're trying to follow someone else's path. This book explodes the barriers that keep Christians locked into rigid methods of worship and praise. Sacred Pathways unfolds nine distinct spiritual temperaments---their traits, strengths, and pitfalls. Illustrated with examples from the Bible and from the author's life experience, each one suggests an approach to loving God through a distinctive journey of adoration. In one or more you will see yourself and the ways you most naturally express your relationship with Jesus Christ. You'll also discover other temperaments that are not necessarily 'you' but that you may wish to explore for the way they can stretch and invigorate your spiritual life. Perhaps you are a Naturalist. Prayer and praise well up within you when you're walking a forest path or drinking in a mountain's jagged beauty. Or maybe you're an Activist. Taking a stand for God's ways is your meat and drink. Whatever temperament or blend of temperaments best describes you, rest assured it's not by accident. It's by the design of a Creator who knew what he was doing when he made you according to his own unique intentions. If your spiritual walk is not what you'd like it to be, you can change that, starting here. Sacred Pathways will show you the route you were made to travel, marked by growth and filled with the riches of a close walk with God.
-Publisher
PRODUCT DETAIL
Catalogue Code 

304720

Product Code 

9780310329886

ISBN 

0310329884

EAN 

9780310329886

Pages 

272

Department General Books
Category Spiritual Growth
Sub-Category General
Publisher Zondervan
Publication Date 

Oct 2010

Sales Rank 

9286

Dimensions 

215 x 139 x 19

mm

Weight 

0.254

kg
Gary Thomas is a writer in residence at Second Baptist Church in Houston, Texas, and an adjunct faculty member teaching on spiritual formation at Western Seminary in Portland, Oregon. He is the author of several books, including Sacred Marriage; Sacred Pathways; Pure Pleasure; Sacred Parenting, and the Gold Medallion Award-winning Authentic Faith
His books and ministry focus on spiritual formation: how we can integrate Scripture, church history, and the time-tested wisdom of the Christian classics into our modern experience of faith. Most recently he has produced Every Body Matters: Strengthening Your Body to Strengthen Your Soul.


Contents; Part 1: The Journey Of The Soul; 1. Loving God; Part 2: The Nine Sacred Pathways; 2. Naturalists: Loving God Out Of Doors; 3. Sensates: Loving God With The Senses; 4. Traditionalists: Loving God Through Ritual And Symbol; 5. Ascetics: Loving God In Solitude And Simplicity; 6. Activists: Loving God Through Confrontation; 7. Caregivers: Loving God By Loving Others; 8. Enthusiasts: Loving God With Mystery And Celebration; 9. Contemplatives: Loving God Through Adoration; 10. Intellectuals: Loving God With The Mind; Part 3: Understanding Your Sacred Pathway; 11. Tending The Garden Of The Soul
Chapter One Loving God Valuable lessons about spirituality can come at the strangest times. An ear-popping flight from Washington, D.C., to Seattle, Washington, taught me a lesson I'll not soon forget. Just before I was about to embark on the trip, I came down with a severe head cold. My sinuses act up when I fly even if I'm feeling well, so I knew I needed to get some help. Since I had just moved to Virginia, I hadn't bothered to find a doctor so a coworker recommended an outpatient care clinic. The clinic turned out to be the medical equivalent of a 7 -- 11. I didn't have time to go anywhere else, however, so I did my best to explain my dilemma to a doctor, waited for his prescription, and left. When I got home my wife asked me, 'What did the doctor say?' 'I don't know,' I responded. 'I couldn't understand him.' Her eyebrows shot up. 'Well, what did he prescribe?' 'I don't know. I can't read the writing.' 'What kind of clinic was this?' 'I don't want to know,' I said. 'I have to leave town tomorrow.' The flight the next day was one of the most miserable flights of my life. It takes between four and five hours to go from Washington, D.C., to Seattle, but I was certain that my then thirty-year-old body had turned forty-five by the time I landed. My head felt like it weighed about fifty pounds. I dutifully took the medication as it was prescribed and expected my ears to clear some by the next day, but they didn't. I wouldn't even be able to speak clearly if I didn't get some help, so after a day or two I stopped in a Portland, Oregon, clinic, hoping to obtain more relief. The new doctor put me at ease. I could understand what he was talking about and he seemed to know what he was doing. When he learned what had been prescribed for me in Virginia, his jaw dropped. 'I don't know what that doctor was thinking, but I can't imagine any doctor who graduated from a United States medical school in the past thirty years prescribing this medicine for your ailment. Apparently this doctor knows just one or two medicines and is prescribing the same one for virtually everything.' This experience taught me the folly of using one medicine to treat every malady. It took some time, however, for the spiritual analogy to become clear. Over and over again we give Christians the same spiritual prescription: 'You want to grow as a Christian? All you have to do is develop a thirty- or sixty-minute quiet time and come to church every Sunday morning.' All too often, Christians who desire to be fed spiritually are given the same, generic, hopefully all-inclusive methods --- usually some variation on a standardized quiet time. Why? Because it's simple, it's generic, and it's easy to hold people accountable to. But, for many Christians, it's just not enough. A.W. Tozer warns, 'The whole transaction of religious conversion has been made mechanical and spiritless. We have almost forgotten that God is a person and, as such, can be cultivated as any person can.'1 The casualties of 'mechanized religion' are many. It's one thing to witness spiritually empty people outside of church; what concerns me is meeting more and more Christians inside church who suffer this same spiritual emptiness. Ultimately, it's a matter of spiritual nutrition. Many Christians have never been taught how to 'feed' themselves spiritually. They live on a starvation diet and then are surprised that they always seem so 'hungry.' Others have lapsed into routine-devotions. One of the most refreshing things that happened to my marriage was breaking my wrist. It was a serious break, requiring surgery, and thrust Lisa and me out of our routine. We did most everything together, in part because I needed so much help. Since my exercise was limited to walking, we took near-daily walks. We shopped together. We answered email together (initially, I couldn't type). For a while, Lisa even helped me get dressed. (Okay, you try tying your shoe with one hand!) Being out of our routine, Lisa and I discovered a deeper and newer love. The romance was always there; it had just been buried under the accretions of always doing the same thing. I've found that many people face the same dilemma in their walk with God. Their love for God has not dimmed, they've just fallen into a soul-numbing rut. Their devotions seem like nothing more than shadows of what they've been doing for years. They've been involved in the same ministry for so long they could practically do it in their sleep. It seems as if nobody in their small groups has had an original thought for three years. They finally wake up one morning and ask, 'Is this really all there is to knowing God?' Quiet Time Collides with Reality Several years after I graduated from college, I realized my spiritual life had to adapt to a new schedule. I was leaving the house between 5:00 and 5:30 a.m. and getting back home around 5:30 p.m. That left an hour to have dinner with my family, an hour to spend some time with my children, half an hour to get the kids in bed, and about another hour to pay the bills, take out the garbage, catch up on my wife's day, and take phone calls. If we had an evening meeting, everything was crunched even tighter. To have a sixty-minute quiet time, which had been a cherished staple of my spiritual diet, I would have had to get up at 4:00 a.m.! I was able to fit in some daily Bible reading before I left the house and a time of prayer during my morning commute, but I felt I was cheating. Vacations and weekends offered the opportunity to resume this discipline, but the workweek demanded something else. This struggle to find a new 'spiritual prescription' became a great blessing because I began to find new ways to nurture my soul. Perhaps the primary lesson I learned was that certain parts of me are never touched by a standardized quiet time. My discipline of quiet times was (and is) helpful; however, I came to realize that it was not sufficient. Other parts of my spiritual being lay dormant.
Bestsellers in Spiritual Growth