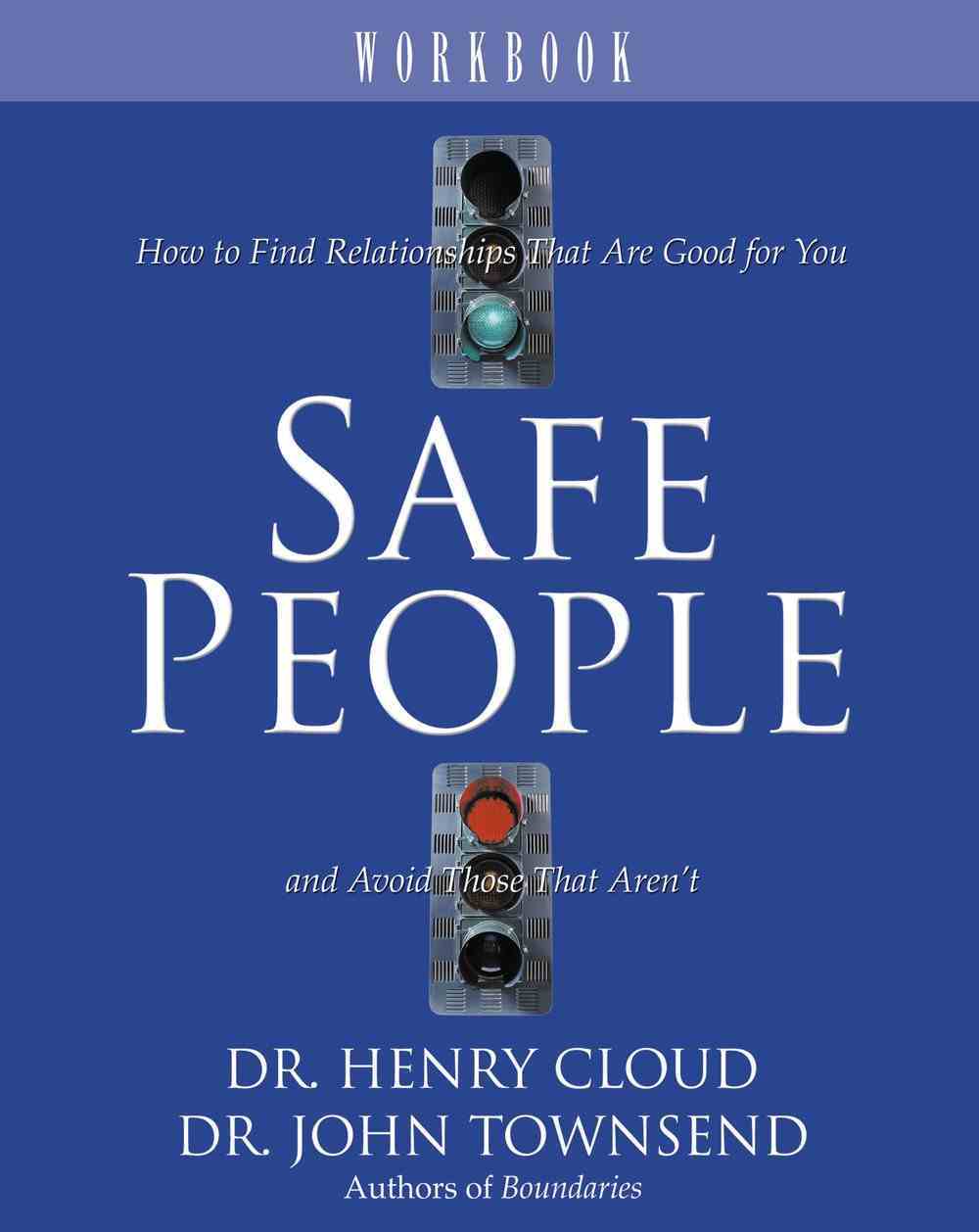 Countless individuals have invested themselves into people who've shipwrecked their lives in return. If you're one who has chosen the wrong people to get involved with or makes the same mistakes about relationships over and over again, then the Safe...
Out of Stock
Available to Order
---
Expected to ship in 5 to 6 weeks from Australia.
---
Free Shipping
for orders over $99.
Countless individuals have invested themselves into people who've shipwrecked their lives in return. If you're one who has chosen the wrong people to get involved with or makes the same mistakes about relationships over and over again, then the Safe People Workbook offers you a hands-on remedy. In this companion to Safe People, Drs. Henry Cloud and John Townsend walk you through frank, soul-searching questions into active change and practical steps for growth. The Safe People Workbook gives you solid guidance that will help you - Correct things within yourself that jeopardize your relationship security - Learn the 20 traits of "unsafe" people - Recognize what makes people trustworthy - Avoid unhealthy relationships - Form positive relationships -- In manageable steps that promote progress and inspire confidence, Cloud and Townsend help you restructure your approach to relationships. You can stop being a victim and begin enjoying the kinds of healthy, reciprocal relationships everyone
-Publisher
PRODUCT DETAIL
Catalogue Code 

81446

Product Code 

0310495016

EAN 

9780310495017

UPC 

025986495015

Pages 

144

Department General Books
Category Relationships
Sub-Category General
Publisher Zondervan
Publication Date 

May 1995

Sales Rank 

17693

Dimensions 

234 x 187 x 10

mm

Weight 

0.254

kg
Dr. Cloud is a clinical psychologist with a unique ability to connect with his audiences. Drawing upon his broad range of experiences in private practice, leadership consulting, and media, he simplifies life's issues and gives easy-to-understand, practical advice. It is Dr. Cloud's humour, compassion, and 'in the moment' confrontation that make his approach to psychology and spirituality such a success.

He has written or co-written 19 books, including the best-selling Boundaries. His most recent books are Integrity, Necessary Endings and The Law of Happiness. He has earned three Gold Medallion awards and was awarded the distinguished Retailers Choice award for God Will Make A Way.

Dr. Cloud has appeared on numerous radio and television broadcasts and has been featured in many publications. Millions of listeners have benefited from his wit and wisdom for over a decade.

As president of Cloud-Townsend Resources, he has produced and conducted hundreds of public seminars around the country. He speaks on relationships - marriage, parenting, dating, personal growth, and spirituality. His seminars are often broadcast live to over two thousand venues at a time.

In his consulting practice, he works with leaders of organisations and corporations, from family-held firms to Fortune 25 companies and non-profit organisations. With his extensive executive coaching background and experience as an organisational and leadership consultant, he speaks regularly at corporate and leadership events held across the United States and internationally.

Dr. Cloud co-founded a health-care company that operated treatment centres in 35 cities in the Western United States; he served as Clinical Co-Director for ten years. In that context of hands-on clinical experience, he researched and developed many of the treatment methods and principles he communicates to audiences today. Since then, he has devoted his time to spreading principles of hope and life change through speaking, writing, and the media. His books have sold over four million copies.

He is a graduate of Southern Methodist University, having earned a BS in psychology with honours. He completed his PhD in clinical psychology at Biola University and his clinical internship at Los Angeles County Department of Mental Health. His philanthropic interests lie in the area of homelessness and the inner city, as well as Third World missions and development. He serves on the board of the Los Angeles Mission, a rescue mission on Skid Row in downtown Los Angeles.

Dr. Cloud is an avid golfer and enjoys boating, deep sea fishing and scuba diving. He lives in Los Angeles.
Dr. John Townsend (Psy.D., Rosemead Graduate School of Psychology) is a psychologist, popular speaker, radio host and the bestselling author and co-author of numerous books, including the Gold Medallion award-winning Boundaries and God Will Make a Way. He is co-founder of the Cloud-Townsend Clinic in Southern California.
Contents
Part One
Unsafe People
1. What Is An Unsafe Person?
2. Personal Traits Of Unsafe People
3. Interpersonal Traits Of Unsafe People
4. How We Lost Our Safety
Part Two
Do I Attract Unsafe People?
5. Do I Have A 'safety Deficit'?
6. Why Do I Choose Unsafe Relationships?
7. False Solutions
8. Why Do I Isolate Myself From People?
Part Three
Safe People
9. What Are Safe People?
10. Why Do We Need Safe People?
11. Where Are The Safe People?
12. Learning How To Be Safe
13. Should I Repair Or Replace?
Part One Unsafe People Chapter One What Is an Unsafe Person? In retrospect, I (John) can see all the reasons why Karen was an unsafe person. But while we were dating, I was caught up in the wonder and excitement of the relationship with her and missed a few things along the way. Even after the relationship ended so abruptly, I wondered for years how I could have been so wrong about thinking someone was so right. Is This Your Life? The lessons I learned in the romantic sphere can be learned from any relationship because we can be wrong about thinking someone is right in a variety of situations. * Think about the relationship(s) that came to mind as you read about my relationship with Karen. Who has been a Karen in your life? * A romantic interest * A best friend * A coworker * A relative * A church acquaintance * Other: * Have you had more than one Karen in your life? * Have you blamed yourself when you've been hurt by the Karen(s) in your life? If so, for what did you blame yourself? * How have you answered the question you've probably asked yourself---'What in the world am I doing wrong?' Character Discernment What are you doing wrong in relationships? The answer to that question probably lies in the fact that you are untrained in discerning the character of people. Without the proper maturity and skills, our God-given need for support and attachment to others (Gen. 2:18) can get us into real trouble. When I (Henry) asked a group of college students, 'What qualities do you look for in a potential date or mate?' they gave broad religious answers to my question---'I want someone spiritual, godly, ambitious, fun to be with,' etc.---but people having trouble in a relationship don't identify broad religious issues as the problem. * What have you heard hurting friends complain about regarding their relationships? * What have you said when you've talked about relationships you've been in that haven't worked out? When God talks about his problem relationships, he talks about -people being 'far away' (Matt. 15:8 NASB), 'unfaithful' (Josh. 22:16 NASB), 'proud' (Deut. 8:14; Ps. 36:2), 'unloving' (1 John 4:20), or 'judgmental' (Rom. 2:1). In short, God looks at character. We tend to look on the outside and not the inside of a person (1 Sam. 16:7; Matt. 23:25--28). So we choose people based on outward appearance, but then we experience the inside of them and come up empty-handed. * In the past, what have you looked at when you've entered into a relationship with someone? * Think of a specific time when the inside was radically and painfully different from the outside of the person with whom you were in relationship. List the positive outside qualities and the painful inside ones. Who Are the Bad Guys? In real life, the bad guys aren't as easy to identify as those on Saturday morning cartoons. Unsafe people are particularly difficult to spot, but many unsafe people fall under three categories: the abandoners, the critics, and the irresponsibles. Abandoners start a relationship but -can't finish it. Often, abandoners have been abandoned themselves. Sometimes, afraid of intimacy, they prefer shallow acquaintances. Others are looking for perfect friends, and they leave when the cracks start showing (pp. 21--22). * Have you, like Ron, been drawn to abandoners? What reasons have been behind the abandonment---their own history of being abandoned, their fear of true closeness, and/or their search for perfect friends? * Do you tend to be an abandoner? Which of the three reasons contribute to your abandoning behavior? Critics take a parental role with everyone they know. More concerned with confronting errors than making connections, critics are judgmental, speak the truth without love, and have no room for grace or forgiveness (pp. 22--23). * Have you, like Martha, been drawn to critics? What might be behind this uncanny attraction? * Do you tend to be a critic? Why do you think you tend to point the finger away from rather than at yourself? Irresponsibles don't take care of themselves or others. They have problems with delaying gratification, they don't consider the consequences of their actions, and they don't follow through on their commitments. They're like grown-up children. They can't be depended on to do what they say (pp. 23--24). * Do you have a Jeremy in your life or have you in the past? Are you continuing to be an enabler or have you dealt constructively with that Jeremy? * Do you tend to be an irresponsible? Do you have a hard time on follow-through when, with good intentions, you say you'll do something? Are you always in financial straits? Do you have a hard time considering, much less planning for, tomorrow? Do you struggle with delayed gratification? Where do you think you learned this behavior and why do you think you continue it? Looking at these three types of unsafe people---abandoners, critics, and irresponsibles---may help you see your present support system (and yourself!) more realistically. In the following chapters, we'll contrast more specific character traits of unsafe people with the godly character traits of safe people so that you'll be able to look for danger signals in your relationships---and then learn to make wise decisions about how to handle the unsafe people in your life. Prayer Father God, I already see how I choose people based more on their outward appearance than on the kind of character traits you look for. That new perspective helps me understand why it can be such a painful surprise when I experience the inside of those people. I ask you to help me, as I work through this guide, to become more discerning of the inside. Even now, Lord, help me see where I am in relationship with an abandoner, a critic, or an irresponsible. Show me, too, God, where I am the abandoner, critic, or irresponsible in a relationship. And then show me what to do in both situations. I pray in Jesus' name. Amen.
Bestsellers in Relationships