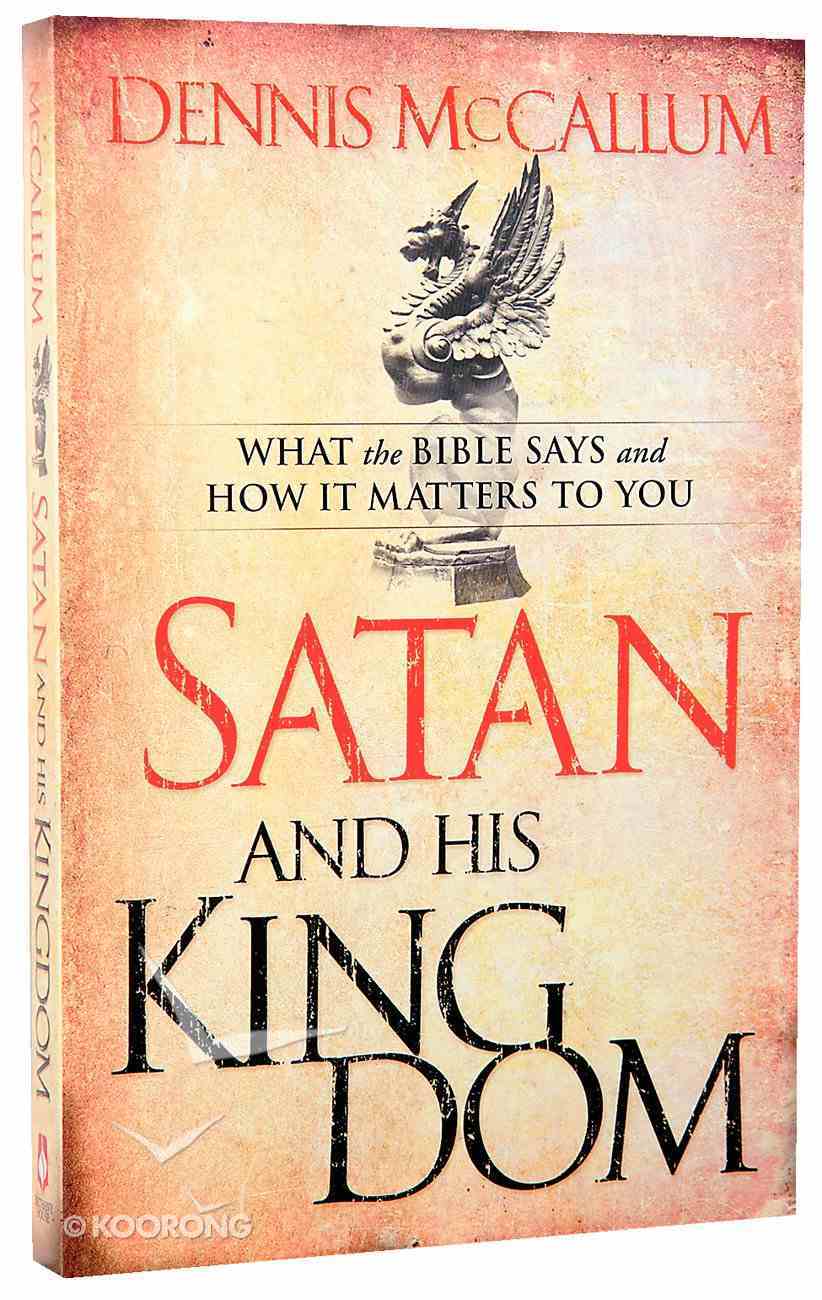 This highly readable - and useful - examination of Satan and spiritual warfare was written out of necessity. In recent years, pastor and teacher Dennis McCallum found himself fielding more and more questions about Satan. He wanted to recommend a...
Out of Stock
Available to Order
---
Expected to ship in 5 to 6 weeks from Australia.
---
Free Shipping
for orders over $99.
This highly readable - and useful - examination of Satan and spiritual warfare was written out of necessity. In recent years, pastor and teacher Dennis McCallum found himself fielding more and more questions about Satan. He wanted to recommend a book on the subject, but those he found either reflected extreme beliefs, contained little biblical instruction, used fear tactics, or were poorly written.
^In Satan and His Kingdom, McCallum clarifies what is true and what is false about Satan, demons, and demonic control - both historically and today. He shows readers how to effectively battle the enemy individually and corporately, all the while keeping their focus on Christ, not Satan. A reliable resource for pastors, lay leaders, and any Christian wanting to know more about evil in the world.


-Publisher
"Dennis McCallum in a clear and concise way provides us with a sure guide through the biblical and experiential evidence about Satan and his role not only in human history but also in church history and in the lives of individual Christians. Not since C.S. Lewis's The Screwtape Letters have we had as convincing a presentation that Satan's favorite method of relating to modern people is to convince them he is not real, thereby giving him freedom to operate amongst the unsuspecting. Highly Recommended."--Dr. Ben Witherington, III, Amos Professor of NT for Doctoral Studies, Asbury Theological Seminary; Doctoral Faculty, St. Mary's College, St. Andrews University, Scotland"Have you ever wondered why the disciples had so much trouble figuring Jesus out? After all, they had all the Old Testament prophecies. Jesus was right there with them. Dennis McCallum's thesis--that all the data is in the Bible but it wasn't until after the resurrection that Jesus connected the dots--is most intriguing. It also explains why the devil so miscalculated the outcome of his plot to kill Jesus. Read with your Bible open and you'll learn how to gain victory in our contemporary war with darkness."--Gerry Breshears, PhD, Professor of Theology, Western Seminary"Stop reading these endorsements! Start reading this book! Dennis is a ministry veteran, a gifted leadership practitioner, and a diligent student of God's Word. His understanding of the power of the Cross and spiritual warfare is accurate and effective. Read it."--Dr. Dave Earley, Chairman of Department of Pastoral Leadership & Church Planting, Liberty Baptist Theological Seminary"Dennis McCallum has written a balanced and thoughtful work on an often overlooked but essential topic: the reality of Satan and his practices as he misrepresents God's goodness and misleads humanity into believing in its own goodness. McCallum writes in a biblical and realistic way, using thorough research to answer vital questions effectively. The chapters on Satan and Your Ministry are especially helpful, and ring true to reality. Here is a well-done book full of vital truth."--Dr. Bill Lawrence, President of Leader Formation International; Senior Professor Emeritus of Pastoral Ministries, Dallas Theological Seminary"Dennis McCallum has written a profoundly helpful and insightful book that will enable believers to understand the nature and reality of our spiritual battle, and thereby be more effective in fulfilling Jesus' mission. Drawing upon solid biblical support, careful reasoning, and extensive experience, he has developed an important tool from which all Christians can greatly benefit."--R. Scott Smith, PhD, Associate Professor of Ethics and Christian Apologetics, Biola University "We have long needed a lucid, biblically sound presentation of spiritual warfare and the satanic kingdom. This is it, and it is both readable and deep. Everyone should read it."--Grant R. Osborne, PhD, Professor of New Testament, Trinity Evangelical Divinity School"Dennis McCallum writes about Satan and demons in a biblical, sensible way. I've read books about the spiritual realm that were sensational, opinionated, and extra-biblical. This book is different. McCallum stays close to the biblical text while writing an easy to read book. You will not only go away with a comprehensive knowledge of Satan and his kingdom, but you'll discover practical steps to overcome them." --Joel Comiskey, PhD, President of Joel Comiskey Group
-Publisher
During Dennis McCallum's first year in college he began taking his friends to home Bible studies he and friends had formed. As the group developed they also began a publishing enterprise. When their group grew to include several high school and adult home groups in the central Ohio area, Dennis realized his need to get more training He completed his seminary training at Ashland Theological Seminary and returned to continue developing the group in Columbus, Ohio. ýDennis and his colleagues formed a new ministry group in 1994 called "The Crossroads Project," to teach apologetics to the church

Bestsellers in Spirit-filled Living