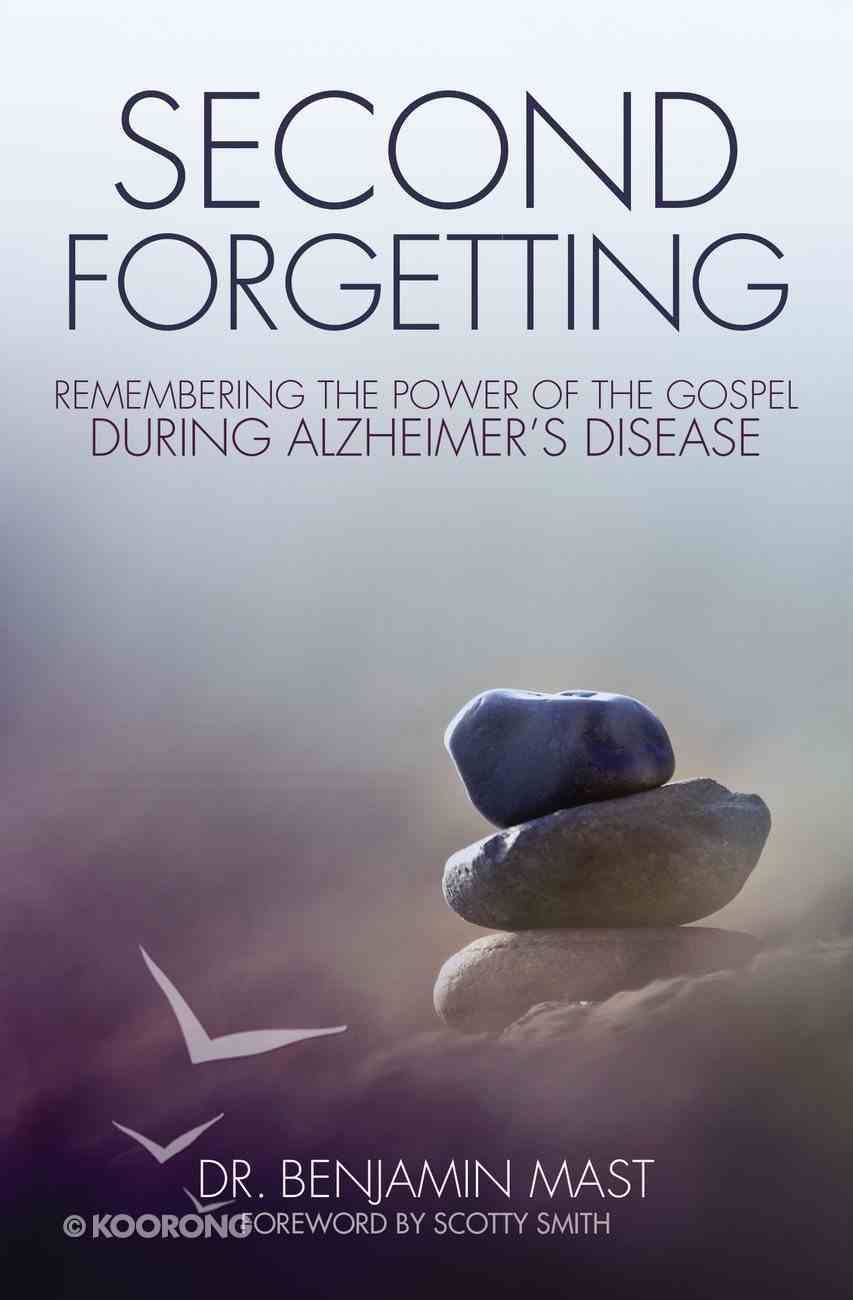 :Charles is 78 years old and there is much he cannot remember. He cannot remember the names of his children, why he lives in a nursing home, or even whether he ate breakfast today. His forgetting causes confusion, and in...
---
Expected to ship within 11 hours from Australia.
---
Free Shipping
for orders over $99.
:Charles is 78 years old and there is much he cannot remember. He cannot remember the names of his children, why he lives in a nursing home, or even whether he ate breakfast today. His forgetting causes confusion, and in his fear and uncertainty he sometimes lashes out at those who try to care for him. But when someone reads a favorite Psalm he quickly joins in, reciting each cherished word. When he hears an old hymn of faith, his hand slowly raises and he breathes out each word quietly, his face reflecting a peace that passes all understanding. Alzheimer's disease has been described as the 'defining disease' of the baby boomer generation. Millions of Americans will spend much of their retirement years either caring for a loved one with Alzheimer's disease or experiencing its effects on their lives firsthand. When a person is diagnosed with Alzheimer's, they face great uncertainty, knowing that they can expect to live their remaining years with increasing confusion and progressively greater reliance upon other people to care for them. As the disease advances it seems to overwhelm a person, narrowing their focus and leading them to forget critical truths about the Lord, their life with him, and his promises. Through the personal stories of those affected and the loved ones who care for them, Dr. Benjamin Mast highlights the power of the gospel for those suffering from Alzheimer's disease. Filled with helpful, up-to-date information, Dr. Mast answers common questions about the disease and its effect on personal identity and faith as he explores the biblical importance of remembering and God's commitment to not forget his people. In addition, he gives practical suggestions for how the church can come alongside families and those struggling, offering help and hope to victims of this debilitating disease. If you are a Christian who knows or loves someone with Alzheimer's disease, have recently been diagnosed with early Alzheimer's disease, or are a pastor or ministry leader seeking to better understand and minister to people with Alzheimer's disease this book will encourage you with the good news of God's faithfulness and the future hope he calls us to.
-Publisher
:chapter 1 - Remembering
This Introductory Chapter Will Set The Stage For The Importance Of Remembering In Everyday Life With Particular Attention Given To God's Call To Remember Him, What He Has Done And What He Has Prom-ised. The Concept Of The Second Forgetting Will Be Introduced And Linked To The Way We Think About The Spiritual Care Of People With Alzheimer's Disease.
Chapter 2 -- What Is Alzheimer's Disease?
This Chapter Provides An Up To Date Description Of Alzheimer's Disease, Including Its Effects And Treatment. Case Examples Will Be Incorporated To Demonstrate The Various Ways That Alzheimer's Can Manifest Itself In Daily Life. The Intention Here Is To Educate Readers On The Basics Of Alzheimer's Disease.
Chapter 3 - Forgetting
The Nature Of Memory Problems In Alzheimer's Disease Will Be Described In Detail With Attention Both To Problematic Areas Of Remembering And Aspects Of Memory That Are Generally Preserved. This Lays The Foundation For Later Chapters Which Emphasize How To Help People With Alzheimer's Respond To God's Call To Remember.
Chapter 4 -- The Gospel For Those With Alzheimers
The Gospel Transforms All Of Life, Including The Way We Think About And Care For People With Alz-heimer's Disease. Drawing On Biblical Themes Of Creation, Fall, Redemption And Restoration, This Chapter Retells The Story Of Alzheimer's Disease In The Context Of God's Story. Understanding The Person And Their Struggle With Alzheimer's Disease In This Context Promotes A Loving And Honoring Approach To A Vulnerable, Confusing And Frightening Stage Of Life.
Chapter 5 -- The Gospel For Caregivers
Caring For A Loved One With Alzheimer's Disease Brings Unique Challenges That Impact Whole Families. Caregivers Often Live With Feelings Of Burden, Guilt And Anger, And Struggle With Painful Questions About God's Presence And Plan In Their Lives. The Gospel Speaks To Their Situation With A Way To Understand Their Suffering, Grace For Their Limitations, And A Renewed Hope For Restoration. Drawing On Scripture And The Personal Stories Of Caregivers, This Chapter Highlights The Challenges Of Caregiving And The Way The Gospel Transforms This Part Of Their Story.
Chapter 6 -- A Unique Ministry Of Mercy
Most Churches Have Some Form Of Mercy And Care Ministry. This Chapter Will Describe How Churches Can Focus Their Mercy And Care Efforts On People With Alzheimer's Disease And Their Caregivers. At-tention Will Be Given To The Unique Challenges Of Caring For These Individuals And How These Chal-lenges Can Be Addressed By The Church.
Chapter 7 -- Recalling Stories Of Faith
Remembering Our Stories Of Faith And Their Connection To God's Larger Story Are Critical For Under-standing The Struggles And Confusions Of Daily Life. This Chapter Describes How The Rehearsal And Retelling Of Our Stories Can Be Connected To What Scripture Explains About Who God Is, What He Has Done And What He Has Promised. Practical Methods For Helping People With Alzheimer's Disease Re-connect With And Rehearse Their Faith Journey (including Key Relationships And Faith Milestones) Can Be Used To Promote A Form Of Remembering That Brings Peace, Comfort, And Reassurance. These Include Practical Life Review And Reminiscence Techniques Which Will Be Provided Along With Specific Questions And Worksheets That Ministry Leaders And Families Can Use.
Chapter 8 -- Helping Others Remember
In Addition To Rehearsing Our Stories, There Are Many Other Methods That Can Be Employed By Care-givers And The Church More Broadly To Promote Remembering The Lord And His Goodness. This Chapter Will Describe How The Essentials Of The Gospel Can Be Rehearsed And Remembered In A Meaningful Fashion Through The Combined Use Of The Sacraments (e.g., Communion), Well-known Scripture Passages, Music And Liturgy. Emphasis Will Be Placed On Methods That Are Familiar, Easy To Incorporate, And Which Maximize Understanding. This Chapter Will Also Highlight The Ways That Ministry Leaders Might Modify Their Typical Approach To Help Compensate For The Changes Of Alz-heimer's Disease. Alzheimer's Disease Does Not Change The Gospel Or The Extent To Which It Offers Hope And Assurance, But The Methods By Which It Is Presented And Rehearsed Should Be Reconsid-ered For Use In Ministering To People With Alzheimer's Disease.
Chapter 9- Remembering Together
We Were Not Created To Live Alone, Nor Are We Expected To Endure Difficult Times On Our Own. God Has Created Us To Live In Community With Other Believers, And The Challenges Of Alzheimer's Disease Demonstrate This In Very Practical Ways. The Person With Alzheimer's Disease Often Cannot Live Alone Without The Loving Care Of Another. Caregivers Also Need Other People To Help With The Practical Care And Provide Encouragement And Support. Living Without Faithful Brothers And Sisters Makes Us All More Prone To Forget The Lord And His Promises.
Appendix -- Answers To 20 Common Questions About Alzheimer's Disease. These Questions Will Be Gathered Through Interviews With Caregivers And People With Alzheimer's Disease.
Bestsellers in Grief, Comfort & Consolation