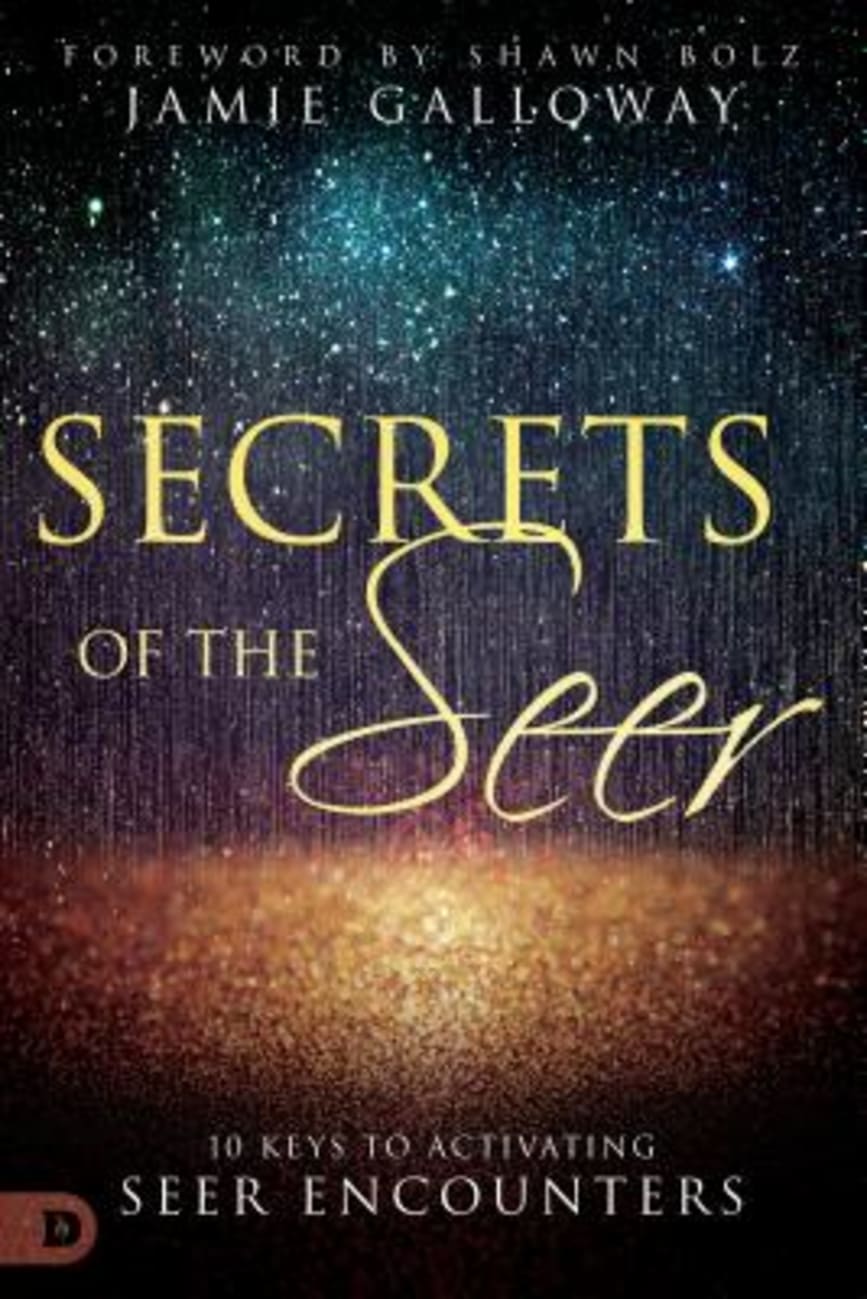 Secrets of the Seer: Releasing Heaven's Supernatural Realities Into the Natural World
Can All Believers See in the Spirit? Discover Keys To Activate Seer Encounters! We are surrounded by an invisible reality. Heaven is actively working to invade the space of the natural world we live in. How does this affect our...
---
Expected to ship on Monday from Australia.
---
Free Shipping
for orders over $99.
Can All Believers See in the Spirit? Discover Keys To Activate Seer Encounters!

We are surrounded by an invisible reality. Heaven is actively working to invade the space of the natural world we live in. How does this affect our daily lives? And how can we increase our awareness of the supernatural activity of heaven?

Prophetic communicator Jamie Galloway helps you glimpse the unseen dimension and activate the prophetic nature of the seer. Learn how to recognize and posture your heart for seer moments by partnering with the Holy Spirit with 10 unique keys.

In Secrets of the Seer, Jamie shows you how to:
- Walk in a seer lifestyle, where you can recognize the unseen world in everyday situations.
- Recognize seer moments when the convergence between the natural and spiritual are occurring.
- Discern supernatural abundance by seeing what is often hidden in plain sight.
- Make sense of prophetic mysteries such as entertaining angels, sanctified imagination, and bringing the invisible into the visible world.

Open the portal to the unseen world, and partner with the Holy Spirit to release Heaven's power into your life!

"The secret things belong to the Lord our God, but the things revealed belong to us and to our children forever, that we may follow all the words of this law."
-Deuteronomy 29:29 (NIV)

Publisher Description

: Can All Believers See in the Spirit? Discover Keys To Activate Seer Encounters!

We are surrounded by an invisible reality. Heaven is actively working to invade the space of the natural world we live in. How does this affect our daily lives? And how can we increase our awareness of the supernatural activity of heaven?

Prophetic communicator, Jamie Galloway helps you glimpse the unseen dimension and activate the prophetic nature of the seer in every believer. Learn how to recognize and posture your heart for seer moments by partnering with the Holy Spirit with 10 unique keys.

In Secrets of the Seer, Jamie shows you how to:


- Walk in a seer lifestyle, where you can recognize the unseen world in every day situations.
- Recognize seer moments when the convergence between the natural and spiritual are occurring.
- Discern supernatural abundance by seeing what is often hidden in plain sight.
- Make sense of prophetic mysteries such as entertaining angels, sanctified imagination, and bringing the invisible into the visible world.
Open the portal to the unseen world, and partner with the Holy Spirit to release Heaven's power into your life!

"The secret things belong to the Lord our God, but the things revealed belong to us and to our children forever, that we may follow all the words of this law."
-Deuteronomy 29:29 (NIV)
Jamie Galloway carries a revival message that imparts a lifestyle of the supernatural. After receiving a powerful encounter with God, Jamie immediately began an incredible journey into the supernatural. During this time, God began using Jamie in some very unusual ways while giving him a love for the word of God, and a rich level of communion with Jesus.

Jamie has a broad ministry experience from planting churches to speaking at stadium events in Brazil. He is a sought after conference speaker and has authored several books including, Supernatural Revolution.

Currently, Jamie is involved in various media projects that highlight the supernatural move of the Holy Spirit. He has been featured in the fast paced documentary Holy Ghost, demonstrating on the street Holy Spirit encounters accompanied by the message of the gospel.

source: jamiegalloway.com
Bestsellers in Spirit-filled Living