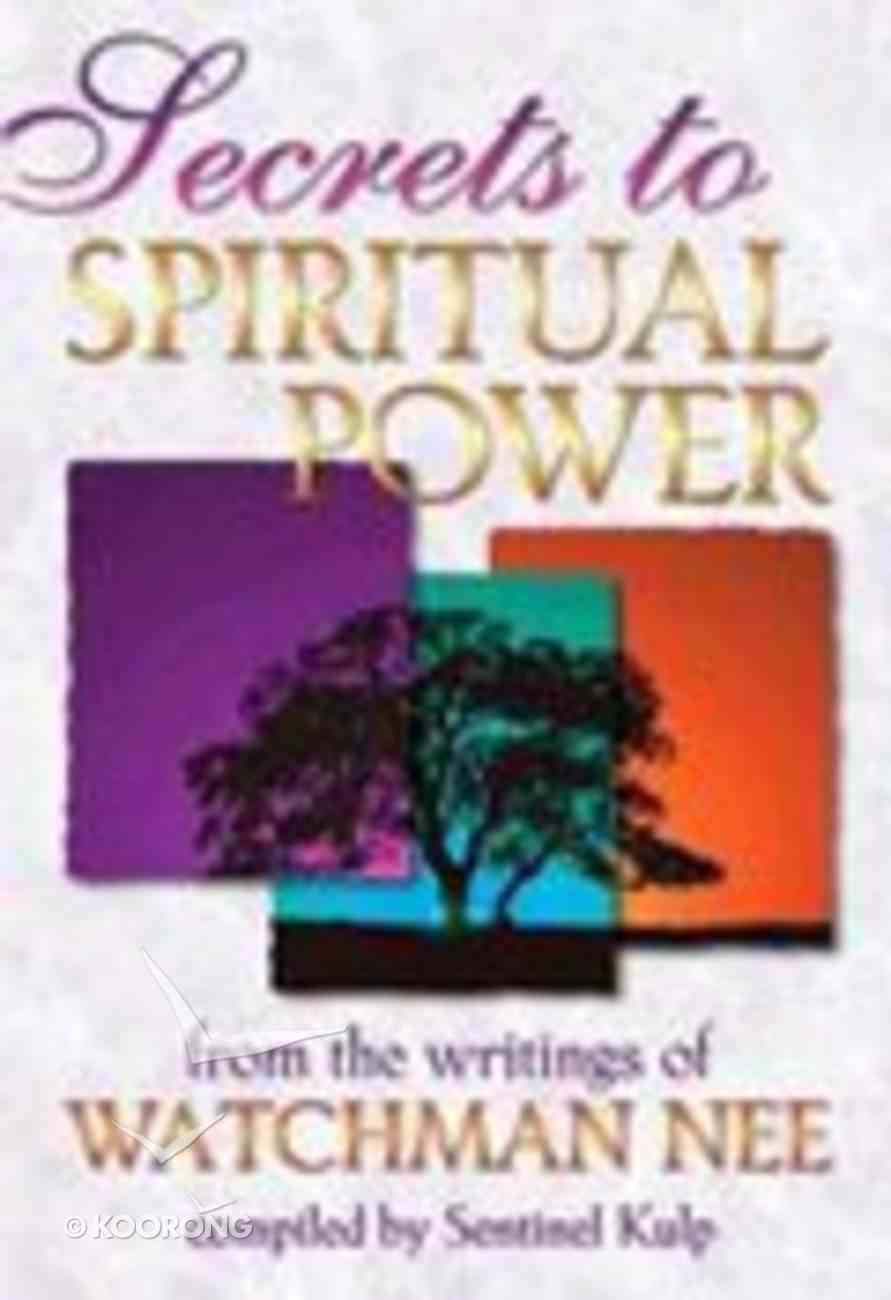 Secrets to Spiritual Power
Out of Stock
Available to Order
---
Expected to ship in 4 to 5 weeks from Australia.
---
Free Shipping
for orders over $99.
303 Pages
-Publisher
Watchman Nee experienced such a close intimacy with the Lord that many remarkable insights into triumphant Christian living were revealed to him by the Holy Spirit. Now these truths are available to you so that you can have the same kind of vibrant relationship with God. This collection of Watchman Nee's time?tested words of wisdom will inspire you to enjoy all that is yours in Christ. You will be set free from all sin and bondage as you discover not only that Christ is your salvation, but also that He is your sanctification. In fact, Christ will be to you al that you need??your victory, your power, your life. God will pour out His blessings to you in Christ. You can receive His powerful provision today!
-Publisher
Watchman Nee was a Chinese Christian teacher whose numerous works have been widely translated into many languages. Born in 1903, Nee became a Christian at the age of seventeen and began writing the same year. He was imprisoned by Communist Chinese authorities in 1952 and died in prison twenty years later. Nee's books include Come, Lord Jesus; A Living Sacrifice; The Normal Christian Life; The Communion of the Holy Spirit; The Finest of the Wheat; and Love Not the World; among many others. Since the early 1970s, Stephen Kaung has translated more than forty of Watchman Nee's simple, yet profound books for western audiences.-Editorial Review.
Who Was Watchman Nee?prefaceacknowledgmentsintroduction 1. The Normal Christian Life 2. Changed Into His Likeness 3. Sit, Walk, Stand 4. Love Not The World 5. Back To The Cross 6. Let Us Pray 7. The Messenger Of The Cross 8. From Faith To Faith 9. Take Heed 10. Grace For Grace 11. From Glory To Glory 12. Gospel Dialogue 13. Full Of Grace And Truth (volume One) 14. Full Of Grace And Truth (volume Two) 15. Gleanings In The Fields Of Boaz 16. Whom Shall I Send? 17. The Prayer Ministry Of The Church 18. Practical Issues Of This Life 19. A Living Sacrifice 20. The Good Confession 21. Assembling Together 22. Not I But Christ 23. Do All To The Glory Of God 24. Love One Another 25. The Life That Wins 26. The Release Of The Spirit 27. A Balanced Christian Life 28. The Character Of God's Workman 29. Christ: The Sum Of All Spiritual Things 30. The Finest Of The Wheat (volume One) 31. The Finest Of The Wheat (volume Two) 32. The Glory Of His Life 33. The Salvation Of The Soul 34. The Spirit Of The Gospel 35. Song Of Songs 36. The Mystery Of Creation 37. The Latent Power Of The Soul 38. The Body Of Christ: A Reality 39. Spiritual Reality Or Obsession 40. Aids To "revelation" 41. God's Work 42. God's Plan And The Overcomers 43. The Spirit Of Wisdom And Revelation 44. The Spirit Of Judgment 45. The Testimony Of God 46. Spiritual Knowledge 47. Ye Search The Scriptures 48. Spiritual Authority 49. The Ministry Of God's Word 50. "come, Lord Jesus" 51. Interpreting Matthew 52. The King And The Kingdom Of Heaven 53. The Word Of The Cross 54. The Communion Of The Holy Spirit 55. Worship God 56. What Shall This Man Do? 57. The Spiritual Man (volume One) 58. The Spiritual Man (volume Two) 59. The Spiritual Man (volume Three) 60. The Church And The Work (volume One: Assembly Life) 61. The Church And The Work (volume Two: Rethinking The Work) 62. The Church And The Work (volume Three: Church Affairs) 63. Revive Thy Workbibliographyreference Index
Bestsellers in Spirit-filled Living